Maik Machulla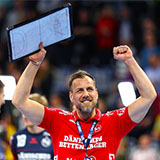 In 2019, Maik Machulla celebrated his second straight title with Flensburg in what is regarded as the toughest domestic league in Europe, the German Bundesliga. Out of 34 matches in the season, Flensburg won 32.
The domestic championship victory also meant Flensburg secured a place in the Champions League 2019/20 season, for their 15th participation in the top international league.
In the Champions League 2018/19, Flensburg made it to the quarter-finals, but were eliminated by eventual season finalists Veszprém.

Photo: Ingrid Anderson-Jensen