Roberto García Parrondo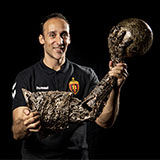 While Roberto Parrondo took the helm of the Egypt men's national team in May 2019, his biggest 2019 success came prior to that and on a club level, as he led North Macedonian club HC Vardar to the title in Europe's premier international club competition, the Champions League.
Vardar had survived a challenging season to reach the semi-finals of the Champions League and secure a place at the VELUX EHF FINAL4 2019 in Cologne, Germany. In the semi-final, they pulled off a miraculous comeback after trailing Barcelona by seven goals at half-time. In the end, Vardar qualified for the final with a 29:27 win. The North Macedonian team clinched the title with a 27:24 victory over Telekom Veszprém.
Following the Champions League win, Parrondo changed his focus solely to the Egypt men's national team.
Photo: EHF/Uros Hocevar, Axel Heimken, Marcel Lämmerhirt, Christian Stadler