Christian Berge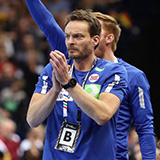 Christian Berge was Jacobsen's opponent in the 26th IHF Men's World Championship final, after leading Norway to the trophy match for the second consecutive time.
The two sides were drawn into the same preliminary round group, and therefore also met at the end of the first stage. Denmark were the only team to destroy an otherwise perfect record for Norway at GER/DEN 2019.
In the preliminary round, Norway beat all the same opponents as Denmark – Tunisia, Chile, Austria and Saudi Arabia – before suffering a 26:30 loss to the ultimate world champions. In the main round, Norway overthrew Sweden, Egypt and Hungary to reach the semi-finals. There, Norway knocked Germany out of the running for the title with a 31:25 win.
Berge's work with Norway has now seen them reach the semi-finals in four of the five most recent major international championships.