Day of reckoning as North Macedonia 2022 main round begins
03 Aug. 2022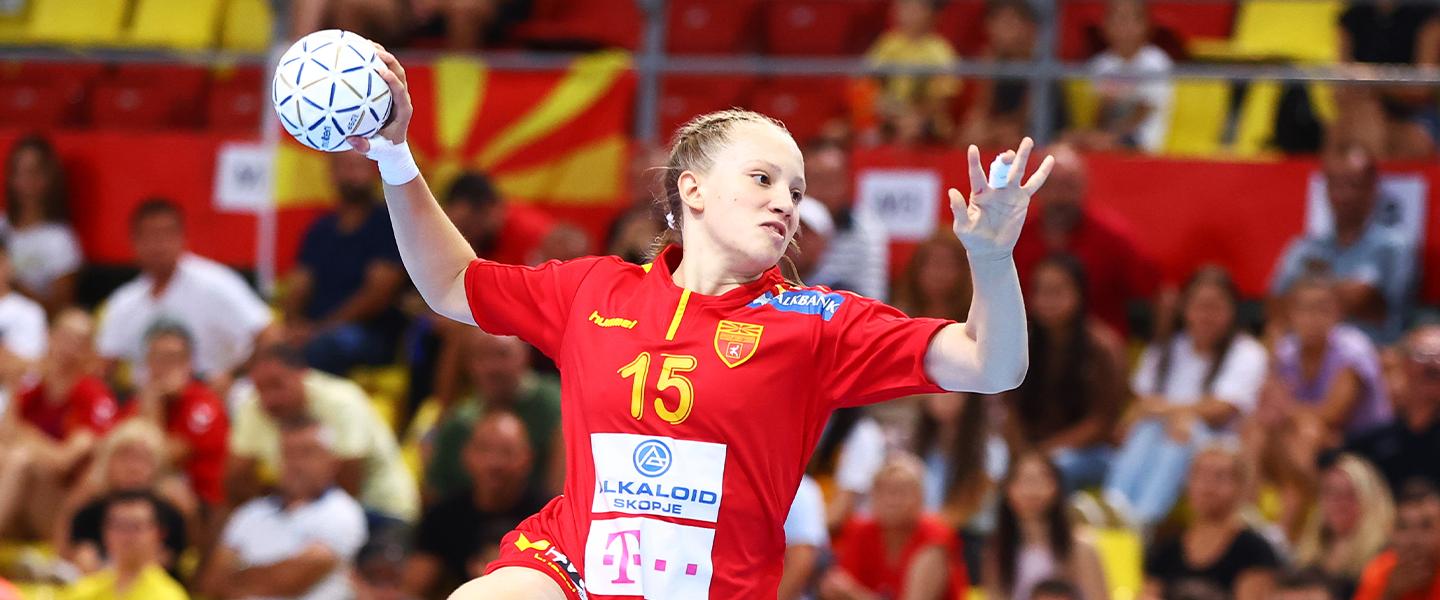 Live blog: On the first day of the main round at North Macedonia 2022, three teams have made it to the main round of the competition. In Group A, Iceland opened a three-point gap to Sweden, after the latter team drew against North Macedonia, 20:20, therefore progressing to the quarter-finals for the first time in their history.
Another maiden quarter-finals berth was sealed by Egypt, whose 24:22 win against Portugal helped them qualify for the next phase. With four wins in four matches in the tournament, Denmark also made it to the knockout phase.Therefore, only one berth remains to be sealed in these groups. North Macedonia will face Iceland and they can proceed either with a win or a draw to the next phase. They can also lose, but they will need to better Sweden's goal difference. Right now, Sweden are at -5, while the hosts boast a +12 goal difference before the Scandinavian side plays against the Islamic Republic of Iran.
Today's matches:
14:30 CEST: Senegal vs Algeria (29:35) / Faroe Islands vs India (27:22)
16:30 CEST: Montenegro vs Uzbekistan (43:26) / Kazakhstan vs Austria (23:30)
18:30 CEST: Iceland vs Islamic Republic of Iran (28:17) / Denmark vs Croatia (29:23)
20:30 CEST: North Macedonia vs Sweden (20:20) / Egypt vs Portugal (24:22)
22:01 CEST Full-time: North Macedonia vs Sweden 20:20 (12:10)
It was a nerve-wracking final phase. With 19 seconds to go, Sweden regained the lead. North Macedonia launched a final attack and actually managed to equalise three seconds before the whistle. 
Now the Scandinavians have to hope for some help from Iceland. If they win against North Macedonia and Sweden beat Islamic Republic of Iran, they could still reach the quarter-finals in the last minute. Otherwise, they face their worst result since 2014, when they finished ninth. 
North Macedonia, on the other hand, have already topped their best result so far (17th place). If they reach the quarter-finals, the hosts will make history. 
22:00 CEST Full-time: Egypt vs Portugal 24:22
It's all been about Lojin Osama Abdalla and centre back/left wing Mariam Omar Ibrahim in Egypt's attack today, as the latter scored seven goals, to become only the fourth player in the competition to hit the 30-goal milestone at North Macedonia 2022, after four games. The two players combined for seven of Egypt's 13 goals in the second half. Despite a late comeback attempt for Portugal, their previous problems with misses and turnovers came to bite them, as the African side superbly wrote history.
It is an amazing turnaround for a team that finished on the second-last place at Poland 2018, 23rd, to now qualify for the quarter-finals, the first African team to do so in the history of the competition. There is a feel-good attitude about Egypt, but they are a well-coached team, with talented players, who clearly have the ABC of handball down to a dot. This win also means that Denmark are through to the quarter-finals, with the winner of the group being decided on Friday, in the battle between the two sides.On the other hand, Portugal will be facing Croatia in the last match of the main round, as it will decide whether they will fight in the 9/12 Placement Matches or the 13/16 Placement Matches. The winner will earn a better finish in the competition.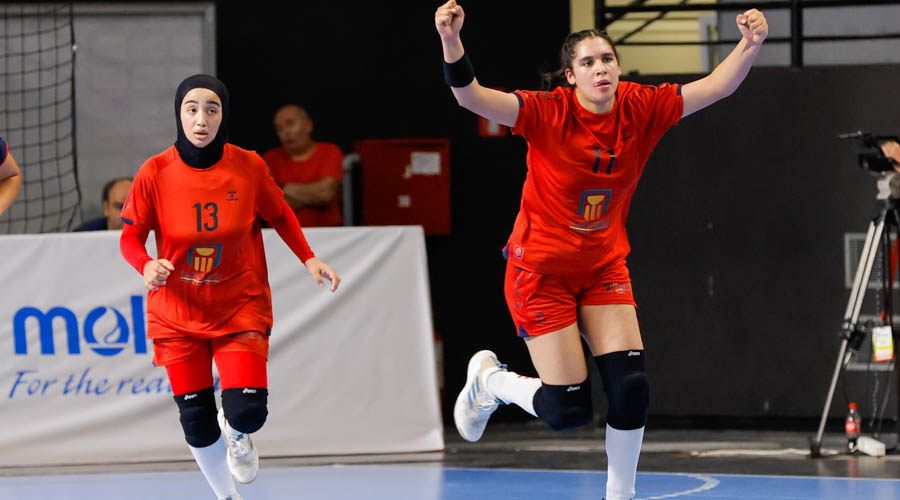 21:42 CEST Still a nerve thriller
Both teams are also equally bad in terms of taking their chances. Not even every second attempt leads to a goal. It could be painful for North Macedonia that they could not convert all their penalties into goals. Both goalkeepers have made 10 saves so far.
The pressure on Sweden is growing. They need the win. In the event of a draw, they would have the supposedly easier opponent, Republic of Iran, than the hosts, who have to compete with table-toppers and overachievers Iceland. After all, they inflicted a bitter defeat on the Scandinavians in the preliminary round. 
21:39 CEST Egypt on the verge of writing history
The two teams have been trading turnovers to start the second half, as the nerves have surely been getting to them, with so many easy misses conceded over such a short amount of time. Egypt's Lojin Osama Abdalla is back on the court and she has already scored twice, despite being banged up and with a large band-aid over her nose. It seems like the first half story is being repeated here, with Portugal failing to score for six minutes and 54 seconds helping Egypt open a three-goal lead, 16:13, after a 3:0 unanswered run.
Will Portugal bounce back, then? Well, it is debatable. But right now, Egypt are doing all the right things, pouncing at every attack and peaking in the crucial moments of the match. Portugal have been careless, maybe even getting tired. It shows in their performance, with their turnover tally ballooning to 18. Gifting the opponent 18 attacks is too much at this level. And right now, with 15 minutes to go, Egypt are up by four goals, 18:14, ready to write history and qualify for the quarter-finals. One mention also for goalkeeper Gihad Wael Sayed, who entered in the second half and saved four shots for a 66% saving efficiency.
21:09 CEST Half-time: North Macedonia vs Sweden 12:10
North Macedonia not only closed the gap but even took the lead for the first time in the 27th minute. And they even extended it to two goals. While they scored 52% of the time, i.e. they improved considerably, Sweden's rate dropped. They no longer even score on every second attempt (48%).
While North Macedonia's Marija Jovanovska made six saves in the meantime, the Northern Europeans made a change. Line Bergfeldt has now already shown with four saves. The best scorer so far is Iva Mladenovska from the host country with five goals.
Sweden need to use the break to regroup. They must not get nervous at all, even if it is an all-or-nothing game. North Macedonia, on the other hand, will be whipped to victory by their fans. If they win, they will advance to the quarter-finals.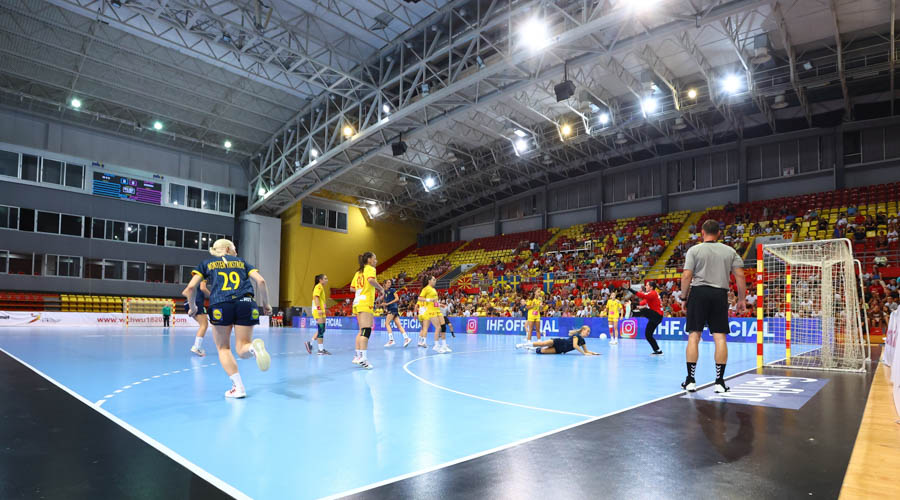 21:08 CEST Half-time: Egypt vs Portugal 11:11
On the back of a 4:0 run that saw them prevent Portugal to score for seven minutes and 26 seconds, Egypt built a healthy three-goal lead, 8:5, and looked in stellar form, positioning themselves for their fourth consecutive win, a record for the African side at the IHF Women's Youth World Championship. But a well-taken timeout for the European side had the exact same effect on Egypt, who found themselves at the receiving end of a 3:0 unanswered run, with the score tied, 8:8, after 23 minutes. Unfortunately for Portugal, they lost right wing Júlia Figueira for the game, with concussion-like symptoms and a fractured nose.
This has definitely been a strong change of tempo for Egypt, who were scoring at an average of 38 goals per game before facing Portugal. Right now, they have only mustered 11 goals, despite playing cohesively, imprinting a fast rhythm in attack and finding some open shots. Their main issue was taking care of the ball, as Portugal's goalkeepers saved only two shots. Egypt have turned the ball over 14 times, hence their issues in scoring. The second half will surely be interesting, especially as Egypt's star in the match, Lojin Osama Abdalla, has also exited with a bloody nose, after receiving an elbow. At the break, the two teams are tied, 11:11.
20:48 CEST Last chance for Sweden
Swedes are under pressure. They have to win this game or they have no chance of reaching the quarter-finals. Maybe that's why it took them a little while to get into the game.
North Macedonia, on the other hand, conceded their first time penalty after less than two minutes. Nevertheless, they scored the first goal of the game. After 9.5 minutes, Sweden had pulled away to 2:6 before the hosts were able to close the gap a little. 
Neither goalkeeper really stands out yet. Both have only held two balls. North Macedonia are below average with a 33% strike rate and definitely need to step it up a notch if they want to keep up with the northern Europeans. 
It is nice to see how much atmosphere there is in the hall. Both the local and Swedish fans are celebrating their team. 
20:45 CEST Crucial match for Egypt
Egypt might be facing their first major challenge in this tournament, exactly when they could seal their quarter-finals berth. A 3:0 run from Portugal cancelled a good start from the African side, as right back Luciana Rebelo scored two times. But Egypt have a penchant for surprising the European side's defence, as they have plenty of everything in their arsenal in attack – back who can deliver powerful shots, speed on the wings and some creativity sprinkled throughout the whole team. Left back Lojin Osama Abdalla has been increasingly getting the goals for the African side, scoring three times and earning two penalties in the first 11 minutes of the match.
Remember, Egypt will progress for the first time in their history in the quarter-finals of the IHF Women's Youth World Championship with a win here, therefore this game is paramount to their future. Their fundamentals might be better, but this team here, it surely is one of the most entertaining to watch in the competition, which will yield success in the future at the senior level. Until that point, let's focus back on this game, where Egypt are leading 6:5, after 14 minutes.
20:00 CEST Iceland vs Islamic Republic of Iran 28:17 (17:10)
In the end, Iceland cruised to a well-deserved victory. Their goalkeeping duo Ethel Bjarnasen and Ingunn Brynjarsdottir did a good job, and their multiple saves (14 in total) combined with the compact defence helped the European team to score from counterattacks. Left wing Lilja Agustsdottir was particularly productive, scoring eight goals, while Tinna Traustadottir, who was elected the Player of the Match, added seven more.
Fatemeh Merikhi, a joint best scorer of the tournament after the group stage, netted six times for Islamic Republic of Iran in the first half but failed to add anything to her tally after the restart. Overall, the Asian team had a below-par 35% shot efficiency, which was obviously not enough for a positive result.
Following this result, Iceland are top of the main round Group I with four points. If North Macedonia beat Sweden in a match which starts tonight at 20:30 CEST, both Iceland and North Macedonia will secure their quarter-final spots – and Iran, who remain on zero points, will lose a chance to progress there.

19:53 CEST Full-time: Denmark vs Croatia 29:23 (13:12)
A strong, disciplined and well-organised Denmark side were handed their toughest challenge yet at the 2022 IHF Women's Youth World Championship, but navigated all the problems with a mature demeanour, as their experience helped them absorb Croatia's pressure in the first 35 minutes. A small blip on the radar, just a few moments when they could not produce the same efficiency in attack, was Croatia's undoing, though, with Denmark strongly taking advantage on their way to the 29:23 win, the fourth in a row in this tournament, which helped them edge closer to a quarter-finals berth.
With five medals won in the competition, Denmark are the most decorated side at the IHF Women's Youth World Championship and have never finished lower than sixth place, in 2010 and 2018. They could still well compete for a medal, yet the path to the semi-finals looks difficult, facing a team from Group IV of the main round, which consists of Hungary, Norway, France and Brazil. It will be interesting to see how Denmark will cope with the challenge, but they are surely a good side in defence and have plenty of firepower in their back line.
On the other hand, Croatia are all but eliminated, as they need a miracle – a win against Portugal, Egypt losing against both Portugal and Denmark in the last two games and a strong enough goal difference in a three-way tie to challenge for the second place. It would have definitely looked different for them were it not for the painful loss against Egypt at the start of the preliminary round.
19:40 CEST Islamic Republic of Iran struggle in attack
Islamic Republic of Iran were restricted to just three goals in the opening 15 minutes of the second half, which saw Iceland extending their lead to 24:13. The Asian team took a timeout, but it does not seem to help at the moment.
Tinna Traustadittir is now Iceland's best scorer in this match, as she has netted seven times. In turn, Iran's top scorer Fatemeh Merikhi has failed to score after the break so far and remains with six goals.
19:36 CEST Denmark edge closer to quarter-finals
Scaglione is rested on the bench, but Denmark's top scorer in the competition, right back Anne With Johansen, is back in good form and scored two of Denmark's first three goals in the second half. Johansen is now the fourth top scorer at North Macedonia 2022, with 29 goals, just behind Croatia's Andjela Zagar, who has reached the 30-goal mark. Yet there are no signs that Denmark have this game in the bag. They are missing too many shots in attack, as Croatia constantly clings to every chance to try to stay in the game. One plus for the Scandinavian side is that goalkeeper Ida Marie Kaysen has started getting in the zone, saving 12 shots until this moment, for a 44% saving efficiency.
However, Denmark were not able to open a three-goal gap until the 42nd minute, when a goal from Matilde Vestergaard helped them create a 19:16 lead. It could well be their fourth consecutive win at North Macedonia 2022, which would virtually see Denmark through to the next phase. They could earn their tickets already this evening if Egypt win against Portugal. Nevertheless, it will be very difficult for Denmark to fail to qualify if they win here and it certainly looks the case, as they hold a 21:17 lead after 45 minutes.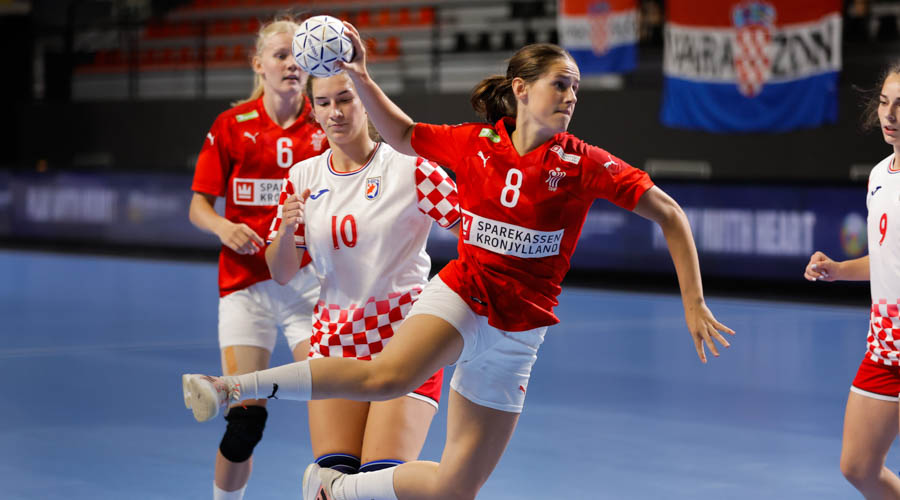 19:09 CEST Half-time: Iceland vs Islamic Republic of Iran 17:10
Iceland had a big advantage for much of the first half, leading 13:5 in the 20th minute. However, thanks to aggressive defence and Elnaz Yarmohammadtouski's string of saves, Islamic Republic of Iran somewhat stabilized the game. But the Europeans still hold a commanding lead, and it will not be easy for their opponents to mount a strong comeback in the second half.
The trio of Elin Thorkensdottir, Lilja Agustdottir and Tinna Traustadottir were Iceland's driving force, combining 14 of their 17 goals. And at Iran, one of the best scorers of the tournament Fatemeh Merikhi added six more goals to her tally.
19:04 CEST Half-time: Denmark vs Croatia 13:12
Entering the fray after Denmark's timeout in the 18th minute, left back Julie Scaglione started to make her mark immediately in the game, scoring twice in quick succession to help her side settle better in the match. In fact, she was the main reason Denmark built a 3:0 run, which turned the game on its head, opened a 10:8 lead and prompted Croatia's second timeout in the first half. Well, this is interesting, it is very unusual to see a team taking two timeouts when the score is so well-balanced, leaving a single one on the table for the second half when Denmark's superior depth might play to the advantage of the Scandinavian team.
Yet the move paid its dividends. First of all, Croatia tied the game by scoring two consecutive goals, while the main change was taking Scaglione out of the attacking phase with man-to-man coverage. Then, with a 4:1 run of their own, they wrestled back the lead, as Denmark failed to make the right adjustments. But, then again, it's Scaglione who rose to the occasion, as she improved her tally to four goals, Denmark's top scorer in the first half. But the game is still well-balanced, with Denmark taking a one-goal lead at the break, 13:12.
18:48 CEST Iceland are pulling away
Both Iceland and Islamic Republic of Iran are playing their debut IHF Women's Youth World Championship, but they have already achieved some success by reaching the main round. However, now both sides are looking for more – particularly Iceland, who started the main round with two points. In case of a win against Iran, they will make a big step towards the quarter-final.
And now it looks like Iceland have a good chance for a successful result. 15 minutes into the match, they lead 11:4. The Europeans have been tearing the Iranian defence apart with their fast combinations and also holding their rivals back, as Iran failed to score between minutes 6 and 15. Now the Asian team have finally ended this drought, but Iceland, who boast a 75% shot efficiency, continue to hold a big advantage.
18:47 CEST Croatia hold their line against Denmark
It might have looked like an easy match for Denmark, but Croatia are giving the Scandinavian side serious headaches, at least in defence, where they were not able to stop their opponent's back line, with Andjela Zagar scoring twice and Iva Bule adding another goal in the first seven minutes. It helped Croatia open a 4:3 lead, both thanks to them and the work in defence. Slowly, but surely, Denmark have taken control of the match, but there have been some costly misses from them, three one-on-ones against Lea Zetovic, Croatia's goalkeeper, including a penalty from the Scandinavian side top scorer, Anne With Johansen.
Croatia might have struggled in the preliminary round, but at least at the start of the match, they looked confident, gritty and definitely want to surprise Denmark. Whether they can do that, the answer might come a bit later. But until this moment, they have definitely frustrated a side which looked strong, on the path to contend for a medal. Thanks to four saves from Zetovic, who is boasting a 45% saving efficiency, Croatia have now opened up a 7:5 lead after 14 minutes. Are we heading to a surprise here?
17:53 CEST Full-time: Kazakhstan vs Austria 23:30 (10:16)
There we have it, Austria have won their first game of the 2022 IHF Women's Youth World Championship, by clearly outclassing Kazakhstan, 30:23. Coach Simona Spiridon gave meaningful minutes to all the players at her disposal, at every of the 13 outfield players who took on the court scored at least one goal. It was a good game from the European side, who was definitely searching their compass in this competition and they might just have found it, as they have the chance to double the number of wins in two days, against India.
On the other hand, apart from Zhanerke Kuandykova's good game, as she finished with ten goals, Kazakhstan have plenty to correct and it will not be easy to do that in the next few days. Winning against India, 10:0, in the first match will enhance their chances to fight to avoid the last place in this group, but they will still probably end up in the 25/28 Placement Matches. Also props to Austria's goalkeeper Nina Tilliacher, who saved 15 shots for an outstanding 53% saving efficiency.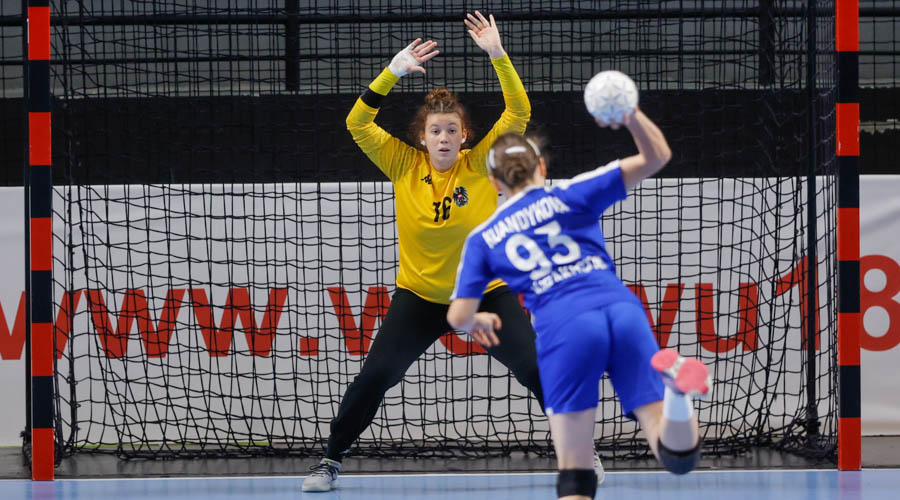 17:52 CEST Full-time: Montenegro vs Uzbekistan 43:26 (21:12) 
The game was settled long before the final whistle, and ultimately Montenegro wrote history by scoring the largest number of goals (43) in a match of the IHF Women's Youth World Championship in the team's history. As their squad was actively rotated, as many as 13 players found their names on the scoresheet, with Jelena Vukcevic becoming the best with six goals. Besides, Maruja Marsenic ended the game with 11 saves and a 35% efficiency.
Following this emphatic victory, Montenegro are top of the President's Cup Group I with four points, while Uzbekistan have zero points. Two African sides, Algeria and Senegal, are level on two points in the same group. On Friday, Montenegro will face Senegal, while Uzbekistan are scheduled to meet Algeria.
17:37 CEST Kuandykova steals the show for Kazakhstan
It's a one-player show from Kazakhstan as Kuandykova is continuing her outstanding match, scoring eight goals until this moment or 61% of the Asian's side total of goals in the game. Yet the gap is still growing and there is little chance now that Austria can concede another loss in this tournament today. They opened a nine-goal gap with 15 minutes to go, 23:14, so we are just waiting for the conclusion of the match to see how big the difference will be in the end. But in this half, Kazakhstan have only scored three goals in the first 15 minutes, so it is not their best game.
17:33 CEST Montenegro's win all but secured
After the restart, Montenegro continued to fully dominate on the court. Thanks to their free-flowing attack, the Europeans hit the 30-goal mark already 10 minutes into the second half. Five minutes later, they are holding a 33:17 lead, which hardly leaves any doubt about the outcome.
Uzbekistan seem unable to solve their defensive problems and make a lot of mistakes, which are punished by their rivals. And their low below-par attack efficiency, which now stands at 41%, also hardly gives the Asian team a chance to do well in this encounter.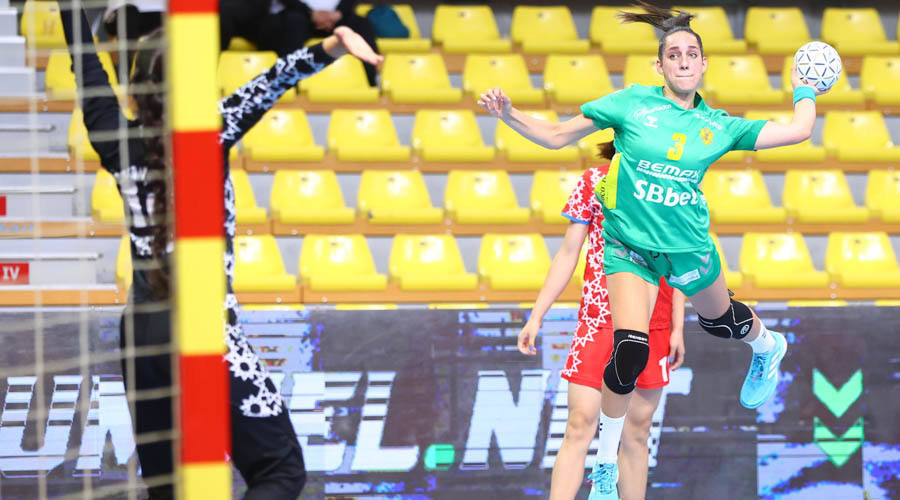 17:07 CEST Half-time: Montenegro vs Uzbekistan 21:12
Following a 3:0 run just before the break, Montenegro are holding a commanding nine-goal lead. Their shot efficiency is 66% compared to Uzbekistan's 44%, and as many as 12 Montenegrin players have already scored at least once.
Uzbekistan showed some decent performance in attack during the group stage, hitting the 30-goal mark in each of their three matches. However, they also had the second least effective defence in the whole competition, with 40 conceded goals per game on average. Now the Uzbeks again have problems in defence, and while all their three goalkeepers had their minutes before the break, none of them could really impress.
17:03 CEST Half-time: Kazakhstan vs Austria 10:16
For the best part of the first half, Austria thoroughly dominated the game and even opened up an eight-goal gap, but as starters began to tire and were replaced, their lack of depth became an issue. Still, the European side is heading to their first win at North Macedonia 2022, as they are comfortably ahead at the break, 16:10, with Kazakhstan's inability to score more goals hampering them. Zhanerke Kuandykova scored more than half of Kazakhstan's goals, six out of 10, as their overall efficiency in the game dropped to 35%.
With this six-goal advantage at the break, Austria will probably win this game and they eye one of the top two places in the group, which are virtually locked by them and the Faroe Islands, with the two teams' superiority over India and Kazakhstan clearly visible.
16:48 CEST Montenegro took an early control
Montenegro, who are the only European team in the President's Cup Group I, have two points and want to add just as many after their match against Uzbekistan. Now it Balkan side seems to be on the right track, as are holding a 13:7 advantage after 15 minutes.
Montenegro converted 77% of their shots, compared to Uzbekistan's modest 33%. Already five minutes into the match, they led 6:1 – and went on to maintain their advantage.
16:46 CEST Austria jump to early lead against Kazakhstan
A 4:0 run for Austria between the 6th and the 12th minutes helped the European side open up a five-goal lead, 8:3, as Kazakhstan's efficiency dipped to 27%, with misses keep piling up. This tournament has definitely not been up to par for Austria, who are on a three-game losing skid, therefore a win is of the utmost importance here. Especially as Kazakhstan started the President's Cup with two points, courtesy of their win against India. Sure, Austria might still win the group, but they will need help from Kazakhstan against the Faroe Islands in the last match, even if they win today, therefore things are still not on a total upward path for the European side.
Yet with Lorena Baljak scoring four goals and dishing two more assists, Austria are firmly in control of the match. They are leading 9:4 after 15 minutes, despite their attack still not being a well-oiled machine now.
15:56 CEST Full-time: Senegal vs Algeria 29:35 (12:13)
First win for Algeria at the IHF Women's Handball World Championships. Neither Nguenar Cisse's 13 saves nor the 14 goals scored by Sira Kebe (eight goals) and Theresimia Gomis (six goals) combined, nor that they increased their efficiency back above 50% helped Senegal in the end. Algeria were too strong. That was also thanks to 17 saves by Oumenia Meriem Salah and goal scorers like Ines Aissa (seven goals), Douae Sahraoui (six goals) and Alia Choudani and Lyna Yelles (five goals each). 
As a result, both teams now have two points on the account. Senegal are still second in the table thanks to their better goal ratio (-8).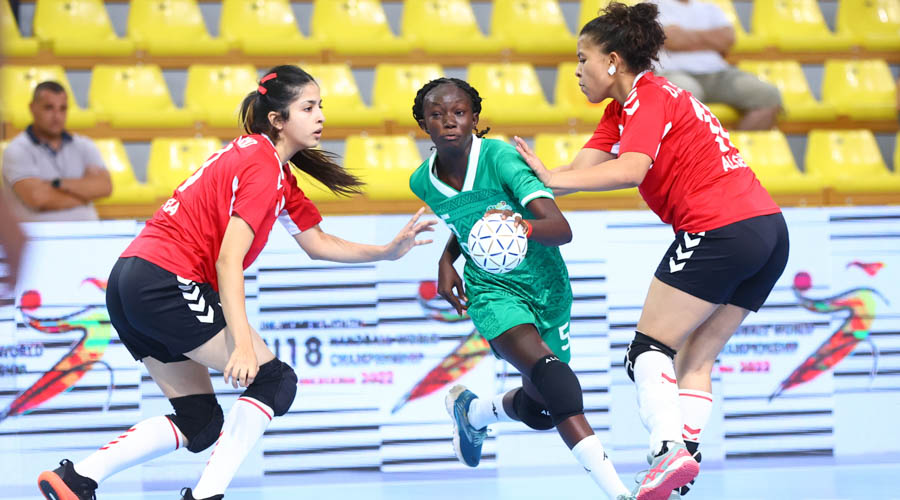 15:54 CEST Full-time: Faroe Islands vs India 27:22 (14:9)
Jassi has put on another clinical performance for India, as she scored nine goals, improving her overall tally at North Macedonia 2022 to 28 goals, which ties Iran's Fatemeh Merikhi for the top place in the top goal scorer standings. And India's back has also played only three games, after the Asian team conceded a 0:10 loss against Kazakhstan, due to travel issues in the first match of the tournament. However, that performance was not enough for India, who just lost their fourth game in a row at the 2022 IHF Women's World Championship.
Anna Elisabeth Halsdottir Weyhe and Bjork Franksdóttir Joensen combined for 12 goals for the Faroe Islands in their 27:22 win, another superb performance for the side that is making their debut at the world championship. Surely, this is not a big win like the previous one against Austria, but it enables the Faroe Islands to fight for the 17-24 places, as they cannot longer fall down the pecking order in the group, which they will either finish on the first or second place. India will likely play for the 28-32 places in the end, but nonetheless, this is an experience worth trying for the Asian side. This was also India's lowest loss in the competition, which will be a confidence boost for them.
15:39 CEST Algeria storm off
The break seems to have done Algeria good or coach Nadia Benzine has found the right words. Whatever it was, it has meant that Algeria has now extended its lead to six points. 
One reason is that they have increased their efficiency to 60%. Senegal, on the other hand, is now only at 43%. Far too little to be able to close the gap. 
If Algeria win the match, Group I will be exciting. If Uzbekistan wins against Montenegro, all four teams will have four points.
15:38 CEST No drop in level for Faroe
It's getting clearer and clearer now that the Faroe Islands are going to win this game. They boast a seven-goal lead, 22:15, with 15 minutes to go and though anything might happen, Faroe are too efficient in attack to drop this match. It would be their second win in a row at North Macedonia 2022, which would definitely be a top performance in their maiden tournament.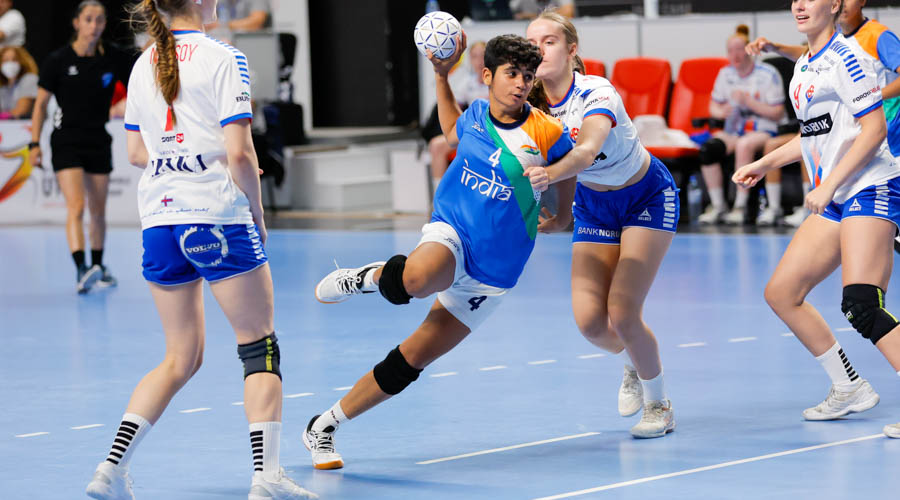 15:05 CEST Half-time: Senegal vs Algeria 12:13
It goes back and forth. After almost 25 minutes, Algeria could take the lead for the first time and even extend it to two goals. But Senegal did not let themselves be shaken off and equalised 15 seconds before the whistle. Whoever thought that was the final score was wrong. a quick counter-attack and netted the ball three seconds before the end of the half. 
While Algeria now convert 57% of their chances, Senegal's rate has dropped to 43%, plus a missed penalty. Senegal's Sira Kebe scored two more goals and is still the match's top scorer. Their goalkeeper Nguenar Cisse is no longer as successful, her rate has dropped to 33%. On the other hand, Oumenia Meriem Salah shines with 11 saves in 20 shots on goal.
Who will come out on top in the African derby? Can Algeria take two points or will Senegal take the top spot with four points?
15:04 CEST Half-time: Faroe Islands vs India 14:9
It looks like the Faroe Islands really made their mark on their game and it is currently played in the way that suits them, which sets the tempo lower and forces India to use long attacks, which are prone to turnovers. Just in the first half, the Asian side turned the ball over 13 times, with two of Faroe's goals coming via fast breaks after the defence forced mistakes from India.
India's top scorer in this tournament, Jassi, has now scored 23 goals at North Macedonia 2022, after putting four goals past the European side, half of what India mustered in this game. But the Faroe Islands are still comfortably in the lead, 14:9, and if the game has the same pattern in the second half, we might see Faroe clinch their second win in a row.
14:47 CEST Balanced match between Senegal and Algeria
After 6 minutes, Algeria's goal-scoring rate was only 25%. In addition, Senegal's goalkeeper Nguenar Cisse was convincing in the first 15 minutes with four saves on nine shots on goal. Nevertheless, Algeria were able to close the gap and equalise at 6:6. This was also because they started to convert more than half of their chances. One setback was that left back Dalila Aini limped off the pitch with a brace and will probably be out for a while. 
For Senegal, Sira Kebe has been brilliant so far. She sank four of her five attempts into Argentina's goal, making her the game's top scorer.  Will her team be able to pull away again or have Algeria now found their way into the game?
14:46 CEST India falter in the opener against the Faroe Islands
After the preliminary round, India were third in the average goal per game standings, putting 35 goals past their opponents. What happened in their maiden game in the President's Cup, at least for the first nine minutes against the Faroe Islands, is that those goals totally dried up. While defence has surely been an issue for the Asian side, their attack produced an impressive number of goals even in the record-setting loss against Croatia, 34:56.
However, they scored just once in the first ten minutes, enabling their opponents to build a healthy 6:1 lead. With six turnovers and only two saves from goalkeeper Chetna Devi, India are down 9:5 midway in the first half but are slowly starting to attempt a comeback, as they have finally stabilised their attack.
12:00 CEST How to watch
Want to follow the action in the arenas in Traijkovski and Sandanski? Then you can do so via live stream or, partly, also on TV.
Viaplay, for example, today broadcasts several matches like those of Denmark and Sweden. VOA will cover Islamic  Republic of Iran's match versus Iceland.
 
11:00 CEST Who are the top players in the competition?
The top three places on the top scorer list are all occupied by players from Asia. Yes, it is a surprise, especially as Fatemeh Merikhi (Islamic Republic of Iran) and Sevinch Erkabaeva (Uzbekistan) are the joint top scorers with 28 goals, followed by Republic of Korea's Minseo Kim, who recorded 27 goals. 
In terms of goalkeeper saving efficiency, Egypt's Yathreb Walid Sayed is currently on top with 57.1%, followed by Iceland's Ethel Gyda Bjarnasen (50%) and Norway's Dina Frisendal (46.1%).
10:30 CEST New kids on the block
Iceland and Egypt are definitely two of the biggest surprises in the competition, having progressed to the main round with two points and, therefore, big chances to progress to the quarter-finals for the first time in their history.
We took a look behind the curtain and tried to find out how they have gotten so far with little experience in the competition.
10:00 CEST Stay tuned!
Are you interested in everything at North Macedonia 2022? Don't worry, we got you covered. The preview for the first main round day is already live and you can watch every game. Alternatively, you can also follow our social media channels for results, images to illustrate the event, interesting stories and much more. 
 
9:30 CEST Main round to throw off on day five at North Macedonia 2022
The curtains have fallen on the preliminary round at the 2022 IHF Women's Youth World Championship, as the 48-game card was completed on Tuesday evening in Skopje, North Macedonia. 16 teams are still in the fight for the coveted trophy, while the other 16 – the ones finishing third and fourth in their groups – will now play in the President's Cup.
Eight sides enter the fray in the main round today, with as many as four teams being able to progress to the quarter-finals. In Group I, if both Iceland and North Macedonia win, they will make it to the knockout phase, while in Group II, the same applies to Denmark and Egypt. Ready for handball?