Final day crowns new women's youth world champions
10 Aug. 2022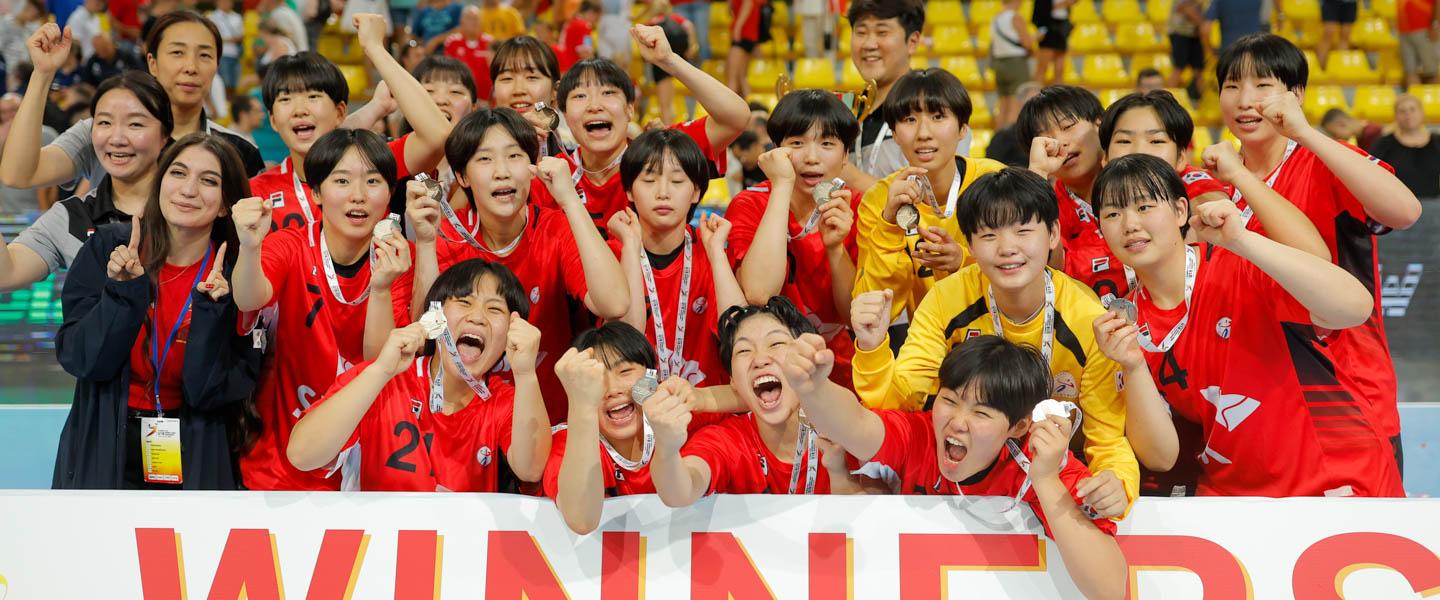 Live blog: These IHF Women's Youth World Championships come to an end with the crowning of the new world champions Republic of Korea. We saw thrilling matches, new records that were immediately broken again, beaming faces, tears and much more.
Three continents are represented in the top seven. Egypt in seventh place achieved the best ever result by an African team. Debutants Iceland came eighth. Korea leave this competition undefeated, while Denmark suffered the only defeat in the final. Hungary secured bronze in a match long thought to be won by the Netherlands. France, on the other hand, secured fifth place with a clear victory over Sweden. 
Today's games:
11:45 CEST 7/8 Placement match: Iceland vs Egypt (33:35 a.p.)
13:45 CEST 5/6 Placement match: France vs Sweden (31:22)
16:00 CEST Bronze-medal match: Netherlands vs Hungary (26:27)
18:15 CEST Final: Denmark vs Republic of Korea (28:31)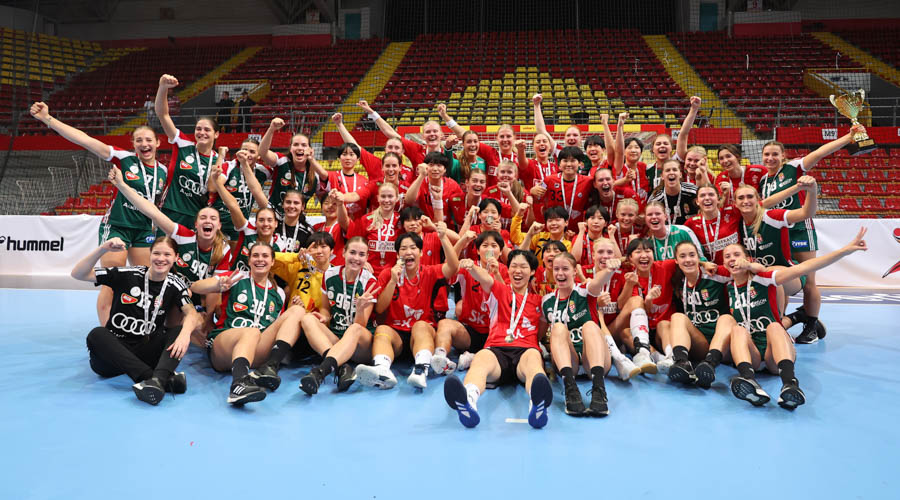 19:36 CEST Full-time: Denmark vs Republic of Korea 28:31 (15:15)
What a story! What a tournament! What a performance. The Republic of Korea are the new champions at the IHF Women's Youth World Championship, after dominating the previously unbeaten Denmark and taking a superb 31:28 win in the final, their eighth in a row and the one who will write the name of this team in the history books. It was not easy, it was not probably the most crystal clear win for Korea at North Macedonia 2022, but it is enough to see them crying tears of joy on the court of the Boris Trajkovski Sports Centre in Skopje, North Macedonia.16 years ago, the Republic of Korea clinched the silver medal in the inaugural edition of the competition, after conceding a 33:36 loss against Denmark, but right now they were the deserved winners, with a stupendous tournament, a fast-paced brand of handball that made them everybody's darlings. The arena was packed with the other teams that stayed until now in Skopje and pretty much all of them – Norway, France and Switzerland – all cheered for the Asian side.
Centre back Minseo Kim was the fulcrum of Korea's attack, delivering a gem tonight, with nine goals and three assists to help her side clinch the trophy, but, in fact, it was a well-coached team, which definitely provided the best and most efficient handball of the competition. Unfortunately for Denmark, this loss, which came after seven wins, was their undoing, but sealing the sixth medal in history – the second silver one, completing the set with two golds, two silvers and two bronze medals – is a good achievement in itself. Denmark have the top goal scorer of the competition, Julie Scaglione, who finished the competition with 62 goals, followed by Minseo Kim, with 58 goals and three players – Croatia's Andjela Zagar, Uzbekistan's Sevinch Erkabaeva and Iceland's Lilja Ágústsdóttir, with 56 goals.
19:28 CEST Korea are 10 minutes away from the gold medal
Denmark have started losing their way. It is not a total collapse, but their defence has been getting pummelled in the left area, where the lanes are getting bigger and bigger, while the attack likely has one plan: put the ball in Scaglione's palms, pray, and hope that her shot is a goal. And when then that does not pan out, well… Korea are just leading by three goals with 10 minutes to go, 26:23. They have taken advantage of Denmark's mistakes, and pushed the tempo until the Scandinavian side took a timeout to refresh things. The European side's goalkeepers have failed to rack up more saves, their defence faltered, with the attack following suit. Is this it? Will Korea seal their first-ever goal medal in the competition? We have 10 more minutes and Denmark pretty much need a change of sorts.
19:17 CEST Denmark have early lead with 21 minutes to go
Scoring her eighth goal in the game, Scaglione just became the first player to score at least 60 goals at the 2022 IHF Women's Youth World Championship. It has been a stellar tournament for Scaglione, who might be challenging for the MVP crown at North Macedonia 2022, but a lot will ride on how this game ends. Right now, she is used at 100%, she made some mistakes but is a crucial part of Denmark's attack. The European team's success will also rely heavily on goalkeeper Ida Marie Kaysen. Right now, she made 13 saves for one of the best games of her career. Will it matter in the end? Denmark have a 20:19 lead with 21 minutes to go. Like we previously told you, this will go down to the wire, down to the very last minute.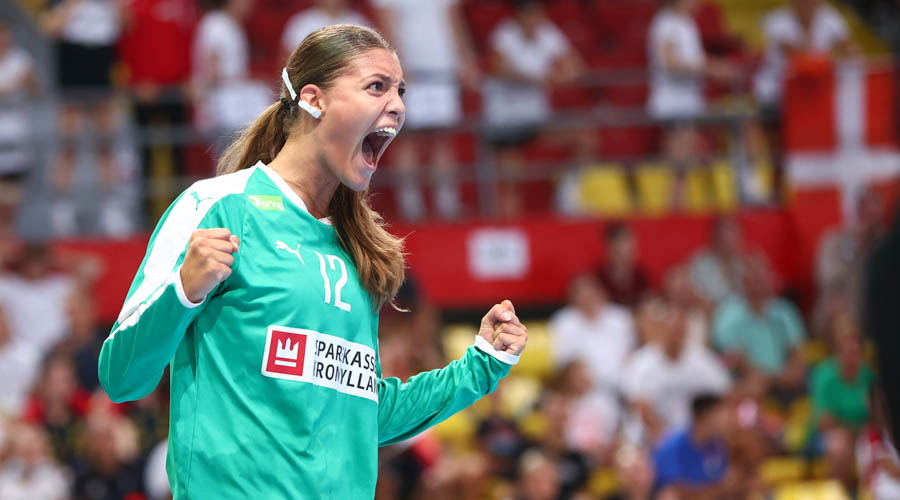 18:52 CEST Half-time: Denmark vs Republic of Korea 15:15
For eight minutes and 54 seconds, the Republic of Korea's free-flowing attack was stopped in its tracks, failing to produce a single goal on the scoreboard. It might have been Denmark's defence, but the most important aspect was the Scandinavian team's goalkeeper, Ida Marie Kaysen, who saved four shots in a row, to improve her overall tally to nine saves and a 39% saving efficiency at the break. This helped Denmark to create a 4:0 run, which, in turn, put them in front, boasting a three-goal lead, 14:11, an amazing turn of events after the Republic of Korea created their three-goal gap at the start of the match. You cannot fault any of the sides, which are giving it their all, with some amazing moments from both throughout the game.
A suspension for right back Anne With Johansen, after hitting Korea's goalkeeper Gayeong Kim with a shot in the face was, eventually, Denmark's undoing in the first half. That lead went into thin air and after a steal with 13 seconds to go, the Asian side boasted their own 15:14 lead. Captain Laura Borg converted Denmark's final shot, as the two teams are deadlocked at the break, 15:15, after some high-quality handball.
What can Denmark do in the second half? Pay more attention in attack and do not concede so many mistakes. Korea, on the other hand, just need more consistency. It will be a very, very difficult game to predict until the closing minutes. And when the gold medal at the 2022 IHF Women's Youth World Championship, makes it even more difficult.
18:39 CEST Great comeback by Denmark
This will probably go down to the wire, as the two sides measure up excellent against each other. Denmark mounted a superb comeback and what really worked out for them was the left flank, with Julie Scaglione and Matilde Vestergaard combining for eight of their team's first 11 goals. With ten minutes to go in the second half, the deadlock is not broken, 11:11, but can Denmark keep up this pace? Scaglione says yes and she just hit her sixth goal in the game, basically giving the Republic of Korea a run for their money.

18:14 CEST: Korea give Denmark first big headaches at North Macedonia 2022
One could see the proper emotion on the players from the Republic of Korea, as several were crying during the national anthems. And the nerves were also there on the court, as the Asian side scored only once in the first five minutes, at an unusually slow pace for them. However, on defence, they try to use an aggressive defence, 4-2, which wants to block the powerful backs from Denmark. And, for just a moment, they did that, despite conceding three goals from Julie Scaglione. In fact, the left back is the only player who has scored for Denmark so far, which can surely become a problem in the long term for the European side. It is the very first time when Denmark really have problems in this tournament and it could not have come at a worse time.
But Korea themselves are just a work of art. Their 6:3 start in only 10 minutes is just a huge testament to how their defence worked and just how good they played. Goalkeeper Gayeong Kim has also been top, with two saves in eight minutes to keep Denmark at bay. This will be a very interesting final because we see two teams that have won all their games until this point in the competition. After 12 minutes, Denmark have cut the gap to only two goals, 7:5. And Julie Scaglione tied Andjela Zagar and Sevinch Erkabaeva as the top scorer of the competition, with 56 goals.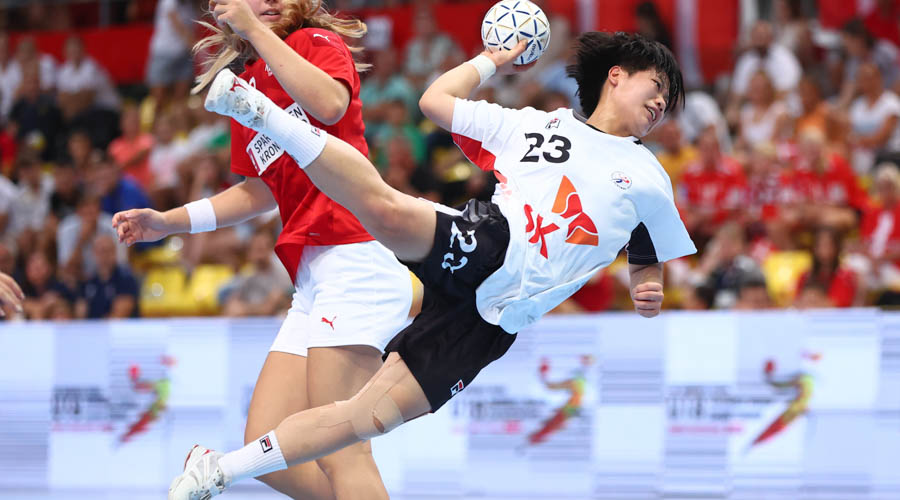 17:26 CEST Full-time: Netherlands vs Hungary 26:27 (16:12)
This was one of the craziest comebacks we have ever witnessed in a medal game at the IHF Women's Youth World Championship, but Hungary will take it! Yes, they cancelled a six-goal lead from the Netherlands, to seal the bronze medal emphatically, converting a penalty with five seconds left, for a 27:26 win. At one point, not even Hungary believed in themselves, but they really completed a masterstroke, to secure the win and go home with the second-ever medal in history for them.
But how did it all unfold? Whenever Hungary looked like they were getting close and had the chance to cut the gap to one goal, Dutch goalkeeper Bianca Schanssema came out of nowhere to frustrate them. In total, the shot-stopper saved 12 shots for a 31.5% efficiency, being paramount to stopping Hungary in their tracks. While the number might not look high, they do not tell the whole story, as Schanssema really saved some crucial shots in some difficult moments of the game for the Netherlands. Until everything collapsed. A suspension conceded by Romée Maarschalkerweerd with five minutes to go really turned the game on its head, as Hungary finished with a 5:1 run, spurred by Petra Simon.
The back was surely Hungary's best player in the competition, finishing the tournament with nine goals in this match and with a 55-goal tally overall, enough for the fourth place in the top scorer standings. On the other hand, the Netherlands could not believe their eyes and eventually left the court in tears, yet the fourth place in such circumstances is a very good finish.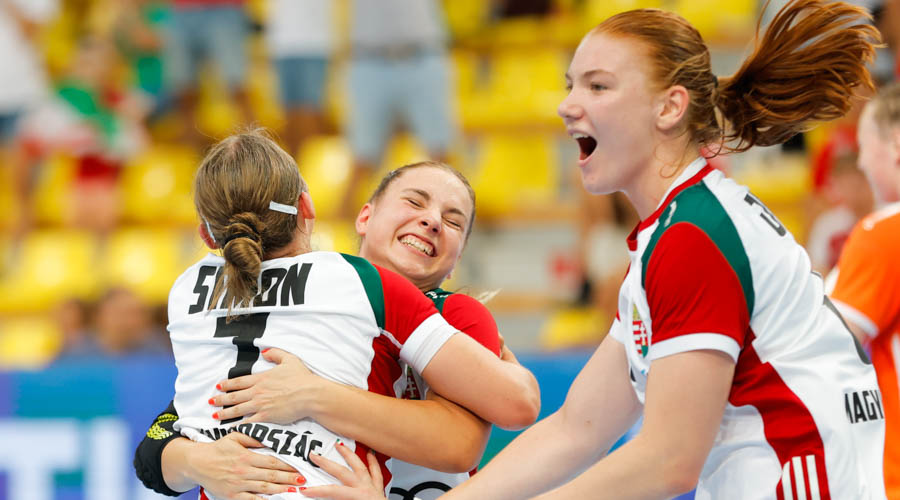 17:04 CEST Hungary and the Netherlands trade unanswered runs
Being at the receiving end of that 9:1 run in the first half really hampered Hungary's chances of sealing a medal at the 2022 IHF Women's Youth World Championship. This team relied heavily on their depth and their experience to pull through difficult situations and were that close to sealing a place in the final and then… everything collapsed in quite a spectacular fashion. The reigning European champions look like a shadow of their selves, as the missing centre back Julia Farkas has really made Hungary implode in this game. They went down six goals, 14:20, with the Netherlands deploying another 3:0 unanswered run, leaving Hungary's team and bench totally perplexed.
But Hungary still have some fight in them. Taking advantage of a Dutch suspension, they bounced back and cancelled that previous run with their own 3:o one, cutting the gap to only three goals. But Hungary are still in a precarious position, with their defence conceding too many goals already for their liking. Whether there are tired legs or a lack of morale after that loss against Korea, we might never know. What we do know is the Netherlands are leading 21:19 with only 17 minutes to go. Can Hungary mount a comeback? They at least forced the Dutch side to take a timeout and reassess their position.
16:34 CEST Half-time: Netherlands vs Hungary 16:12
In a very, very unexpected turn of events, the Netherlands used a 4:0 unanswered run to tie the game and prompt a timeout from Hungary after 17 minutes. Without one of their stars, centre back Jalisha Loy, who suffered an injury in the quarter-final against Iceland, the Netherlands somehow found the grit to mount a comeback against one of the best teams in the competition. And they did not stop there, taking the lead back, as Hungary's unprecedented drought extended over seven minutes and 26 seconds, with Simon even missing a penalty.
For that part, Dutch goalkeeeper Bianca Schanssema needs to be highlighted, saving two crucial penalties. And it went from bad to worse for Hungary, who attack entirely collapsed. It was a mix of the Dutch defence really starring and Hungary's attack truly missing easy chances, but the bottom line is that the Netherlands used a 9:1 run to really rock the game and enter the medal conversation by blowing up the door. It is one of the most astonishing turnarounds in the competition so far and Hungary are really scratching their heads about how could this be possible. The game is still open with the Netherlands leading 16:12 at the break. But for as long as Hungary do not improve their 41% shooting efficiency, things are not looking good for them.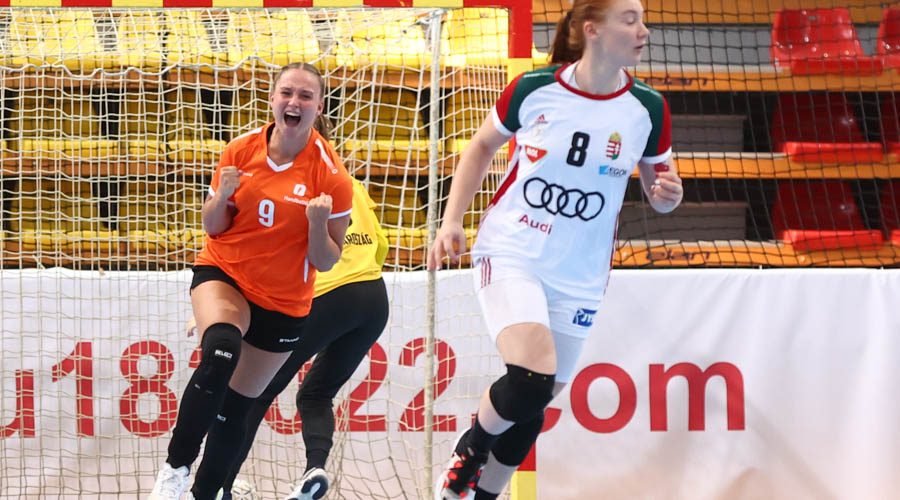 16:17 CEST Hungary ride 8:1 run to grab clear lead
Hungary were obviously devastated to lose a highly competitive semi-final against the Republic of Korea, 29:30, two days ago. Without their star centre back Julia Farkas, who will miss the court for the next two months, the reigning European champions had their share of issues to start the bronze medal match against the Netherlands. Remember, both sides have a single medal so far in the history of the competition – the Dutch side a bronze, Hungary a silver at Poland 2018 – so this match is paramount for them. After needing three minutes and 41 seconds to score their first goal, Hungary went on an 8:1 run that turned the game on its head, with their top scorer, Petra Simon, becoming more of an assist provider, with two such assists.
It is reminiscent of what happened in the semi-final against Denmark when the Netherlands lost by 16 goals. A timeout was called by coach Ricardo Clarijs, but it could not impact the game a lot. Liliana Csernyanszki scored three goals for Hungary, who have established a 10:5 lead after 14 minutes and look to be well settled in the game.
15:09 CEST Full-time: France vs Sweden 31:22 (15:9)
Sweden have reduced the gap in the final minutes of the game, but it was too little, too late for them. France had already clinched an unassailable lead and secured their sixth win in eight matches at the 2022 IHF Women's Youth World Championship, just enough to finish in fifth place. It has been a good experience for "Les Bleuettes", who have some good building blocks, like backs Nina Perret and the Borg twins, Lylou and Enola, while goalkeeper Shana Wanda is also one of the players that we will probably be watching in the future. This has also been one of France's highest-scoring matches, as they also provided some great entertainment in attack, with almost every player chiming in with a goal.
On the other hand, Sweden's path at North Macedonia 2022 has surely been rocky, but they still managed a respectable sixth place, finishing in the top 10 for the sixth time in a row, a superb performance for the Scandinavian side. Sure, there might have been some issues that need correction in the future, but the building blocks are there, with only the attack needing some inspiration at times, especially in the back line. Left wing Stella Huselius will be a name that will probably be heard in the next years, with her five-goal tally today lifting her to the sixth place in the top goal scorer standings, with 52 goals throughout North Macedonia 2022.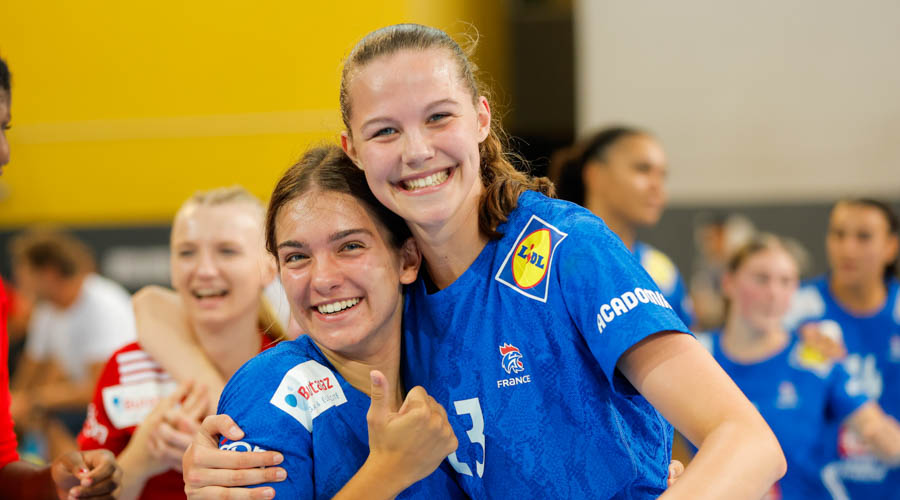 14:49 CEST France are cruising to the fifth place
Sweden called a timeout just after five minutes and 27 seconds in the second half, after a 4:1 run from France that opened up a nine-goal gap, 19:10. Sure, we have seen yesterday that those gaps can be cancelled, with North Macedonia erasing 10 goals from the 13-goal Croatia lead in the second half, but France have more experience at this level and will not let this huge lead slip. With four goals scored in this game, Lylou Borg improved her overall tally in the tournament to 48 goals, needing only two more to hit the 50-goal mark, one that Sweden's left wing Stella Huselius just hit, becoming the 12th player in the competition to score at least 50 goals.
On the other hand, Sweden's attack has continued to produce turnover after turnover. They have now lost 15 attacks via mistakes while missing another 19 shots. Therefore, it is no surprise that France are cruising to a fifth-place finish at the 2022 IHF Women's Youth World Championship, as they lead 26:16, with 15 minutes to go.
14:19 CEST Half-time: France vs Sweden 15:9
France's strong start to the game was integrant to the score line at the end of the first half, as Olivier De Lafuente's side rode that wave and never looked back, even opening a six-goal gap at times, 14:8, after 26 minutes. They were the favourites coming into this game and it really looked like it from what happened on the court, as France surely had an ace or two up their sleeves throughout the whole match. On the other hand, Sweden's attack has been, well, not up to par to say the least, as their shooting efficiency was a meagre 36%.
Whether that will change or not in the second half, remains to be seen. France are prone to have off moments throughout the matches, but Sweden will have to improve mightily just to enter the fray. It looks improbable right now, with their game still lacking the necessary impetus. Sweden will have to come back from a six-goal deficit, which is a lot at this stage of the competition.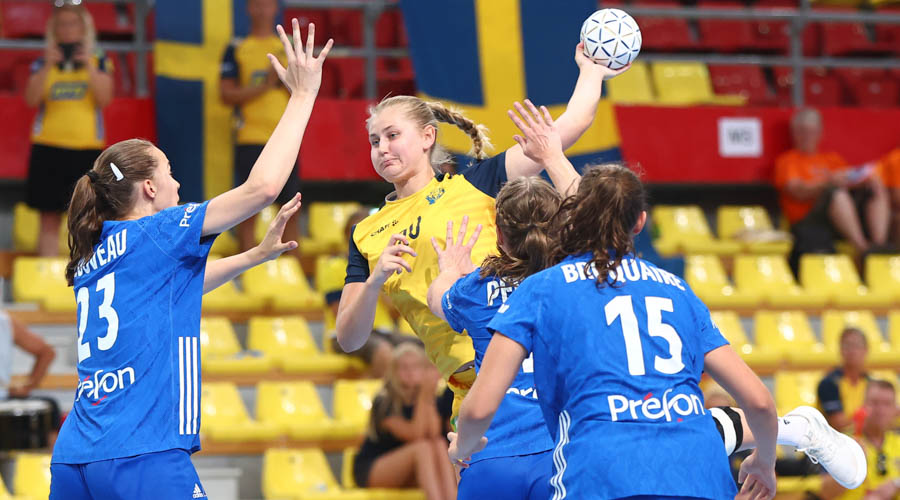 14:02 CEST France cruise to five-goal lead
We are now in the middle of the Placement Match 5/6, with two European powerhouses contending for a better finish at North Macedonia 2022. Sweden have been underwhelming but managed to sneak through to the knockout phase despite a heavy loss against Iceland in the first game of the tournament and can brand this tournament a success. For this game, they have six players returning from the previous match, as they had a bout of gastroenteritis and are trying to keep up the pace with France as strong as they can.
Three of the players which starred for France in this tournament, Lylou Borg, Nina Perret and Nina Dury have each scored two goals to help their team open up a 6:3 lead, as they are dominating in both attack and defence. It was the latter who helped them earn a better place in this tournament and whilst this might not be the top placement for them in history, they should be happy with how they played, with this generation showing their potential. With an excellent frame for a goalkeeper, Shana Wanda is a player to watch for the future and she started this game very good, saving two shots for a 40% efficiency until the 15th minute when France boast an 8:3 lead.
13:08 CEST Full-time: Iceland vs Egypt 33:35 (after penalties, 31:31, 16:12)
This has truly been a spectacular game, as is the norm with these Placement Matches, where teams are focusing more on attack, rather than on defence. While Iceland have conceded over 30 goals in a single game for the first time at North Macedonia 2022, with the final whistle seeing a 31:31 draw, they also had one of the best attacking performances in the tournament, with captain Lilja Ágústsdóttir scoring 11 goals, as she was impossible to stop by Egypt's defence. Iceland could have won the game in regular time, but Kenzy Hatem Salama scored the final goal with nine seconds left on the clock and the match went on penalties.
There, Egypt were better, goalkeeper Yathreb Walid Sayed saved two penalties and the African side clinched a 35:33 win, which sealed them the seventh place at the end of the 2022 IHF Women's World Championship, their best-ever finish in the competition. This generation surely has a lot of potential, with players that should be able to make the step further in the future. They are also very well-coached, have some good abilities and impressed many at North Macedonia 2022.
On the other hand, Iceland finished eighth in their debut tournament at the IHF Women's Youth World Championship. While the finish was disappointing, with three losses in a row, it was surely a good tournament for the European side, who has a bright future ahead of them. Moreover, Iceland are now one of the three teams which boast the top scorer in the competition. Three players are tied at the top – Croatia's Andjela Zagar, Uzbekistan's Servinch Erkabaeva and Iceland's captain, Lilja Ágústsdóttir, all with 56 goals.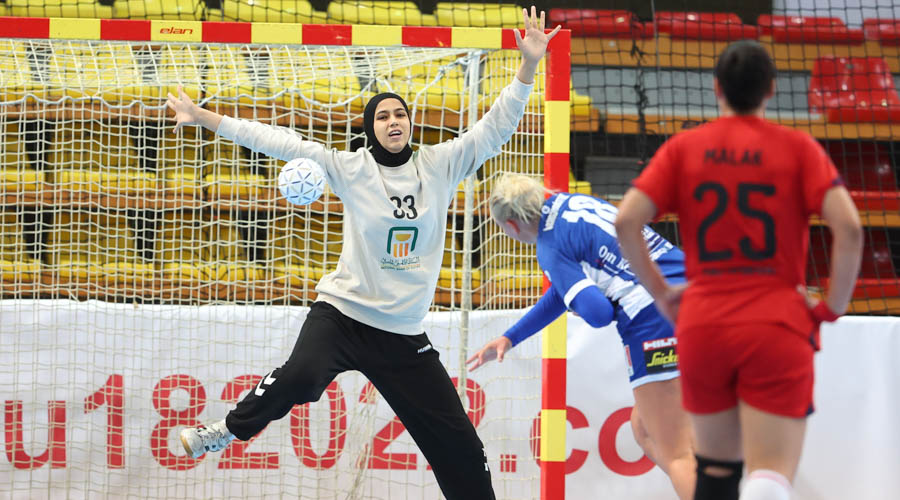 12:54 CEST Nip and tuck between Iceland and Egypt
Having those 15 minutes of rest made the difference for Egypt, who were struggling for goals at the end of the first half but scored 10 in the first 15 minutes of the second half to get even closer to Iceland. It has been a collective effort, with five players scoring at least three goals for Egypt, as they force a 4:1 run to cut the gap to a single goal, as Iceland's goalkeepers could only save six shots between them in the game. Lilja Ágústsdóttir and Elín Klara Thorkelsdóttir continued their superb game, combining for 14 goals in the match so far, with Iceland still in the lead, 24:22.
Ágústsdóttir has now scored 52 goals and jumped to the fourth place in the top goal scorer standings, just four goals behind the two leaders, Andjela Zagar and Sevinch Erkabaeva. It will be difficult for her to tie them, but let's wait and see what happens in the final minutes of this match.
12:19 CEST Half-time: Iceland vs Egypt 16:12
Three goals from back Lojin Osama Abdalla, one of the players that shined at North Macedonia 2022 for Egypt, helped the African side build a 5:1 run that turned the game on its head and prompted a quick timeout from Iceland. It worked out like a charm for them, with left wing Lilja Ágústsdóttir scoring two consecutive goals to help Iceland build their own 5:0 unanswered run, which helped the European side wrestle back the lead from Egypt. Ágústsdóttir is Iceland's top player in the competition so far, a steady hand on penalties, a very fast wing, who has now increased her tally at North Macedonia 2022 to 50 goals, entering the first 10 places in the top goal scorer standings. In fact, Iceland's captain is only the tenth player to hit the 50-goal milestone in the competition, a great feature for Ágústsdóttir and Iceland.
Basically, Egypt's attack has dried up after Iceland's timeout, as turnovers started to be the norm, with costly misses helping the European side build a big gap. Maybe the break will help the African side, who is definitely looking more and more tired as time passes. Only in the last 10 minutes of the first half, Egypt have turned the ball over six times, which is a lot in this phase of the competition. And the score line agrees: Iceland boast a 16:12 goal lead at the break, as their opponents scored a single goal in the last 10 minutes and 26 seconds of this half.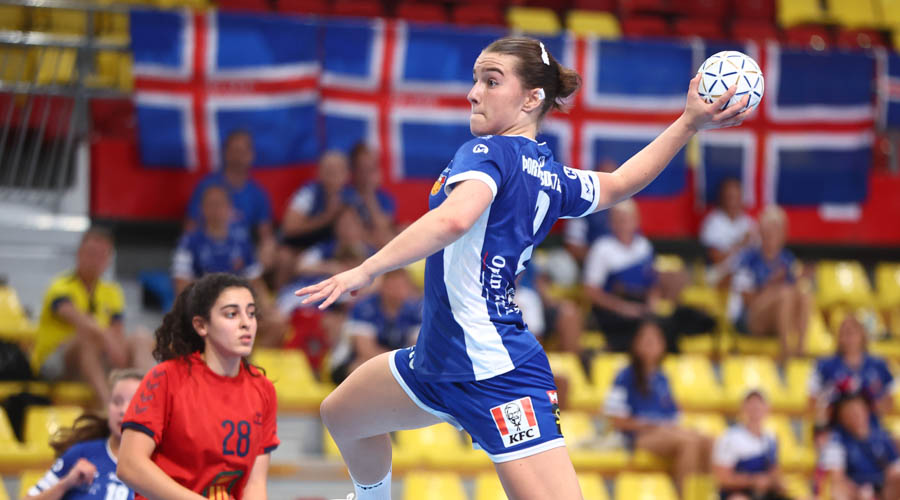 12:02 CEST: Iceland record strong start in last game at North Macedonia 2022
This cracking day of handball started well, with the Placement Match 7/8, which features Iceland and Egypt, two sides that recorded their best-ever finish at the IHF Women's Youth World Championship. However, both lost their last two games and are trying to finish the competition on a high. And Iceland, who conceded the lowest amount of goals so far at North Macedonia 2022, have started the game better, even taking a three-goal lead, 8:5, after ten minutes, while missing a single shot, as Egypt's defence has been lacking the necessary impetus.
On the other side, Egypt, who lost the last three games in a row against European opposition, look like their energy levels are way down from the start, with misses piling up, as the efficiency has dropped to under 50%. They are still in the game but will have to correct their errors, while also needing more from their goalkeepers, who have a saving efficiency of 17% after 15 minutes. Iceland are leading 9:6, but they will need to push the tempo to win, something that they did not do throughout the competition.
11:00 CEST How to watch
Want to follow the action in the Boris Trajkovski Sport Centre in Skopje? Then you can do so via the IHF live stream or other broadcasting platforms as Viaplay streams Sweden's battle for fifth place and the medal matches of Netherlands and Denmark and AMC/Sport 1 also not only broadcast Hungary fighting for bronze but they stream the final as well.  

10:30 CEST Final ranking to be completed today
Before the start of the last four matches of the competition, we can provide the final ranking for the other sides who have fought tooth and nail for a better finish in the competition. Some of them have really went to the distance, others have not lived up to the expectations, but all of them have really tried to give their best in the competition. So, without further ado, let's give it up for all of them, presenting the final ranking from 9th to 32nd place at North Macedonia 2022.
9. Norway, 10. Germany, 11. Croatia, 12. North Macedonia, 13. Portugal, 14. Romania, 15. Brazil, 16. Islamic Republic of Iran, 17. Spain, 18. Montenegro, 19. Faroe Islands, 20. Slovenia, 21. Switzerland, 22. Czech Republic, 23. Austria, 24. Uzbekistan, 25. Argentina, 26. Slovakia, 27. Kazakhstan, 28. Senegal, 29. Guinea, 30. India, 31. Uruguay, 32. Algeria.
10:00 CEST All-star Team and top scorer to be found out
We will also learn the North Macedonia 2022 All-star Team and the MVP today, just as well as the top scorer. So far, Croatia's Andjela Zagar and Uzbekistan's Sevinch Erbakaeva are leading the scorer standings, with 56 goals, followed by the Islamic Republic of Iran's Fatemeh Merikhi, with 55 goals. 
Yet, with one game to go, Denmark's Julie Mathiesen Scaglione (52 goals) and Korea's Seojin Kim (51 goals) and Minseo Kim (49 goals) can challenge for the title. We will find out everything in the next hours, so stay tuned.
09:30 CEST A final for the ages in Skopje
We have previewed every of the last four games, so everything is clear just before the end of the competition – click here to read about the day. 
Let's just say one thing: the final will feature the two sides that have not dropped a single game during the event, which is huge in its merits. Denmark and the Republic of Korea are both riding seven-game winning streaks, so we will have a final for the ages in Skopje.  
09:00 CEST The final day is upon us
This is the final day of the 2022 IHF Women's Youth World Championship and we have only four games to go until we know the new world champions! 
The final ranking will be revealed today, with two placement matches ready to be played before the two medal games. In the bronze-medal game, the Netherlands will face Hungary, while in the gold-medal game, Denmark face the Republic of Korea.
Denmark could seal their third-ever title, after the ones in 2006 and 2012, while Korea have never won the gold medal in the competition, losing the one final they played, in 2006, against Denmark. Hungary have won one silver, in 2018, while the Netherlands have secured only one bronze medal, in 2010. So, get ready as anything can happen today.