Quarter-final draw to learn new names at North Macedonia 2022
04 Aug. 2022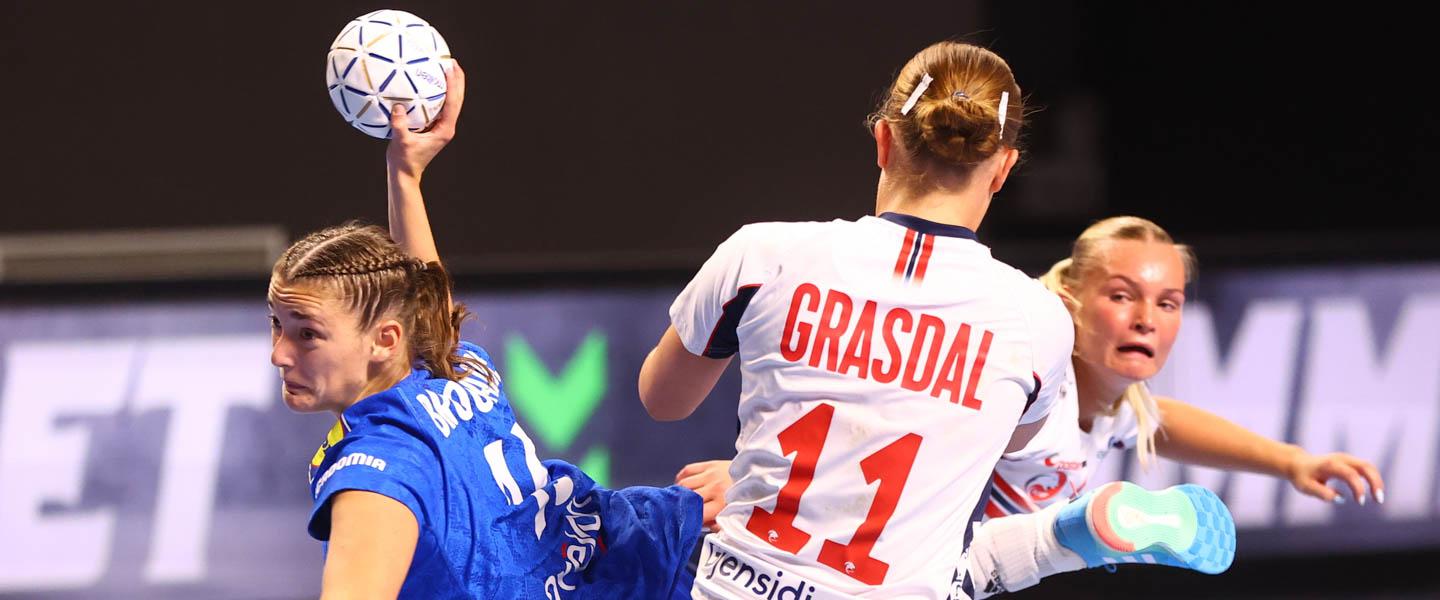 Live blog: There you have it! The sixth day of the 2022 IHF Women's Youth World Championship is now over and we have a single team that managed to progress to the quarter-finals, the Republic of Korea. The Asian side joins Iceland, Denmark and Egypt, with the four other berths to be delivered tomorrow.
Don't forget, we have just a few hours of rest and we will be back, with a full 16-games card and the final answers before we move over to the knock-out phase of the competition.
Today's games:
12:30 CEST Spain vs Uruguay (42:18)
14:30 CEST Czech Republic vs Argentina (26:25) / Switzerland vs Guinea (32:22)
16:30 CEST Netherlands vs Germany (31:25) / Slovenia vs Slovakia (33:30)
18:30 CEST Republic of Korea vs Romania (33:21) / Norway vs France (19:22)
20:30 CEST Hungary vs Brazil (32:16)
21:54 CEST Full-time: Hungary vs Brazil 32:16 (19:10)
Well, this has truly been a treat to watch, as Hungary looked strong and did check all that they needed to do in this game – avoid injuries, rest players, and win big. In fact, this is the biggest win in the main round so far, after eight matches, trumping Iceland's 11-goal win against the Islamic Republic of Iran yesterday. Only two outfield players did not score at least a goal for Hungary, despite trying, with two shots each, but Beata Bohus, Hungary's coach, really handed minutes to all the players in the roster.
Surprisingly, this tied Hungary's biggest win in the competition, a 16-goal one against Argentina, as the reigning European champions still managed to score goals, despite not pushing the pedal to the metal. It was also a good outing defensively, limiting Brazil's top scorer, left back Kelly Rosa, to three goals from 11 shots. Hungary will now face Norway tomorrow, while Brazil end the main round against France and will probably head to the Placement Matches 13/16.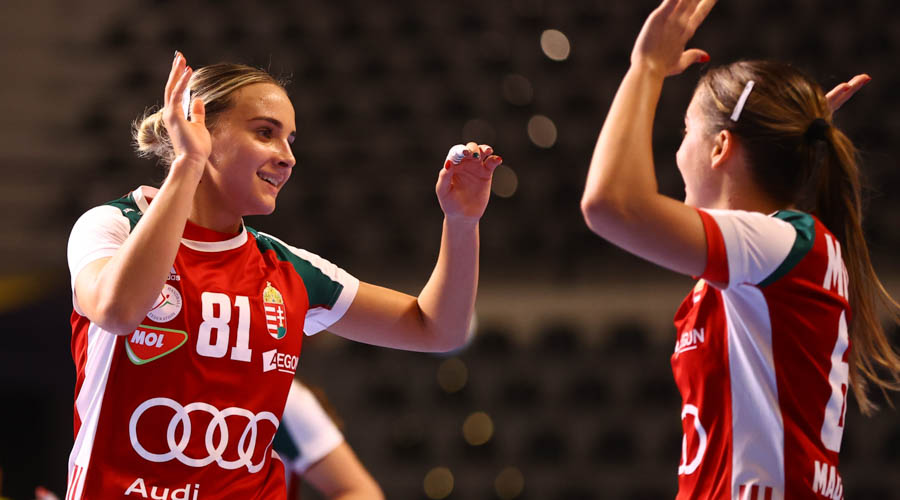 21:36 CEST Hungary start to rest their key players
Three consecutive goals for Hungary prompted Brazil to take their second timeout of the game, just after four minutes and 27 seconds in the second half. It did not help the South American side to weather the storm, as the reigning European champions used a 5:3 run to open an 11-goal lead, 24:13, after 42 minutes, despite Hungary's penchant to turn the ball over more times and with misses piling up. As mentioned before, it is just normal to see this, with Beata Bohus' side focusing on tomorrow's match against Norway, a true decider for their fate in the competition.
Hungary will know what they need to seal first place in the group or by how many goals they need to lose to qualify – spoiler alert, two – but they will also know what their path to the trophy looks like. If Denmark win Group II of the main round, provided they do not lose against Egypt, then Hungary face the African side if they win the group and Denmark, if they finish second. Until then, let's get back to the game, where Hungary lead 25:14, with 15 minutes to go.
21:04 CEST Half-time: Hungary vs Brazil 19:10
It's a strong display of efficiency, as Hungary have missed only three (!) shots in the first half while turning the ball over six times. Still, it is hard to argue that they did not control the game, in fact, it is a walk in the park, a good moment to rest some legs in the second half ahead of the match against Norway, which will be a decider for a lot of things in this group. This is precisely the way such a game is prepared: start strong, open a big cushion and then rest some of the starters before a game against an opponent which is much stronger.
Brazil did not have much success against goalkeeper Kincső Sass, who saved eight shots for a 45% saving efficiency. The South American's side top scorer, Kelly Rosa, was in particular very well blocked, scoring only twice from six shots, as the gap only increased throughout the first half. At the break, Hungary are leading, 19:10, and they simply cannot lose this game, with a very big gap between the two teams.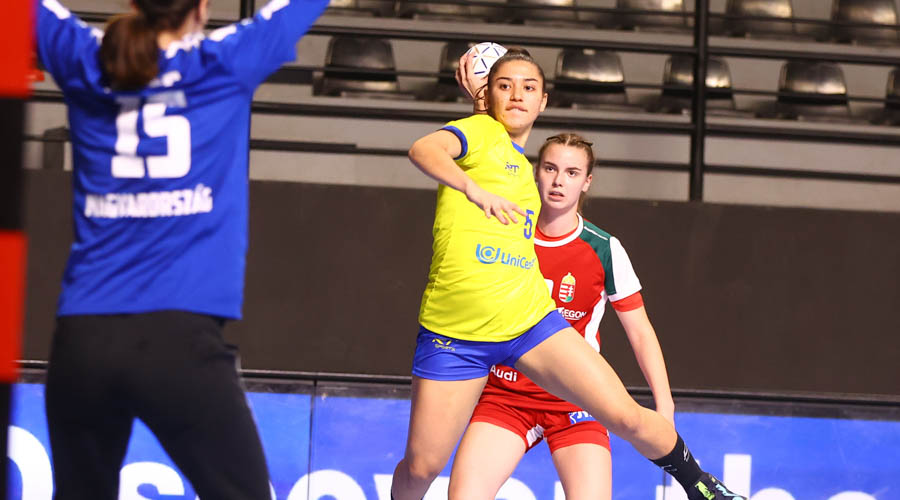 20:46 CEST Best start in four games at North Macedonia 2022 for Hungary
Brazil have managed only to tie the game once, with their second attack, but after that start, they faltered badly. Led by the MVP of the W17 EHF EURO 2021 from last summer, back Julia Farkas, who scored four goals and dished one assist, Hungary went on a 7:1 run to open a huge lead after 11 minutes, 10:3, as this has surely been the best start of a game. Sure, the reigning European champions had their issues against France and Spain and were even down by four goals against the latter side in the first half, but they look impressive here. Is it down to the opponent, or down to them peaking just in time for the knockout phase of the competition?
With France winning against Norway, the situation in the group is more complicated now and Hungary will not progress to the quarter-finals if they win today. They still have to play against Norway, which could be a tough game, but Hungary are to be favoured in that game, as their defence could derail Norway's attack, precisely how France did today. But they are going on a four-game winning streak and certainly look like the contenders they were branded before the start of the tournament, especially as they now lead Brazil, 13:5, after 15 minutes.
20:00 CEST Full-time: Republic of Korea vs Romania 33:31 (14:13)
Republic of Korea went through ups and downs during this nerve-wracking match, but in the end continued their winning run, celebrating a fourth straight victory in the tournament. Their top scorer Kim Minseo was on fire again, netting 10 times and climbing to the top of the competition's scoring chart with 37 goals. For much of the encounter, Romania tried to put pressure on their Asian opponents but ultimately came up short.
With four points, Korea became just another team to secure their quarter-final spot at North Macedonia 2022. Romania are ranked third in the group with one point, but they still have a chance to leapfrog the second-placed Netherlands and go through. If Romania beat Germany tomorrow, and Netherlands lose against Korea, the Romanians will reach the semi-final if they have a better goal difference than the Dutch. Now Netherlands have +6, compared to Romania's -2.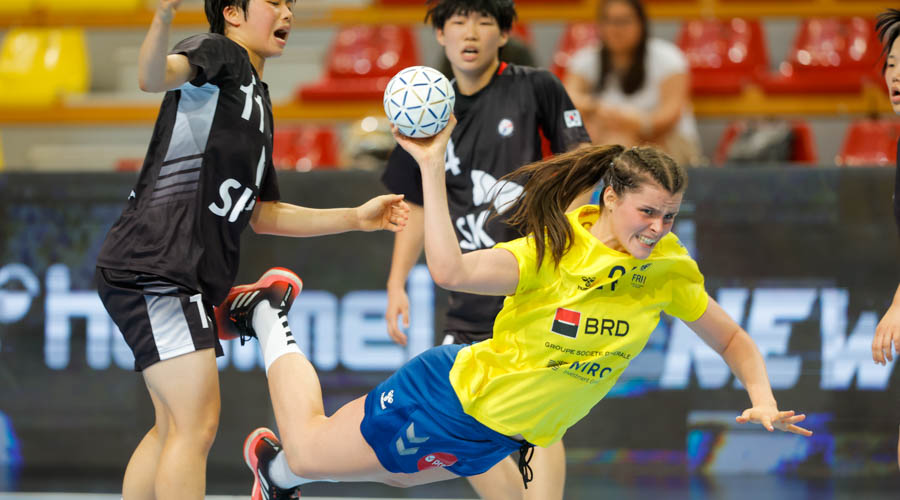 19:54 CEST Full-time: Norway vs France 19:22 (6:11)
There was no way that Norway was going to win this match with that shoddy attacking efficiency and it was clear just from the start that France were really dominating this match. What the Scandinavian side lacks in this team is a player that could really take the match into her own hands, either scoring via breakthroughs or shooting strongly from the backcourt. But Norway lacked this throughout the whole tournament and the quality of the opponents only masked these skills which are lacking. However, when faced with a strong defence like France's, things have unravelled quickly. And Norway might have mounted a strong comeback at the end of the match, but it was too little too late, as this was their second-lowest number of goals scored in a game in the competition, one more than in the Round of 16 games against Spain at Poland 2018. A 6:0 run cut the gap from eight goals to only two goals, with two minutes to go, but Norway eventually ran out of steam, and made a mistake, with France delivering the win through a goal from Nina Perret, who finished the match with nine goals.
On the other hand, France have been more like the team from the past decade, that annihilated any opponent with their defence. Sure, they have been lucky, but they were the team which conceded the lowest amount of goals while still fighting for the medal, therefore with four games already under their belts, it is clear that this is the main idea and their gameplan for this competition. While they might have lost against Hungary by a single goal, they really put the contenders under some serious pressure, so every team that is facing France must at least hope that they will be on a very good day so that their efficiency can go up.
France tied Hungary and Norway with two points, with the former side still having to play one game, against Brazil. This loss will only put Norway in a tough spot, as they will need a big win against Hungary to clinch a spot in the quarter-finals.
19:40 CEST Romania do not give up
Republic of Korea's 4:0 run early in the second half prompted the Romanian coach to take a timeout. However, it did not have an immediate effect, as the Romanian defence could not find a remedy against fast and agile Asian players, who have already scored six goals from fast breaks throughout the game.
Still, Romania improved a bit later, closing the gap from 20:27 to 24:27 by minute 45, so probably they will still have a chance to avoid a defeat – but it is definitely not an easy task, as Korea will try to weather the storm and take the initiative again.
19:34 CEST France limit Norway to steer clear
Norway have not improved much in the second half, but they still scored half the number of goals they did in the first half in only nine minutes now. Yet the gap hovers around the five-six goal mark, with plenty going on in France's favour. Norway's back line has combined for only four goals from 12 shots, as they have been seriously hampered by France's mobile and aggressive defence. It's the way they should play, but Norway's misses, especially from the wings, where the efficiency has been totally abysmal, really played well into France's hands.
Just to put some numbers there: Norway have turned the ball over nine times, have a 32% overall efficiency, with a 38% efficiency from the wings. It's very much impossible to win like this and France are still leading with 15 minutes to go, 18:11. A win by France would seriously complicate the proceedings for this group. They are slated to play against Brazil tomorrow, which should translate into a win, therefore Norway must win against Hungary to stay in the hunt for a quarter-final berth. Yet their situation is dire, they made a step backwards from the previous matches and it will be tough to mount a comeback.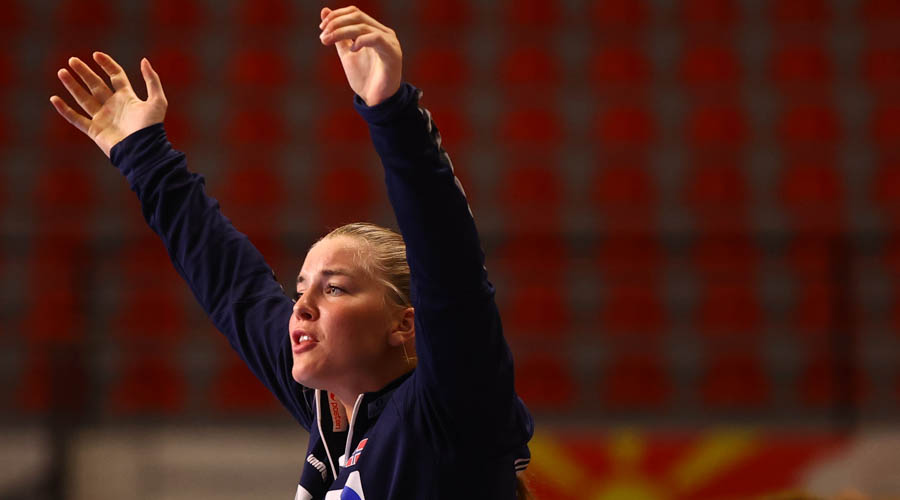 19:10 CEST Half-time: Republic of Korea vs Romania 17:16
Republic of Korea were in front for most of the first half, as their lead reached three goals at 12:9. However, Romania kept fighting hard and cut the deficit to just one goal at the break, so it is still anyone's match.
In fact, Romania even have a slightly better shot efficiency than Korea, 70% against 68%. At the same time, Romania's goalkeeping needs improvement, as Maria Demeter and Theodora Neagu made just three saves combined. Korea's goalkeeper Kim Gayeong did better, as she managed to stop six shots.
19:03 CEST Half-time: Norway vs France 6:11
This is very unprecedented. On one hand, we have a team that builds everything on defence and relies on it for success. On the other one, we have a school of handball which dictates that only playing with speed and relying on the pace of their wings brings success. And yet here we are, with Norway scoring only three goals in 24 minutes, in this match which could prove crucial for their future in the competition. At one point, France's goalkeeper, Shana Wanda, had a 66% saving efficiency, being extremely good in one-on-one situations, constantly frustrating Norway's wings.
Norway had failed to score at least ten goals in the first half of a match at the IHF Women's Youth World Championship only once, four years ago, against Spain, when they could only muster nine goals in the Round of 16 matches. This has turned their world upside down and it will be pretty interesting to see just how much Norway have in their tank to mount a comeback. France have not been an attacking juggernaut, otherwise, the rhythm of the game would have let Norway score more. But Lylou Borg led the side with three goals, as France are leading at the break with an unexpected score, 11:6.
18:49 CEST Close fight between Republic of Korea and Romania
With a win against Romania, Republic of Korea may secure their quarter-final berth already today. 17 minutes into the match, Korea are in front 9:7, but the Romanians, who have one point, are putting a lot of pressure on their rivals.
The start of the game was quite optimistic for Korea, who took a 2:0 lead. However, then Romania hit back to pull in front 4:3. The Korean goalkeeper Kim Gayeong has already made five saves, while her teammates Kim Minseo and Lee Hyewon combined for eight goals - and their effort helped the Asians to get in front again.
18:46 CEST Norway pay the price for misses
In today's preview, we mentioned that this is going to be a battle of the defences. Norway had conceded the second-lowest amount of goals in the tournament, 54 with France being in the seventh spot in that standings, with 69 conceded goals. However, among the sides that made it to the main round, France have the lowest amount of goals scored, 75, followed by Iceland (82) and Norway (84). And after 10 minutes, the two sides have combined for precisely three goals, with France taking a narrow lead, 2:1. "Les Bleuettes" always had a penchant for too-close-to-call matches and this is definitely shaping up to be one of them.
France have indeed deployed a stellar defence, but Norway's attack, who was anaemic in the first matches at times, is not helping them at all. The Scandinavian side has converted only 11% of their shots, which is a number that is definitely not going to win the match. It's 5:2 now, after 16 minutes, but in such close games, everything can change very, very quickly.
17:57 CEST Full-time: Slovenia vs Slovakia 33:30 (19:17)
For a minute there, it looked like Slovakia was going to disrupt the game, taking the lead and never looking back. But since turning the game on its head in the 43rd minute, 26:25, Slovakia only mustered to score once in the next 14 minutes, enabling Slovenia to build a 5:1 run, fueled by three goals from centre back Nika Ocepek, who was the Player of the Match, with nine goals and five assists dished throughout the game. Sure, Azra Zulic added another nine goals, while Nena Cernigoj also scored six times for Slovenia, who really played their best game as of yet at North Macedonia 2022, earning a totally deserved win.
Slovakia must blame their first-half woes when their defence was too laid back and failed to stop their opponents. But such is life as such an important competition and they will now probably have to settle for the third place in this group, provided they beat Guinea tomorrow in the last match. On the other hand, Slovenia will now face Switzerland as the winner of the match will seal the first place in the group. That will be the side that will battle for the President's Cup, ending between the 17th and the 20th place at the end of North Macedonia 2022.
17:56 CEST Full-time: Netherlands vs Germany 31:25 (14:13)
After a hard-fought first half, Netherlands were dominant in the second and took a well-deserved win. The Dutch team defended well, and in attack, the trio of Jalisha Loy, Romee Maarschalkerweerd and Daphne Luchies combined for 18 goals. Loy, who was elected the Player of the Match, was particularly on fire, scoring eight goals.
While the German goalkeeper Marie Kristin Weiss did well in the first half, she did not cope with the powerful shots of the Dutch players after the break – and neither did Sarah Hubner, who replaced her and failed to record a single save.
Following this win, Netherlands have three points, and they improved their chance of reaching the quarter-final, while Germany remained on zero points. At 18:30 CEST, the Republic of Korea will face Romania in the same Group III, and Korea, who now have two points, can secure a quarter-final berth with a win.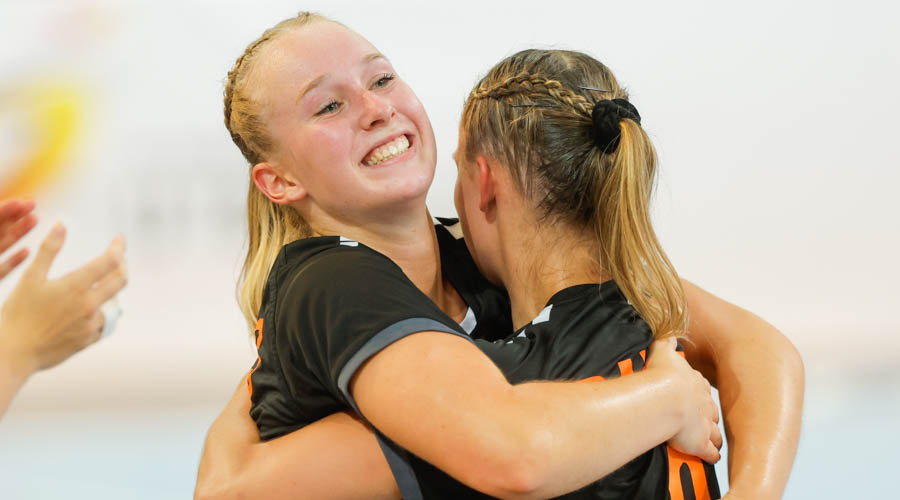 17:39 CEST Netherlands edge closer to victory
Netherlands used a 3:0 run just after the restart to pull clear. Their goalkeeping finally improved, as Nikki van der Vorst's string of saves restricted Germany to just three goals in 10 opening minutes of the second half. Besides, the Dutch are more powerful in attack, having a 57% shot efficiency compared to Germany's 49%. Given all these factors, it is hardly surprising that Netherlands enjoy a 25:19 lead midway through the second half.
While Germany still have a chance to turn the tide, it seems to be quite a difficult task for them. Netherlands are getting closer to a win, which will be a big step towards the quarter-final for them.
17:09 CEST Half-time: Netherlands vs Germany 14:13
The two European teams seem to have a similar quality, so the first half featured a tight fight. Netherlands have a slight advantage, but Germany certainly have a chance to make a second-half comeback.
Germany's main weapon is goalkeeper Marie Kristin Weiss, who has already recorded 10 saves. On Netherlands` side, the goalkeeping was not so good – Bianca Schanssema stopped just three balls before being replaced by Nikki van der Vorst, who did not shine either. However, both rivals are almost equal when it comes to shot efficiency as Netherlands have 50%, and Germany 48%.
17:07 CEST Half-time: Slovenia vs Slovakia 19:17
It is a bit unexpected after how these two teams have played so far at the 2022 IHF Women's World Championship, but this game has really been a high-scoring affair, with Slovenia and Slovakia combining for 36 goals in the first half. Surprisingly, Slovenia have been ahead throughout the whole match, despite conceding two losses so far and winning by the slightest of margins against Guinea, 33:32, in the previous match. However, the superior experience from Slovenia was there on display, as Nina Cernigoj and Nika Ocepek, players who have donned the national team shirt at the 2022 IHF Women's Junior World Championship last month combined for nine goals.
On the other hand, Slovakia might have just waited too long to replace goalkeeper Barbora Jakubikova, who has only registered a single save in the first 17 minutes. Jana Kantorisova tripled that amount in the next 13 minutes. That cost them a bit, but Jakubisova came back and saved a penalty, managing to keep the score close. It is a step back from their match against the Republic of Korea, where Slovakia really played well, yet they still need to mount a comeback and improve their defence, as they shipped 19 goals.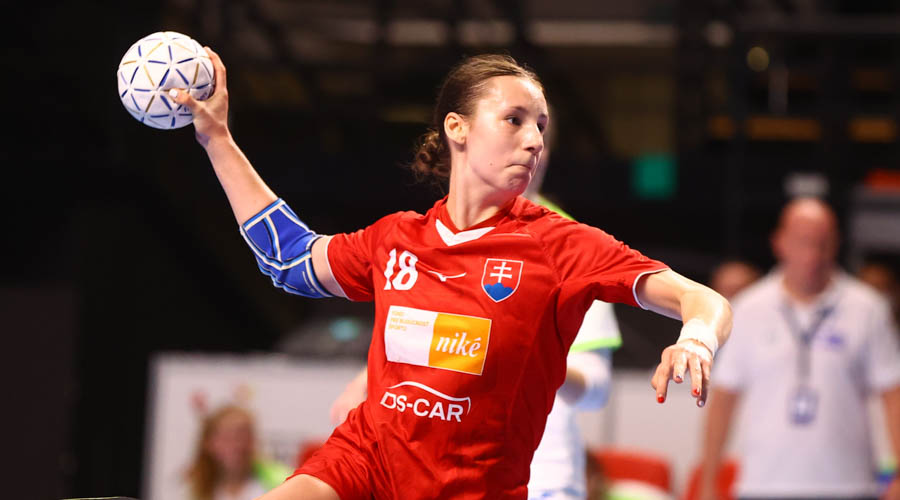 16:47 CEST Netherlands and Germany level after 15 minutes
Netherlands have one point, and Germany zero – so both rivals are determined to win this all-European clash to improve their chances of reaching the main round. And after 15 minutes, it is hard to say which team is closer to their goal, as the rivals are tied at 8:8.
The Dutch team took early control of the game, as their free-flowing attack lifted them to a 5:2 lead. However, the German goalkeeper Marie Kristin Weiss made several saves, which allowed her team to draw level at 5:5. An open exchange of goals followed, and the teams are still level.
15:58 CEST Full-time: Czech Republic vs Argentina 26:25 (12:12)
Bitter defeat in the last second for Argentina. Both teams fought until the end. The clock showed 30:00, the scoreboard 25:25 when Czech Republic were allowed to make one last free throw.  Simona Schreibmeierová, with seven goals also the most successful Czech, kept her nerve and sank the ball into the net.
A look at the statistics also shows how close the game was. Both teams had an efficiency of 54%. Argentina's Candelaria Martina Cuadrado, on the other hand, had the edge among the goalkeepers. She stopped 12 of 35 shots on goal. Czech Republic's Kristýna Stojarová, on the other hand, only 7 out of 32. 
While the Czechs were able to celebrate and are now fighting for the lead in the standings with Spain tomorrow, Argentina only have the chance to gain self-confidence for the further placement matches with a win against Uruguay. A small consolation, the most successful scorer comes from their ranks: Ailin Eugenia Cabana Hoeler scored eight times.
15:54 CEST Full-time: Switzerland vs Guinea 32:22 (18:11)
For Switzerland, it is the second win in the history of the IHF Women's Youth World Championship and the clearest in the competition, having previously been beaten by Slovakia., 29:24. This has been a game where the European side has dominated from start to finish, and it was really a clear win, with wings Alessia Riner and Mia Emmenegger shining, as they combined for 13 goals.
Guinea failed to replicate their game against Slovenia, which they narrowly lost, 32:33, and conceded another loss by ten goals or more, but the African side has definitely been at the difficult end of the draw, after facing only European competition in the preliminary round and the President's Cup. Most likely, they will head to the 29/32 Placement Matches, trying to avoid the last place. M'mah Kouroma has scored four goals for them, jumping between the top 10 scorers in the competition, with 27 goals.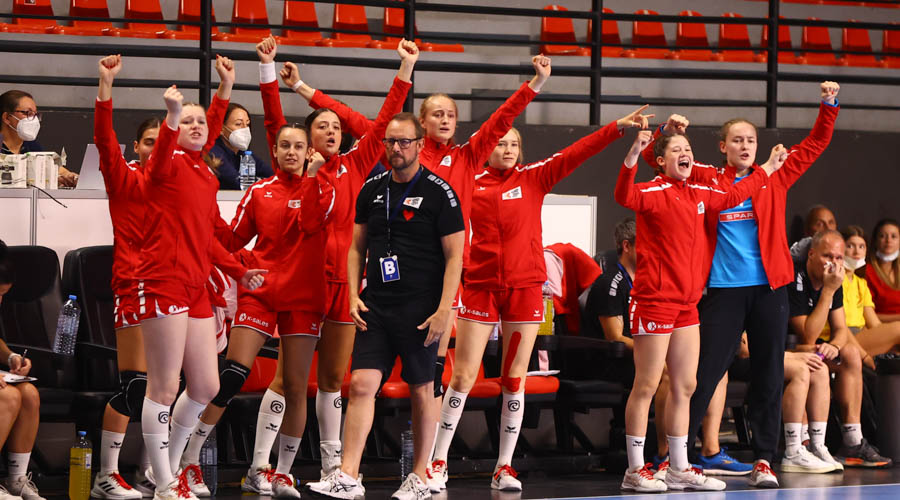 15:38 CEST Still a back and forth
Even after 45 minutes, there is still no clear tendency as to who will emerge victorious from this match. Czech Republic briefly extended their lead to two goals, but then Argentina came closer again. 
While Argentina's Ailin Eugenia Cabana Hoeler is the top scorer so far with seven goals, Czech Republic's Klára Mrózková can convince with a 100% scoring rate. Five attempts - five goals.
Overall, both teams should work on efficiency 50% for the Europeans and 54% for Argentina are rather average.
Everything is still open and we can hope for a similarly exciting final phase as yesterday in the duel North Macedonia vs Sweden. 
15:37 CEST No comeback from Guinea
Six goals from Alessia Riner and four from Mia Emmenegger helped Switzerland increase their lead to 25:16, as the two wings combined for ten goals throughout the game. There is nothing Guinea can do to avoid another loss, despite playing more consistently in the second half. Switzerland have been rolling out all their players in this match, therefore the gap should not balloon to unprecedented levels, but the European side is cruising to a win in this battle between two debutants in the competition.
15:06 CEST Half-time: Czech Republic vs Argentina 12:12
So far, both teams are still on an equal footing. In the 18th minute, Argentina briefly led by two goals, which was the biggest gap they had in the first 30 minutes. Otherwise, sometimes one team led, sometimes the other led by one goal before the score was equalised again. 
Argentina are slightly better at taking their chances (55%) than Czech Republic, who score 44% of the time. There is a huge difference when it comes to the goalkeepers. Argentina's Candelaria Martina Cuadrado saved 8 of 18 shots on goal. The best scorer so far is Ailin Eugenia Cabana Hoeler, who has put six of her eight attempts on goal. 
A draw would still leave both teams in with a chance of finishing second in the table. Argentina then have Uruguay, the supposedly easier opponent on Friday. Czech Republic, on the other hand, have to face Spain, who have just won by a landslide. If Argentina lose, they have no chance of finishing second. With a win, the Europeans would fight for the top spot in the standings against Spain.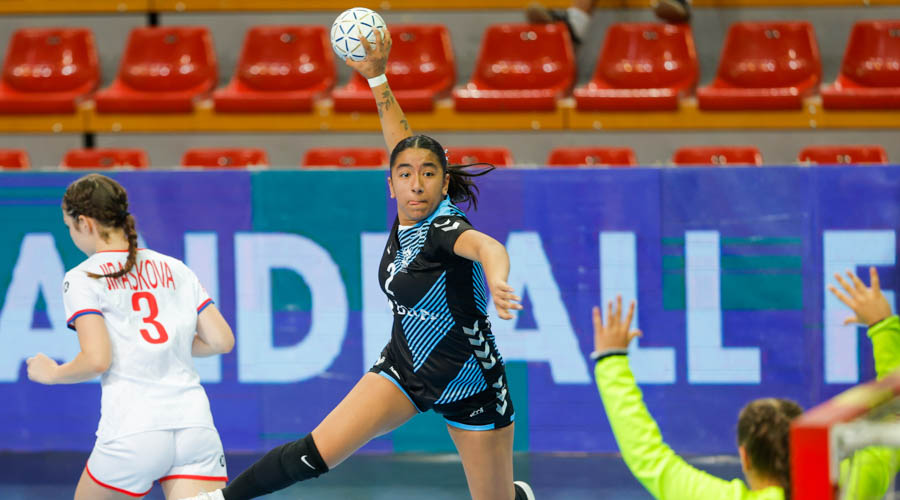 15:03 CEST Half-time: Switzerland vs Guinea 18:11
Another 9:3 run from Switzerland, spurred by five goals from Alessia Riner, basically signed and sealed the win for the European side against Guinea. Back Yara Mosimann was also flawless, with three goals and four assists, while goalkeeper Claire Hartz extended her great form with seven saves and a 38% saving efficiency. Guinea had little chance with the Swiss wings in top form, never missing a shot, as their defence entirely collapsed in the second part of the first half.
Guinea's attack has been plagued by misses, as their efficiency plummeted to 42%, as the European side opened an unassailable gap at the break, 18:11. They will probably play against Slovenia tomorrow to seal the first place in this group, enabling them to feature in the 17/20 Placement Matches.
 
14:47 CEST Good start from Switzerland
A 3:0 run that prevented Guinea to score for six minutes and 59 seconds was the pivotal moment at the start of the game, as Switzerland jumped to an early 5:2 lead. Nuria Bucher was flawless in the first part of the match for the European side, scoring three goals, with Switzerland leading 9:5 after 15 minutes, prompting a timeout from Guinea. The African side is still chasing their first win in the competition, while Switzerland aim to clinch another win, which would see them in the mix for trying to win the President's Cup.
13:52 CEST Full-time: Spain vs Uruguay 42:18 (25:9)
It was the expected clear victory for Spain. They were simply convincing all along the line and showed why they have never missed a main round at an IHF Women's Youth Handball World Championship before. 
In 70% of the cases the try led to a goal, for Uruguay only in 40% of the cases. 11 fastbreak goals show that the South Americans have problems with such attacks, with only four falling in the second half. Goalkeeper Virgina Carolina Antoria Fernandez managed to improve a little and at least showed six saves. On the other side, Sabina Minguez Garcia was still in action at the end, blocking three of 12 shots. However, she did not have as good a record as her colleague Andrea Suarez Sanchez, who saved 10 of 19 attempts.
For Spain, it was probably a small satisfaction after the frustration of missing out on the main round. On Friday, they will face Czech Republic, who are likely to be a tougher nut to crack. Uruguay will take on Argentina. 
13:36 CEST Uruguay without a chance
After 45 minutes nobody believes in a miracle and you can say that Spain will win this game. An 18-goal lead will be unstoppable. Ugazi Manterola Leunda played a big part in this with six goals, together with Alba Tort Net and Lucia Laguna Aranda, who both scored five times. 
One downer for the southern Europeans: Right wing Esther Martin-Buro Sanchez injured herself in an attack and left the field supported and limping. 
Uruguay were at least able to improve in terms of efficiency, rising to over 40%. A small consolation in the face of a clear defeat.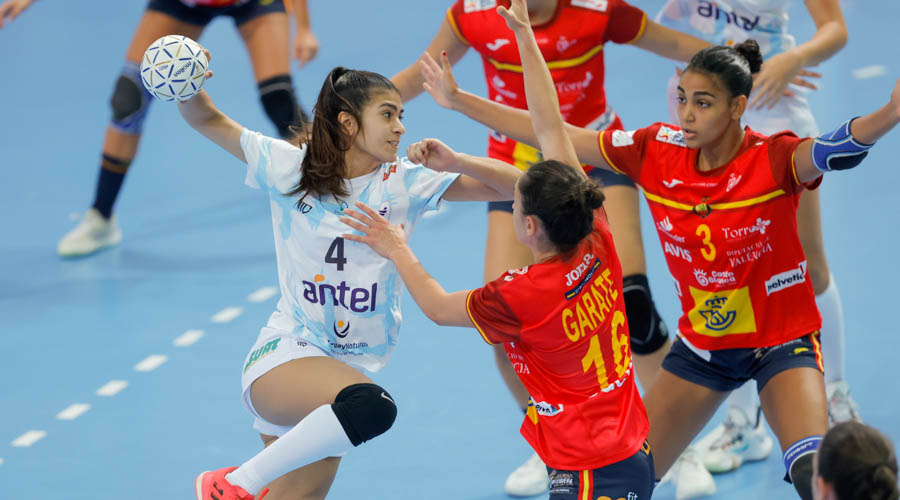 13:05 CEST Half-time: Spain vs Uruguay 25:9
While Spain were still a bit "nice" at the beginning, they have massively increased the tempo in the last 15 minutes. They dominate Uruguay at will and leave the South Americans no chance. Uruguay did not manage to score another goal in the last five minutes. 38% as opposed to 74% in terms of scoring speaks volumes. Spain could even "afford" not to convert a penalty. 
Spain have now scored seven fastbreak goals, Uruguay none. The goalkeeper's record is similar. Spain's Andrea Suarez Sanchez has saved 10 of 19 shots. On Uruguay's side, Lucia Belen Fernandez Pelaez and Virgina Carolina Antoria Fernandez have just three saves between them.
So unless there is a total collapse by Spain in the second half or a complete explosion of performance by Uruguay, it is safe to say now that Spain will win this game this game. 
12:47 CEST Spain at an advantage
Spain probably have a huge amount of anger in their belly, because by missing out on the main round it was clear that they would achieve their worst result ever. Now they have to make the best of it and at least secure 17th place. Wins are needed for that. They can take the first step today if they beat Uruguay.
After 15 minutes, it looks good. They lead by six goals. This is thanks to a chance conversion rate of 71 percent and already five fastbreak goals. In addition, goalkeeper Andrea Suarez Sanchez, who has made six brilliant saves so far, has a rate of almost 50%. Spains Alba Tort Net leads the list of scorers so far with four goals.
Uruguay, on the other hand, are struggling. Just every second attempt lands in the opponent's goal. At the beginning, they kept up well and were able to narrow the gap, but now they had to let up. Can they get back on track?
11:30 CEST How to watch
Want to follow the action Skopje? Then you can do so via live stream or, partly, also on TV.
Viaplay, for example, today broadcasts several matches like those of Netherlands and Norway. NSports: Canal Olímpico do Brasil will cover Hungary versus Brazil and AMC / Sports 1 stream Czech Republic against Argentina as well as Slovenia versus Slovakia and even Hungary versus Brazil. 
 

11:00 CEST Surprising leaders in the top scorer standings
We have been highlighting the top performers at the 2022 IHF Women's Youth World Championship in this live blog and we will just keep on doing that. 
The top scorer standings changed after yesterday's matches, as Uzbekistan's Sevinch Erkabaeva has taken over first place with 36 goals in four games. Iran's Fatemeh Merikhi is second with 34 goals, while Croatia's Andjela Zagar and Egypt's Mariam Omar Ibrahim are joint-third with 31 goals. 
While the Republic of Korea's Minseo Kim is seventh in the scorer standings with 27 goals, she is leading the top assists table, providing 19 of them, which underlines her importance in the Asian team.
10:30 CEST Celebrating Iran's superb performance
The Islamic Republic of Iran might have lost the last two games, but they are an amazing story here at North Macedonia 2022, having made it among the best 16 teams in the competition. 
We have talked to Fatemeh Merikhi, their top scorer, who has also featured at the IHF Women's Junior World Championship last month, and she had some interesting things to say. Find out more in our feature.  
10:00 CEST Stay tuned!
Are you interested in everything that happens at North Macedonia 2022? Don't worry, we got you covered. The preview for the second main round day is already live and you can watch every game.
Alternatively, you can also follow our social media channels for results, images to illustrate the event, interesting stories and much more. 
 


9:30 CEST Day six at North Macedonia 2022 throws off
We are getting there, step by step, but there is not a lot of time left until we find out who will be the new champion at the IHF Women's Youth World Championship. Three teams have already progressed to the knock-out phase after the first day of the main round, while the other three can earn their places today, in Skopje, in the Boris Trajkovski and Jane Sandanski Sports Centres. 
Iceland, Denmark and Egypt have made it through and could be joined by the Republic of Korea, Norway and Hungary, provided the three teams win their games on Thursday. They are also the sides who start the main round with a three-game winning streak, which makes them favourites against their opponents.