Now is the time to step up
25 Jun. 2022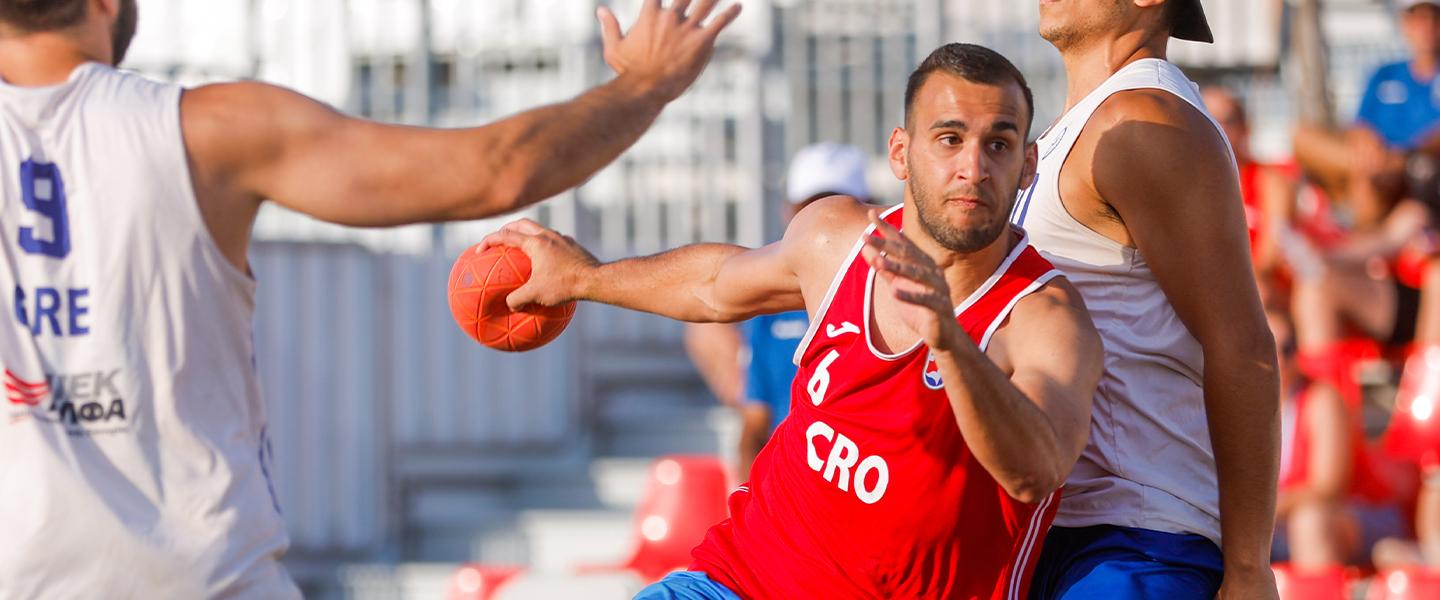 Live blog: It's knock-out time in Heraklion at the 2022 IHF Men's Beach Handball World Championship and with the quarter-finals done in the morning, the semi-finalists are known: we all look forward to Brazil taking on Denmark at 18:20 EEST and Croatia facing hosts Greece at 20:50.  
Today's matches:
09:50 EEST QF Croatia vs Norway (0-2) / 9.-16. Argentina vs Ecuador (2-0)
10:40 EEST QF Greece vs Qatar (2-1) / 9.-16. Islamic Republic of Iran vs Puerto Rico (2-0) / United States of America vs New Zealand (2-1)
11:30 EEST QF Spain vs Brazil (0-2) / Uruguay vs Denmark (1-2) / Portugal vs Egypt (2-1) 
15:50 EEST 9.-12. Iran vs Argentina (2-1)
16:40 EEST 13.-16. Puerto Rico vs Ecuador (0-2)
17:30 EEST 5.-8 Norway vs Qatar (1-2), Spain vs Uruguay (0-2) 13.-16. New Zealand vs Egypt (2-1)
18:20 EEST SF Brazil vs Denmark (2-1) / 9.-12. USA vs Portugal (0-2)
20:50 EEST SF Croatia vs Greece (2-1)
22:00 EEST That's it for today
Join us for the Croatia vs Denmark final tomorrow and check ihf.info for some quotes and interviews ahead of it.
21:35 EEST Answer to the previous question? Yes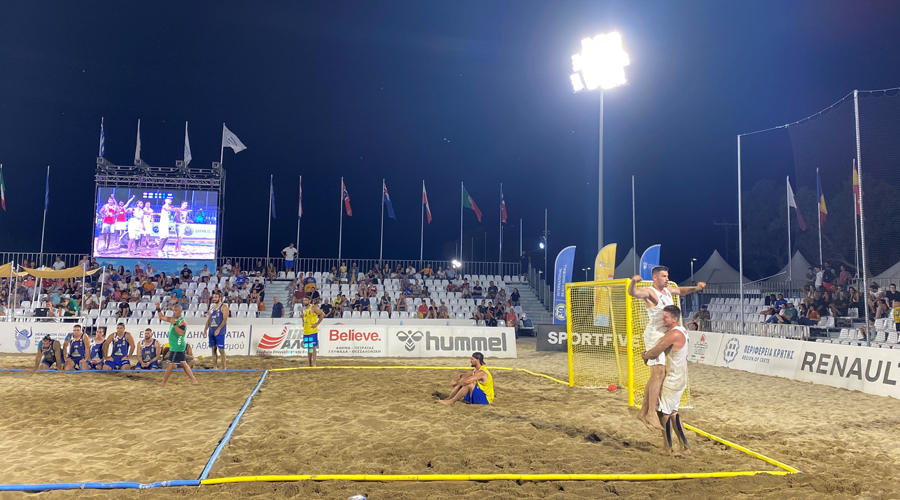 Croatia have won the last semi-final of the day via a 5:0 shoot-out win. The clear win came after they saw their first two shots saved by Dominik Markovic and then hit the post with their third.
Their opponents were more clinical, scoring their first two to go 4:0 up and needing only a single point which they did eventually in two attempts.
Greece had taken the first period 22:20 to send home fans into raptures but you can never write off the Croatians and they did not disappoint, winning it 25:18. It was to set them up.
20:33 EEST Can Croatia make their fourth, consecutive final?
They made it through to the final in 2014, 2016 and 2018 - in 2012 they won bronze. Can they make the big game again?
Here they are preparing to go to the adjoining court, but Greece's women are currently on there playing their own semi-final.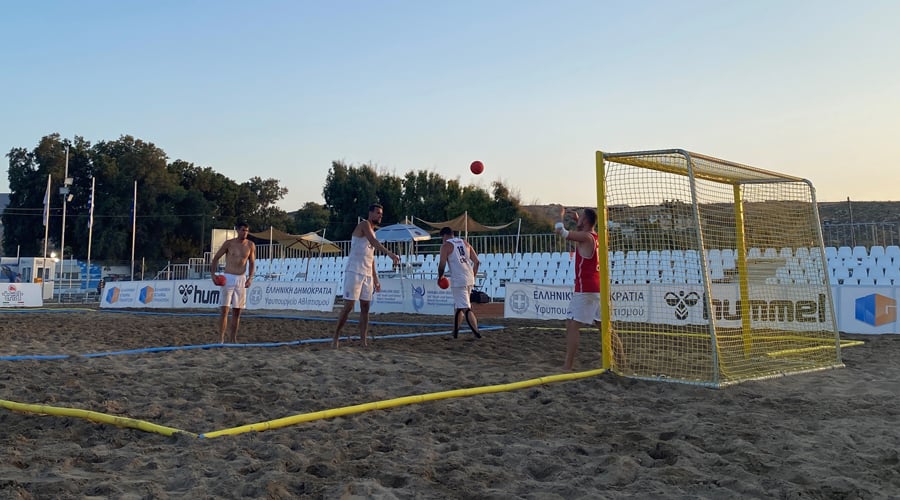 19:35 EEST Denmark's Simon Jensen is happy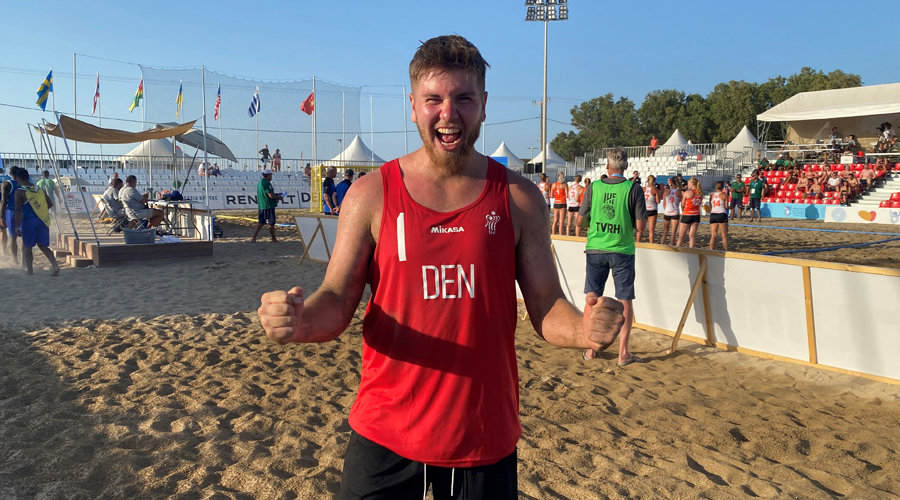 We will let him tell you in his own words about making the final.
"I mean, it's amazing. It's hard to describe. I can't remember that Denmark's men have ever been in a world championship final. We played very well. The offence was amazing in the second half. I didn't have the best game but I got to finish it at the end.
"The coaches told us to take a deep breath and concentrate on what to do because we have the momentum after Freddie (Frederik Bech Jensen) scored the last goal. I had my [goalkeeping] colleague Martin Norlund (Christensen) talking with me and just not telling me what to do but instructing me on how to stay calm and relaxing a little bit and it's amazing to be his teammate. I mean, he's the best captain you could ever ask for. He's such a persona and the team and helps everyone around the team; he's just amazing."
And the crucial save from Gil Pires in the shoot-out?
"The last time we played him he shot quick in my right foot. This time, he shot it over my head and then I just I was just ready for the left foot this time. We've got to home [now], rehydrate get and be ready for tomorrow."
 
19:01 EEST An epic encounter as Denmark reach the final
The Danish men in Greece 2022 make history for their country, becoming the first men's side to make an IHF Men's Beach Handball World Championship final.
They are the first from the country for 10 years, following the women's silver in 2012, which had followed their first silver two years previously.
This is becoming quite the rivalry and one which is up there with Brazil, Croatia and Qatar taking on each other in medal matches over the past decade.
Brazil won the first period 21:16 but it was a dramatic second with a golden goal scored by Denmark's Frederik Bech Jensen that took it to shots (17:16) after Brazil had come back from 10:16 and a number of pauses.
The shots were full of pauses in play and drama too, with Ronnie Andersen receiving a red card early on, saves from both sides and misses too.
As usual it was down to the little magician, Bruno Carlos De Oliveira to take Brazil's last shot before the turnaround in ends, but he was blocked by Simon Moss.
Up stepped Gil Pires to shoot home against Simon Jensen in goal, or so her thought as the Danish goalkeeper made the goal small and blocked the shot.
 
18:50 EEST Qatar to play Uruguay for final 2023 ANOC World Beach Games place
After Qatar defeated Norway and Uruguay beat Spain in the first round of matches in the 5-8 placement round, they have set up a 5/6 placement match tomorrow.
The winners not only finish in the top five in the world, but book the last Greece 2022 ticket to Bali, Indonesia for the second edition of the ANOC World Beach Games.
18:00 EEST New Zealand defeat Egypt
The kiwis are now sure of bettering their 16th-place ranking at Kazan 2018.
Here's New Zealand coach Tim Rayner, following that 2-1 victory which saw his side come back from losing the first period 12:23, to taking the second 23:20 and then a 7:4 shoot-out win:
"I was very impressed by the challenge that was thrown down at the half, to bounce back in a way where all 10 of our players found a way and had a huge impact in their roles," said Rayner.
"As a coach, this is one of my favourite moments. Bless the structure of beach handball in the way that even if you struggle to complete in the first set, as long as you continue to believe, you can still have overall success in the match."
And on bettering their ranking from their debut four years ago?
"It's especially important for our young squad as we have six world championship debutants," he explained. "With a young core of the team we want to continue to see us progress. Kazan was an amazing learning for us as a young sport in New Zealand and we took what we learnt (in Kazan) back home and started to build.
"Both our men's and women's teams have had amazing success in 2022 and we want to continue to push towards being even more on the world stage."
15:50 EEST Results coming in all the time
As the placement rounds are underway, you can follow all results here. Or even better, watch them live on the IHF-Competitions YouTube channel. 
13:30 EEST This is why Qatar's Mohamed Ahmed Hassan is, officially, a beach handball legend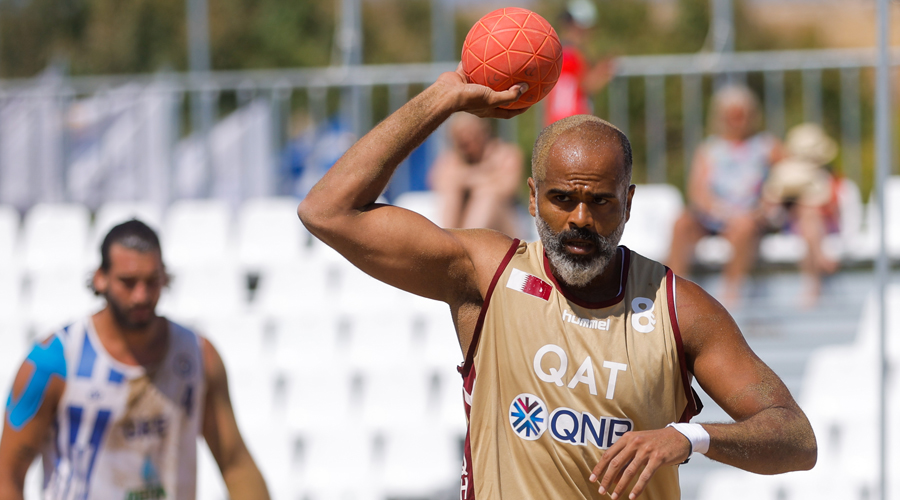 The term 'Legend of Beach Handball' is not something given away lightly. For Qatar's Mohamed Ahmed Hassan, he is.
And if you needed anything to prove why, you only needed to see his face moments after Qatar lost to host nation and debutants, Greece in a quarter-final shoot-out.
While the Greek men's players, staff, fans and nearly every other person at the Karteros Beach Sports Center were celebrating wildly on the Heraklion sand, Hassan could be seen walking past a large group of the Greek players, with a smile on his face.
It might sound strange that he was smiling, but it was a smile for a genuine love of the game - a love which saw him put his immense disappointment to one side and turn it around to happiness for a team experiencing emotions he has before.
"I'm happy for them," said the five-time Asian champion. "We played maybe five friendly matches with them before the world championship and they were never like this. They have evolved. They have corrected their mistakes. They did a very good game and are evolving. They will get a medal in this one. If not the first or the second (medal), it will be the third.
"Of course I'm feeling sad for us to be like this, but I'm a bit satisfied because now we're playing with six players, plus two goalkeepers. We have two out. We did our best we took it to the end, but that's (result) is beach handball."
Hassan also revealed that the week in Heraklion, which started with a shoot-out loss against Brazil has taken its physical toll.
"All the games are tough, all the games we were playing in the two groups; the teams were big guys," he said. "We have the moderate sizes for beach handball, but all our games were against big guys and we are very exhausted. And [missing] our two guys spiritually and in the field, it took us a bit down, but we fought to the end."
Attention now in Heraklion, says Hassan, switches immediately to securing a top five finish and a ticket to the 2023 ANOC World Beach Games in Indonesia, Bali.
"It is what we were talking about directly after the game," he said. "We have to think about the fifth place that will guarantee us a place in the next ANOC and this is the most important thing right now. Then we will see what we are going to do in Birmingham in the World Games next."
12:23 EEST Denmark defeat Uruguay via shoot-out, semi-finals confirmed
A save at the end of the second period ensured that Uruguay won it (21:10) and overturned a first period loss (16-21). It went to shots and the Danes prevailed, winning 9:6.
The semi-finals are:
Denmark vs Brazil
Greece vs Croatia
12:15 EEST Could you beat this guy in the Brazilian goal?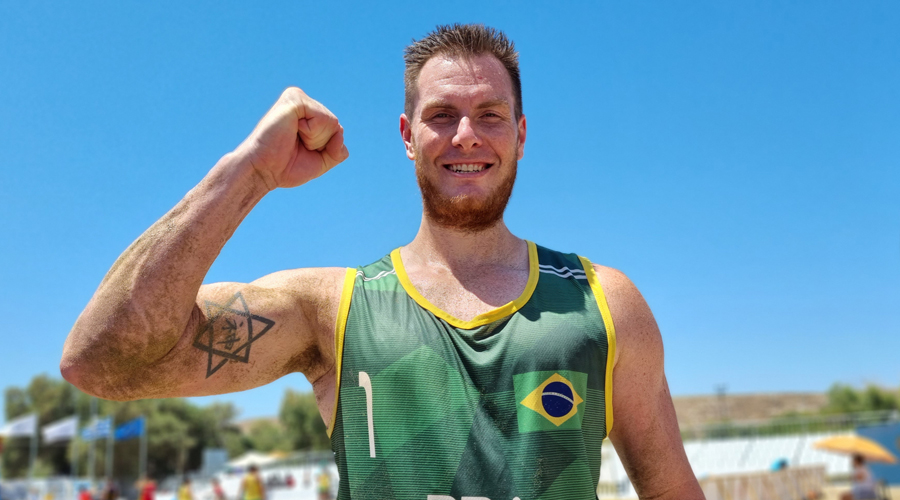 Spain couldn't that much, they only scored 25 points in total, their lowest at Greece 2022 by some distance.
Cristiano Seben Rossa came into today as the best goalkeeper with the most saves (48). He made six more in their 2-0 win over the Europeans. Brazil will return to Heraklion for their semi-final later.
"First of all we need to think about the semi-final because it's near and after this we will think about Bali," said Rossa about the double reward coming from winning today.
"Every time it's hard to play against Spain. We played them in the final of the 2019 ANOC World Beach Games, but we prepare ourselves well for this game; it's always good to play against them."
And how quickly do they celebrate this win, forget about it and move on to the afternoon semi-final?
"Each game is a final for us," he said. "If we win one final, we think about the next."
He also revealed he didn't know about his standing in the statistics and was not too bothered about the amount...yet.
"It doesn't matter because without the gold medal it is nothing," he said about the stats. "If I have the best numbers it's because the defence and all the team helps him a lot."
11:45 EEST Greece's Konstantinos Theodorou: It's beach handball, everything can happen."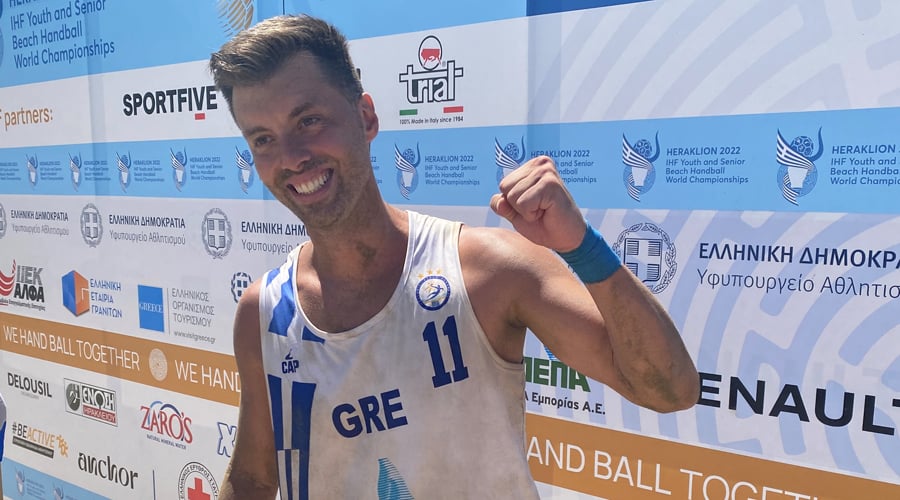 "It's an amazing feeling," said Konstantinos Theodorou after the match to ihf.info.
"It's, for sure, the biggest win in Greek men's beach handball history. We're very proud for this. In a few hours we play in the semi-finals, we couldn't even imagine [playing] these games. I'm very proud for my team, my coach and my teammates."
"We will celebrate now for five minutes but we have to get rest now and concentrate for the next game. It's against Croatia and we played against them yesterday, they're an amazing team.
"We are already more than our first target. Our first target was to go in the quarterfinals and we exceeded that. I don't know what to say - it's beach handball everything can happen."
11:31 EEST A huge shoot-out has just finished...Greece are in the semi-finals and 2023 ANOC World Beach Games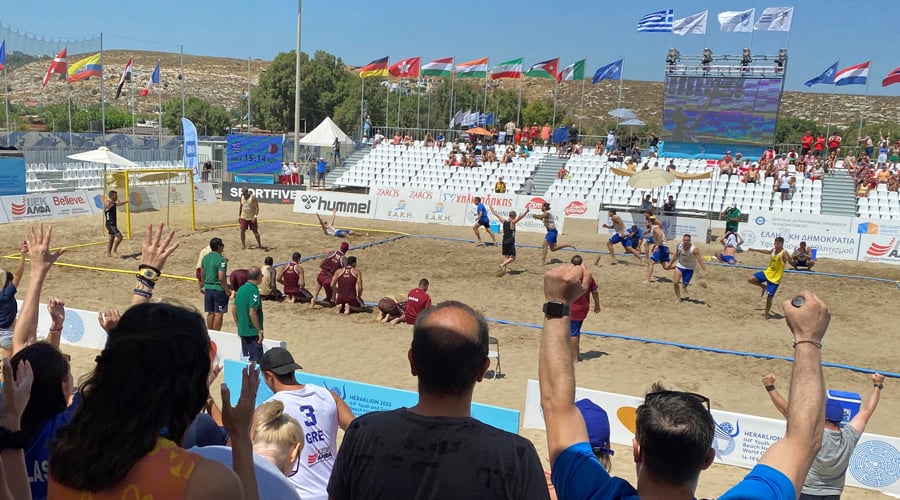 Shooting first, Qatar opened the scoring and it continued that way until all five of the first round of shots had been taken. It was 10:10 and now Greece shot first after swapping ends.
After encouragement from the Greece coaching staff to the fans inside the arena, a football-like chanting atmosphere took hold of the central court and maybe or maybe not that had an effect as Abdulrazzaq Ahmad Murad saw his shot blocked by Konstantinos Gourgoumis.
All it needed then was Theodoros Boskos to get the single point and he did. The fans and players went wild while Murad received a big hug from coach Ahmed Aly.
The result means Greece are the second side into the men's 2023 ANOC World Beach Games championship, while Qatar can still book their ticket, in the 5-8 placement round.
 
11:25 EEST It's going to shots
Greece take a 19:14 second period victory against a Qatar side who are down to eight players, including two goalkeepers due to illness. 
11:00 EEST Greece 0-1 down against Qatar in quarter-final
A real tough test for the Greek home side now, they have 10 minutes to stay in the championship after losing the first period 20:21.
10:39 EEST Leko: "Norway was a must-win, most difficult game of the tournament"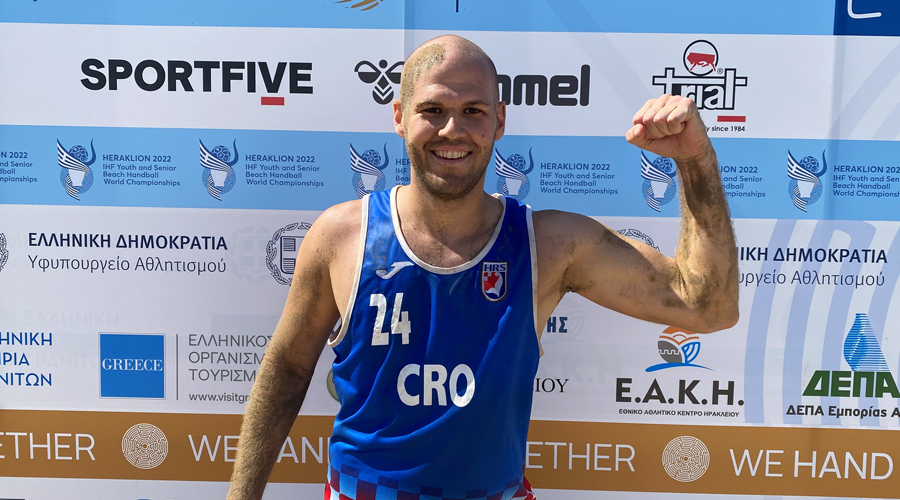 "Both are equally important," said Croatia's Josip Leko to ihf.info after his side confirmed their semi-final place at Greece 2022, a shot at gold and a place at the 2023 ANOC World Beach Games in Indonesia.
"[The ANOC World Beach Games] were, let's say, the second aim of this tournament and we are looking forward to next year, but we are now in a world championship, we aim for gold," he added.
"Norway was a must-win, most difficult game of the tournament. We entered the game as we wanted and controlled the game from beginning to the end and we are very happy to be in the semi-finals.
"We forced them to throw difficult balls. They're shooting in uncomfortable situations and we know what to do. We always watch our opponents and we prepared very good. We just played 100% what we agreed and that was visible."
And a quick word about Croatian beach handball legend Davor Rokavec being in Greece 2022, working on the statistical analysis.
"He's so experienced, can give us good advice and calms us down," said Leko. "We were yesterday evening with him. We talked about the game, about the tournament and about the importance of such games. He gives us inner peace."
Finally, with the Croatian men's youth team winning their world championship on the same sand last week, does that inspire Leko?
"It's visible that we are working very good on every level of our generations," he said. "We have good young teams every year which gives us confidence that we will be in the top for the next so many years."
10:22 EEST Croatia through to semi-finals ... and 2023 ANOC World Beach Games
Croatia went about their business ruthlessly against Norway, who are making their debuts at world championship level here in Greece.
They won the first period 24:22 after leading as much by eight (22:14) with just two minutes remaining, but this is beach handball and anything can change. Norway came back to within two, but it wasn't enough.
The second period also saw a Croatia lead of eight, but it was early on (10:2) and it gave the Norwegians an awful lot to do to comeback, which they could not, losing 20:28.
Norway will now go into the 5-8 placement round which is effectively a play-off competition for the 2023 ANOC World Beach Games in Bali, Indonesia, with the top five here going through automatically.
Norway's Chris Andre Beilegaard Inglingstad to ihf.info:
"It's a tough game. It's a close first half and the second half we are starting very bad with bad shots and they are going through up to 10:2, so it's getting tough really early in the second half.
"We should be better in the first half when we are there and they were shooting very bad. So it's all up to the shooting actually, our defence has a very high level than the second half also, but in total we are shooting not at our top potential."
On focusing on the 5-8 placement round now, for qualification through to the 2023 ANOC World Beach Games.
"That's the focus now. The focus now is to get ready for the next game and take one game at a time. We are hoping for top five so we can be ready for the beach games."
Croatia have qualified for that and now have two chances for a medal here in Heraklion. Job done.
09:55 EEST The first quarter-final of Greece 2022 is underway
The unbeaten Croatians, who lost the final of Kazan 2018 to Brazil are now up against debutants Norway.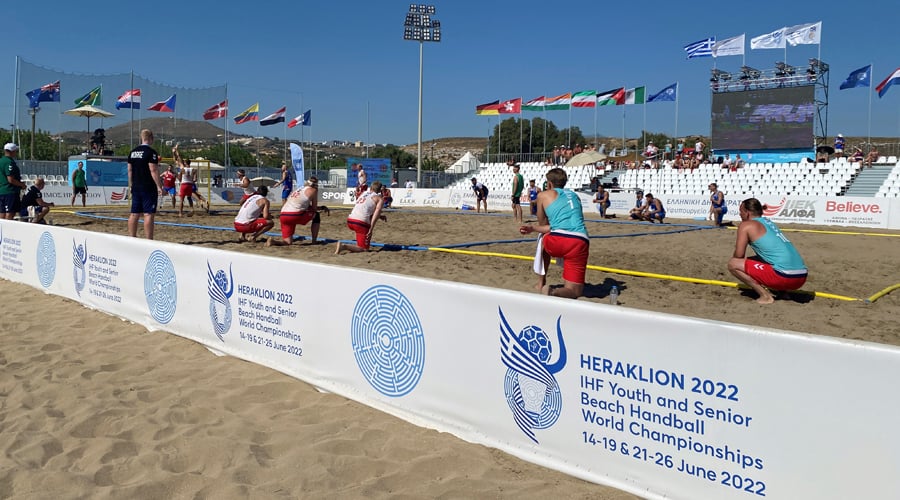 08:30 EEST Let the knock-out phase begin!
A long, emotional day starts today with the knock-out stage getting underway this morning as four quarter-finals take place.
But teams who lose or win will not have that much time to celebrate or be sad: the semi-finals and 5-8 matches start this afternoon. Who will be in them and in what shape? We will find out soon.
Croatia take on Norway in the first quarter-final of Greece 2022 and it is an exact repeat of their match at the European Championship last year in Bulgaria. Following that first quarter-final, host nation Greece, who have now lost two in a row after winning their first four, take on Qatar who are warming up nicely after a slow start.
If you want to know more about the day, here's our preview.