World champions to be crowned as Greece 2022 comes to an end
26 Jun. 2022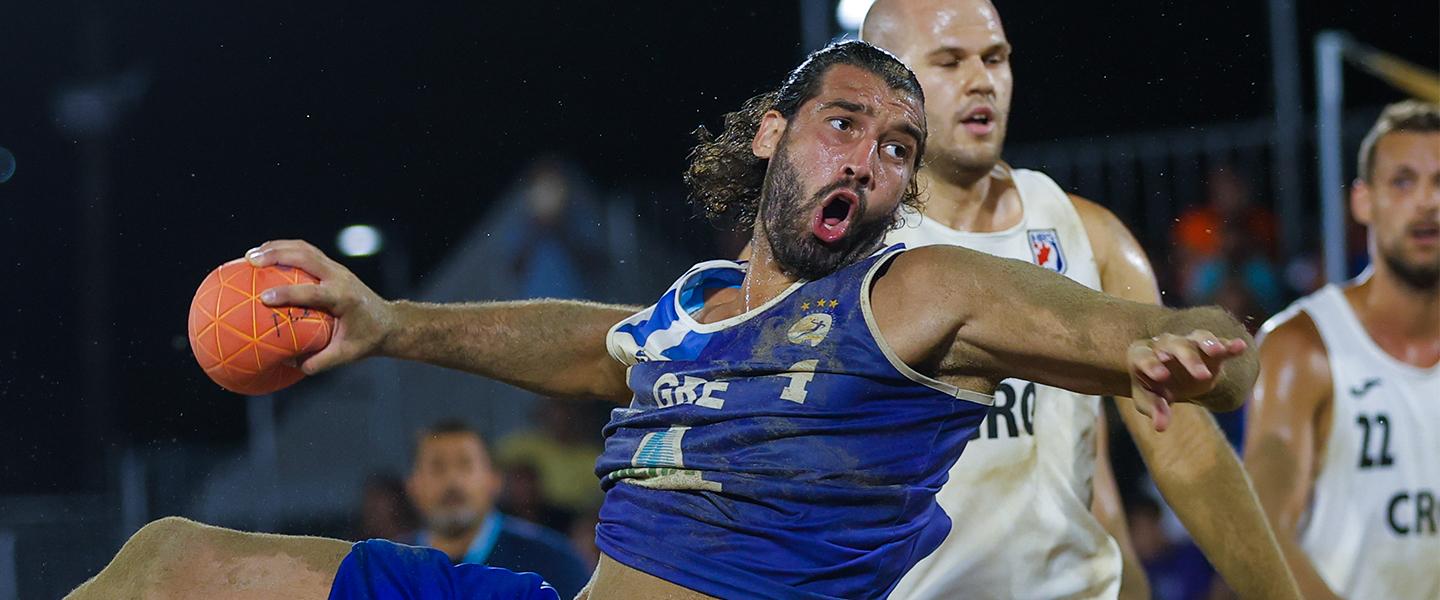 Live blog: The day we have been eagerly awaiting has finally arrived, as today, the Greece 2022 men's world champions will be crowned. 
Today's matches:
09:30 EEST 7/8 Norway vs Spain (0-2) / 11/12 Argentina vs United States of America (2-0) / 15/16 Puerto Rico vs Egypt (0-2)
11:10 EEST 5/6 Qatar vs Uruguay (2-0) / 9/10 Iran vs Portugal (2-0) / 13/14 Ecuador vs New Zealand (2-1)
17:00 EEST Bronze-medal match: Greece vs Brazil (0-2)
19:00 EEST Gold-medal match: Croatia vs Denmark
19:15 EEST Croatia take first set in gold-medal match
It was a thrilling first set in the men's final here in Heraklion and Croatia took a 24:22 win. Can Denmark bounce back?
18:55 EEST Ready for gold
But who? Croatia or Denmark? Let's find out. You can watch on our IHF - Competitions YouTube channel.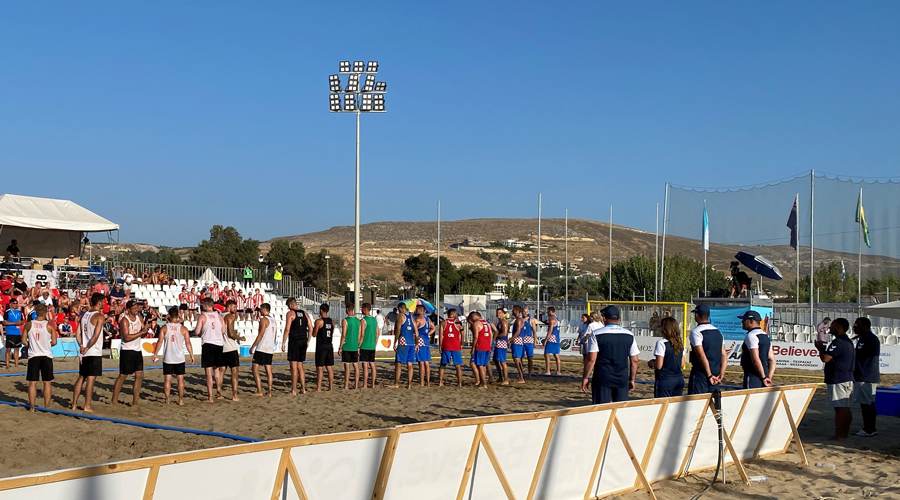 17:45 EEST Emotional gathering
The bronze here in Greece 2022 is the first-ever for Brazil who have won seven gold or silvers in their previous eight appearances.
After the result the whole squad took time out to huddle up. We spoke to Bruno soon after, will post quotes soon.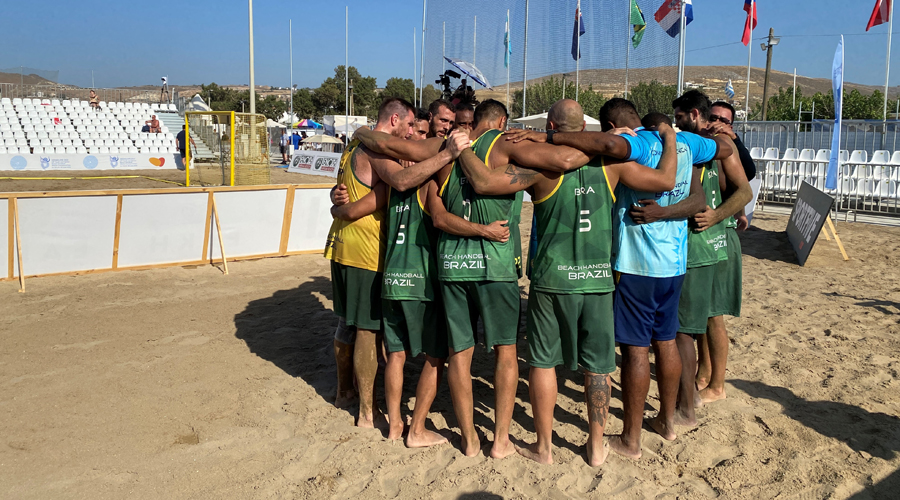 17:38 EEST Brazil are the bronze medallists!
After winning the first period 18:15, Brazil used the momentum and also won the second period, this time by six points, 24:18. 
With this 2-0 victory, Brazil are once again Beach Handball World Championship medallists!
16:58 EEST Semi-finals mean one thing - flag and anthems
Brazil and Greece are lining up and we're about to hear the Greece national anthem for the second time here.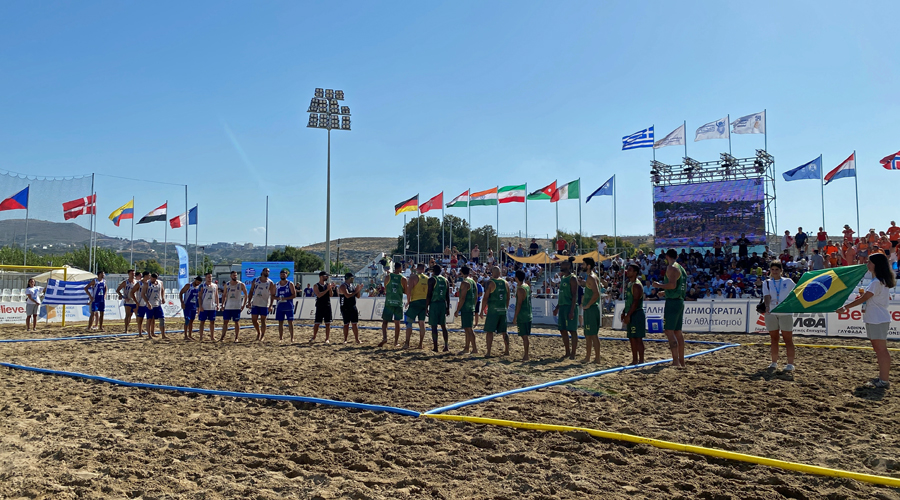 12:05 EEST Qatar are going to Indonesia!
Qatar vs Uruguay for 5/6 place was a play-off for the 2023 ANOC World Beach Games in Bali, Indonesia and Qatar - the host nation of the debut event in 2019 - are going.
Mohsen Mohammed Alyafeai in the Qatar goal was key, ensuring a 19:18 first period win with two late saves and his side saw the job complete with an 18:16 second period victory.
Ecuador got another win, defeating New Zealand 8:2 in a shoot-out after scoring their first four following the side from Oceania missing their first three.
In another dramatic game, Iran beat Portugal 2-0 with the second period ending 29:28 a some suspensions.

 
10:20 EEST Three 2-0 matches to determine places 7/8, 11/12 and 15/16
In the first session of the day, debutants Norway played Spain for seventh place, Argentina the United States of America for 12th and another debutant team, Puerto Rico, played Egypt for 15th place. 
All three matches ended in straight 2-0 periods, with Egypt, Argentina and Spain claiming the wins. 
This means that Argentina and USA finish in the same place as at the last edition, 11th and 12th, respectively. 
09:00 EEST EURO final repeat as Croatia continue gold-medal match streak, against Denmark
Today, we will end on game number 72 of the 2022 IHF Men's Beach Handball World Championship in Greece – it is also the 288th and final game on the Heraklion sand which has hosted both youth events and the senior women's championship.
And what a way to end it as the 2021 European champions Denmark will meet the team they beat in the final a year ago, Croatia.
For Croatia, this is their fourth successive IHF Men's Beach Handball World Championship gold-medal match. A win today would be their third of all-time and put them one more closer to the Brazilians.
In total, there will be eight games played featuring all 16 teams, with a 2023 ANOC World Beach Games place to play for in the 5/6 placement match between Qatar and Uruguay at 11:10 EEST.
Read more about today in our preview here and if you want to know how to follow this spectacular final day, read all about it here.