1st IHF Four-a-Side Wheelchair Handball Championship concludes with crunch games
25 Sep. 2022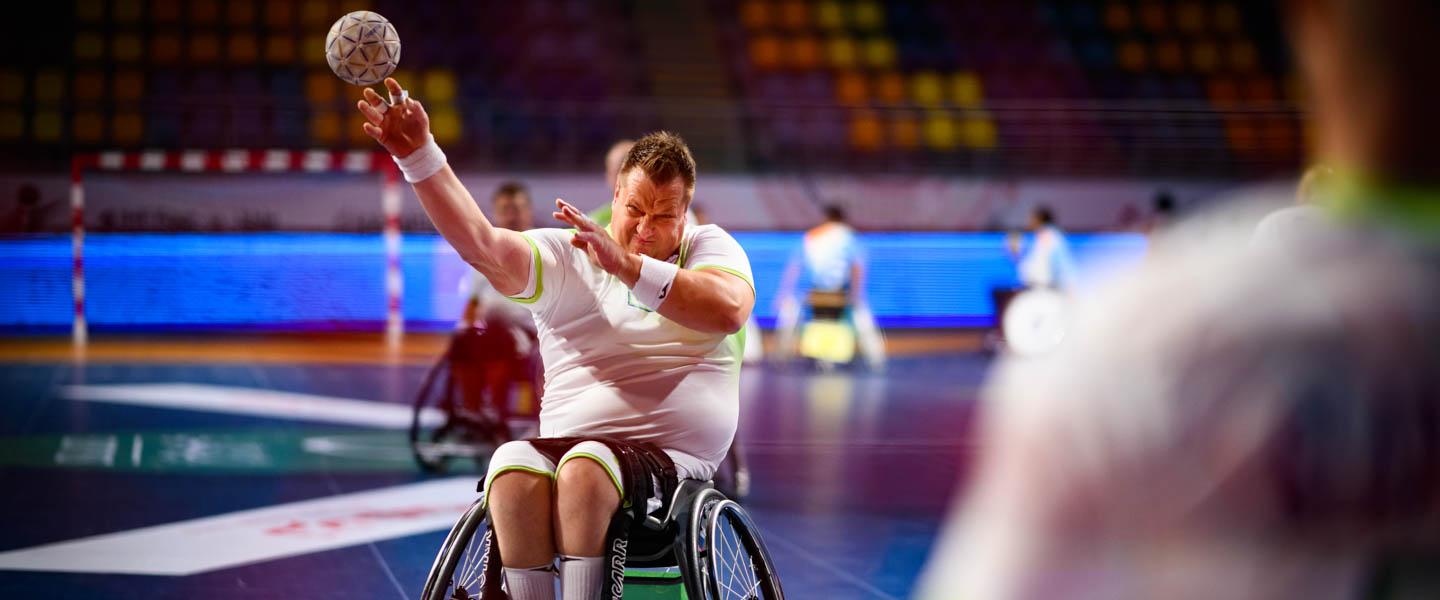 Live blog: The final day at the first IHF Four-a-Side Wheelchair Handball Championship is over. We have our podium for the 1st IHF Four-a-Side Wheelchair Handball World Championship and three continents are represented – South America (Brazil, gold), Africa (Egypt, silver) and Europe (Slovenia, bronze).
Today's matches:
15:00 EET – 5/6 placement match: India vs Netherlands 1-2 (5:7, 10:3, 0:2)
17:00 EET – Bronze-medal game: Chile vs Slovenia 0-2 (6:7, 2:6)
19:00 EET – Final: Brazil vs Egypt 2-1 (8:3, 6:7, 6:3)
20:20 EET MVPs revealed
With the end of the competition, we also have the awards for Egypt 2022. The competition's top scorer was Egypt's Magdy Talaat Abdo Abbas, with 37 points.
Guilherme Lourenco, who scored 36 points in the championship, was named the Male MVP of the competition, while Dutch goalkeeper Joyce van Haaster, who had 38 saves, was named the Female MVP of the event.
20:00 EET A superb final for a superb event
This will definitely be an evening to remember, one that will mark the history of handball, with the conclusion of the first IHF Four-a-Side Wheelchair Handball World Championship. There was drama, and emotions were running super high, but everything worked out for Brazil, who withstood the pressure from Egypt, which did all they could, completing two comebacks in two different sets. Eventually, Brazil had the more experienced side, a better goalkeeper and a player in top form like Guilherme Lourenco.
The shootout was undoubtedly emotional, as the emotions were surely running high for both teams. But Brazil scored through Anderson Ferreira, Claudinei Marques Dias and Guilherme Lourenco, with their experience pointing them exactly where to put the ball. Unfortunately for Egypt, their luck ran out, and all three shots they tried failed, conceding a 6:3 loss in the tiebreaker set.
19:57 EET: Brazil vs Egypt 2-1 (8:3; 6:7, 6:3)
Brazil are the new world champions. They have done it, keeping it calm in the shootout and clinching the world title after a hard-fought game, one worthy of a final! The South American side clinched the shootout by converting three of their four shots, while Egypt missed all the three shots they had.
19:35 EET End of second set: Brazil vs Egypt 1-1 (8:3; 6:7)
Guilherme Lourenço has, by far, been the best player in this final. After scoring six points in the first set, he followed up with two other points to start the second set as Brazil took a 2:0 lead. The South American side even opened a 4:1 gap before Egypt bounced back with three unanswered points, courtesy of Magdy Talaat Abdo Abbas, who scored with a spin shot and converted another shot. But for nearly seven minutes, Brazil could only score a point, as their attack had been in total disarray and failed to bring the goods on the court. A time-out taken after 7 minutes and 59 seconds saw the South American side change lines, with Marcelo Amaral substituting Claudinei Marques Dias on the court.
Eventually, Egypt was the team with more ice in their veins, and Touba Magdi Mahmoud Issa scored his first point of the match with seven seconds to go, beating Marcelo Amaral and sending Egypt into raptures. They took the second set, 7:6, so now we will have a tiebreaker in the final at the IHF Four-a-Side Wheelchair Handball World Championship. What a match and what a superb, superb development!
19:14 EET Half-time: Brazil vs Egypt 1-0 (8:3)
This has definitely been the best set so far in the competition, with the teams going nip and tuck until Brazil went ahead thanks to their experience and never looked back. The nerves got at the South American side, who has been missing one of their best players, Jordean Rodrigues. Still, they surely found a hypermotivated player in Guilherme Lourenço, who has been immense in this set. Egypt led first, 1:0 and 2:1, but they have been unable to produce a consistent match, with the South American side duly setting up a great defensive perimeter. Marcelo Amaral has once again been outstanding in the goal, saving seven shots, as Brazil took control of the game with goals from Guilherme Lourenço and Anderson Ferreira. A converted penalty from Guilherme Lourenço really was the difference, as Brazil powered to a 5:3 lead and finished the first set with five unanswered points to edge one set closer to the title with an 8:3 win. Guilherme Lourenço (six points) and Ferreira (two points) were the scorers, as Egypt need more from Magdy Talaat Abdo Abbas, the top scorer of the tournament, who has only scored once from five shots.
It's now or never, as the second set is about to begin in five minutes. Egypt need to win the next two sets to secure the gold medal. Yet Brazil has won all 11 sets played in this competition so far.
18:45 EET: Changing lives through wheelchair handball 
Brazil are the side who have won all their games, entering the gold medal match on a five-game winning streak. They have a team full of character, good chemistry and plenty of experience. Therefore, they must be considered the favourites in the final. Before the game, we spoke to Eliana Lima, one of the squad members, a former Physical Education teacher in the Brazilian Army. She told us about how the sport changed her life and how serious Brazilians take the sport.
18:30 EET Strong support for Egypt
Egyptian fans have been flocking to the Dr Hassan Moustafa Sports Hall to support their team, so it is definitely going to get fiery tonight. The hosts have been nothing short of superb, with only one month of preparation. They secured four wins in the round phase, with their only loss coming against Brazil, 0:2. Egypt have won each set played apart from the ones lost against Brazil, therefore proving their mettle.
But what happened in that match? Brazil needed a golden goal in the first set, scored by Shirlei Januario, after the two teams were tied, 4:4, with Egypt having the lead three times in the first set but conceding it at the end. In the second set, however, Brazil took a clear 10:3 win, dominating from start to finish. However, a player who scored two points in that game, Jordean Rodrigues, one of the world championship's best players, will not feature for Brazil tonight.
17:50 EET Slovenia win the bronze medal – the big final is next
It has really been a massive achievement for Slovenia, who have won three of their six games to secure this medal, and all the players and the staff are overcome with emotions. They have won the bronze medal and will be forever etched in the history of wheelchair handball. Matej Arh and David Škorjanc have been immense during this tournament, but all of the players deserve to be praised for what they have done at Egypt 2022.
But now it is the time for the big final. At 19:00 EET, Brazil and Egypt will face off in the decider. And if Slovenia, who lost against Chile in the round phase, beat the South American side in the bronze medal game, why cannot Egypt do the same, after conceding the match against Brazil in straight sets?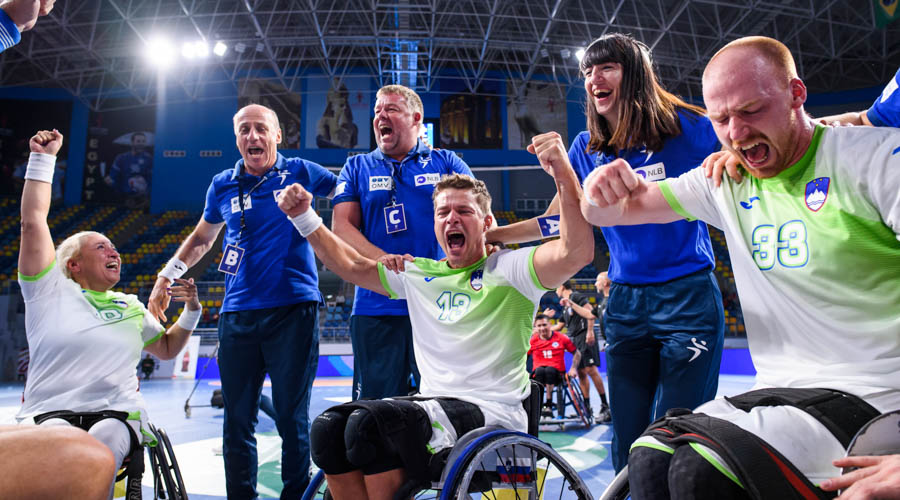 17:37 EET Full-time: Chile vs Slovenia 0-2 (6:7; 2:6)
David Škorjanc was instrumental in Slovenia's success in this game, scoring four unanswered points, including a goal from his penalty area, which brought the European side ahead 5:1 exactly midway in the second set. He finished the match with six points, as many as Matej Arh, as Slovenia totally dominated the second set of the game, which they clinched without a hitch, 6:2. And it is clear how much it meant to them. Almost all players started crying after the final whistle, as they had now secured the bronze medal at the first IHF Four-a-Side Wheelchair Handball World Championship.
It was not easy; they needed some luck to qualify for this match, but, once again, the never-say-die attitude helped them a lot in crucial moments. All the players are hugging and cheering, which has been a very emotional moment for the team. Unfortunately for Chile, they are leaving the world championship with fourth place, but credit them and their superb achievement of reaching Egypt 2022.
17:21 EET Half-time: Chile vs Slovenia 0-1 (6:7)
Slovenia did not forget that they lost the game against Chile in the round phase, and they prepared accordingly, taking no chances and limiting the number of turnovers, which really hampered them in the first phase of the competition. They also started the game more efficiently and took a 4:2 lead through three points from Matej Arh. However, Chile bounced back admirably with a spin shot from Angel Hernandez and scored another two-pointer via a penalty from Juan Pena, to tie the game, 6:6, enabling the set to go to the golden goal.
After only nine seconds, Slovenia got a penalty for a foul on Matez Arh, but Arh himself missed the shot, with Juan Pena pulling out an incredible save. Pena had no chance, however, on a fast break sealed by David Škorjanc, who delivered a strong shot to seal the win in the first set with his golden goal, 7:6. We have a five-minute break and get ready for the second set. Right now, however, Slovenia are in with a big chance for a medal.
16:30 EET Who are Chile at Egypt 2022?
30-minute warning! We're heading for the bronze-medal game at the IHF Four-a-Side Wheelchair Handball World Championship. Therefore it is high time we knew more about the teams. Chile have been the underdog that kept on giving, as they even held a fundraiser to get to Egypt 2022. They are here now, and they have a chance to clinch a medal. On the other hand, Slovenia have been a breath of fresh air, never giving up irrespective of the hardships found on the way. Both sides have won two games so far at Egypt 2022, with Chile taking the mutual match against Slovenia, 2-0.Read more about Chile in this feature.
15:42 EET Full-time: India vs Netherlands 1-2 (5:7; 10:3; 0:2)
Netherlands and India were tied after the round phase with the same amount of points and the same set difference, -4. Therefore, it was always going to be a tight game, and this was confirmed by the two teams entering the tiebreaker after two very balanced sets, each taken by a side. However, with their superior experience, it were Netherlands who were the winners after securing a 2:0 win in the five-minute tiebreaker.
It was not easy, and they needed some individual magic. First, it was William van der Ende who scored both points and created the 2:0 lead, but this win could not have come without some excellent goalkeeping from Joyce van Haaster. The 38-year-old shot-stopper saved a penalty from Javed Ramjan Choudhari with only 23 seconds left in the game, which would have seen the two teams tied. Van Haaster finished the tournament with 38 saves from 91 shots for a 41% saving efficiency.
With their 2-1 win, Netherlands finished the world championship in fifth place, while India are now sixth. Still, they managed to steal a win at Egypt 2022 against the Netherlands in the round phase, despite having only five days of training before travelling to Egypt.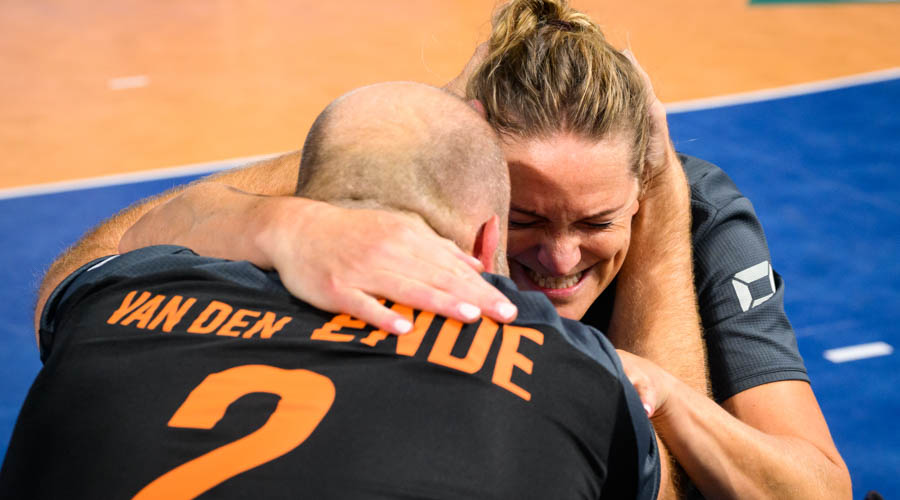 15:34 EET End of second set: India vs Netherlands 1-1 (5:7; 10:3)
What a difference a good start makes in wheelchair handball! The second set has been thoroughly dominated by India, who has enjoyed a perfect start. Courtesy of Ramesh Shanmugam and Javed Ramjan Choudhari, two of the three players who have scored all of India's points in the match. Choudhari scored a goal from his area, which is double the number of points, enabling India to take a 5:1 lead, which they never relinquished until the end of the set. Ajit Kumar Shukla also converted a spin shot. Shanmugam added another goal from his penalty area, helping the Asian side take a 10:3 win in the second set, with six of those points coming from special shots.
We are now going into the tiebreaker of the Placement Match 5/6, which will decide who will finish in last place in the inaugural IHF Four-a-Side Wheelchair Handball World Championship. Will it be India or the Netherlands? Just five minutes, and we will find out.
15:16 EET Half-time: India vs Netherlands 0-1 (5:7)
The Netherlands learnt something from their loss against India two days ago. Therefore they planned accordingly and boasted a 2:0 lead early in the first set, as India needed to take some time to settle in their last game at the IHF Four-a-Side Wheelchair Handball World Championship. But after a goal from his penalty area from Ramesh Shanmugam – who became India's top scorer in the tournament – the tides turned for the Asian side, who took the lead, 3:2. It was yet another disappointing outing for the Dutch side in attack, with plenty of missed shots and a meagre 41% attacking efficiency.
Joyce Van Haaster's saves kept her team in the game with her four saves, but William Van Den Ende, who scored four of Netherlands' five points in the first set, missed the last shot of the set, as the two sides were tied at the end of the ten minutes. It took 1 minute and 20 seconds to score the golden goal, with van Haaster saving India's shot and van der Ende converting a penalty, but Netherlands took the first set by the skin of their teeth.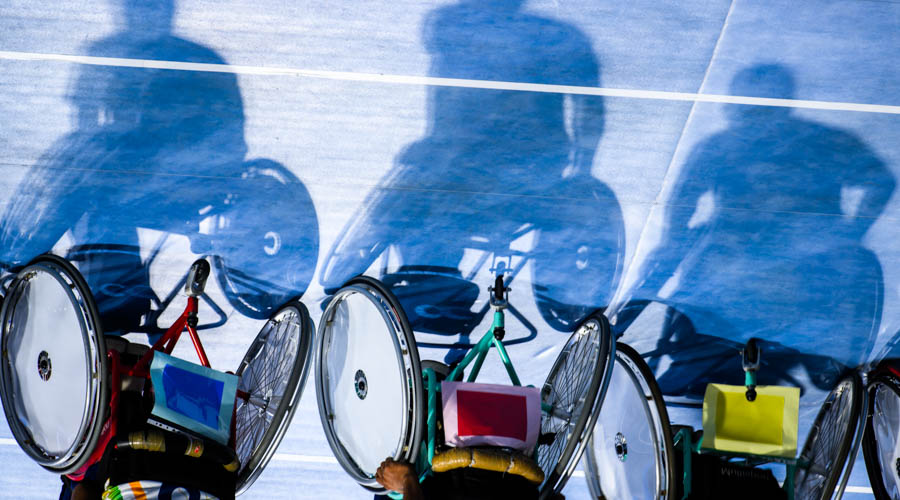 14:50 EET Stay tuned
If you want to find out more about the game just before it starts, take a look at the competition mini-site. Here you will find background stories, statistics, photos, news and much more. 
Do you want to review what happened yesterday and look ahead to what's coming up today? Then take a look at the preview. 
Do you want to follow the action live? You can do that on the IHF Youtube channel. 
If you want to be up to date, you can find more interesting content on Facebook, Twitter and Instagram.

14:00 EET: A repeat of Brazil's win?
Of course, the sides have previously met in this competition, so let's focus on the game between Brazil and Egypt, the big final, which will start at 19:00 EET. On Friday, they met in round 4, with Brazil as the big favourite. However, the South American side needed a golden goal after Egypt took a 2:1 lead. Still, Brazil bounced back and scored the decisive goal only 16 seconds in the extra time, through Shirlei Januário.
The second set was totally different. Brazil started strong and were leading 6:1 after only three minutes and three seconds. Eventually, the set ended with a 10:3 Brazil win, clinching the two points. However, Egypt learnt something from that game so they might be onto something here.
12:30 EET Final standings in the round phase 
You probably already know that the world championship has been divided into two parts. The round phase, featuring all six teams, was played in a round-robin format, with the final day featuring the last three matches, which will decide the final standings in the competition.
After three days in the round phase, Brazil were the only team not to lose a set, taking five wins in straight sets. Therefore, the South American side won the round phase with a two-point advantage over Egypt, who secured four wins in straight sets. Chile and Slovenia followed, with four points, while India and the Netherlands finished in the last two places, with three points each.
Round phase final standings: 1. Brazil 10p (10:0), 2. Egypt 8p (8:2), 3. Chile 4p (4:6), 4. Slovenia 4p (4:8), 5. India 3p (3:8), 6. Netherlands 3p (3:8)
11:00 EET: Welcome to 6th of October for the last time at Egypt 2022
Well, you have gotten used to us in the past three days, right? This is the last live blog for the 1st IHF Four-a-Side Wheelchair Handball World Championship, with the final day throwing off at 15:00 EET with the 5/6 placement match between India and the Netherlands.
Of course, all eyes will be on the final, which will pit together Brazil and Egypt, but we have plenty of things to reveal and interesting features to promote over the following hours. Therefore, just a bit more patience until the final day will throw off in the Dr Hassan Moustafa Sports Hall in 6th of October, Egypt.