Brazil seal gold at IHF Four-a-Side Wheelchair Handball Championship
25 Sep. 2022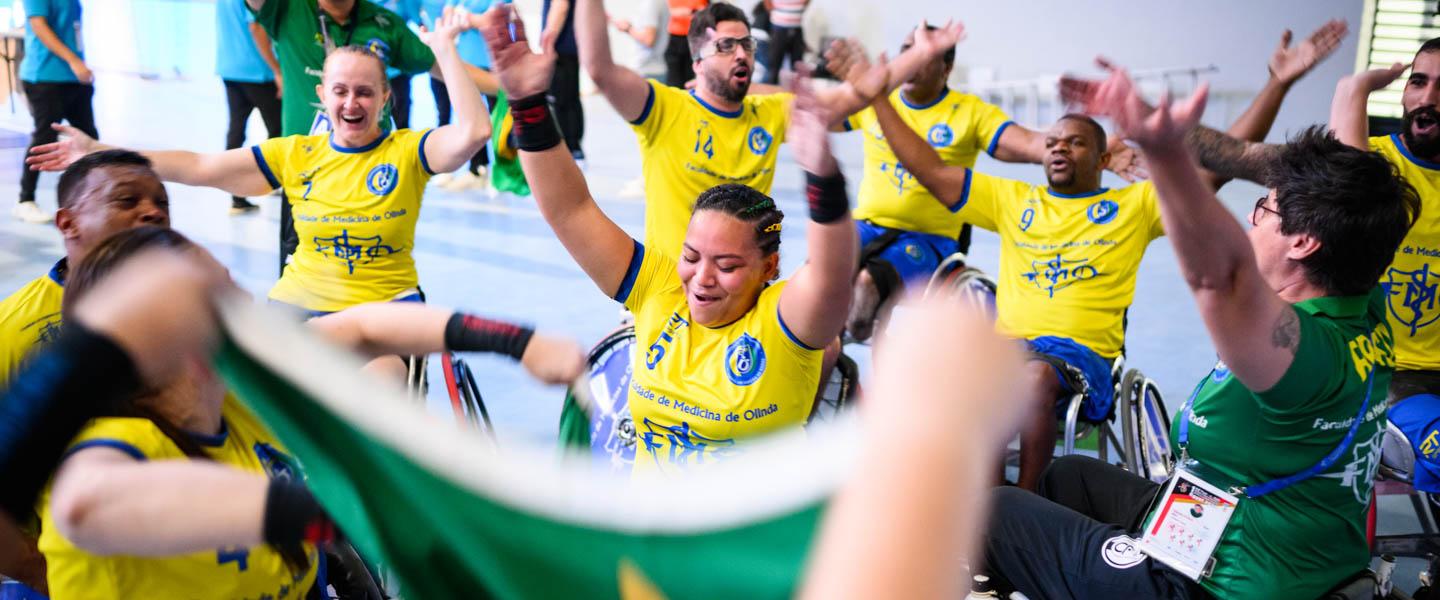 Four days of fierce competition marked the first IHF Four-a-Side Wheelchair Handball Championship, which took place in the Dr Hassan Moustafa Sports Hall, in 6th of October, Egypt, with six teams vying for the coveted gold medal.
Eventually, Brazil clinched the trophy in the competition's inaugural edition after a dominating display. They won all their six games, including a hard-fought match against Egypt in the final.
The six teams were all featured in the round phase, played in a round-robin format and won by Brazil, who had five wins in five matches, including a 2-0 against Egypt, who finished second.
Therefore, with the first two sides advancing to Sunday's final, it would always be a question of whether Egypt learnt something from their loss against the South American powerhouse and derailed them from their objective.
On Sunday, Egypt produced their best game yet but fell short in a contested final, which had everything: dramatic comebacks, superb goals and outstanding individual performances.
First, Brazil took the first set, 8:3, again displaying their dominance over their opponents. However, the South American side started to fade in the second set, taken by Egypt in the dying seconds, 7:6, after Touba Magdi Mahmoud Issa scored the decisive goal.
The game went into the tiebreaker set, which Brazil thoroughly dominated until the last five minutes. A 3:0 lead evaporated quickly, and Touba Magdi Mahmoud Issa converted a spin shot with three seconds to tie the game 3:3 and push the match into a shootout.
A more experienced side, Brazil clinched the title by converting three of the four shots they had, with Anderson Ferreira, Claudinei Marques Dias and Guilherme Lourenco scoring. In comparison, Egypt missed all the three shots they had.
With a 2-1 (8:3; 6:7, 6:3) win, Brazil crowned themselves as the new world champions, winning all the six games they played and only losing a single set, while Egypt sealed the silver medal.
Previously, Slovenia had clinched the bronze medal with a 2-0 (7:6, 6:2) win over Chile in the bronze medal game.
The competition's top scorer was Egypt's Magdy Talaat Abdo Abbas, with 37 points.
Guilherme Lourenco, who scored 36 points in the event, was named the Male MVP of the tournament, while Dutch goalkeeper Joyce van Haaster, who had 38 saves, was named the Female MVP of the championship.
Final result:
Gold: Brazil
Silver: Egypt
Bronze: Slovenia
4. Chile
5. Netherlands
6. India