Main round concludes with high-profile clashes
28 Jun. 2022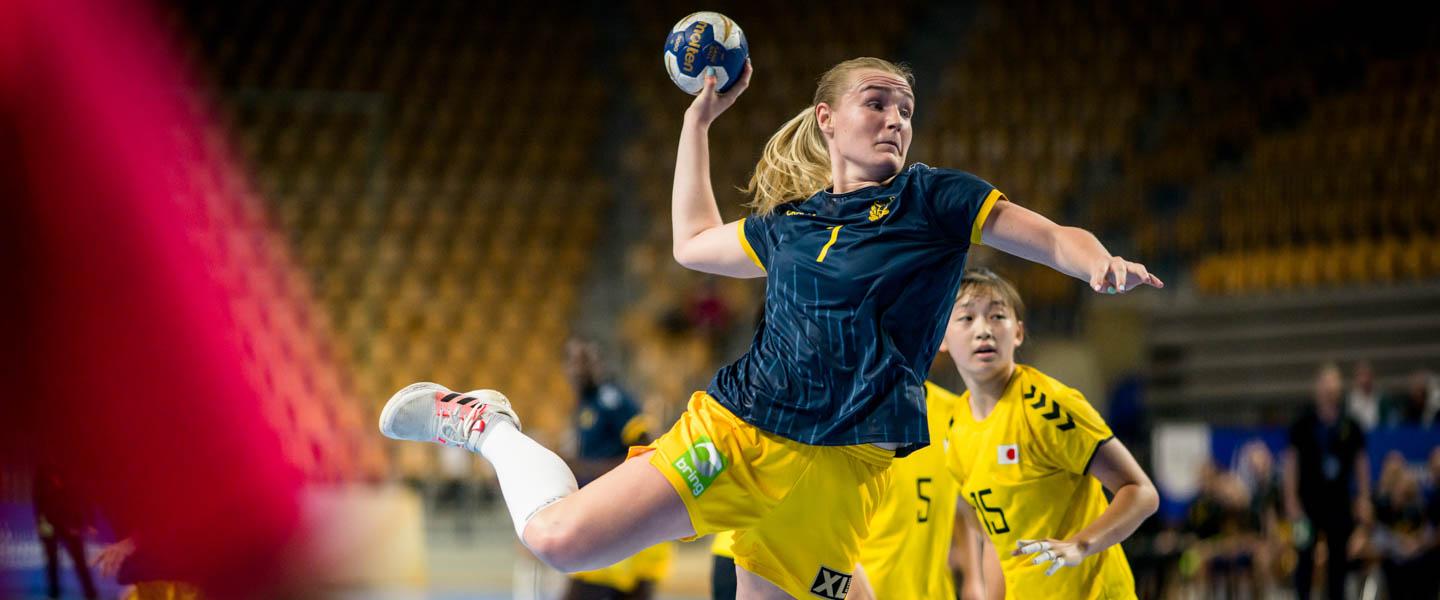 Live blog: Welcome and stay close for the seventh day of competition at the 2022 IHF Women's Junior World Championship. The stakes are already high, with the final weekend approaching in Slovenia, therefore every match will count even more from now on.
The last day of the main round is over. History has been made. Angola and Switzerland qualify for a quarter-final at World Championships for the first time. In addition to the already established participants, the Netherlands and Sweden, Hungary, Germany and Denmark have also booked their tickets for the round of the best 8 today. 
In the President's Cup, Guinea celebrated their first ever World Championship win. After a rest day tomorrow, the battle for a place in the semi-finals and the placement matches continues on Thursday. 
Today's matches: 
10:30 CEST: Austria vs Poland (27:37)
12:30 CEST: Slovakia vs Islamic Republic of Iran (37:22)  / Italy vs Brazil (21:33) / Kazakhstan vs United States of America (32:20)
14:30 CEST: Netherlands vs Sweden (23:22) / Denmark vs France (19:19) / Romania vs Chile (42:17)
16:30 CEST: Japan vs Tunisia (38:22) / Montenegro vs Norway (26:32) / Lithuania vs Mexico (38:22)
18:30 CEST: Croatia vs Hungary (17:29) / Czech Republic vs Slovenia (26:23) / Argentina vs Republic of Korea (23:38)
20:30 CEST: Switzerland vs Egypt (26:23) / Angola vs Germany (21:33) / India vs Guinea (37:40)
22:10 CEST Quarter-final pairings sets
The main round and the President's Cup group phase have now concluded and we have the final results. That means that the quarter-finals are also set in stone and are scheduled as follows:
Netherlands vs Angola (Thursday, 30 June, 18:15 CEST, Zlatorog Arena, Celje)
Germany vs Sweden (Thursday, 30 June, 20:30 CEST, Zlatorog Arena, Celje)
Norway vs Switzerland (Thursday, 30 June, 18:15 CEST, Golovec Arena, Celje)
Hungary vs Denmark (Thursday, 30 June, 20:30 CEST, Golovec Arena, Celje)
We have seven European sides still fighting for the big prize, while Angola are the only non-European team to have made it between the top eight teams in the world at the IHF Women's Junior World Championship.
Reigning champions Hungary will face Denmark in what projects as the most balanced clash in the quarter-finals, with Norway being clear favourites against Switzerland in the other game scheduled for Thursday in the Golovec Arena in Celje.In the other two matches, Germany face Sweden, while the Netherlands clash against Angola.
21:03 CEST Full-time: India vs Guinea 37:40 (18:18)
It was an entertaining and high-scoring match in which both opponents had a chance to win. But Guinea looked slightly better in the second half and snatched their first-ever win at the IHF Women's Junior World Championship. Their player Sia Celine Tolno, who scored 11 goals, was elected the Player of the Match.
With three points, the African debutants finished second in the President's Cup Group I. In the Placement Matches 21-24, they will face Lithuania on Thursday. India fought hard, but dropped to the third place, and their next opponent in the 25th place bracket will be Chile.
21:58 CEST Full-time: Angola vs Germany 21:33 (10:16)
The question of the winner was an easy one to answer today, as Germany started strong and never looked back. It is difficult to understand how a team can transform over a good night's sleep, but this is exactly what Andre Fuhr's side did after their painful 20:24 loss against the Czech Republic. The other important question of the game was by how many goals Germany was going to win and was it going to be enough to steal the first place from Angola?
The answer was 12 goals, 33:21. Which is, indeed, enough for the first place, as Angola were relegated to second. And it was truly a collective effort, starting from Alexandra Humpert's  saves – for a 44.7% saving efficiency – to the trio of backs that ran riot in Angola's defence, with Emma Hertha, Nina Engel and Anika Hampel combining for 24 of their side's 33 goals. Germany looked once again like a team that could challenge for the trophy, riding this form, but things will get even harder from now on, as a crunch clash against Sweden awaits in the quarter-finals.
On the other side, Angola produced their worst performance of the tournament, after a three-game winning run. They are already two players down due to injury and their energy reserves look to be depleted. The African side will have a day's rest tomorrow before they face Group I winners, the Netherlands, in their quest to first team from their continent to reach the semi-finals of the IHF Women's Junior World Championship.
Unfortunately for the Czech Republic, their 11-goal loss against Angola was their undoing in this tournament. Despite that being the only loss they registered at Slovenia 2022, in the three-way tie with Germany and Angola, Dusan Poloz's side was third, due to the goal difference. While Germany (+8) finished with a positive goal difference, Czech Republic's stopped at -7 and they are now to play in the 9/12 Placement Matches, as Angola just edged over with a goal difference of -1.
Main round Group II final standings: 1. Germany 4p (goal difference +14), 2. Angola 4p (goal difference +3), 3. Czech Republic 4p (goal difference -4), 4. Slovenia 0p (goal difference -13)
21:57 CEST Full-time: Switzerland vs Egypt 26:23 (15:13)
It is done. Switzerland is making history. They reach the quarter-finals of a World Cup for the first time. And that despite the bad omens.
The team showed morale by recovering so quickly from the crushing defeat against Hungary and delivering again today. And on top of that, they compensated for the absence of six regular players. Now, however, a really tough challenge awaits them in the form of Norway, who, along with Hungary and Denmark, are among the only teams that are still unbeaten.
Egypt can also bid farewell to the main round with their heads held high. They presented themselves well and will definitely achieve their best result at a world championship, regardless of where they end up. 
Main round Group IV final standings: 1. Hungary 6p (goal difference +48), 2. Switzerland 4p (goal difference -13), 3. Croatia 2p (goal difference -6), 4. Egypt 0p (goal difference -29)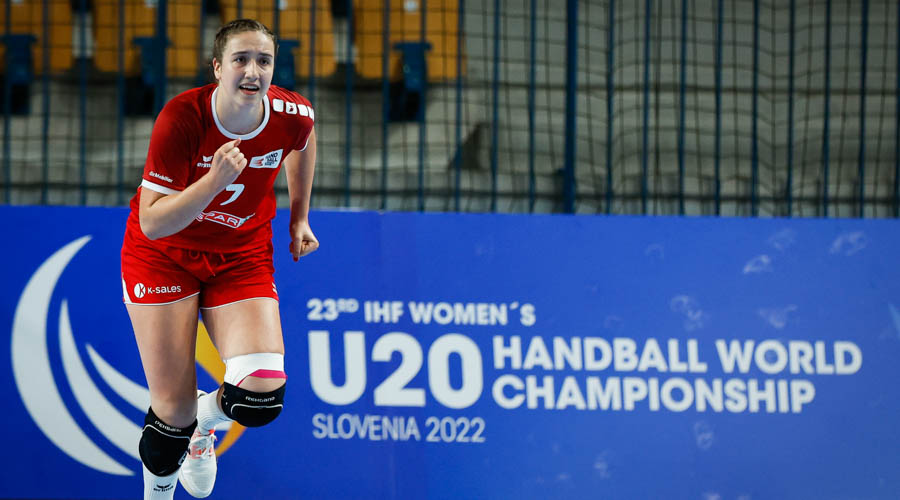 21:42 CEST Guinea looking for maiden win
India still have a better shot efficiency of 74%, compared to Guinea's 63%, but the African team have the upper hand in the second half and lead 32:29 after 45 minutes. The Indian defence cannot hold back Yarie Sylla and Sia Celine Tolno, who have already scored seven goals each, go Guinea are coming close to their maiden win at this level. However, the Indians still have 15 minutes to turn things around and snatch a victory.
21:39 CEST Germany's back to do a superb job
Germany have done a brilliant job until this point to neutralise centre back Stella Pascoal, Angola's top scorer in this tournament. They have opened up to concede more goals from line player Thayany Castro, but, in general, their defence stayed true to themselves and had little trouble against Angola this evening. Germany's rhythm has also been good in attack, with the biggest threat coming from the back line, where Anika Hampel, Nina Engel, who returned after the injury suffered in the first half, and Emma Hertha have combined for 18 goals in the first 42 minutes. That eight-goal gap which Germany's eye is still attainable, but they will need fewer turnovers in attack.
Angola are literally clinging by the skin of their teeth for the first place in the group, but there have been instances where they totally lost focus on defence. It should not happen for a team that wants to secure the first place in the group and this hurts them even more their chances, after conceding easy goals. With 17 minutes left in the game, Germany are leading, 24:15, which puts them in the first place in the standings.
21:35 CEST Short turnaround for Egypt
Egypt came back from the cabin better, they not only managed to equalise, they even managed to take the lead for the first time in this match. But Switzerland managed to get back into the game and restored their two-goal lead. This was partly because they are still more efficient than Egypt. 
Will Switzerland pull it off now and make history? Or will Egypt spoil the party for them in the end? 
 
21:09 CEST Half-time: Angola vs Germany 10:16
Germany's fate in this tournament will be decided, unfortunately, by injuries. Their top scorer in the first two games, Lucy Jörgens, suffered a shoulder injury against Slovenia and is out for the rest of the tournament. Now, another key back, Nina Engel, who scored 24 goals at Slovenia 2022, exited the game due to an elbow injury suffered after scoring and it is unclear if she is to return to the match. That would be another key blow for Andre Fuhr's side. However, Engel's exit looks to have motivated Germany even further, as they hold a 16:10 lead at the break after goalkeeper Alexandra Humpert saved nine shots for a superb 47% efficiency.
Angola's game is beautiful when everything is in place and it clicks. But when it does not, things are starting to go awry. It is exactly the case today, especially in defence, where their goalkeepers have saved three shots between – two in the last minute - them for a 16% efficiency. It has really put a dent in the African side's game, who is definitely suffering a lot. And while they might have seen quite sure of the first place in the group, remember that an eight-goal or more win by Germany would lift the European side to the first place.
21:08 CEST Half-time: India vs Guinea 18:18
The game of both debutants may seem somewhat chaotic, but they play with a lot of passion and show some good individual skills. India gained some confidence after their maiden win at this level, against the Islamic Republic of Iran yesterday, and now they hope to repeat the trick.
After 20 minutes, they boasted a 90% goal efficiency and led 12:9, but Guinea used a 4:0 run to take the initiative. At the end of a high-scoring first half, the teams are level at 18:18, so this match is still very open.
21:05 CEST Half-time: Switzerland vs Egypt 15:13
Switzerland go into the break with a 2-goal lead. This despite a missed penalty, but also thanks to four almost goal goals. However, they do not manage to pull away. Egypt keeps closing the gap. In terms of chances, it is 68% to 54% for Switzerland. 
Do they have an advantage because they have "fresher" players who have not yet played a game, or is it a disadvantage that they are not as well-rehearsed as Egypt? In any case, they are playing a great tournament, but they have no chance of reaching the quarter-finals because of their poor goal difference. They would have to really turn up the heat in the second half and win the game outright. But even then it will be difficult, the mortgage is too high.  
20:49 CEST Tight fight between India and Guinea 
In Lasko, India and Guinea are playing the last match of the President's Cup group stage. In case of a win or a draw, India will finish second in Group I, while a defeat will drop them to the third position. In turn, Guinea need a victory to climb to the second place – and if they lose by more than eight goals, they will finish fourth.
It was a close fight early in the match, with both rivals exchanging goals. After 15 minutes, India boast an 89% shot efficiency and lead 9:7, but Guinea are fighting hard and hope to hit back as soon as possible.
20:48 CEST Switzerland off to a good start – Egypt not letting up
It is not an easy situation for Switzerland. With Sev Albrecht, Malin Altherr, Norma Goldmann, Zora Litscher, Soraya Schaller and Sara Zaetta, six players are absent due to illness, as they were yesterday against Hungary. 
Nevertheless, a win today is a must if they are to make it to the quarter-finals. And to get as far as never before at a World Championship. Egypt are ahead of them, as they have never been in the top 16 before and will achieve their all-time best result either way. 
After 15 minutes, Switzerland have the advantage, they lead 7:4, but Egypt won't be shaken off.
20:45 CEST Angola lost another key player 
Angola lost centre back Regina Marcos, who had scored two goals, due to an injury early in the game, but that did not deter the African side, who has been once again displaying their trademark athletic game, with strong shots from the backs and dazzling speed from all the players involved. Paying attention to Germany's mistakes has also worked wonders, with several goals coming after the European side turned the ball over. While the start has been slow in terms of goals for both sides, the teams are picking up the pace and have combined for 12 goals after 14 minutes, with both sides scoring six times.
The lead has changed three times already, but it is still early in this game. However, Germany must think about what they did wrong yesterday against the Czech Republic, when they lost the plot in the second half. Whether it was due to Lucy Joergens, who got injured on Sunday, or it was just their inability to control the game, we'll probably find the answer today.
19:56 CEST Full-time: Croatia vs Hungary 17:29 (8:13)
Another landslide victory for Hungary at this World Cup is in the bag. This makes Hungary one of the only teams, along with the Netherlands and Norway, not to have lost a game in this tournament.
Croatia, on the other hand, will have to hope that Egypt manage to beat Switzerland in the 20:30 match, because only then will they advance to the quarter-finals. They gave it away themselves, with odds of only 33% on penalties and 42% overall, they simply missed too many chances. You can't afford that against a team like Hungary. The fact that none of their players is in the top 50 of the top scorers' list shows how broad their squad is. So they are not dependent on one goal scorer alone like many other teams. 
19:55 CEST Full-time: Argenina vs Republic of Korea 23:38 (11:18)
The Republic of Korea, who had won bronze in the previous edition of the tournament in 2016, now failed to reach the main round, but they retain a chance to win the President's Cup. After a comfortable victory against Argentina, the Asians finished top of Group II and will now participate in Placement Matches 17-20. On Thursday, they will meet Poland.
In turn, Argentina stayed third in the group, also behind fellow South American team Brazil whom they have lost, and ended up in the 25th place bracket. Their first rivals there will be Kazakhstan.
19:54 CEST Full-time: Czech Republic vs Slovenia 26:23 (17:13)
No matter how hard they tried, Slovenia did not manage to save something from this match. They had three different attacks when they could have tied the score, instead the missed shots piled on, with the Czech Republic being able to double down on their advantage and clinch their second win in a row at the 2022 IHF Women's Junior World Championship.
The pivotal moment was a crucial open-goal shot converted by back Natalie Kuxova, which relieved the pressure on the Czech side, as Slovenia were constantly trying to tie the score. As Charlotte Cholevova was a non-factor in the second half, being rested for the whole half by coach Dusan Poloz, the Czech team was forced to rely on other players and wing Barbora Kroftova (seven goals) and back Kuxova (six goals) stepped up.It was a superb end of the game for the Czech Republic in their 26:23 win, who now have to play another, more difficult one – the waiting game. They have four points, the same amount as Angola, with the African side still having to play Germany. With only two teams qualifying, the Czech Republic will need either Angola not to lose the last match of the main round or Germany to secure a win by 19 goals or more against the African side, to help Dusan Poloz's side in a three-way tie.
On the other hand, Slovenia conceded their third loss in a row and will finish last in the group. They have simply not been up to par with the top teams in this group and now have to play the 13/16 Placement matches.
19:38 CEST Republic of Korea enjoy commanding lead
After the break, Argentina has to play without Martina Hoh, who received a red card in the last second of the first half for hitting an opponent's face from a free throw. And although the South Americans do not give up and continue to fight, Korea lead 28:17 with 15 minutes to go, so there is no doubt that they will win not just this game, but the President's Cup Group II.
19:37 CEST Hungary with a leg up in the quarter-final
Hungary are dominating the game more and more and have increased their lead. With this, their participation in the quarter-finals seems to be finally secured. Or can Croatia ignite the turbo and turn the game around? But for that to happen, it will probably take a huge miracle or a total collapse of the opponents. And above all, a much better use of chances, which is only slightly better than in the first 30 minutes.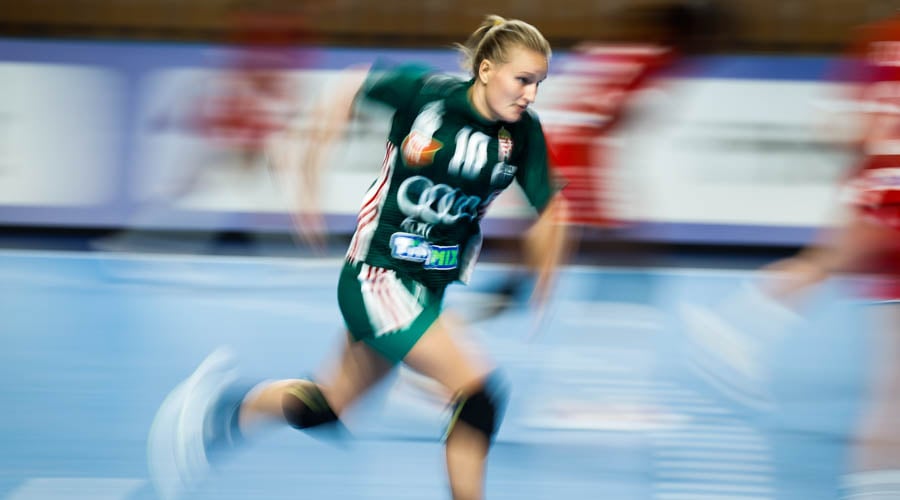 19:36 CEST Novak inspires Slovenia to cut Czech Republic's lead
With two suspensions for Monika Machacova and Lucie Drozdova in quick succession, the Czech Republic found themselves in a difficult situation early in the second half, as the hosts jumped to a 2:0 start that cut the gap to only two goals, 17:15. It looked to get worse for the Czech side, but two great saves from goalkeeper Adela Srpova helped weather the storm and the gap ballooned to four goals once again, 21:17, forcing coach Sebastjan Oblak to take his second timeout of the game.
One thing that improved, however, is Slovenia's defence. They look comfortable and more aggressive, as it is starting to get harder and harder for the Czech side to score. They managed only five goals in the first 14 minutes of the second half, so that aspect of the game looks better for the hosts. Novak is also in the groove, her tally standing now at eight goals. And it's anybody's game, with Czech Republic only one goal ahead, 22:21.
19:06 CEST Half-time: Croatia vs Hungary 8:13
In the meantime, Hungary have completely taken the reins and have built up a 5-goal lead. 
What both teams have under control is to prevent their opponents from scoring fastbreak goals. There are none so far. Crotia have to work on their chances, they are in their own way so far, 38% are not enough to survive against a team like Hungary. The defence must try to get Johanna Farkas under control. Hungary's centre back has scored five times so far.
19:05 CEST Half-time: Argentina vs Republic of Korea 11:18
The opening ten minutes saw a close fight, but then Korea started to pull clear. Argentina's defence could not find a remedy against fast and agile Asian players, so the gap started to grow steadily.
Yeongsong Lee led by example in Korea's attack, scoring seven goals from eight attempts. Argentina, who need a victory by at least four goals to win the group, have a mountain to climb in the second half.
19:04 CEST Half-time: Czech Republic vs Slovenia 17:13
Bringing Cholevova on the court was a no-brainer from Dusan Poloz and the move paid immediate dividends, as the left back scored five goals in the first half, improving her overall tally at Slovenia 2022 to 40 goals, which places the Czech player second in the top goal scorer standings, nine goals behind leader, Austria's right back Kristina Dramac. It also enhanced Czech Republic's chances of winning, after a strong comeback from Slovenia, who initially cut the gap to a single goal, 7:6, with 13 minutes to go in the first half.
Slovenia's improvement has been heavily linked with one of their top scorers, left back Erin Novak. She has been erratic at times throughout the tournament, but has been one of the few bright spots in the hosts' roster in the last matches and has scored four of Slovenia's goals in the first half. But the Czech side, who needs a win to extend hopes for a quarter-finals berth, are still firmly ahead, 17:13, at the break.
18:48 CEST Duel of equals between Hungary and Croatia
It's the game between two teams that play rather physical and are very good defensively.
So far, neither team can really pull away, even though the league leaders Hungary are one goal ahead – 5:6. They can be a little more relaxed about the whole thing, if they don't lose by a huge margin, they are sure to make it to the quarter-finals. More is at stake for Croatia. If they lose and Switzerland wins their match against Egypt, Croatia will miss out on a place in the quarter-finals. 
18:47 CEST Czech Republic take advantage of Slovenia`s woes to start the match
Oh, those match starts from Slovenia. They haunted the hosts throughout the whole tournament and this game makes no exception. A missed penalty, two turnovers and other failed shots meant that the Czech Republic got up to 4:0 early in the match, as Slovenia's first goal came after nine minutes and three seconds of play. Judging from the other matches when Slovenia started the game in such a manner, it is purely game over for them. And the caveat is that Cholevova has stayed on the bench the entire time, like in the previous match against Germany.
Slovenia just bounced back, forcing a timeout from Dusan Poloz, Czech Republic's coach, as Cholevova entered the fray. And she has already scored her first two goals, helping her side jump to a 7:3 lead. The hosts are still finding their rhythm. Will it come before it is too late?
18:46 CEST Republic of Korea pull in front
Both Argentina and the Republic of Korea retain a chance to win the President's Cup Group II. For Korea, who have four points, a win or a draw will be enough – or even a narrow defeat. While for Argentina, who lost to Brazil two days ago to stay on two points, only a win by four or more goals will secure the top position.
Midway through the first half, Korea is close to their goal, leading 7:5. However, Argentina should not be written off, as there are still three-quarters of the match to be played.
18:20 CEST Hosts Slovenia aim to stop two-game losing skid
Everything can happen in Group III of the main round, the most balanced so far at the 2022 IHF Women's Junior World Championship. We'll throw off this evening with the game between the Czech Republic and hosts Slovenia, as both sides still hold hopes of qualifying for the quarter-finals. They both depend on the result of the next game, as Angola face Germany. But who are the favourites here?
It must be the Czech Republic, who are coming on a two-game winning streak, while Slovenia lost their last two matches. The Czech side have one of the best scorers in the competition – left back Charlotte Cholevova, who has 35 goals under her belt in the first four matches, the third top scorer in the competition – but also looked more focused and sharper throughout the tournament. Yet Slovenia do not want to exit the main round without a point, so they are likely to put up a fight. Only ten minutes left before the start of the match.
18:02 CEST Full-time: Japan vs Tunisia 34:24 (14:10)
Although Tunisia came out of the break better and even scored the first goal, it was not enough in the end. They tried to limit the damage but Japan were too strong and extended their lead to 10 goals. 
The match was overshadowed by the injury to Tunisia's Ons Yaacoub. The right back stayed on the ground after a tackle and held her lower back. After first aid, she was taken out of the arena on a stretcher. 
Tunisia are bottom of the table with 0 points. Japan redeemed themselves with a win today. Top scorer of the match was Salma Ben Hassine, who scored 10 goals. 
Main round Group I final standings: 1. Netherlands 6p (goal difference +20), 2. Sweden 4p (goal difference +25), 3. Japan 2p (goal difference -14), 4. Tunisia 0p (goal difference -33)
17:58 CEST Full-time: Lithuania vs Mexico 38:22 (24:10)
Lithuania visibly relaxed their approach after the break, but it did not prevent them from cruising to a commanding win. Domynika Andronik and Agne Gudlinkyte became their top scorers with six goals. At Mexico, Jennifer Verdigo netted even more, eight times, yet her individual effort did not help the team to earn their first points.
Lithuania stayed in the second place in the President's Cup Group III and will participate in 21-24 Placement Matches. Mexico are ranked fourth in the group and will try to claim their maiden win in the 29th place bracket.
17:55 CEST Full-time: Montenegro vs Norway 26:32
4:0 unanswered run between the 44th and the 49th minutes, when Norway duly took control of the match, with a mix of saves from goalkeeper June Cecilie Krogh and some dazzling attacking display from centre back Martine Andersen, the MVP of the match, who scored six goals and dished three assists. Eventually, Norway controlled the gap until the end of the game, displaying maturity and clarity.
It was Norway's fourth win in five games, as they stay undefeated at Slovenia 2022 and are on track to enhance their performance from Hungary 2018, when they lost the final against the hosts, securing the silver medal. Montenegro are still one of the feel-good stories of the competition, as their never-back-down attitude truly helped them to seal their best performance in the competition since Korea 2010 when they secured the bronze medal.
After tomorrow's rest day, Norway will play the second-placed team in Group IV in the quarter-finals, while Denmark face the first place in Group IV, most probably reigning champions Hungary.
Main round Group II final standings: 1. Norway 5p (goal difference + 9 ), 2. Denmark 3p (goal difference +1), 3. Montenegro 2p (goal difference -9), 4. France 2p (goal difference -1)
17:36 CEST Montenegro erase gap to extend hopes
For the first time since the fourth minute of the game, Montenegro have tied the score and are now hoping to secure the win! Gordana Marsenic and Nadja Kadovic, who complete the left part of the court, have each scored five goals to help their side the score, 15:15, with 22 minutes to go. This is game on, as Norway are scoring easily, by using their fast throw-offs after goals, but are constantly having issues with blocking Montenegro's attack, who is scoring at free will, using their numeric superiority.
Montenegro's goalkeepers have not shone today, only saving  shots for a 20% efficiency until the 45th minute, but their team is still in the game with a big chance. Norway have entered their opponents' rhythm, which is always a dangerous thing to do. The last 15 minutes will be paramount for this game, so let's see how this one unfolds in the Golovec Arena in Celje, as Norway lead 20:18.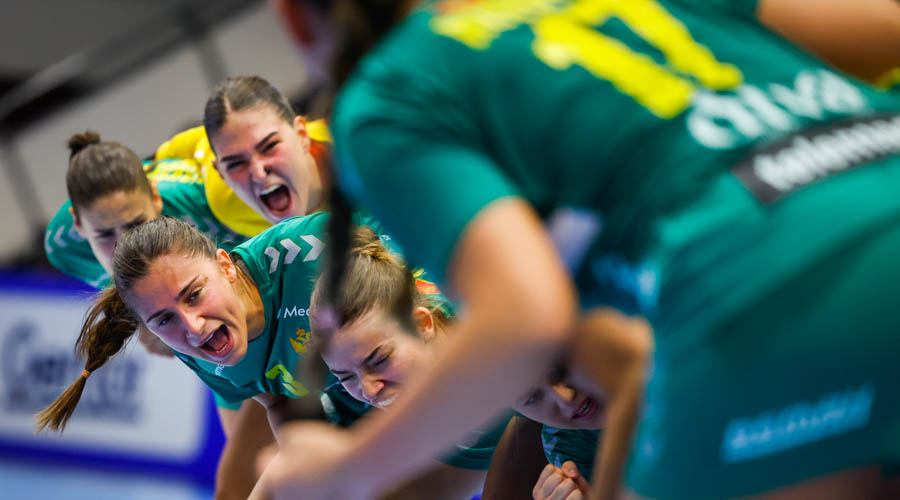 17:35 CEST Lithuania maintain big lead 
The game became more balanced in the second half. The Lithuanians look less focused – after all, they know that will not let the victory slip off their hands. The European team maintain a commanding lead, 31:17 after 45 minutes. Mexico improved their shot efficiency to 50%, but they have no realistic chances to grab any points from this encounter.
17:06 CEST Half-time: Japan vs Tunisia 14:10
Japan went 4-0 up before Tunisia scored for the first time. They got better and better into the game and equalised in the 15th minute, but then Japan really stepped on the gas again. Another 4-0 streak followed. But Tunisia did not let themselves be shaken off and reduced the gap again. Will they be able to equalise again in the second half? Or will they do what the Netherlands did and turn the game in their favour in the end?
In terms of efficiency, at least, the two teams don't give each other much. The most successful scorer so far is from Tunisia: Ons Yaacoub hit the target on each of her four attempts.
 
17:05 CEST Half-time: Lithuania vs Mexico 24:10
Five minutes before the break, Lithuania hit the 20-goal mark – and they continued to push forward. With as many as 11 goals from fast breaks and an 83% shot efficiency, the Europeans enjoyed full dominance on the court. 
Mexico made a lot of mistakes in defence and had a 42 % goal efficiency, and although their player Jenifer Verduro is now the top scorer of the match with five goals, it is hard to imagine how her team may avoid their fifth straight defeat.
17:04 CEST Half-time: Montenegro vs Norway 10:13
Montenegro are throwing everything at this game, trying to make it stick. Their use of seven-on-six is not only locked for certain attacks but throughout the whole game, daring Norway to try the open-goal shot if they steal a ball. The grit and determination are still there, no matter what the score was throughout the first half. They are treating every attack like it was their last. And it truly works, hampering Norway's well-trained game. At the break, the Scandinavian side, who will win the group provided they secure the two points, are up 13:10.
But they were not their usual selves. They have been scoring at a pace of nearly 32 goals per game in this tournament and now they were limited to 13 goals in the first half. The back line of Mathilde Andersen, Maja Saeteren and Celina Vatne is not in peak condition. Their top scorer, Kaja Rohne, has failed to score a goal in the first half. This is a very interesting generation for Montenegro, which requires giving it all for 60 minutes and they are doing exactly that on repeat in every game. Their confidence is going to be a bit shaken after the first half, but they will definitely not be deterred by the score line.
16:48 CEST Lithuania with clear superiority
It was already evident  before the match that only a big defeat against Mexico may prevent Lithuania from finishing second in the President's Cup Group III. Yet this scenario seems highly unlikely, as the European team enjoyed full dominance in the opening quarter of the match.

Mexico had to call for a time-out just eight minutes into the match, as they were down 2:7. However, it did not help much, as the Lithuanians continued to punish their opponents for mistakes. Six goals from fast breaks lifted Lithuania to a commanding 124 lead after 15 minutes, and it is not clear how Mexico may turn the tide.
16:47 CEST Ultra-aggressive Montenegro hope to make Norway sweat 
Montenegro are by far the most aggressive team in the competition in playing with a seven-on-six attack, which they deployed from the start of the match against Norway. They have previously used it with resounding success against France, but the tactic failed another Scandinavian side, Denmark, in the preliminary round. How will they cope today against Norway? If the first 15 minutes are of any indication, Norway do not have it easy in this crucial match in Group II of the main round. Montenegro are playing for their lives, while the Scandinavian side win the group if they do not lose.
Norway have relied constantly on their wings, both in positional play and on fast breaks, with left wing Maria Gald being their top scorer, with three goals. But Montenegro have kept close, as they constantly found ways to score goals. And after just 12 minutes, Montenegro have reverted to their aggressive 4-2 defence, which definitely hampered France. It did not deter Norway, however, until this point, who are leading, 8:5.
15:57 CEST Full-time: Denmark vs France 19:19 (11:11)
France are in tears and how slim the margins are between joy and sorrow at the IHF Women's Junior World Championship. First, they drew against Norway, 34:34, then a loss against Montenegro, 24:25, really put a dent into their challenge for a quarter-final berths in the competition. Now, with another draw, 19:19, their dream is over, as they finish last in this group and will play in the 13/16 Placement Matches. It is definitely a strong team underachieving, so what really went wrong?
In the main round, it was definitely their attack. Against Montenegro, they could not adapt to the 4-2 aggressive defence thrown at them by the opposition. But in this game, they simply failed to produce anything meaningful in crunch time and when they did, the shots were far off from the goal. It was a 3:0 run by Denmark, which saw France fail to score for nine minutes and 23 seconds that really turned the game on its head. And the key contributors failed to lift France from this rut.
On the other hand, credit to Denmark for the way they played in this game. They bounced back from a painful loss against Norway, which they started down by eight goals. They amped up their defence, had a superb goalkeeper, Anna Christine Bossen, the game's MVP, with 16 saves and limited France's attack to only 19 goals scored.
Denmark are still not through, as they need Norway not to lose against Montenegro in the next game so they can proceed to the next phase. The only thing certain for now is that Denmark will finish no higher than second in this group.
15:55 CEST Full-time: Netherlands vs Sweden 23:22 (10:12)
Netherlands could turn the game around! After being behind for more than half of the game, they did not give up the lead once they had earned it. 
In the end, however, it got really exciting once again. In the 29th minute, the Netherlands were 23:20 ahead. A penalty made it 23:21, after which Sweden scored a quick turnover goal. The counter-attack by the Netherlands was parried and Sweden tried to score another quick goal, but there was not enough time and they had to admit defeat.
The showdown was as exciting as could be expected. Netherlands now go into the quarter-finals at top of the table. 
15:52 CEST Full-time: Romania vs Chile 42:17 (21:9)
Romania celebrated their fourth win at the tournament – and the biggest one, by 25 goals. Yesterday they were just one goal shy of the 40-goal mark, winning 39:18 against Lithuania, and now their attack worked even more efficiently. The Romanians scored as many as 15 goals from fast breaks, and Alexandra Dumitrascu became their top scorer with 10 goals.

Following this victory, Romania won the President's Cup Group III with the maximum of six points and will continue in the 17-20 Placement Matches. Chile stay third-placed with two points, but the final standings in the group will be determined after game between Lithuania and Mexico, which will start at 16:30.
15:37 CEST Netherlands takes the lead for the first time
Six minutes after the restart, the Netherlands equalised. Then, four minutes later, they took the lead for the first time in the match. And they even extended it to a three-goal lead after 15 minutes. The fact that Sweden were unable to convert three of their four penalties may yet be their undoing; their accuracy in general has also diminished. Will they be able to turn things around again or will they have to let the Netherlands pass them in the standings?
 
15:36 CEST Defenses take centre stage in fiery clash for a quarter-final berth
Denmark have not shined in attack, as they were clearly hampered by France's defence, but were kept in the game by a superb game from goalkeeper Anna Christine Bossen, who bossed France's attack with 14 saves in the first 40 minutes, for a 54% saving efficiency. The two teams are still going back and forth, with six lead changes in the match and whenever a team looks done and dusted, there are a few goalkeepers saves, some turnovers and everything goes back to a tied score.
Remember, this game is crucial for both teams – whichever concedes the loss will not make it to the quarter-finals. This is the main reason they are giving it their everything, despite this being their fifth game in the space of only eight days. Yet they still find the strength and grit needed to try and win. With 15 minutes left in the match, there is still almost nothing to separate Denmark and France, with the latter taking a 15:14 lead, in one of the most defence-oriented matches in this tournament.
15:33 CEST Romania marching towards big win
Chile did not show any signs of improvement after the break, scoring their first goal seven minutes into the second half. By that time, Romania extended their lead to 24:9, and in minute 45, the gap between the opponents further increased to 30:12.

Catalina Galves has already scored seven goals for Chile, but her effort was hardly supported by her teammates. At Romania, top scorer Alexandra Dumitrascu also netted seven times, but the Europeans do much better as a unit.
15:05 CEST Half-time: Netherlands vs Sweden 10:12
After 30 minutes it is still an even game. Sweden are still in the lead, but they don't manage to pull away decisively. There are still only two goals between the two European powerhouses. 
Both have a 48% scoring rate, so no one has been able to gain a decisive advantage there yet. Netherlands goalkeeper Bianca Schanssema has one more save than Sweden's Tyra Schjött. The top two scorers so far are Roos Dalemann (left wing, Netherlands) and Tyra Axnér (left back, Sweden), who have both scored four times.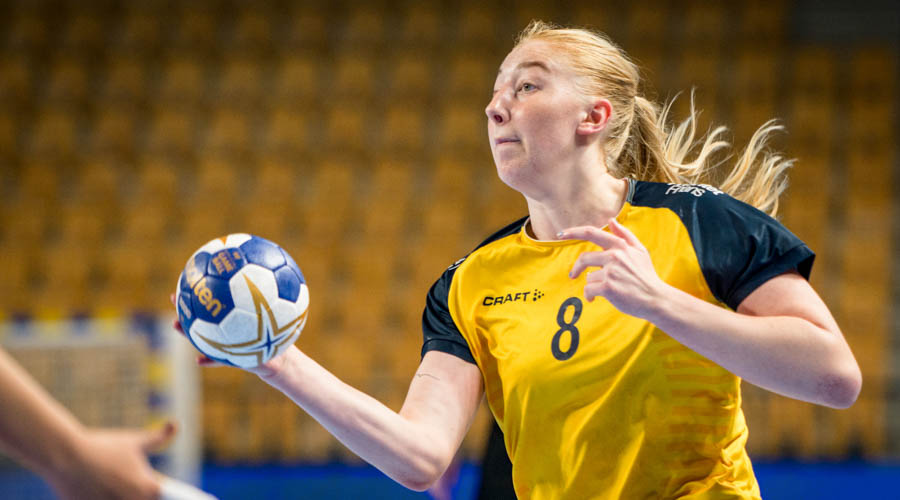 15:04 CEST Half-time: Denmark vs France 11:11
After a five-minute stint in which Denmark failed to score, coach Heine Eriksen called a timeout, with a clear intention to breathe some new life into his team's attack, who was boasting a 33% efficiency in the first 17 minutes of the match. It clearly worked out wonders, as Denmark slowly got back into the game and went on a 5:1 run that spanned from the 21st to the 28th minute. It was a testament to their superb defence, which forced turnover after turnover and translated into fast breaks, which wings Clara Skott and Lin Johannsen converted. In fact, the two players combined for seven of Denmark's 11 goals in the first half, underlining just how important defence was for the Scandinavian side.
On the other side, France have really shown a dip in their attack and looked totally lost at times on the court. Their motivation has really suffered a dip after conceding the loss against Montenegro two days ago, with everything unravelling for a team that was earmarked to fight for the trophy. Only for them to come back with a vengeance and tie the game with two goals in quick succession at the end of the first half scored by Lena Grandveau and Sarah Bouktit. The deadlock is not broken at the break, 11:11, with everything possible with a half still to go.
15:03 CEST Half-time: Romania vs Chile 21:9
The difference between the opponents is obvious, and only a miracle can prevent Romania from their second consecutive win in the President's Cup. The European team are relying on fast breaks, having already scored 10 goals from then. And as the first 30 minutes progressed, they improved their shot efficiency, which has reached 72%.

In turn, the Chileans are making a lot of mistakes both in defence and in offence, and they are punished by Romania. With a 43% shot efficiency, it is hard for the South Americans to match the quality of their rivals.
14:48 CEST Duel of equals between Netherlands and Sweden
So far, it's what you'd expect from the game. Both sides are tactical and the defence is working. Nevertheless, 12 goals have already been scored. Sweden had built up a 3-goal lead in the meantime, but the Netherlands stubbornly keep at it and try to close the gap again and again. 
Both have already reached the quarter-finals, but now it is still a matter of getting the better starting position. Who will top the table after this match?
14:47 CEST Quality handball delivered in do-or-die match
Defences have been the high point at this start of the match, as France and Denmark combined for only two goals in the first eight minutes. From Denmark's point of view, a combination of one-on-one misses and two penalties saved by France's goalkeeper, Jemima Kabeya, have been the issue, while Eric Baradat's side has really failed to get its rhythm going, with plenty of turnovers hampering their game. In particular, centre back Lena Grandveau failed to break Denmark's defence, who has really been their main weapon at Slovenia 2022 until this point in the competition.
After 14 minutes, there is nothing really to separate the two sides, who have produced some highly entertaining, quality handball. Denmark's goalkeeper Anna Christine Bossen has saved five shots for an efficiency of 55%, while France's trademark strong defence really stopped Denmark in its tracks, apart from some intelligent breakthroughs on the right, through Alberte Ebler. It's 4:4 and the game is as contested as one might have expected.
14:45 CEST Romania hold early advantage
Romania, who are top of the President's Cup Group III, need at least a draw against Chile to win the group. And they took early control of the game, comfortably leading 9:2 in the 15th minute. Romania's game is not perfect, as their shot efficiency is only 58%, but solid defence helps them to fully dominate on the court. Chile have so far scored only two goals, and they need to improve their goal efficiency, which is now just 22%. Now the South American team took a time-out, so maybe it will help?
14:20 CEST Ready for a crucial tie?
The President's Cup is over now in the Golovec Arena, as we focus on the main round matches. First up, is a traditional European derby between France and Denmark, with everything on the line. A win would extend France's hopes for a main round berth, while it would assure Denmark a place between the top eight teams in the competition. The arena in Celje is starting to get livelier now and everything is set for the match.
Are France going to break their winless run of two matches and make it through to the quarter-finals? Or are Denmark take advantage of their opponents' woes and progressing to the knockout phase of Slovenia 2022? France are almost sure to rely heavily on centre back Lena Grandveau, line player Sarah Bouktit and Kiara Tshimanga, while the 4-2 defence that Montenegro deployed and really hampered them is probably not going to be used by Denmark. But how will the Scandinavian side try to hamper their opponents?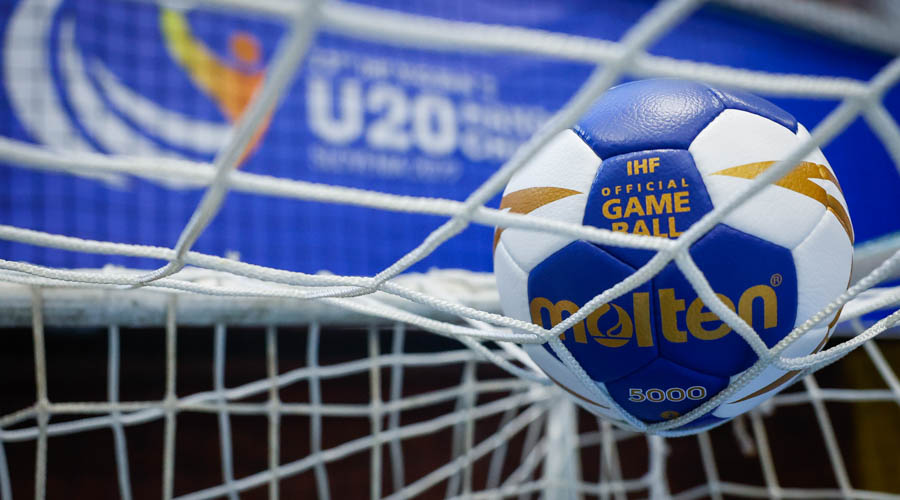 14:00 CEST Full-time: Kazakhstan vs United States of America 32:20 (14:16)
The USA, who had scored only 36 goals combined in their four previous matches, now netted 30 times, but it was not enough to claim any points. The game went back and forth, and the North Americans were in front at half-time, but Kazakhstan hit back in the last 15 minutes. That said, they led 31:27 with four minutes to go before the USA enjoyed a 3:0 run – but the Asian team weathered the storm. Xeniya Pupchenkova and Zhanerke Seytkassym became their top scorers with eight goals each.

On Thursday, Kazakhstan will continue in the 25th place bracket, while the USA, who have lost all their five matches so far, will fight for the 29th place.
13:59 CEST Full-time: Slovakia vs Islamic Republic of Iran 37:22
Iran were able to improve in the second half. They scored on every second of their attempts. Their goalkeeper Marziyeh Gharakhani Dehsorkhi was also convincing. With 16 saves, she had two more than Slovakia's Viktoria Voržáčková. But all that did not help to avert defeat. Slovakia were simply too strong in the end, although they only managed 4 fastbreak goals in half-time 2. Another consolation is that Fatemeh Merikhi, Iran's centre back, is seventh in the scoring charts. On Thursday, Kazakhstan will continue in the 25th place bracket, while the USA, who have lost all their five matches so far, will fight for the 29th place.
13:57 CEST Full-time: Italy vs Brazil 21:33 (13:10)
Brazil looked to be done and dusted, but they really produced a good second half to take their second win in a row in the President's Cup, after conceding three consecutive losses in the preliminary round. Their chances of winning this group are slim, after the loss against the Republic of Korea in the first part of the competition, but they can still hold their heads up high, with a win in the South American derby against Argentina and this comeback against Italy.
Goalkeeper Anna Silva was the decisive move made by Brazil, being introduced late in the first half. Silva finished the game with 10 saves and a 55.5% saving efficiency, as Brazil bounced back and clinched a 23:21 win, limiting Italy to only eight goals scored in the second half. The European side are still without a win in the competition and will play in the 29-32 Placement Matches, as they finish last in this group.
13:39 CEST Kazakhstan and USA go hand in hand
The USA continued to have a slight advantage for a long time after the break, yet Kazakhstan did their best to catch up. Eventually, they managed to draw level and pull in front 24:23, but the USA soon made the score 24:24 in the 47th minute. The Kazakhs have a slightly better shot efficiency, 69% against USA's 63%, but it looks like the close fight will continue until the last minute.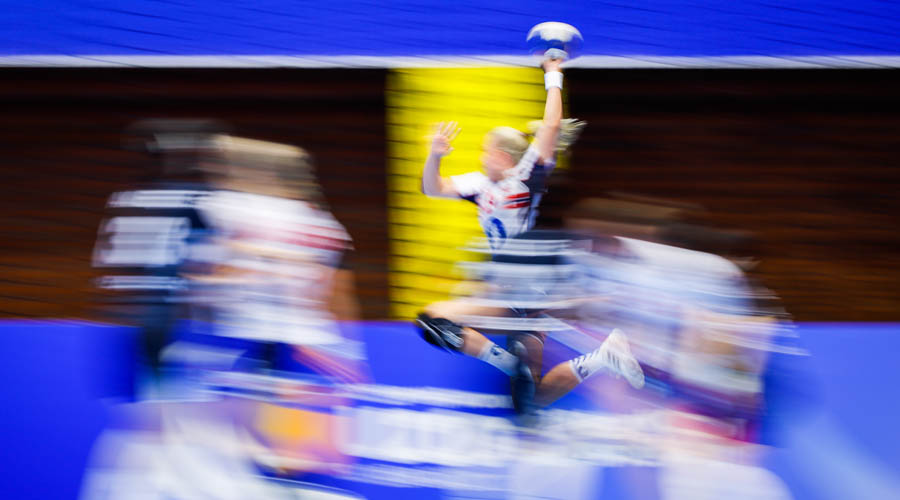 13:37 CEST Brazil turn back the tide to lead for the first time
The two teams are just trading turnovers now, as they are trying to finish attacks with urgency, but missing shot after shot. Lisa Ponti, Italy's centre back, was just sent off after hitting goalkeeper Anna Silva in the face with a penalty shot, with Italy having the chance of opening a four-goal gap. Instead, Brazil capitalised on Italy's mistakes and have just tied the game, 16:16, in the 41st minute, the first time when the score is tied after over 36 minutes.
The South American side is still lacking the discipline required at this level, having five suspensions until this point in the match. But they have managed to protect their goal well, especially through the superb game made by goalkeeper Anna Silva, who midway through the second half is boasting a 69% saving efficiency. And now Brazil have just taken the lead for the first time in the game, 17:16, with 14 minutes to spare.
13:07 CEST Half-time: Kazakhstan vs United States of America 14:16
It is hard to predict if the USA will take their first points at the 2022 IHF Women's Junior World Championship today, but it will be definitely their most high-scoring match in the tournament so far. The North Americans have already netted 16 times, which is more than 14 in their opening encounter with Poland.

Kazakhstan were dominant for much of the first half - their goalkeeper Darya Kolesnichenko made a few saves, and playmaker Xeniya Pupchenkova scored five goals and set up a few more. However, the USA grabbed the initiative after the 20th minute, and a 6:2 run put them in the driving seat at the break. Isabela Da Cruz has scored five times, the best result in her team.
13:06 CEST Half-time: Slovakia vs Islamic Republic of Iran 20:7
15 minutes later, same picture: Slovakia dominates, Iran is left behind. The lead has grown to 20:7. Iran still score only 39% of the time, which is too little to keep up with Slovakia. They, on the other hand, know how to turn their counterattacks into goals, they have 10 fastbreak goals by now. Iran, on the other hand, have 0. 
But Iran's World Cup debut is primarily about gaining experience, especially against European teams, and they were able to do that last week. 
13:04 CEST Half-time: Italy vs Brazil 13:10
Italy are on the verge of winning their first game at the IHF Women's Junior World Championship since 1981 and they are really pumped up about it. While they have not played their best game in the tournament, they are still holding a three-goal lead at the break against Brazil, 13:10, who are looking increasingly tired, after putting all their effort two days ago into the win against Argentina.
Brazil's attack is in definite need of improvement, with their efficiency being down to 41%, as they are definitely missing the input of Fernanda Couto, who received a red card early in the first half. The South American side was also better after goalkeeper Anna Silva entered the fray, saving 80% of the shots she faced, four saves out of five shots. Whether they will improve or not, we will see after half-time, but this looks like a very good position to be in for Italy.
12:49 CEST Superb start for Slovakia
Slovakia totally overran Iran. An early timeout by Iran's coach Gholamali Akbarabadi didn't help either.  After 11 minutes they were already leading 7:0, before Iran scored their first goal 30 seconds later. Two more followed, but Slovakia were also on target again and the score was 11:3 after 15 minutes. 
 
Both teams are not really efficient with 56% (Slovakia) and 38% (Iran) when it comes to converting chances. If Slovakia were more consistent in taking their chances, then the lead could be much clearer. 
12:48 CEST Close fight between Kazakhstan and USA
The USA, who had scored just six goals in their previous match with Austria, now netted just as many as that number in the opening quarter of an hour. It could have been more, but Kazakhstan's goalkeeper Darya Kolesnichenko saved a few shots, including a 7m. Her heroics helped the Asian team to pull in front 8:7 after 15 minutes, yet it is still a very close fight.
12:47 CEST Italy register good start
It has been a strong start for Italy, as they are searching for their first win at the 2022 IHF Women's Junior World Championship. Despite their top player, centre back Giulia Fabbo, scoring a single goal from five shots, the European side jumped at the opportunity and created a 6:2 lead after only nine minutes. Brazil's top scorer, Fernanda Couto was also sent off due to a hard foul, so that added to their woes to start the match.

It would be a historic win for Italy, who dazzled with their grit and team spirit in the first matches, despite being drawn into a tough group. Trying to avoid finishing last in the group, they are giving it their all, but Brazil cut the gap already, 7:6, with 13 minutes elapsed.
11:25 CEST Kazakhstan and USA hope to end losing streaks
After a two-day break, the tournament is coming back to the Tri Lilije Arena in Lasko, which will host five matches of the President's Cup today. The first game is about to start in a few minutes – in Group IV, Kazakstan will face the USA. Each of the rivals have lost all four matches at Slovenia 2022 so far, and both hope to end their unlucky runs now, as the winner of the match will have an opportunity to fight for the 25th place.
11:57 CEST Full-time: Austria vs Poland 27:37 (16:19)
Poland are now sure of winning Group IV of the President's Cup after their untimely exit from the preliminary round, due to a totally unexpected loss against Egypt, 25:27. The European side gathered themselves, proved to be still strong despite playing for pride and after securing two wins in a row, against Kazakhstan and Austria in the President's Cup group phase, head to the 17-20 Placement Matches.
Their latest win against Austria was an attacking masterstroke, where they delivered their best game at Slovenia 2022, putting  goals past their opponents. Daria Grobelna and Michalina Pastuszka looked to be unstoppable, combining for 13 goals, as Austria failed to stop Poland in the second half, where the European side pulled no punches and delivered a nearly flawless game.
On the other hand, Austria's right back Kristina Dramac is just a goal-shy to become the first player to hit the 50-goal milestone at Slovenia 2022. She is still topping the scoring standings by a large margin already, with 14 goals over Czech Republic's Charlotte Cholevova and averages nearly 10 goals per game, despite the obvious shortcomings of Austria, who will now head to the 21-24 Placement Matches, as they will finish for the first time outside of the top 20 at the IHF Women's Junior World Championship. Dramac will be a player to watch in the near future, due to her scoring prowess.
11:36 CEST Austria use timeouts to weather the storm
Eight minutes in the second half and there are already the two allocated timeouts for this part of the game already called by Helfried Muller, as Austria failed to get going. Poland jumped to a 25:18 lead, after preventing their opponents to score more than two goals in that timespan and Muller is, of course, livid on the sidelines. Austria's only chance to seal the first spot in this group and progress to the 17-20 Placement Matches, with an eye on winning the President's Cup looks to be done and dusted, thanks to a surge in Poland's attack.
Poland duly took some rest yesterday in an uneventful win against Kazakhstan and they are firing from all cylinders now, in what should be the best-attacking performance at Slovenia 2022. Sure, they have scored 37 goals against USA in the preliminary round, but Austria are a totally different type of opponent. Sure, with Dramac in form – scoring seven goals already – Austria are still only five goals down, 26:21, with 14 minutes to go in the match.
11:04 CEST Half-time: Austria vs Poland 16:19
Dramac has been boasting a clinical performance today against Poland, scoring five times and dishing four assists, having a direct hand in 56% of Austria's goals in the first half. She is now only four goals shy of becoming the first player to hit the 50-goal mark at Slovenia 2022, in what has proven to be a remarkable tournament for the 20-year-old right back, who is representing Austria's junior team for the last time before making her step to the senior side. However, Helfried Müller's team is still down 19:16 at the break, after Poland exploited their defence throughout the whole match.
It has been a proper shootout this, between two good attacks, after Austria stopped USA in their tracks yesterday, failing to concede a goal in the second half. Poland look much better than in the game against Kazakhstan and it has been a collective effort, with Daria Grobelna and Michalina Pastuszka scoring four goals each, while Justyna Świerżewska and Julia Niewiadomska added three goals of their own.
10:47 Poland draw first blood against Austria
It's game on in this mammoth of a day at the 2022 IHF Women's Junior World Championship and the first match is the one between Poland and Austria in Group IV of the President's Cup. It is a battle between two of the stand-out players in the competition, Austria's Kristina Dramac, who is the top scorer at Slovenia 2022 and Poland's Julia Niewiadomska, one of the most experienced players in the tournament. Sure enough, they scored their teams' first goals, but Poland are the one who have been better in the start, taking a 8:4 lead after 12 minutes.
It prompted Austria's coach, Helfried Muller, to take a time out, as his team produced too many turnovers – four – in that space. They also had three shots saved by Poland's goalkeeper, Alexandra Hypka, therefore Austria's attack has not been up to par until this point. Nor did it improve after the timeout, as Poland are still holding a 9:5 lead midway in the first half.
10:15 CEST The future starts here
The future of handball starts here, in this type of competition, therefore identifying potential is crucial in the making of a good player in the future. This is why plenty of former and actual players are keeping a close eye or even immersing themselves in helping the teams at Slovenia 2022.
We took the time and sat with Kari Aalvik Grimsbø and Armelle Attingre, who are just two of the goalkeeping coaches at the 2022 IHF Women's Junior World Championship.
The feature can be read here.
10:00 CEST How to watch
Want to follow the action live in the halls in Celje and Lasko? Then you can do so via livestream or partly also on TV. 
Viaplay, for example, today broadcasts several matches like those of Poland, Sweden, or Netherlands. AMC / Sport 1 will cover the matches of Hungary and Czech Republic.
09:45 CEST Six quarter-final berths to be awarded
The main round and the President's Cup group phase will conclude on Wednesday, when the 2022 IHF Women's Junior World Championship provides a full, 16-game card, with the last available quarter-finals berths ready to be taken by the ambitious sides who are eyeing them.
Only two teams – Sweden and the Netherlands in Group A – have progressed to the knockout phase of the competition, while the other six remaining berths will be up for grabs, as several high-profile clashes between powerhouses are scheduled in the Golovec and Zlatorog Arenas in Celje.
Slovakia have already won their President's Cup group, with Romania, the Republic of Korea and Austria or Poland hoping to follow suit by securing the first place in their groups and vying for the 17th place in the final standings.
09:30 CEST Final call for main round and President's Cup
Welcome to today's live blog for the 2022 IHF Women's Junior World Championship, the place you will find everything you need for the competition that hosts the best junior players in women's handball.
As usual, you are just one click away from every meaningful piece of information on our website and on the competition mini-site, including the schedule, the results and the freshest stats to see who's hot and who's not at Slovenia 2022.