The making of a true team: Norway's golden team spirit lifts them to title at Slovenia 2022
06 Jul. 2022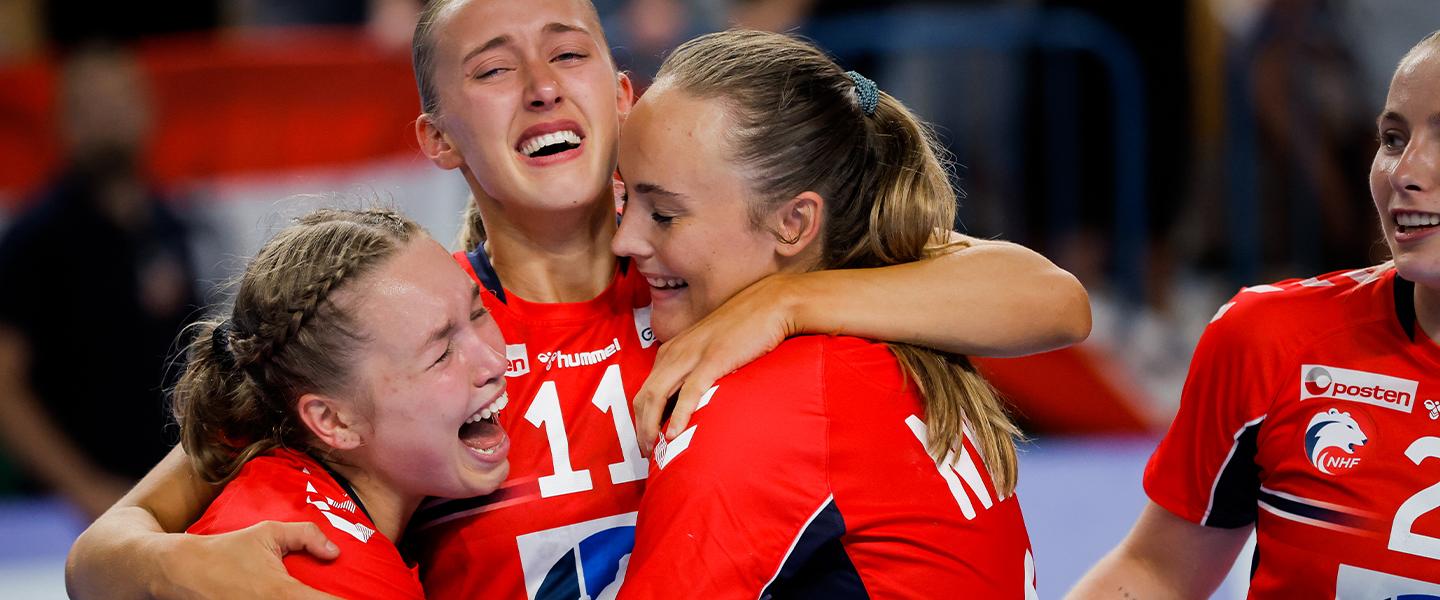 "We owe it all to one thing: being a team, with no player being more important than the team in itself."
We have heard it many times in handball, so many times it really became a cliché, something that coaches and players say just so they can underline one basic principle of the sport: a player can help you win a game, but not the whole tournament.
But sometimes, those words are not empty, sometimes it is the pure truth. It was also the case with Norway women's junior national team, who clinched their second IHF Women's Junior (U20) World Championship title on Sunday, after a 31:29 win against Hungary, in the Zlatorog Arena in Celje.
Norway's coach, Tore Johannessen, was speaking from his heart, after his team capped off an incredible tournament, the first-ever edition of the IHF Women's Junior World Championship where the Scandinavian side finished unbeaten, writing history by playing an outstanding brand of handball.
And nobody could have expected it, as this generation was written off time and time again.
One year ago, in the same venue, Norway were finishing ninth at the Women's 19 EHF EURO 2021, after losing all three matches they played in the preliminary round – against Hungary, Romania and the Czech Republic – with a -27 goal difference.
When they bounced back and secured four more wins on the way to the ninth place, it was not exactly what Norway had envisioned for a talented group of players, who were just starting to get more and more experienced.
Yet, as results got better and better in the friendly matches in the build-up for Slovenia 2022, so did the expectations, despite Norway's bad luck at the draw a few months back, when they were allocated to Group D, where they would face France, Brazil and the Republic of Korea.
At this level, previous results are just a simple indicator, as the turnover of players between two editions of the tournaments is nearly 100%. When the previous scheduled edition of the competition, Romania 2020, was cancelled due to the COVID-19 pandemic, Norway's status as silver medallists at Hungary 2018 was nothing more than a simple statistic.
"We have been getting better and better as the tournament progressed, so I am very happy, almost speechless, regarding the outcome of this competition. We truly believed in each other, the spirit was amazing, and we were not afraid even in the toughest moments we had here," adds Johannessen.
Indeed, Norway had their ups and downs throughout the 2022 IHF Women's Junior World Championship. Their game against France in the preliminary round, a 34:34 draw, was nothing short of spectacular, with lead changes, plenty of turnovers and a 54% attacking efficiency.
As France were leading in the last minute, a goal from back Frida Andersen tied the game and handed Norway a point, which meant they were second in the final standings in Group D, with a lower goal difference than 'Les Bleuettes'.
Whether it was motivation, skill or just them being in a league of their own, Norway went on a five-game winning streak to seal the gold medal, after securing a 37:20 win against Switzerland in the quarter-finals, a 32:23 win against the Netherlands in the semi-final and the crucial 31:29 win against Hungary in the final.
And as history is written in a way on its own, it was once again Frida Andersen who scored the decisive goal, in another trademark move of hers, a superb breakthrough that could not be stopped by Hungary's defence, who still conceded the lowest amount of goals on average in the competition.
"In retrospect, I think Hungary switching to a 5-1 defence did not hamper us, it had the opposite effect – it really helped us, it galvanised our team and we took advantage of it. The feeling of winning is amazing," says Johannessen.
Granted, it was a match to remember by itself for Norway, through their sheer strength of managing the game, as they had a three-goal advantage in the start of the second half erased, only to find themselves two goals down against Hungary with six minutes to go.
 

But put it into context and Norway's performance gets even way more difficult to achieve. The All-star left back of Slovenia 2022, Martine Karigstad Andersen, injured her knee in the semi-final against the Netherlands and could only cheer her teammates on during the final.
Andersen, who finished second in the number of assists in the competition, 28, and scored 26 goals throughout the seven matches she played in, could not help her teammates stop Hungary's otherworldly 15-game winning streak at the IHF Women's Junior World Championship.
"Like I told you, we are not focusing on the individuals, on the players, we did everything here as a team and the result is amazing," says Johannessen.
12 years ago, when Norway first won the gold medal at the IHF Women's Junior World Championship, two players, centre back Stine Bredal Oftedal and left wing Sanna Solberg were selected in the All-star team.
At Slovenia 2022, Martine Karigstad Andersen was joined in the All-star team by goalkeeper June Cecilie Krogh and line player Kaja Rohne. Will these players follow into the footsteps of the previous golden generation, which also boasted Nora Mørk, Silje Solberg and Veronica Kristiansen? 
"It is not for me to say. What I do know is that they did something amazing here. I can only hope for them to have such a successful career in the future," concludes Norway's coach.