Emotional final day as Slovenia 2022 concludes
03 Jul. 2022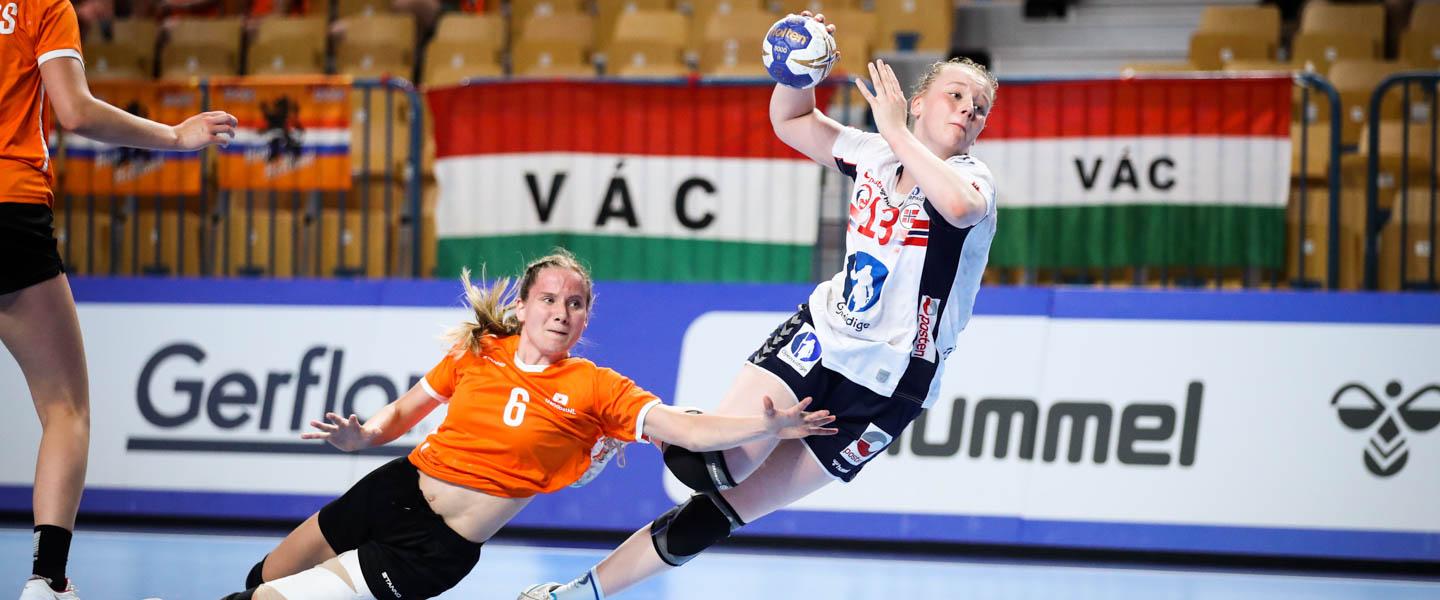 Live blog: After nine exceptional days at the 23rd IHF Women's Junior World Championship, the most pressing questions will finally get their answer. The name of the winner of the competition will be determined after the high-profile clash between Norway and Hungary, the two teams that also clashed for the gold medal at the previous edition of the competition, four years ago, at Hungary 2018.
Norway were able to take revenge for the final in Hungary in 2018. They are world champions. Hungary have to admit defeat for the first time at this World Championship and win silver. 
Netherlands secure bronze in the match against Sweden. Denmark beat Angola and finish fifth. In the duel of the neighbouring countries for seventh place, Germany win against Switzerland.
Today's matches:
10:30 CEST Switzerland vs Germany (27:29)
12:45 CEST Angola vs Denmark (21:23)
15:00 CEST Netherlands vs Sweden (31:20)
17:30 CEST Norway vs Hungary (31:29)
18:58 CEST Full-time: Norway vs Hungary 31:29 (17:15)
NORWAY ARE THE NEW WOMEN JUNIOR WORLD CHAMPION! It was a game worthy of a final, one that will remain in history. And Norway have done it, they have just secured their second gold medal at the IHF Women's Junior World Championship, with a 31:29 win against Hungary, the reigning champions. Therefore, Hungary's streak of 15 consecutive wins in the competition is now over, and for the next two years, we will have a new champion, Norway.
They are the first team since 2005 to hold both the senior and the junior world titles and it was possible thanks to a superb team, that really plays the way one is used to with the senior team. With high speed and intensity and amazing defence, topped up by a strong goalkeeper, one of the best in the tournament, who saved 12 shots in the final, they really did their best.
And what was even more interesting, is that their best player in the competition, Martine Andersen, did not play a second in the final, due to an injury suffered in the match against the Netherlands, in the semi-finals. Backs Frida Andersen and Maja Saeteren took over, combined for 13 goals, and duly delivered Norway their second world title.
18:08 CEST Half-time: Norway vs Hungary 17:15
This first half was nothing short of amazing. We had some superb runs from both sides, great comebacks and, what is most important, there is no definitive answer about who the winners of the 2022 IHF Women's Junior World Championship will be. It looked like Hungary are on to something when they erased a 3:0 run for Norway, but exactly when they could take the lead for the first time, in the 29th minute, they missed. So Norway did what they do best, bounced back, scored twice in a row and secured an impressive 17:15 lead at the break.
Critically for Hungary, who have a 15-game winning streak in the competition, their defence has been leaking too many goals. Sure, their attack was good, with their trademark style using breakthroughs, but their defence and goalkeepers, who combined for only two saves in the first half, need a lot of attention. They did play better against Denmark and Sweden in the quarter-finals and semi-finals after the break, so let's see how the second half looks.
 
17:54 CEST Hungary bounce back in superb fashion
Norway's top player in the competition, Martine Andersen, is on the bench and has not been featured in the first 20 minutes of the game. She looked to have suffered a blow in the semi-final against the Netherlands, but she continued playing two days ago. If there is an injury, it is a big blow for Norway, who are starting to struggle in attack and would need a player of Andersen's calibre.
Hungary have just started their comeback course and now everything looks very smooth. After an initial 6:2 run to start the game for Norway, Hungary bounced back and tied the game, 8:8, after 18 minutes. And Norway have more problems, after their defensive lynchpin, Henriette Eggen, has just conceded her second suspension in the match.
17:42 CEST Hungary fail to deliver as Norway jump to big lead
Hungary had their share of trouble to start the game, especially in attack, where Blanka Kajdon, usually the most reliable player in the team to protect the ball, turned it over three times in the first seven minutes. It is not a good start for Hungary, not necessarily because they lost the ball so many times, but because it looks difficult for them to try to create open shots. Coach Szilard Kiss has already substituted Kajdon with Johanna Farkas, but the centre back who missed a single penalty shot throughout the tournament wasted her first against an amazing goalkeeper in June Cecilie Krogh.
Krogh went on to save another penalty from Petra Koronczai, as Norway are leading 5:1 after nine minutes. This definitely is Hungary's worst moment in this competition. Yet their sheer depth is amazing and could really bring them back into the game.
17:00 CEST Who will be crowned champions?
One thing is certain: we will not have a maiden winner at the 2022 IHF Women's Junior World Championship.Hungary have amazing memories from the Zlatorog Arena in Celje, with this generation winning the Women's 17 EHF EURO 2019 and the Women's 19 EHF EURO 2021 in the same venue, as a hat-trick would definitely cement their legacy as one of the best generations in history in the younger age categories in women's handball.
Both sides have already won the competition once, so a gold medal would see them only as the fifth team in history to have clinched the title at the IHF Women's Junior World Championship at least twice, after the Soviet Union, Russia, Denmark and Romania. Moreover, both Hungary and Norway have played three finals, winning once and losing the other two.
16:50 CEST The final is getting closer and closer
Four years ago, Hungary secured their first-ever title at the IHF Women's Junior World Championship, taking a clear 28:22 win against Norway. The Scandinavian powerhouse will now aim to avenge that loss, with another talented generation measuring up with Hungary, in the battle for the title at Slovenia 2022, after the completion of 115 games.
It is definitely easier said than done, with Hungary's total domination over the past editions in the competition resembling what Russia did between 2001 and 2005 when they cruised to a 21-game winning streak on their way to clinching three consecutive titles. Indeed, since 2005, no reigning champions retained their trophy in the subsequent edition, failing even to reach the final.
Therefore, Hungary's achievement is nothing short of spectacular, as they are entering Slovenia 2022's final with a 15-game winning streak, two of those wins coming against Norway at Hungary 2018. The reigning champions also boast the top attack in the competition, scoring 247 goals, an average of 35.2 goals per game, and have conceded the lowest amount of goals at Slovenia 2022, 132, only 18.8 per game.
"We want to win the title and if we play the same way we did in the semi-final against Sweden, there is no team that can really beat us," says Hungary's captain, centre back Johanna Farkas, who scored 11 goals in her side's 33:25 win against Sweden on Friday. The 20-year-old back is also Hungary's top scorer in the competition, with 39 goals, as coach Szillard Kiss managed to balance the minutes of his players throughout the whole competition.
On the other hand, Norway have won six games and drawn a single one, against France, 34:34, in the preliminary round, on their way to the big final. Another win would set an unprecedented record for the Scandinavian side, who have never finished the tournament undefeated, not even in 2010 when they secured their only gold medal in the competition.
"It would be amazing to secure the gold medal, this is why we are here and I think we can win against any other side. It will be difficult, but it is not impossible," adds Norway's back Martine Andersen.
16:26 CEST Full-time: Netherlands vs Sweden 31:20 (16:12)
NETHERLANDS HAVE WON THE BRONZE MEDAL FOR THE FIRST TIME AT THE IHF WOMEN'S JUNIOR WORLD CHAMPIONSHIP! It has been a superb game for the Dutch side, who finished the competition with a 31:20 win against Sweden, after a clinical performance. Taking a strong lead from the start and never looking back, the Netherlands totally outplayed their rivals to improve on their fifth-place finish at Hungary 2018.
It has been a superb tournament for the Netherlands, who needed to settle in after a draw against Slovakia in the preliminary round, but went on a four-game winning streak before conceding their first loss at Slovenia 2022, in the semi-final against Norway. They quickly bounced back after it and delivered one of their best games in the competition in the bronze medal game against Sweden, as goalkeeper Senna van Galen finished the match with 17 saves for a 46% saving efficiency, while Kim Molenaar was the game's top scorer, with eight goals.The 20-year-old left back, who already made her debut in the senior national team will go down in history now as the first Dutch top scorer of the competition, finishing Slovenia 2022 with 62 goals, tied with Czech Republic's Charlotte Cholevova.
16:03 CEST Sweden need more urgency to save a medal
Molenaar is putting in a clinical performance to help her side clinch their first-ever bronze medal at the IHF Women's Junior World Championship. She is now on 61 goals, only one less than Charlotte Cholevova in the top goal scorer standings, after scoring seven times already. What's even more interesting is that she is not chasing that record, but is focusing on the task at hand, which is winning against Sweden, also delivering three assists throughout the game, and trying to enhance her teammates.
Sweden continue to miss too much and were not really able to stop their opponents in defence. They are down five goals, 20:15, with 17 minutes to go and they really need to improve if they are to save something from this match. Their second-ever medal in the tournament is at stake, therefore things ought to get better for them fast.
15:36 CEST Half-time: Netherlands vs Sweden 16:12 
It started with a 4:1 run from Sweden that helped the Scandinavian side get back into the game, after two goals from right wing Clara Petersson. The Dutch team had trouble in attack, as Molenaar was handed a rest, but they still managed to hold their opponents at bay, with goalkeeper van Galen still frustrating Sweden by raking up the saves. Interestingly enough, Sweden did not rely so heavily on left back Tyra Axner, their top scorer in the competition, as they did in the previous matches, but their attack did get going in the second part of the first half.
However, it was too little in this first half, as the Netherlands still control the game. Remember, this is their eighth match at Slovenia 2022, so energy might be a factor. Sweden are no pushovers, they had tons of bad luck in the first half, hitting the post five times, so if they clean up their attack, they might be in for a comeback. The Dutch side are still leading 16:12 and are heading for their first-ever medal in the competition.
On the top goal scorer watch, Molenaar has scored six goals and needs two more in the second half to leapfrog Czech Republic's Charlotte Cholevova. Chances are that might happen and Molenaar would become the first Dutch player to win this award in the history of the IHF Women's Junior World Championship.
 
15:17 CEST Molenaar inspires the Netherlands to huge lead against Sweden
One week ago, when these two sides met in the final match of the preliminary round, the Netherlands clinched a 23:22 win against Sweden, in a hard-fought battle. Defences seemed to be on top in the first couple of minutes in the bronze medal game, but it was Dutch goalkeeper Senna Van Galen who really impressed, saving two of the first three shots she faced. There was no surprise, therefore, that the Dutch side took a commanding 8:2 lead after 12 minutes, with three goals scored by Kim Molenaar, that forced Sweden to take two timeouts already.
The left back needs only five goals now to tie Charlotte Cholevova as the top goal scorer of the competition and she has plenty of time, including the fact she is on penalty duty. She also converted nearly 70% of the shots she made in the tournament, which is pretty special, considering that the Netherlands had some tough games at Slovenia 2022.
14:30 CEST First medal to be awarded today after Netherlands vs Sweden clash
The two sides meet for the second time at Slovenia 2022, after the Netherlands clinched a 23:22 win in the main round, which enabled them to secure the first place and set up a crunch match against Angola in the quarter-finals. Things might change, however, in the bronze medal game, as Sweden will also be motivated to win only their second medal in history at the IHF Women's Junior World Championship, after clinching the trophy in 2012.
Winning a medal will also be a superb achievement for the Netherlands, especially after this generation failed to make it between the top 16 teams in Europe in 2021 at the Women's 19 EHF EURO 2021. It would also be their first in the world flagship handball competition, with coach Ricardo Clarijs aiming to motivate his team after a disappointing loss against Norway in the semi-final on Friday. However, the Netherlands have already secured their best-ever finish in the competition, topping the fifth place at Hungary 2018.
Dutch back Kim Molenaar needs eight goals to tie Czech Republic's left back Charlotte Cholevova on the first place in the top goal scorer standings, as she currently sits on the third place, with 54 goals, scoring an average of 7.7 goals per game at Slovenia 2022.
On the other side, Sweden proved their worth against Hungary, hovering around until the 47th minute, when the reigning champions went on a 4:1 run and never looked back. After finishing 13th in 2014 and 12th in 2018, this is a huge step forward for Sweden's junior national team.
14:09 CEST Full-time: Angola vs Denmark 21:23 (11:12)
Angola fought until the last second but still failed to earn another win against a European opponent at Slovenia 2022. This means that thanks to their 23:21 win this afternoon, Denmark have secured the fifth place in the 23rd edition of the IHF Women's Junior World Championship, the third time in the last four editions of the competition when they finish in the top 5 teams.
It was an up-and-down tournament for the Scandinavian side, which lost only two matches, against Norway and Hungary, the two finalists, but failed to display a type of handball that would have helped them finish higher. Their attack has boasted neither the efficiency nor the speed required, while their backs had been constantly on and off. What really shined for Denmark, however, was a sturdy type of defence, also displayed by the senior team in the last major competitions. It seems that a shift in focus has also been made over the last years, as the Scandinavian team constantly develops great defenders.
On the other side, Angola finished in the sixth place and duly delivered a tournament for the ages. Coach Jose Chuma might be too much to handle for the referees at some point, but the way his team played at Slovenia 2022 was truly superb. No African side finished higher than ninth in the history of the competition, so Angola's performance was one for the record books. An excellent tournament from back Stella Pascoal, line player Thayany Castro and back Liliane Mario really lifted Angola to that performance, so mark those names for the future. You will surely hear more about them.

13:58 CEST Angola pay tribute to suspensions
With ten minutes to go in this 5/6 Placement Match, Denmark are leading by only two goals, 20:18, which has been the case throughout the second half. Angola were still plagued by their disciplinary record – seven suspensions until this point in the game – having to play with one player less for 12 minutes during the game. They managed to stay close, especially through Stella Pascoal, who has been stellar in this game, scoring eight goals, improving her overall tally to 38 goals at Slovenia 2022.
13:18 CEST Half-time: Angola vs Denmark 11:12 
Denmark looked to have firm control of the game, but they failed to score between the 18th and the 25th minutes, helping Angola be ushered back into the game. Once again, the Scandinavian side relies heavily on defence, while their attack has failed once again to deliver consistently, like throughout the whole tournament. Sure, the fifth place would be a strong finish for a perennial contender like Denmark, but there are still a lot of questions to be asked, especially from their back line, as they do not have a strong enough threat to create successful actions.
On the other hand, Angola are still clinging for dear life and their resiliency must be commanded once again in this tournament. Securing wins against the Czech Republic, Switzerland and Slovenia is no easy feature, but they passed the tests with flying colours. Their future definitely looks bright, but these players need a bit of experience under their belt. This is what looks to be lacking right now for a step further. Denmark are leading 12:11 at the break and look to be favourites to seal the fifth spot.
13:01 CEST Angola keep close to Denmark
Denmark's speed and great defence yielded great results in the first part of the game, as their right wing, Clara Skott, scored three of her side's first four goals, including two on fast breaks, as Denmark constantly frustrated Angola in the first minutes of the 5-6 Placement Match. However, there is no deterring the plucky African team, who has been one of the pleasant surprises at Slovenia 2022.
Despite three goals from back Stelvia Pascoal, who has constantly been Angola's top performer in the competition, Denmark are still leading 9:7 after 15 minutes, with Skott leading the line with five goals. The gap is still insignificant at this point and anything might happen in this match.

11:56 CEST Full-time: Switzerland vs Germany 27:29 (11:17)
It has been a true roller-coaster ride at Slovenia 2022 for Switzerland and one thing they should be proud of is that they never gave up, irrespective of the issues they had throughout the tournament. They tied the game here in the 50th minute, 25:25, had the chance to go in front, but eventually faltered, as Germany powered through to a 29:27 win, clinching the seventh place at Slovenia 2022 in the process. It was not an easy win, far from it, but Andre Fuhr's side will take it and end the tournament on a high, with their best finish since 2016.
Sure, it might have been different were it not for the devastating injury suffered by centre back Lucy Jörgens in the final match of the preliminary round against Slovenia. Joergens was Germany's top goal scorer in the competition so far and would have definitely been a tough player to contain for opposing defences. Yet Germany still made it to the knockout phase of the competition, eventually being delivered tough losses against Denmark and Sweden.
Switzerland, who were at their third participation at the IHF Women's Junior World Championship, will always remember Slovenia 2022 as one of their best outings in their history. At this age category, it will be surely the best finish, despite all the issues they had. The win against Croatia in the preliminary round paved the way for the eighth-place finish. With 21 goals in the last two games, centre back Tabea Schmid improved her tally to 44 goals overall, tied with Germany's Nina Engel on the eighth place in the top goal scorer standings.
11:31 CEST Switzerland start the second half with a bang
Switzerland just came back with a roar, taking a 3:0 run to start the second half and cutting the gap to only three goals. Have Germany thought they have this already in the bag and complacency might have crept in? It surely prompted a quick timeout from coach Andre Fuhr, who did not take his first in the first half. The move paid immediate dividends, as Switzerland's advance was stopped, with their attack still hovering at the 50% efficiency mark.
This is not Germany's best performance in this tournament and Fuhr knows it. They should have had an easier game against a depleted Switzerland side, but the opponents are really trying their best. And they have just cut the gap to a single goal, 20:19, prompting Fuhr's second timeout. We have a game on our hands after Switzerland managed an 8:2 run to start the second half!
 
11:04 CEST Half-time: Switzerland vs Germany 11:17
A 5:1 run spanning between the 12th and the 18th minute was decisive for Germany creating a big gap, 10:5, with backs Lotta Heider and Nina Engel scoring three goals each. Even without Switzerland's big issues in the depth department – they have played the last two matches at Slovenia 2022 with only 12 players on the scoresheet -Germany would have been favoured, yet the game was still open at the start, mainly due to Andre Fuhr's side inconsistency.
Switzerland are still keeping the gap under wraps, as Germany's biggest lead was a six-goal one, but it will be difficult to maintain the same rhythm in the second half, as goalkeeper Aline Strebel has made only three saves for a 15% saving efficiency. They simply do not have the firepower to keep it going at the same level throughout the whole game, as problems keep kicking in. In the first half, Damian Gwerder's side has turned the ball over seven times, as Germany are ready to seal the seventh place in the final standings at Slovenia 2022. 
Switzerland could simply not contain Germany's trio of Nina Engel, Anika Hampel and Lotta Heider, who combined for 14 goals in the first half. Engel in particular was superb, with six goals, entering the top 10 of the top goal scorer standings, with a 42-goal tally in the tournament.
10:47 CEST Switzerland keep close at the start of the 7/8 Placement match 
Switzerland are definitely determined to finish Slovenia 2022 with a win, despite their woes, which saw six players out from the initial roster, due to testing positive for Covid-19. They have matched Germany in this first part of the game, especially as Tabea Schmid, their centre back, picked up where she left off against Angola, when she scored 11 goals, to help her side stay close to their opponents.
However, Switzerland still have only one goalkeeper on the scoresheet and that might prove problematic in the long run. Germany are still missing shots in this game, but their right back, Nina Engel, is still in fine shooting form, scoring two goals at the start of the match. After 15 minutes of the game, Germany are leading 6:4, with their experience might prove they key asset in this match.
9:55 CEST Last day at Slovenia 2022 starts now
Four games are on the card today and we will start with the 7/8 Placement Match, which features Switzerland and Germany.
Switzerland have definitely earned their best-ever finish in the competition and their performance at Slovenia 2022 will be called a resounding success, but finishing the tournament with three losses in a row will raise some questions for coach Damian Gwerder. Therefore, the match against Germany will still be important, as two wounded teams face off in the battle for the seventh place.
Germany have conceded two painful losses in the knockout phase of the competition, 24:36 against Sweden in the quarter-finals and 27:38 against Denmark, as they aim to finish on a high. Better efficiency is needed for Germany, as coach Andre Fuhr will rally his team one last time at Slovenia 2022.
9:45 CEST Norway aim to avenge the loss from Hungary 2018
Norway have been a perennial contender even in this age category for a long time, but right now they can win their second gold medal. No player has influenced the team more than Martine Andersen, their left back, who is doing everything needed of her on the court. She will play for Vipers Kristiansand, the reigning champions of the EHF Champions League Women from the next season.
Her story can be read here.

9:30 CEST Big test for Hungary
Hungary are riding a 15-game winning streak dating back to the previous edition of the tournament, as this generation of players has truly been inspirational. Their captain, Johanna Farkas, knows a thing or two about winning trophies in the Zlatorog Arena in Celje. With her as captain, Hungary won the Women's 17 EHF EURO 2019 and the Women's 19 EHF EURO 2021 in this arena.

Her story – including what she thinks about her Norwegian idol – can be read here.
9:00 CEST It's the final day at Slovenia 2022
Welcome to today's live blog for the 2022 IHF Women's Junior World Championship, the place you will find everything you need for the competition that hosts the best junior players in women's handball.
As usual, you are just one click away from every meaningful piece of information on our website and on the competition mini-site, including the schedule, the results and the freshest stats to see who's hot and who's not at Slovenia 2022.