Main round picture to get clearer on third day at North Macedonia 2022
01 Aug. 2022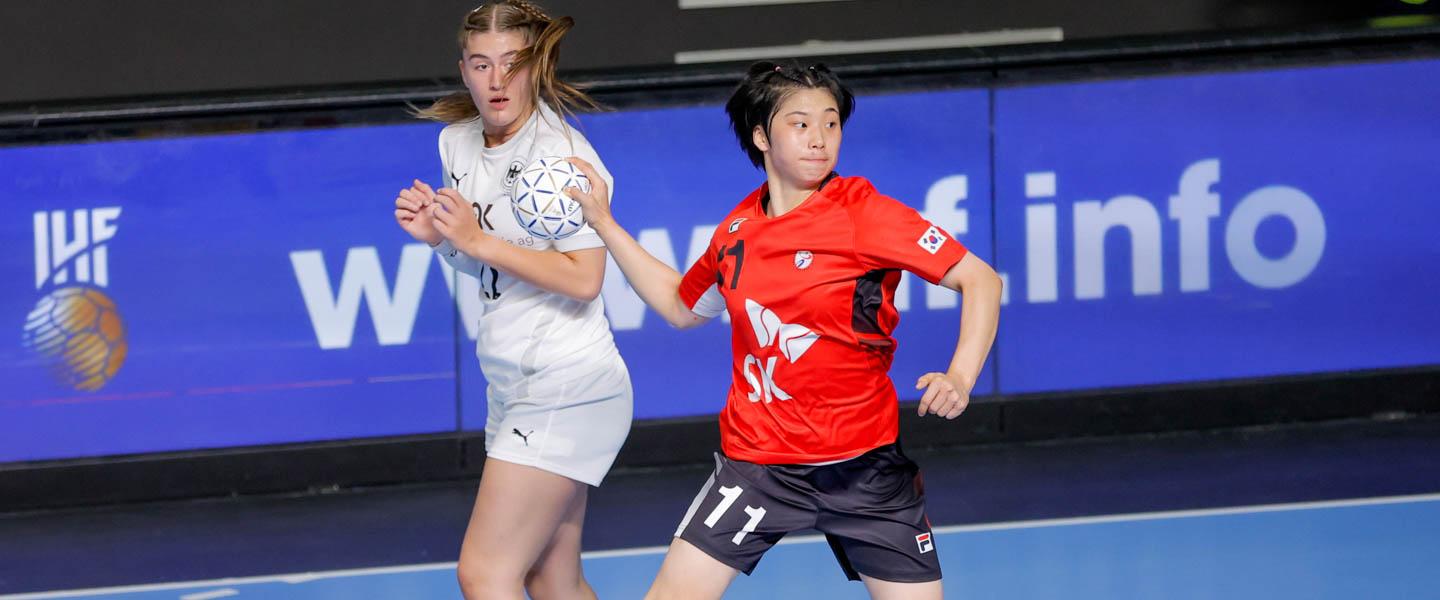 Live blog: The curtains have fallen on the third day of the 2022 IHF Women's World Championship and we have the answer to the question posed at the start of the day. Six new main round berths have been awarded – Romania and the Netherlands in Group E, the Republic of Korea in Group F, Norway in Group G and, finally, Hungary and France in Group H. They join North Macedonia, the Islamic Republic of Iran, Denmark, Portugal and Egypt, who had previously secured their progression yesterday.Tomorrow, the preliminary round will conclude with a full, 16-game card, in Skopje, with the rest of the five main round berths to be awarded.
Today's matches
14:00 CEST Netherlands vs Guinea (33:20) / Uruguay vs Norway (18:30)
16:10 CEST Czech Republic vs Brazil (28:28) / Republic of Korea vs Germany (34:28)
18:20 CEST France vs Argentina (23:20) / Switzerland vs Slovakia (29:24)
20:30 CEST Spain vs Hungary (26:28) / Slovenia vs Romania (25:35)
21:56 CEST Full-time: Spain vs Hungary 26:28 (17:13)
Spain turned the game around. In the 47th minute they took the lead for the first time, which they did not relinquish. In the last 4:53 seconds they didn't score any more. Spain's Ester Somaza Bosch, the most successful southern European with eight goals, shot the penalty against the post and thus missed the chance to tie the game. Hungary changed their goalkeeper. Klára Zaj was then able to save a third of the shots in the end. While on the opposite side Andrea Suarez Sanchez held 6 of 25 attempts. Top scorer is Hungary's Petra Simon, who could not quite keep her 100%, but sank 11 of 13 attempts in the goal. 
Hungary and France secured their tickets to the main round in Group H, while Argentina and Spain missed out after two defeats. 
For Spain, it will be the worst ever result at an IHF Women's Youth World Championship.  After finishing 5th twice (2008, 2010), 15th (2016) and most recently 8th, they can now finish the competition no better than 17th.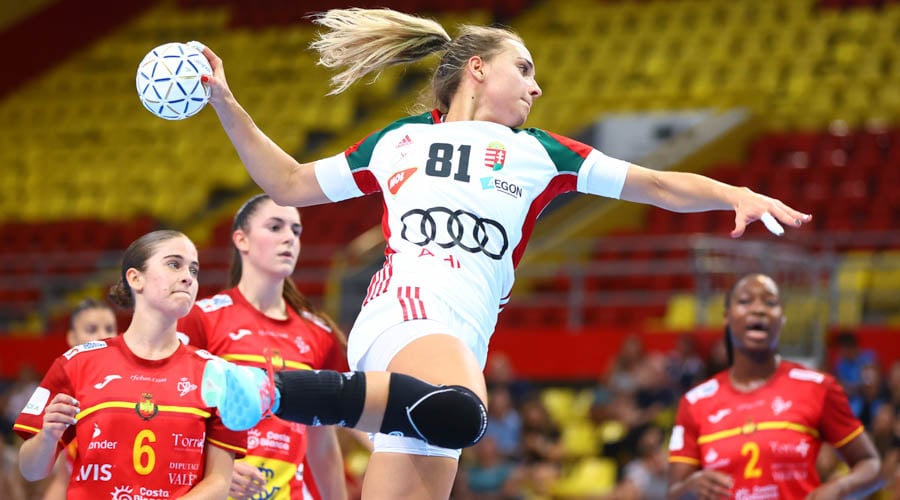 21:52 CEST Full-time: Slovenia vs Romania 25:35 (12:15)
Romania led by as many as nine goals in the second half, as they totally dominated Slovenia, due to their depth and experience. The Maria Lixandroiu – Mihaela Mihai – Alisia Boiciuc trio ran riot in Slovenia's defence, combining for 23 of Romania's goals in the game, as this team really has a good speed in attack, scoring 74 goals in their first two games, the third largest amount in the competition, after the Islamic Republic of Iran (86) and Croatia (85).
With the second win in as many games, Romania join the Netherlands in progressing to the main round, with the decision due to be played tomorrow. It will be interesting to see how Romania cope with the Dutch side, however, both teams scored at least 30 goals in the two matches they played until now, so a high-scoring affair might be on the cards. On the other hand, Slovenia and Guinea are eliminated and will head to the President's Cup. This confirms the worst-ever result for Slovenia in the competition, as they finished 5th in 2006 and 16th in 2018. Out of the main round, means that the European team can only as high as the 17th place.
21:34 CEST Hungary equalise against Spain
Whatever coach Beáta Bohus told her players, it helped. Hungary fought their way back into the game and equalised in the 15th minute.
Spain, on the other hand, are slacking off and have even fallen below the 60% mark in terms of their chance conversion. Hungary's Petra Simon, on the other hand, has so far sunk 10 of her 10 attempts on goal and helped her team to claw their way back. 
Can Spain regain their first-half form or will victory go to the medal favourites after all?
21:32 CEST Romania still in control
Romania's pair of backs Maria Lixandroiu and Alisia Boiciuc have really bossed this game, combining for 15 goals in the first 45 minutes. But Romania have still missed a beat or two, alternating the good moments with the bad ones, as the gap ballooned to seven goals, 25:18. Yet Slovenia have still not found a way to keep a shade of consistency in their game, especially in defence, where they simply could not stop Romania's back line. And with Lana Bukovec sent off, after three suspensions, it will be even harder for them to come back.
Romania are on their way to the main round, as this could be their second win in a row at North Macedonia 2022. If they win, tomorrow's game against Netherlands will be crucial. Extend their winning streak and they will start the main round, facing the Republic of Korea and Germany or Switzerland, with two points. But repeating their win from North Macedonia 2014 will be difficult, if not impossible.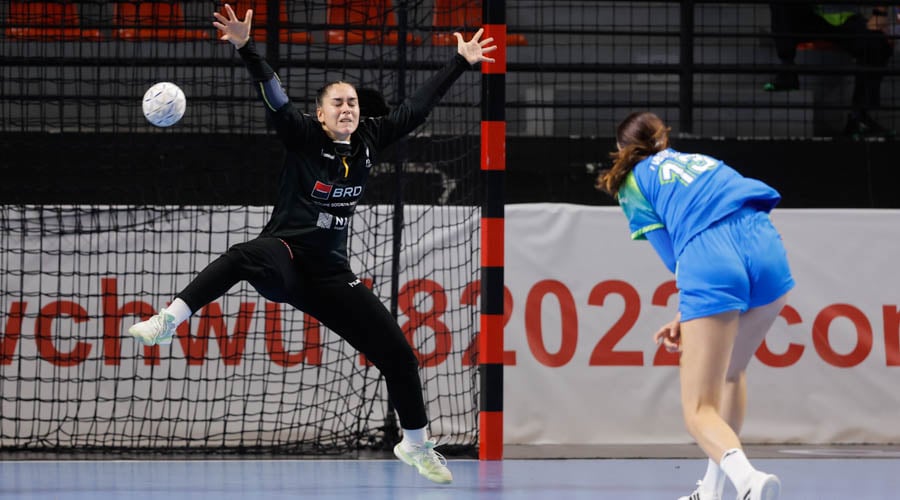 21:05 CEST Half-time: Spain vs Hungary 17:13
Even if Hungary were able to close the gap a little, Spain continue to keep them at bay. After the whistle, Ester Somaza Bosch was still allowed to step up to the 7-metre point. She converted and scored her fifth goal, making her Spain's top scorer so far. Once again, Hungary's Petra Simon was successful.
From Hungary's point of view, it is positive that they have become much more efficient and now have a 62% scoring rate. Spain, on the other hand, have slackened off a bit and are only scoring on 63% of their attempts. 
Hungary's goalkeeper Kincső Sass, on the other hand, still needs to improve, she continues to save only one fifth of the balls. Spain's Andrea Suarez Sanchez, on the other hand, is at just over 30%. 
Can Spain maintain their lead or will the European champions strike back once more?
21:04 CEST Half-time: Slovenia vs Romania 12:15
Romania's wing problem is starting to hurt them more than they would like, with misses piling up. Mihaela Mihai and Orsolya Mezes, the two right wings, have four missed shots between them, while Mariam Mohamed, the left wing, failed to score with her only shot. In total, there have been five one-on-one misses, which definitely hampered Romania's game. But with left back Maria Lixandroiu in stellar form – she has seven goals out of seven shots – Romania are still ahead at the break, 15:12, but the game is far from over.
After conceding a painful 17:31 loss in the first match against the Netherlands, Slovenia have improved, and look more secure in attack, but still lack that cutting edge needed to really make the next step and exert pressure on their opponents. With a 3:0 run spanning between the 21st and the 24th minutes, as Lixandroiu scored two times, Romania really made their mark on the game. Will it be enough?
20:50 CEST Spain pull away from Hungary 
In the seventh minute Spain led 5:1, only then Hungary came a little closer. But in the meantime the lead has grown to 6 goals. This is also thanks to a chance conversion rate of 73%. Hungary, on the other hand, only hit the target on every second attempt.
While Spain's Andrea Suarez Sanchez deflects a third of the balls on her goal, Kincső Sass has only managed to keep out a fifth of the attempts on the other side. 
Can Hungary, who after all were European champions last year, fight back against the threat of defeat?
20:47 CEST Romania pay tribute to costly misses
Romania had the better start to the game, creating a two-goal lead twice in the first 10 minutes, as Slovenia found it difficult to stop left back Maria Lixandroiu. Unfortunately for Romania, their lack of efficiency from the wings, which was already displayed in the senior and the junior teams continues to plague them also at this level, as right wing Mihaela Mihai missed two shots already. Yet Slovenia could not find their consistency in attack, turned the ball over four times, but still navigated a two-minute suspension without conceding a goal.
But Slovenia found their own share of trouble when Lara Bukovec conceded the second two-minute suspension in only 13 minutes, as a pillar of the team's defence must now pay attention to how hard she plays over the next three-quarters of the match. Romania's plan is two play with two line players, replace the right back, and turn the ball to the wings. If the efficiency grows, then things might look good for Romania. Until that moment, they are only up by a single goal, 7:6.
19:52 CEST Full-time: France vs Argentina 23:20 (11:7)
In this somewhat chaotic game, both rivals continued to struggle in attack in the second half. In the end, both France and Argentina had a 43% shot efficiency, which is hardly impressive. Argentine goalkeeper Candelaria Cuadrado, elected Player of the Match, kept her team afloat, recording 17 saves, but while the South American pushed hard to draw level until the last minute, they never succeeded. France's Nina Perret became the top scorer of the match with nine goals, contributing to her team's victory a lot.
After this hard-fought win, France are on four points and have one foot in the main round. If Hungary beat Spain later today, both France and Hungary will go through, while Argentina's chance to reach the main round look marginal.
19:49 CEST Full-time: Switzerland vs Slovakia 29:24 (14:12)
A 3:0 run between the 45th and the 48th minutes was the decisive moment of the game, as Switzerland managed to stop Slovakia in their tracks. As goalkeeper Claire Hartz improved her save tally to 12, stopping three penalties in the game, Switzerland cleared the way to the goal, despite their attack still having issues at times. Eventually, the win came for the debutants, 29:24, as Slovakia had nothing in their tank to prevent the result.
The win is Switzerland's maiden one at the IHF Women's Youth World Championship and should prove to be one that will motivate the European sides to get more out of this competition. However, their next challenge, playing against Germany, will be big, as they need to win to progress to the next phase. On the other hand, Slovakia are virtually out of contention and head to the President's Cup, while the Republic of Korea have earned their berth in the next phase of the competition.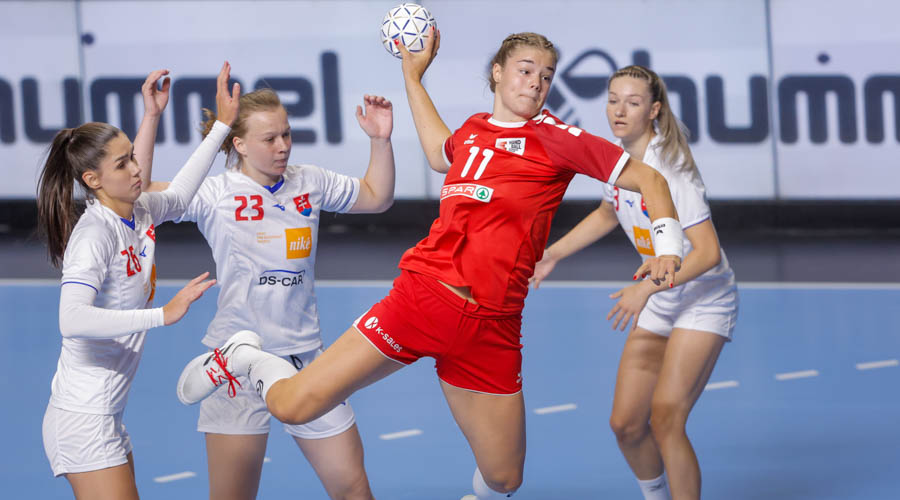 19:32 CEST Argentina keep fighting hard
While France are still in front — 16:14 with 15 minutes remaining – Argentina are putting a lot of pressure on them. Their goalkeeper Candelaria Cuadrado has already made 16 saves, which kept her team's hopes for a positive result alive. In turn, the French goalkeeper Shana Wanda has recorded just one save after the restart. However, her team are still leading – and they hope to clinch a win despite any problems.
19:28 CEST Still anyone's game
It's now four penalties missed for Slovakia, as they are starting to lose steam and Switzerland even took a three-goal lead at the start of the second half. One of Slovakia's top players, Radka Šalatová, had an evening to forget, scoring a single goal in the match from seven shots, which is not a very good efficiency when trying to extend the welcome at the IHF Women's Youth World Championship.
Switzerland, on the other hand, are not brimming in this game, but they are doing exactly the right things to keep the lead, which has shifted between one and three goals throughout the second half. If they win today, they need another win against Germany. In that case, the Republic of Korea are already through to the main round. 15 minutes to be played in this game and Switzerland are clinging to the skin of their teeth, 19:18.
19:00 CEST Half-time: France vs Argentina 11:7
Neither of the teams showed their best-attacking performance in the opening 30 minutes, but France did better, as their shot efficiency was 41% compared to Argentina's 30%. Both goalkeepers did an amazing job - Shana Wanda from France boasted a 57% save rate, while her Brazilian colleague Candelaria Cuardado stopped 10 balls for a nearly 48% efficiency. No wonder both teams scored just one goal combined between minutes 19 and 30.
France are going into the break with a deserved 11:7 lead, but nothing is yet lost for Argentina. If the South Americans found a way to get past the French defence and goalkeeper, they will have a chance for a second-half comeback.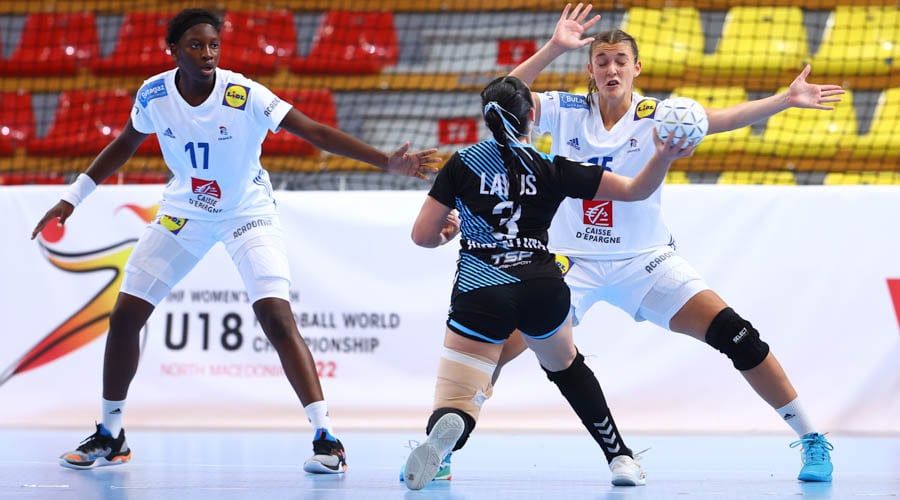 18:55 CEST Half-time: Switzerland vs Slovakia 14:12
Remember that 15 minutes ago Claire Hartz did not have a save? Well, she stopped two penalties in a row, helping her side stay in the game, despite a flurry of suspensions in the first half, six. However, Switzerland stayed in the game through a couple of converted lobbed shots from wings Mia Emmenegger and Alesia Riner, as they even wrestled back the lead from Slovakia, 11:10, after 25 minutes, protecting it just enough to boast a two-goal gap at the break, 14:12.
Slovakia's undoing was definitely their three missed penalties, which could prove decisive at the end of the game. They also missed two open goal shots, which rather puts the total of easy goals missed at five in 30 minutes. Switzerland are not doing anything out of the ordinary, especially in attack, rather than putting the ball in the hands of their wings, where they feel they have the superiority. Emmenegger has been stellar so far, scoring four goals. What might prove problematic for Switzerland, though, is that Nora Snedkerud and Nuria Bucher, crucial parts of the defence, have already been suspended twice in the game. One more suspension and they will be off, so they should tread carefully.
18:40 CEST France pulling in front
A win against Argentina may bring France closer to the main round, and the European team are doing everything they can to grab two points. It was Argentina's Ailin Cabana who opened the score in the third minute, but the French responded with a 3:0 run and went on to maintain their lead.
15 minutes into the match, France are in front 7:5, as their goalkeeper Shana Wanda made three saves, and Enola Borg netted three times. Argentina are trying to fight hard, but they need to improve their shot efficiency, which now stands at 44%.
18:38 CEST Balanced match between Switzerland and Slovakia
Switzerland and Slovakia might not qualify for the main round, as the team who wins today also need another win tomorrow, on the last day of the preliminary round, but they look properly motivated to try and give everything to open their account at the 2022 IHF Women's Youth World Championship. There have already been three lead changes in the first 15 minutes, with Slovakia becoming the side who opened the first two-goal lead.
But Switzerland are no pushovers and boast Mia Emmenegger and Clairebel Coker, who have already played at the IHF Women's Junior World Championship last month, earning valuable experience. This might turn into one of the most balanced games of the competition, but both sides will need to improve their goalkeeping. Slovakia's Barbora Jakubíková saved a single shot, while Switzerland's Claire Hartz did not open her account yet. After 15 minutes, Slovakia are ahead, 7:6, but things change quickly at this level.
17:43 CEST Full-time: Czech Republic vs Brazil 28:28 (16:18)
One of the tightest matches at the current World Championship could have ended in favour of any team, so a draw seems to be quite a logical result. Brazil were closer to a victory, but three seconds from the final whistle, Simona Schreibmeierova scored her 10th goal of the day to salvage Czech Republic a point.
Her teammate Patricie Wizurova, who failed to make any saves in the first half, stopped seven shots after the break, and her improved performance was one of the factors that helped Czech Republic to avoid a defeat. Brazil were in front more often than their rivals, but they missed a few good chances late in the game, which cost them a victory.
In Group G, Norway are already through to the main round, while the second-placed Czech Republic now have three points, two more than Brazil. Tomorrow Brazil will face Uruguay, and if they win and Czech Republic lose to Norway, the South American team may go through if they have a better goal difference. Now Czech Republic has +1, and Brazil -12, but this gap does not look insurmountable.
17:33 CEST Full-time: Republic of Korea vs Germany 34:28 (19:12)
Germany might have heavily improved after the break, but it was too late to save something from this game. The pivotal moment of the match was between the 50th and the 52nd minutes, when Germany were a player up, but failed to score with their two attacks, while the Republic of Korea converted a penalty, which saw them up 29:25. It has always been about the small details for Germany, who looked like they could save something from this match, only for their woes to come back and bite back. They will have to go back to the drawing board, but qualifying to the quarter-finals could be out of reach for them. The current system does not forgive such mistakes and their lack of efficiency was costly.
This might have been PlayStation handball, some superb fast-paced brand that really set Germany back plenty of times, but it was also highly efficient. As a neutral fan, it is surely amazing to watch the Asian side, as they are always smiling and having fun on the court while displaying some outstanding technical skills. They only need to correct some issues in attack, as their efficiency dips at times, which was on display in both matches played at North Macedonia 2022 until now. But what more can you ask from a side that has scored 66 goals over two matches, against European opponents? Once again, Minseo Kim – eight goals - and Seojin Kim – nine goals – were their best scorers, as the two Korea players are now joint-second in the top goal scorer standings, with 20 goals each, three goals behind the Islamic Republic of Iran's Fatemeh Merikhi.
Sure, they are not mathematically qualified yet, but they are virtually through to the main round. And if the favourites secure their matches tomorrow, they will be there with two points and a huge chance to progress to the quarter-finals. That would mean that Korea extend their top-10 streak to eight tournaments in a row.
17:18 CEST Czech Republic and Brazil level after 45 minutes
The tight fight continues well into the second half. Brazil finally created a three-goal advantage at 23:20, but then they failed to score for the next five minutes, so Czech Republic drew level at 23:23. In terms of goal efficiency, the teams are almost level: Czech Republic has 65%, Brazil 64%. So it is anyone's game, and it is hard to predict the outcome.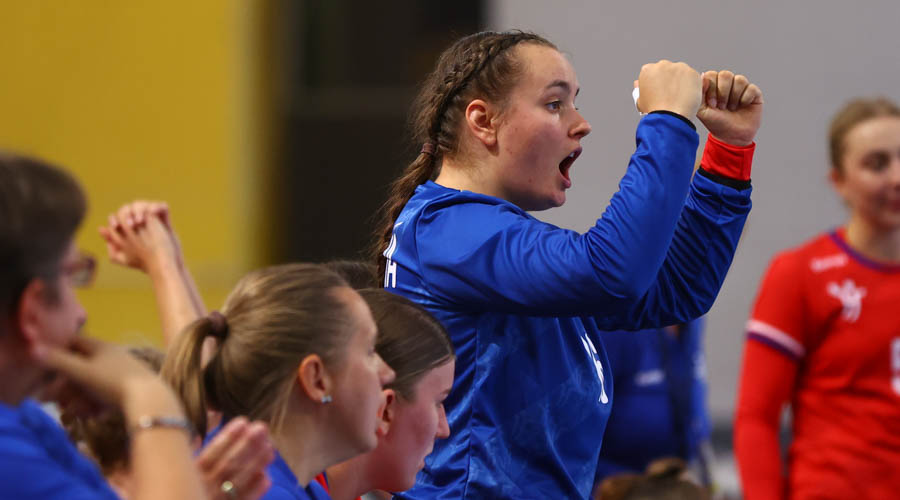 17:16 CEST German comeback on the cards?
Germany had not conceded this number of goals in the first half at the IHF Women's Youth World Championship since 2008, when they shipped in 21 goals against the Netherlands in one of their maiden games in the tournament. But they managed to brush up their defence in the second half, especially as Korea's efficiency has dwindled in the first 13 minutes of the second part, with many one-on-one misses. At one point, Germany used a 5:2 run to cut the gap to only four goals, 21:17, after 39 minutes, but the Asian side remained strong. Despite two misses, Seojin Kim is still their best scorer, with seven goals, having jumped to the second place in the top goal scorer standings, with 18 goals at North Macedonia 2022.
Germany have been finally using their height advantage in the second half, scoring easy goals through their backs, despite an aggressive defence from Korea, which morphed from 5-1 to 4-2 at times. As there are still 17 minutes in the game, the Asian side is clear, 23:20, but a Germany comeback could be on the cards, judging from the way there are scoring.
16:50 CEST Half-time: Czech Republic vs Brazil 16:18
No team could pull away by more than two goals during the opening 30 minutes of this hard-fought encounter. A lot is at stake for both sides, so the tension is high. Two minutes from half-time, the teams were level at 16:16, but then goals by Julia Rodrigues and Kelly Rosa gave Brazil an advantage going into the break.
Rosa, who has scored six goals in Brazil's opening match against Norway, now added just as many to her tally. For Czech Republic, Simona Schreibmeierova also netted six times. In turn, goalkeepers did not have much impact, as Brazil's Manuela Navarro made just two saves, and her Czech colleagues Patricie Wizurova and Kristyna Stojarova failed to stop any balls. So improving the goalkeeping in the second half might be a key to success for both rivals.
16:44 CEST Half-time: Republic of Korea vs Germany 19:12
The brand of handball played by Korea is, to put it mildly, brilliant. The speed is astonishing, the conversion rate has been through the roof, while the German defence look totally flummoxed by what is happening on the court. They simply had no answer to what the Asian team brought to the table, which is unexpected, to say the least. But how do you counter this well-oiled machine, especially on a given day where everything they touch turns to gold? It is amazing how players aged 16 or 17 can be so confident in their abilities and dribble through the opponent's defence with outstanding efficiency.
On the other hand, it is hard to understand how Germany are not using their height advantage in attack to try and score through their backs. Viola Leuchter, who has been their top scorer at the W17 EHF EURO 2021, scored only two goals, as the overall efficiency of Germany plummeted to 54% in the first half. A 6:2 run for Korea was the building block for this huge gap at the break, 19:12, which, frankly, looks unassailable at this point. Especially if Germany's goalkeepers do not improve their efficiency – in total, they have saved only one save from the 20 shots they faced, for a meagre 5% saving efficiency.
 
16:27 CEST Close fight between Czech Republic and Brazil
After Norway beat Uruguay in the same Group G earlier today, Czech Republic also hope to earn two points against their South American rivals Brazil. If it happens, both European teams will progress to the main round with one group match to go.
However, the opening 15 minutes showed that it would not be easy for Czech Republic. Following an extremely tight fight, Brazil are in front 10:9 midway through the first half. Their player Kelly Rosa has already netted four times, and although the European team boast a 90% shot efficiency, they also need to improve their defence and goalkeeping to pull in front.
16:27 CEST Flying start from the Republic of Korea against Germany
It took five minutes and 19 seconds for Germany to score their first goal and, by that time, the Republic of Korea were already up ahead 3:0, with all of their goals scored via their wings. Whether it was a deliberate plan or not, it really worked, especially as the Asian side's backs looked a bit out of their depth ahead of a very solid and tall defence by Germany in the centre of the court. But despite Germany really starting to get better in attack, they were constantly punished in defence, as the ball was fed to the wings by Korea.
Left wing Seojin Kim, their top scorer from the previous match, added another three goals to her tally early in the game, while right wing Seoyeon Cha scored three for herself, with Korea jumping to a 9:6 lead after 14 minutes. Remember, Germany were considered one of the top contenders for the gold medal, after securing the silver last summer at the W17 EHF EURO 2021. But Korea are giving them a run for their money, looking like strong contenders themselves. This is a proper match and a good battle to probably decide the winner of Group F.
15:28 CEST Full-time: Uruguay vs Norway 18:30 (10:13)
As so often in recent days, the "underdog" can keep up in the first half but has to pay tribute in the second. Uruguay sold themselves well in the first 30 minutes and were able to keep Norway at bay. But the Scandinavians completely dominated the game after the break. Just five goals were scored by Uruguay. A 42% scoring rate is far too low to keep up with the European powerhouse Norway at a World Cup. With 67%, the Scandinavians are in the upper midfield in terms of efficiency. Their goalkeeper Kadija Mardalen alone held as many balls as Uruguay's goalkeepers combined. and Mardalen was still replaced by her two teammates. With Norway's scorers well distributed throughout the team, the top scorer of the match was Uruguay's Clara Barthaburu Aguirre. She scored six times.
For Uruguay, it's goodbye to the main round. Unless Brazil beat Czech Republic later. If Uruguay win against Brazil tomorrow, while Norway beats the Czechs, then everything would depend on the goal difference. Norway, on the other hand, can slowly prepare for the main round. If Czech Republic win later, then both teams will qualify for sure. 
15:23 CEST Full-time: Netherlands vs Guinea 33:20 (19:13)
While not stellar, the second consecutive win for the Netherlands at the 2022 IHF Women's World Championship is definitely a very important one, another building block for a successful campaign for Ricardo Clarijs' side in the tournament. The Dutch side scored 30 goals for the second match in a row, despite handing considerable minutes to every player in the roster, with their win against Guinea, 33:20, being one that can be confirmed without a shadow of a doubt.
The Dutch side are virtually through to the main round but will confirm their spot later tonight if Romania do not lose against Slovenia. A decider for the first place in the group will be played tomorrow, against Romania, yet the Netherlands look primed to be in a good position at the start of the main round. On the other hand, Guinea lost their second match in a row by more than ten goals and will now play in the President's Cup, after their final match in the preliminary round against Slovenia. Their maiden IHF Women's Youth World Championship has been marred by issues, including travelling at the latest possible moment to start the competition, due to missing their second flight to Skopje but are still determined to finish the competition with at least a win under their belt.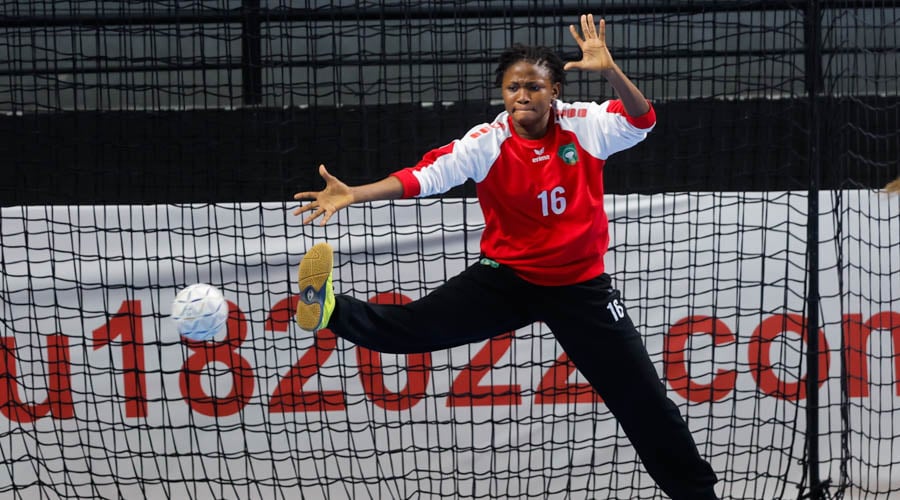 15:08 CEST Norway pull away 
Meanwhile, the Scandinavians dominate the game and have extended their lead to seven goals. This is also because Uruguay continue to score only every second attempt. And Uruguay's goalkeepers could only save 5 of 27 shots. It is also difficult for the South American defence that not only one or two Norwegians are scoring, but that 10 players have been able to put their names on the scoresheet so far. So it doesn't help if you take one out of the game, then the next one is already ready. 
15:07 CEST Netherlands cruise to second win in a row
This was a better start, at least on the defensive side of the game for the Netherlands. In the first 11 minutes of the second half, the Dutch side conceded only two goals, as they ran a 6:2 partial to create a ten-goal lead, 25:15. With a better focus in defence, the Dutch side continued to force turnovers from Guinea, whose tally now stands at a staggering 19 balls lost due to mistakes in attack.
Back Alieke Van Maurik has been virtually unstoppable until this point in the game, scoring six goals out of seven shots, while wing Donna Bakker also added five goals, coming close to Guinea's tally between them. There is nothing that could derail Netherlands' win in this match, with their lead growing to 10 goals, 26:16, with 15 minutes to go in the match.
14:37 CEST Half-time: Uruguay vs Norway 10:13
Norway have managed to pull away in the meantime, which is also due to the fact that Uruguay have greatly reduced their chances. Not even every second shot ends up in Norway's goal. Even after a 2-minute penalty against Constance Hedenstad, Uruguay could not make use of their advantage. Norway, on the other hand, has a goal-scoring efficiency of 68%. 
Norway's Kadija Mardalen is also more convincing than Lucia Belen Fernandez Pelaez when it comes to goalkeeping, with 6 saves on 15 shots on goal. Uruguay's goalkeeper has only been successful three times in 16 attempts.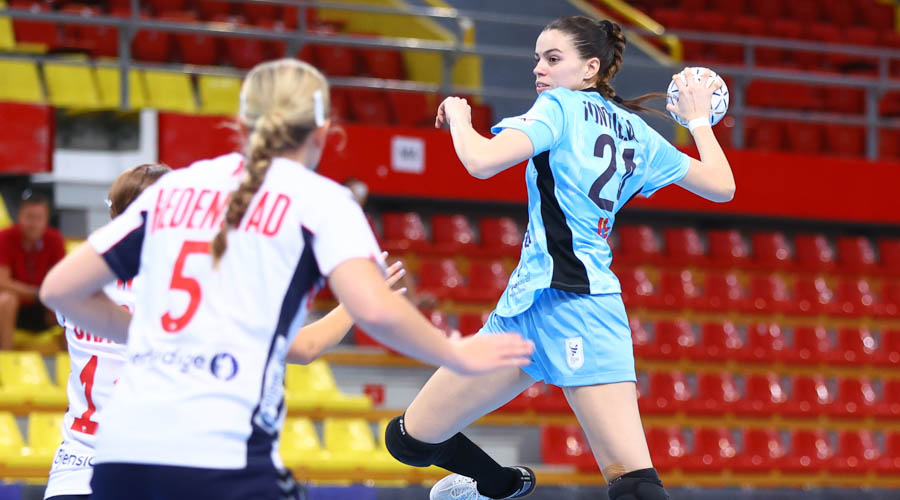 14:35 CEST Half-time: Netherlands vs Guinea 19:13
It has not been a good game from left wing Kadiatou Sankhon, who saw the red card after collecting three suspensions in just over 15 minutes. Guinea's lack of discipline is difficult to contain by their coaches, as it seriously impacts the team's performance. Without Sankhon, Guinea will now have to rely on only one left wing, which will only harden their task in this match.
But they still managed to stay afloat, as the Netherlands did not really push the tempo. They can do it, as they have proved in their first game against Slovenia, but tomorrow's game against Romania, which will likely decide the first place in the group, is on their minds. At the break, the Dutch side is leading by only six goals, 19:13, after they missed two penalties and their focus has somewhat been missing in the first 30 minutes, turning the ball over ten times.
14:17 CEST Guinea weather the early storm, but still fall behind 
Netherlands were surely favoured before the game and they just proved why, starting with a strong 5:1 run that prompted Guinea to take a timeout. Daphne Luchies and Lois van Vliet each scored two goals, but that break for the African side really worked wonders, as they cut the gap to only two goals, 7:5, after being more active in defence.
However, the Dutch side clearly boasts more experience at this level and even more depth, so the win should not be a problem. Goalkeeper Bianca Schanssema, who also played at the IHF Women's Junior World Championship one month ago and won the bronze medal, saved four shots already in the first 15 minutes and helped her side open an 11:6 lead, as the Dutch attack is really impressive in the start of the match, despite turning the ball over three times and missing five shots.
14:16 CEST Even match between Uruguay and Norway
Uruguay continue to present themselves strongly at the World Championships. After narrowly beating Czech Republic by one goal on Saturday, they are now making life difficult for Norway. 
It took Norway more than four minutes to score their first goal. What followed was a cat-and-mouse game with goals and conceded goals. Uruguay took the lead and even extended it to two goals before Norway equalised again. They managed to regain the lead after 15 minutes. 
Will one team be able to pull away?
11:00 CEST Plaudits of Iran's main players
After two days of competition, we have a clear leader in the top goal scorer standings and it's the Islamic Republic of Iran's Fatemeh Merikhi who is leading the ranking, with 23 goals scored against Senegal and Uzbekistan. Three players – Croatia's Andjela Zagar, Egypt's Mariam Omar Ibrahim and Uzbekistan's Sevinch Erbakaeva – have scored 17 goals, while Denmark's Anne With Johansen is fifth, with 16 goals.
For goalkeepers, Iran's Elnaz Yarmohammadtouski was also outstanding, with 35 saves and a 46% saving efficiency, while Montenegro's Marija Marsenic is second, with 25 saves and a 51% saving efficiency. In fact, no other team has a better goalkeeping efficiency than Montenegro's 50.7% saving efficiency until now.
10:30 CEST How to stay close to North Macedonia 2022
Are you interested in everything at North Macedonia 2022? Don't worry we got you covered. The preview for the second day is already online and you can watch every game live. Alternatively, you can also follow our Social Media channels, where every meaningful info will go up.
10:00 CEST Which seven teams will follow in the main round?
Five teams have already progressed to the main round, with North Macedonia, the Islamic Republic of Iran, Denmark, Portugal and Egypt sealing their berths after winning two games in the preliminary round.
This time around, seven teams can progress to the next phase of the competition, provided they extend their winning streaks to two games in a row. In Group E, Netherlands and Romania will earn safe passage if both win, in Group F, the winner between Germany and the Republic of Korea can also progress if certain conditions are met, while in Group G, Norway and the Czech Republic will seal their berths with two wins.
Finally, in Group H, gold medal hopefuls Hungary will qualify with a win against Spain, as France must also win against Argentina to progress.
9:30 CEST Day three throws off in Skopje
16 teams prepare for the third day of the 2022 IHF Women's Youth World Championship in Skopje, North Macedonia. After several sides have already earned their main round berths, it is time for others to secure their safe passage to the next stage of the competition.
The usual suspects – Hungary, France, Romania, Norway and the Netherlands – could seal their spots, while the Czech Republic can join them provided they win against Brazil. Undoubtedly, the highlight of the day must be the match between the Republic of Korea and Germany, two teams that won their matches on the first day of competition and two powerhouses with totally different styles that collide.