Looking back: The best junior and youth players from Spain and North Macedonia 2019
07 Oct. 2019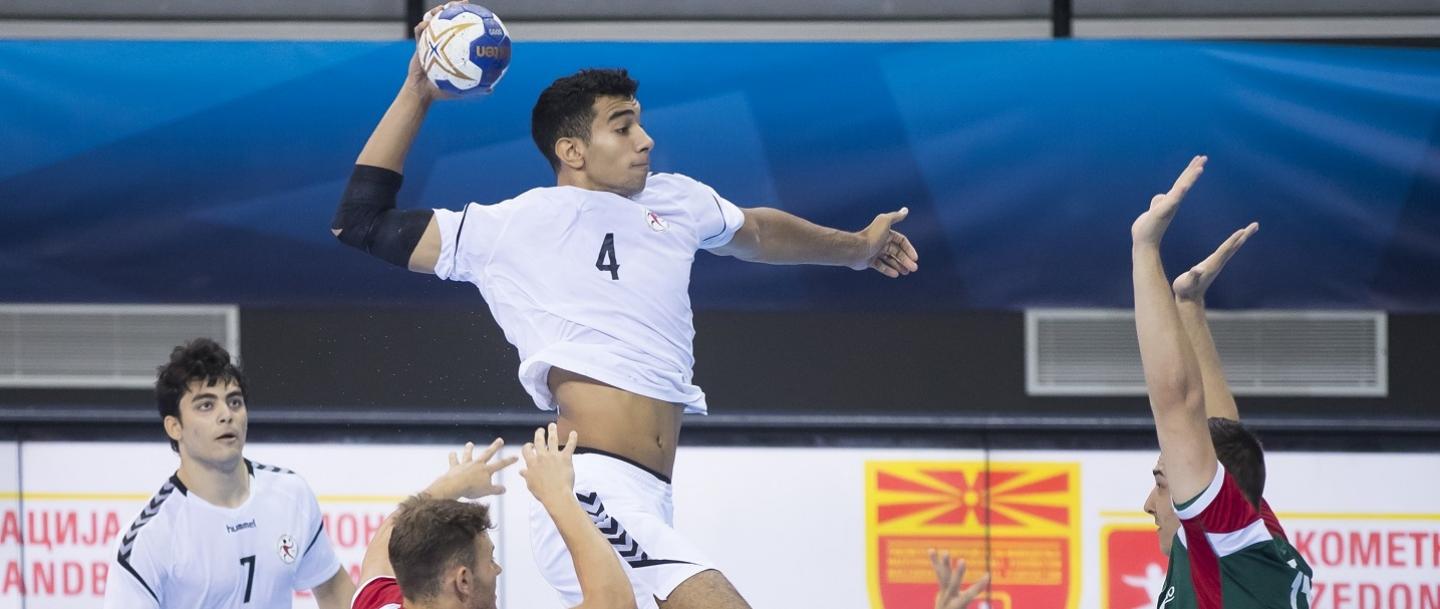 After IHF.info looked at the 'Best Player of the Match' award-winners from the 2019 IHF Men's Junior World Championship held in Spain and the 2019 IHF Men's Youth World Championship held in North Macedonia we can now highlight the overall information from all 182 awards given in the 184 games.
Overall, centre back was the most popular position, with 46 awards out of the 182 on offer (25.27%), in second place was left back (35), followed by goalkeeper (29).
Egypt's left back Hassan Walid Ahmed Kaddah (pictured) appeared in both competitions with the 19-year-old (01/05/2000) Shams club the only player to take an award in each – against Korea in Spain (wearing shirt #42) and against Iceland in North Macedonia (wearing shirt #4). His side also took home the most overall awards, with 15, followed by Denmark (14) and Croatia (13).
Slovenia's Gregor Ocvirk ended with the most individual awards with four, picked up in Spain at the 2019 IHF Men's Junior World Championship.
In terms of the IHF continental member federations, the European Handball Federation (EHF), with the most nations involved in both competitions, saw 123 awards (67.58%) go to its teams, while the African Handball Confederation (CAHB) teams finished in second place with 25 awards (13.73%) and teams from the Asian Handball Federation in third place, with 18 awards (9.89%)
2019 IHF Men's Junior and Youth World Championships – Best Player of the Match Awarding
Position
Back – 2
Centre Back – 46 
Goalkeeper – 29
Left Back – 35
Left Wing – 16
Line Player – 12
Right Back – 24
Right Wing – 18
Team
15 – Egypt 
14 – Denmark
13 – Croatia
12 – Germany, Portugal
11 – France 
10 – Spain, Slovenia, Sweden
9 – Hungary
8 – Japan
7 – Iceland, Norway
6 – Brazil, Tunisia
5 – Argentina, Bahrain
4 – Nigeria, Serbia
3 – Chile, North Macedonia
2 – Korea, Chinese Taipei, United States of America
1 – Kosovo, Saudi Arabia
0 – Australia, Canada
IHF Continental Federations
123 – European Handball Federation (EHF)
25 – African Handball Confederation (CAHB)
18 – Asian Handball Federation (AHF)
14 – South and Central America Handball Confederation (SCAHC)
2 – North America and the Caribbean Handball Confederation (NACHC)
0 – Oceania Continent Handball Federation (OCHF)
Player
4 – Gregor Ocvirk (Slovenia) – ESP 2019
3 – Ivan Martinovic (Croatia), Noah Gaudin (France) – ESP 2019, Mads Hoxer Hangaard (Denmark), Ahmed Hesham Elsayed (Egypt), Kosuke Yasuhira (Japan) – MKD 2019