Norway play the waiting game
21 Mar. 2021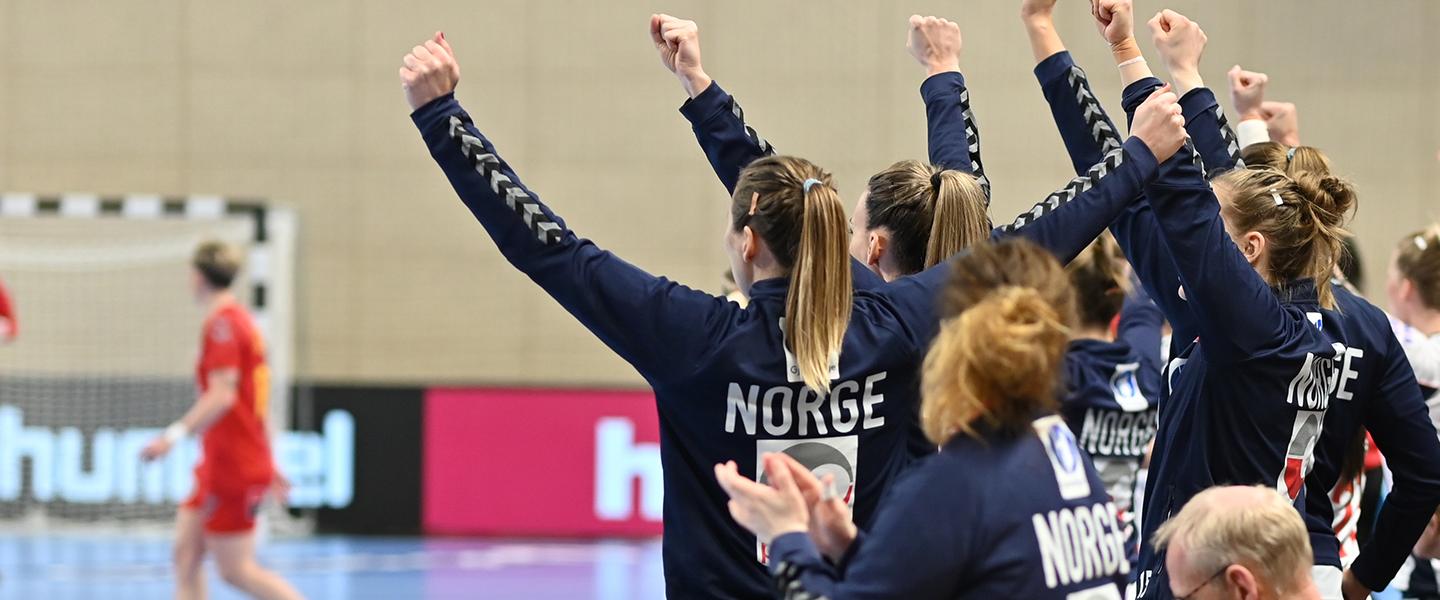 Having completed their matches at the Tokyo Handball Qualification 2020 – Women's Tournament 3, Norway leave Podgorica today still unsure if they have secured their fourth successive Olympic Games spot.
A number of possibilities exist for all three teams in the tournament to either qualify or get knocked out going into the last match between host nation Montenegro and Romania today (16:00 CET) – including the unprecedented drawing of lots.
And it will be a tense period for the Norwegian delegation, split now between those returning home to Norway on a charter flight and those travelling to Hungary, to Gyor.
That special Norway flight is set to land around 16:30 CET, around the end of the first half of that crucial match, but, according to those in the Norwegian camp they did everything they could to book that Tokyo 2020 ticket in their 29:24 victory over Romania yesterday, one goal short of automatic qualification, despite an opening day 23:28 loss to Montenegro.
"When I looked the girls in the eyes I really think we did everything we could," said Norway right back Stine Skogrand to ihf.info after boasting a 100% seven-metre record against the Romanians (9/9) to end with 12 goals. "Sometimes we miss and sometimes we score and maybe do some technical fouls that are hard on us, but that's the game, we did everything we could [against Romania].
"Not really," she replied about whether the result felt like a win. "We don't know what's going to happen. If I understand it correctly Romania has to win by five and a specific number, so the chance is good still but there is nothing more we can do. I have bad feelings in my tummy [now] because there's nothing we can do."
"It's going to be extremely exciting and nerve-wracking to be honest," added Norway captain Stine Oftedal to ihf.info. "I was very excited about what we did [against Romania] and I'm happy that we managed to show our normal self, both to those supporting us at home and also just in-between the girls and the team and everything.  That, I'm happy about, but, of course, there is one scenario that might not go our way so that makes it all nerve-wracking."
That loss against Montenegro saw the host nation completely disrupt the usually-dependable Norwegian attack with their aggressive 5-1 defence and then punish mistakes with goals from all over the court, and for Skogrand, it provided a wake-up call ahead of the Romania game which, had Norway lost, they would have been out of contention.
"We talked a lot [after the Montenegro game] about how we want to look when we play, our attitude," said the Herning-Ikast Handbold player, who is a few games short of her 100th national team appearance.
"When we saw Montenegro, they were playing with their hearts outside their jersey and that's also Norway [too], but we were missing that. Against Romania we were more like that and that was the big difference."
In the end, Skogrand and her teammates showed their 'real selves' and also had a little help from key player Nora Mork who sat out most of the match due to an injury issue.
"She's the third coach when she's on the bench and it's really good to have her, she has a lot of attitude and wants to win," said Skogrand about Mork, who she replaced as the penalty-taker early on. 
"Just like us she wants to get a ticket to the Olympics and she helps the team all the time, but it was a good thing for me that the [Romania] goalkeeper didn't know me so well, sometimes I score sometimes I do not, [against Romania] I was lucky I guess, but I want to say the girls made me get all the chances, a cuddle to them and I'm really proud of them.
"It's amazing to play with Katrine," added Skogrand about Norway goalkeeper Katrine Lunde, who ended the game with 16 saves and who became the all-time Norwegian record-holder for appearances against Montenegro (306). "It's very inspiring to play for her, the age of her and she's always 'on'. 
​
"She wants to get better, she wants to get the balls and when she doesn't get the balls, she wants to get better every time and it's amazing to play with her. I think also, she can get even better."
Despite the level of Lunde's performance, Norway saw their direct Tokyo 2020 ticket hopes evaporate in the final 60 seconds against Romania as they were unable to keep a six-goal lead and were visibly-deflated at the end of match.
"We talked a little bit on the court after the match as they were a little bit sad they didn't manage to score the last goals; we had six, then we lost one and it was five," said Hergeirsson to ihf.info. "I told them we did a fantastic job and that we should be more disappointed with the match [against Montenegro], because that wasn't Norway, we weren't ourselves.
"I told them that now it's out of our hands, we have quite good chances, but everything can happen from now. We will celebrate for this (Romania) game because we did a good job and because we have not been together so much and it has been hard work this week, but when we leave here we leave it in other hands and hope that we have a place in the Olympic Games.  
"We will go back to Norway, Denmark, Hungary and just keep working and hope that we have a place in the Olympic Games. We have done what we can, but if we lose the Olympic possibility it was in the first game, not [against Romania]."
For his players it was more simple with Skogrand providing a simple message to the Norway fans. "Fingers-crossed that's my message," she said. "Everything you can cross, cross them," while teammate Marit Frafjord was even more direct in her feelings about possible qualification today. "Just wait and hope," said the Esbjerg line player.
Photo: Luka Novovic / RSCG