Spain seal Tokyo 2020 berth with clear win against Argentina
21 Mar. 2021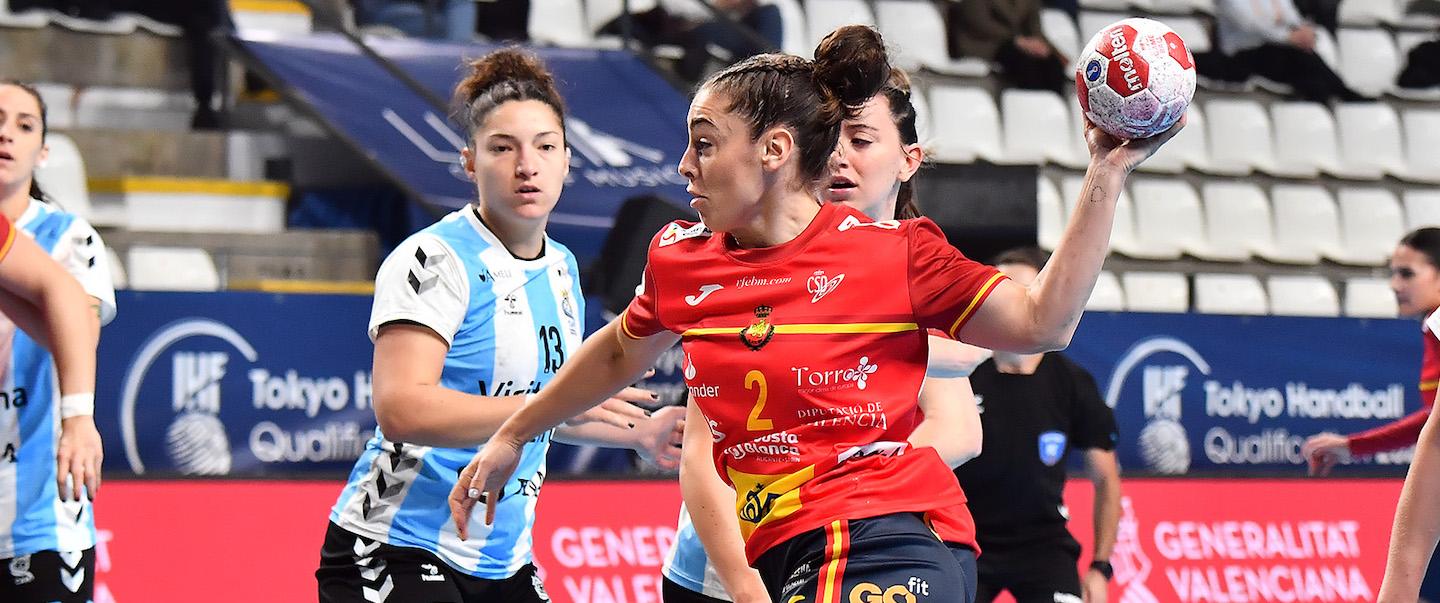 A 7:0 unanswered run that prevented Argentina from scoring for nine minutes and three seconds was the backbone of Spain's win against the South American side, 31:16, in the last day of the Tokyo Handball Qualification 2020 – Women's Tournament 2.
The Spanish side won the tournament they hosted in Lliria, with Sweden joining them to Tokyo 2020, after both European sides won against Argentina.
TOURNAMENT 2
Argentina vs Spain 16:31 (10:19)
Argentina needed five minutes and 18 seconds to score their first goal against Spain, with their Olympic dream looking like a thing of the past after the hosts powered to a 3:0 lead.
But after Spanish goalkeeper Silvia Navarro saved four of the first five shots, boasting a superb 80% saving efficiency, Argentina bounced back and replied with a five-goal scoring outburst, to tie the game, 5:5, after only 11 minutes.
Spain had the initiative, looked sharper in attack and more clear-headed in defence, but it was not until the 20th minute, when "Las Guerreras" really got going. With right wing Marta Lopez in flawless form, scoring four of Spain's next seven goals, the game was as good as over after a 7:0 unanswered run.
Argentina's defence had little answer for the Spanish right wings, with Lopez and captain Carmen Martin combining for ten goals in the first half, as the hosts boasted a 19:10 lead at the break.
The South American side were still alive, with theoretical chances of reaching Tokyo 2020, but they needed a miracle in the second half to leapfrog Spain. A miracle that did not come, nor it had chances to happen.
It was plain sailing in the second half for Spain, who were still eyeing the first place in the Tournament, needing to better the 13-goal win recorded by Sweden on Saturday against Argentina, 34:21.
Sure, there were misses from the Spanish team, with Argentinian goalkeeper Marisol Carratu saving 13 shots. But the hosts continued to pounce, with the lead ballooning to 11 goals, 27:16, with nine minutes to go.
Another 6:0 unanswered Spanish run, fueled by three goals from Carmen Martin was the crucial moment for "Las Guerreras" in their challenge for the first place in the Tournament. 
Spain settled for a 31:16 win, with their right wings, Martin and Lopez, combining for 13 goals, as Argentina finished the game with a meagre 35% shooting efficiency, while scoring only six goals in the second half.
Thanks to their win against Argentina, Spain win Tournament 2, tied at points with Sweden, but with a better overall goal difference, +15, compared to Sweden's +13.
Photo: RFEBM / J. L. Recio