Senior beach handball teams throw off Greece 2022 campaigns
21 Jun. 2022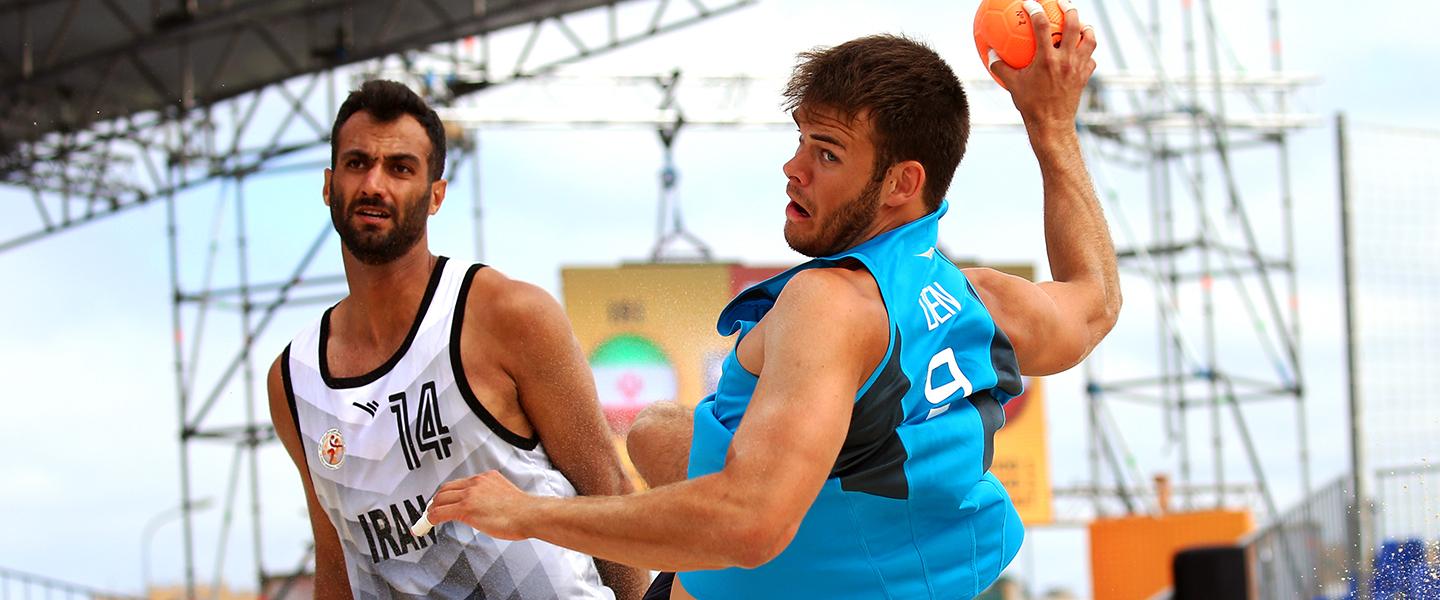 Live blog: The opening day of action at the 2022 IHF Men's Beach Handball World Championship is over.
Today's matches:
09:00 EEST Denmark vs Islamic Republic of Iran (2-0) / Spain vs Ecuador (2-0) / Croatia vs Uruguay (2-0) 
09:50 EEST Brazil vs Qatar (2-1) / Norway vs Egypt (2-0) / Portugal vs New Zealand (2-0)
11:30 EEST Argentina vs United States of America (1-2)
14:00 EEST Greece vs Puerto Rico (2-0)
15:00 EEST Egypt vs Denmark (1-2) / Uruguay vs Spain (2-1)
15:50 EEST New Zealand vs Brazil (0-2) / Ecuador vs Croatia (0-2) / Islamic Republic of Iran vs Norway (1-2)
16:40 EEST Qatar vs Portugal (2-1)
17:30 EEST Puerto Rico vs Argentina (0-2)
20:10 EEST United States of America vs Greece (0-2)
21:00 EEST That's it for the men's competition today, join us tomorrow at 11:20
Eight games tomorrow in a half day of action. Games are at 11:20, 15:00, 15:50 and 16:20.
20:55 EEST Eleftheriadis: "We have to show to our people that we are good enough"
Greece's Georgios Eleftheriadis spoke with ihf.info after his side had qualified for the main round against USA under the floodlight
Ahead of the match, an hour-long opening ceremony and celebration of beach handball took place on the court.

"At first it [playing here] was really hard because we have the anxiety of being the home team and we have to show to our people that we are good enough to find whatever we imagine," he said.
"It was a great win because now we have two wins and we want one more  to be first in the group. We did great and I hope to continue like this.
"It's pretty cool the feeling that you play outside with the open sky, under the lights, with all this crowd and their voices is pretty cool. I hope to have the same situation in the next matches.
"Now we have to prepare for the next game because we play tomorrow night (against Argentina)," he added. "We have a lot of time to be calm and to be mentally prepared."
20:50 EEST Greece qualify for main round
They have beaten the USA 2-0 on central court, under the floodlights.
20:30 EEST International Beach Handball Day launched
We promise we will update later, a lot is going on in the opening ceremony.
The International Beach Handball Day logo has been launched there for the first time after Giampiero Masi, Chairman of the IHF Beach Handball Working Group yesterday revealed the creation of the day itself.
Yesterday, Monday 20 June 2022, marked exactly 30 years since the first organised, rules-based beach handball match was played on Ponza island in Italy.
The match, played in 1992, has gone down in history as the line in the sand of how far the sport can trace back its roots.
To mark the occasion, every 20 June will be celebrated as International Beach Handball Day.
"I have the pleasure and the honour of announcing that today is the first IHF International Beach Handball Day and on 20 June every year we will officially celebrate it," said Masi in a media conference in Heraklion.
The idea of acknowledging the special moment in the sport was originally conceived by IHF Beach Handball Working Group member, Sasa Kuburovic, with the purpose of shining a light on the sport and celebrating all of those involved its foundation, currently involved and in its future.
With the youth and senior IHF Beach Handball World Championships currently taking place in Heraklion and a large part of the global beach handball family all together in Greece, it marked an ideal moment where they could join together and mark the occasion.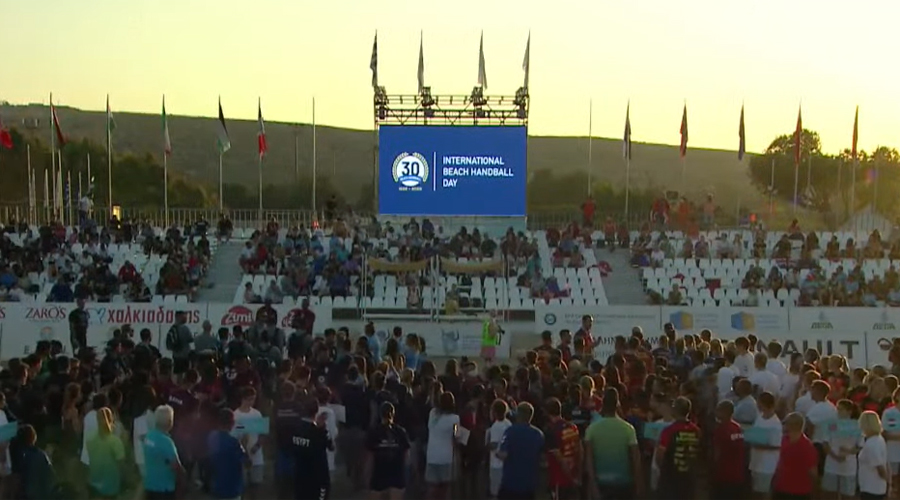 19:28 EEST The teams are waiting patiently to come out for the official opening ceremony
You can watch live on the IHF - Competitions YouTube channel...it might be worth it as there might be a reveal of something special to look forward to every year.
We're talking legends.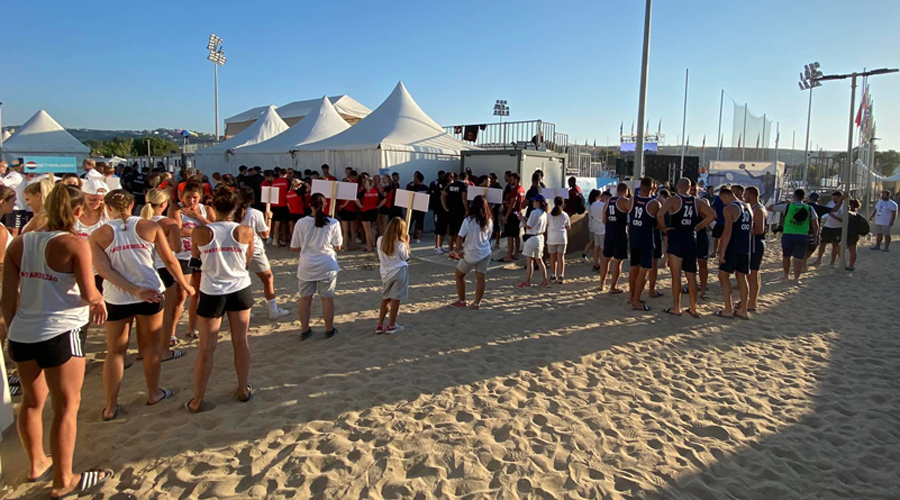 18:00 EEST Argentina get off the mark
A 2-0 victory over Puerto Rico gets them started.
17:29 EEST Qatar get first win, Portugal suffer first loss
They just played and Qatar came back from their shoot-out disappointment this morning against Brazil, to turn it around for a 2-1 victory and get back on track.
16:27 EEST Brazil, Norway and Croatia win second games of the day, through to main round
Iran gave it their all, scoring a golden goal in the second period to ensure a shoot-out but Norway powered through in the shoot-out, winning 9:8.
15:49 EEST A second haka means a second New Zealand game
The kiwis are on court now and facing a tough challenge - Brazil.
15:48 EEST Uruguay defeat Spain via a shoot-out
Over 50 points were scored in each period, the first to Uruguay (26:24) and the second to Spain (28:24).
The shoot-out was a disaster for Spain, their first three shots reading: miss, save, post. In the meantime, Uruguay went 5:0 up knowing that they could not be caught with just two shots left each.
The Uruguayans are very happy indeed.
15:45 EEST Even BIGGER drama
Uruguay are taking Spain to a shoot-out. (Denmark just beat Egypt in one).
15:20 EEST BIG DRAMA!
Right at the end of the first period between Egypt and Denmark, the European side were 21:20 ahead with two seconds left on the clock.
Step up Egypt's specialist Mohamed Mohamed, literally. The 1,98m specialist received the ball almost on halfway and launched a missile towards goal. It went in and Egypt won the period.
However, in the process, Mohamed was flattened by Ronnie Vilstrup Andersen as he attempted to block the shot. The Dane was shown a red and will sit the rest of this clash out.
14:45 EEST Job done for host nation
In the battle of the championship debutants, Greece took a 2-0 win over Puerto Rico and it was pretty comprehensive, 30:13, 27:20.
12:15 EEST North beats South
The USA have beaten Argentina 7:6 in a shoot-out. A 23:22 golden goal first period in favour of Argentina made way for a 18:16 period in favour of the North Americans.
In the shoot-out, the USA edged the single point win when the South Americans saw their fifth shot saved by Luc Nguyen.
10:50 EEST World champions come from behind to open with win
Six men's games down so far, 66 to go. What do we know? We know that Brazil can come from behind, show strength and beat the Asian champions Qatar. A good start for the most successful beach handball team, and nation, of all time.
Debutants Ecuador pushed Spain and Croatia are going about their business. We also saw the beach version of Norway's team impress - can they copy their indoor men's team too and win world championship gold?
10:15 EEST From captain to coach
Wael Aly won the first-ever IHF Men's Beach Handball World Championship with Egypt as captain.  He is now here in Heraklion leading the team as coach.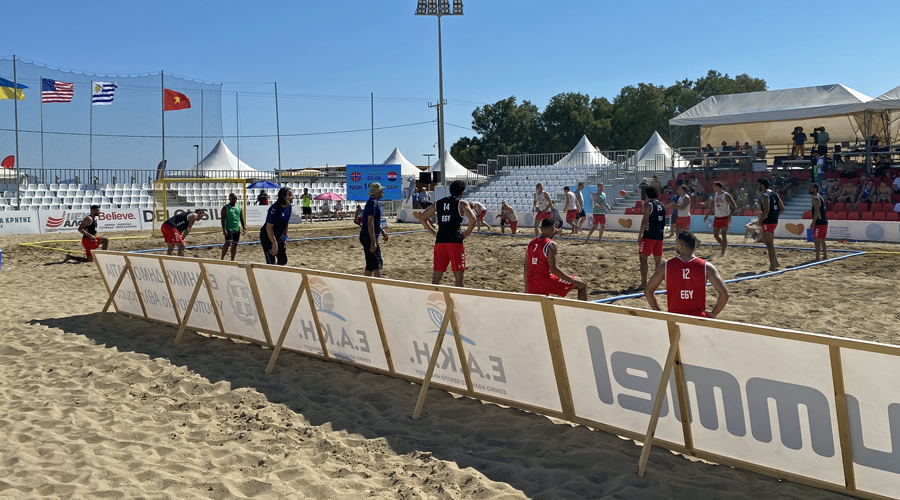 10:10 EEST The Brazilians are behind at the break!
Can the world champions come back?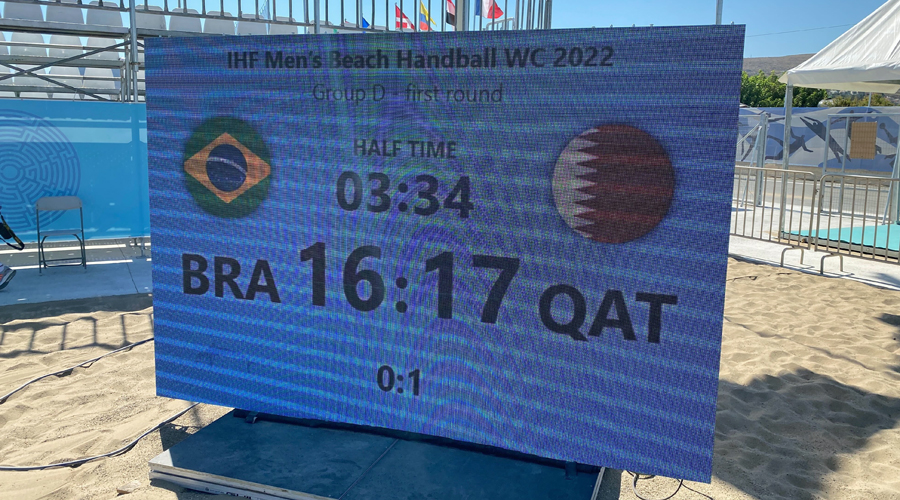 09:50 EEST The Haka is here!
New Zealand perform their ceremonial dance to the delight of a number of teams watching out here on court 3. Watching the closest are Portugal, who are making their IHF senior Beach Handball World Championship debut as a nation, the women making their debut later.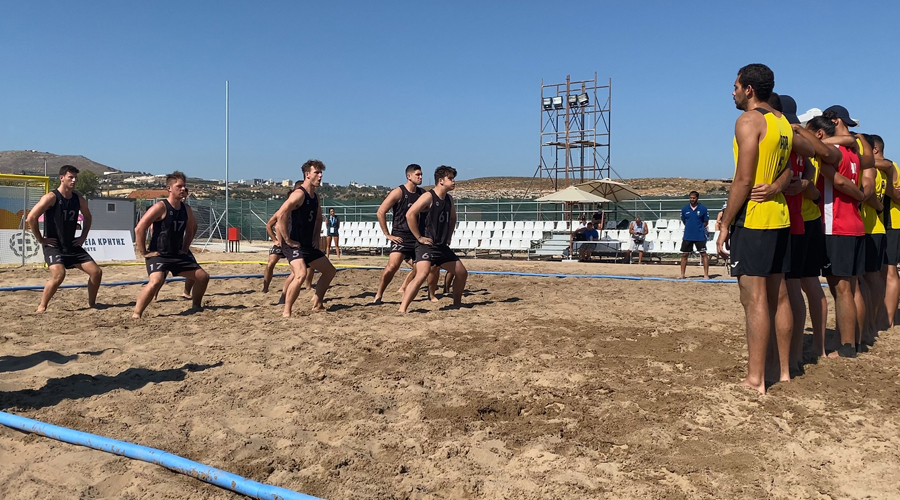 09:38 EEST Croatia, Spain and Denmark open with wins
The Danes beat Iran 2-0 (23:10, 20:12), Croatia defeated Uruguay 2-0 and Spain faced a spirited Ecuador side making their World Championship debut as they were pushed in both periods but eventually took a 2-0 victory.
Ecuador are making their IHF Beach Handball World Championship debut and had a big huddle at the end.
09:00 EEST And so it begins...
Six teams have just thrown off here in Heraklion including two of the top three European sides (Denmark and Spain), plus the traditionally strong Croatians.
Three games are underway, only 69 more to go.
08:50 EEST Brazil look to extend history as Greece 2022 throws-off in Crete
It's here – three games to throw-off the 2022 IHF Men's Beach Handball World Championship – read our preview here.
 
Today is the first of six days featuring 72 games, 16 teams and six continents.
 
By the end of it we will have a world champion who will also book their ticket for the 2023 ANOC World Beach Games in Indonesia next year.
 
Check how to follow the Beach Handball World Championship here and let us know your thoughts using our hashtags #Greece2022 and #beachhandball.