The darlings of North Macedonia 2022: Korea makes neutral fans fall in love with them
09 Aug. 2022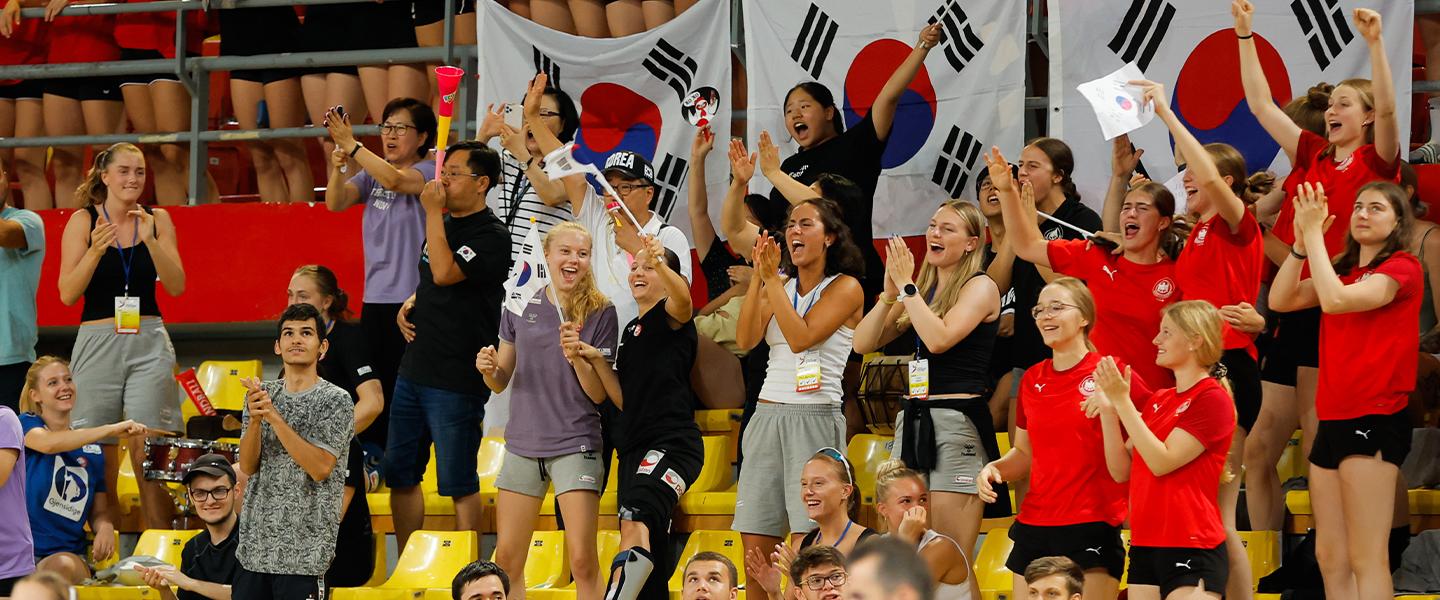 Roughly 30 minutes after the Republic of Korea secured the 30:29 win against Hungary that enabled the Asian side to go into the final of the 2022 IHF Women's Youth (U18) World Championship, the players were quietly queueing to enter their bus to go back to their hotel.
In the dimly-lit night outside the imposing Boris Trajkovski Sports Centre in Skopje, the tone-deaf silence was somewhat disturbed by big cheers coming from hundreds of meters away.
Throughout the whole semi-final, the teams of Norway, Austria, Switzerland, Croatia and Germany became impromptu die-hard fans for the Asian side, with chants, banners and roars enveloping every ball won in defence or every goal scored by Korea against the reigning European champions.
At the end of the match, Norway, who were the loudest, headed for Korea's bus and congratulated the Asian side from all their hearts, taking a picture together. Some players from the finalists could not believe their eyes and some tears were even flowing down their cheeks.
"We were very humbled to see this kind of support for our team. I think it is because our brand of handball is different than the European one. At first, one might think our style is strange, but it is an attractive style of handball, which makes everybody feel attracted to.
"They were cheering for us to play handball and this is what we are trying to do," says the Republic of Korea's coach, Jinsoon Kim.
Indeed, Korea have dazzled at the IHF Women's Youth World Championship, recording their best tournament up to date, while building their largest-ever winning streak, seven games in a row, to reach the final.
More importantly, all of Korea's wins came against European opponents, navigating through one of the toughest schedules in the competition to earn the chance to compete for their first-ever gold medal.
While being one of the teams with the most consistent all-time records at the IHF Women's Youth World Championship – they finished in the top 10 of every edition so far – few teams have performed the way Korea did at North Macedonia 2022.
"It is not until the next morning that I realised that we qualified to the final. I expected the match against Hungary to be very hard. But the players executed the game plan better than I thought," adds Kim, a former player who represented Korea at the Sydney 2000 Olympic Games, when the Asian side finished fourth.
The 30:29 win against Hungary, which surely was the best game of the 2022 IHF Women's Youth World Championship, was the culmination of Korea's great journey in the competition.
Starting as an outsider, with opponents not knowing what to expect from them, the Asian side have deployed their fast-paced brand of handball, with plenty of passes, an outstanding rhythm and great connection between the players.
"In Korea, we are passionate about handball from the youngest of ages, with plenty of coaches who are helping children develop their skills. We focus on basic skills and we are trying to adapt to the modern game. As we do not have tall players, we believe that we can win by using our speed," says Kim.
That plan worked out wonders at North Macedonia 2022, the latest tournament in a long line of successes for Korea at the IHF Women's Youth World Championship. The last time the Asian side was in the final was 2006, when they lost against Denmark, their last opponent here, 33:36.
Since that moment, Korea earned two more bronze medals and finished every time in the top 10, as opponents find it very difficult to counter what the Asian side are doing, especially as no European team deploy this type of handball.
It is a style that requires very good physical preparation and a top understanding of the game, but when a team pulls it out, they become the dears of the tournament, with every neutral fan flocking to see them and cheer for their win. 
"To make the most of our team when we played against Hungary, we prepared a defence in which players had to stick together and stop their breakthroughs, while in attack we needed to be fast, swift, and efficient. We proved little weaknesses throughout the match and won it, which was amazing," adds Kim.
Indeed, Korea do not have good shooters from the 9-metre line, as their players, with an average height of 1.68m, find it difficult to score with powerful shots against the towering defenders they face.
Still, the Asian side boast the fifth-best attack in the competition, scoring at an average of 31.7 goals per game, while also being the second-best attack in efficiency, converting 63.6% of their shots. They also have the cleanest defence, with only 10 suspensions received over seven matches, an average of 1.43 per game, which is nothing short of amazing, when analysing their results.
"If we win this time, I think it will be an opportunity for Korean handball to develop one step further. We are pursuing a different style from Europe, and it would mean the greatest challenge, from a physical point of view, was overcome," adds Korea's coach.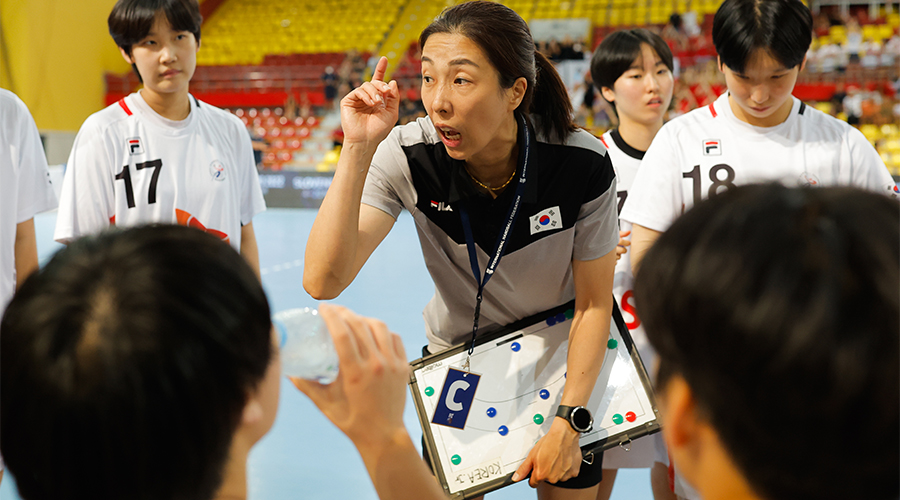 But the game against Denmark will surely be the most difficult yet.
"Denmark seem to be the best among the participating countries in organising themselves both in defence and in attack. They are very good in defence, it will be hard to break them. But we will do our best, like we did throughout the whole competition," concludes the coach.
Whether Korea win their first-ever gold medal or not, the answer will be known on Wednesday. However, with such a superb generation, where centre back Minseo Kim and left wing Seojin Kim shine, combining for exactly 100 goals at North Macedonia 2022, the future surely looks promising.