Super Sunday delivers the four North Macedonia 2022 semi-finalists
07 Aug. 2022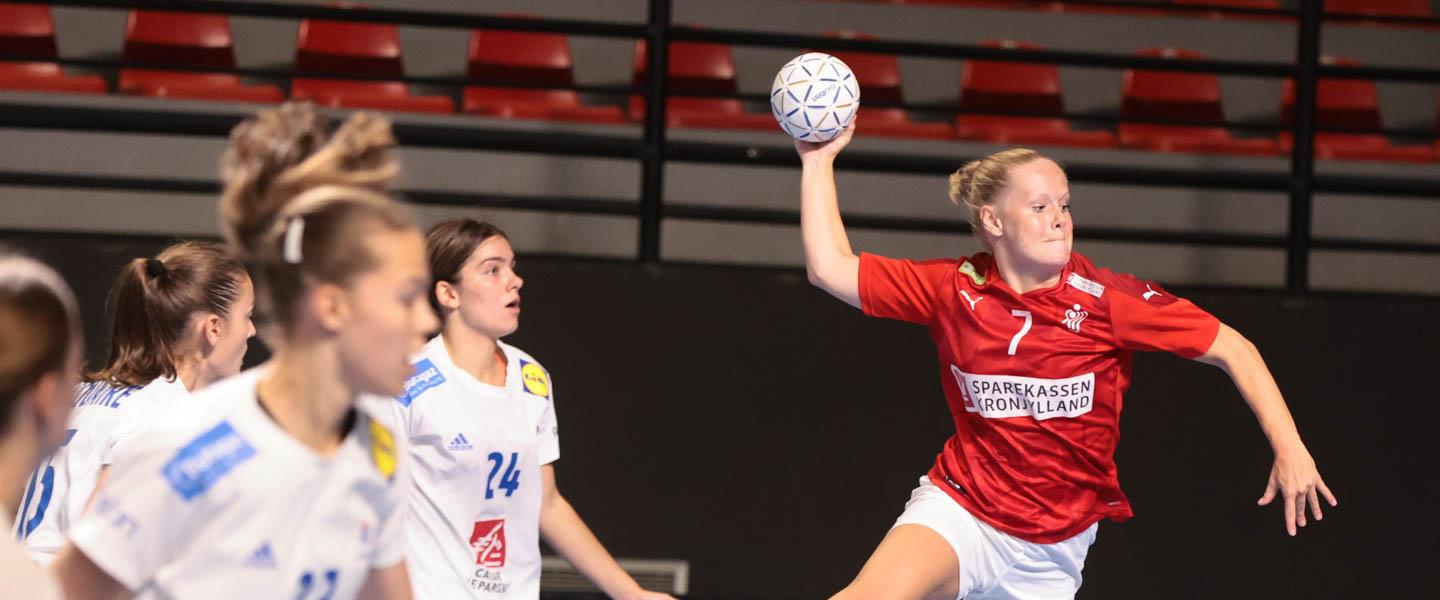 Live blog: It has been a long day here at North Macedonia 2022, but, thankfully, we had some great handball on the courts to help us survive it. We are getting closer and closer to finding out who the next winner of the competition will be and there are only four teams left standing.
Three European sides – Denmark, Hungary and the Netherlands – and one Asian side, the Republic of Korea have qualified, with three of them extending their winning streaks at North Macedonia 2022 to six games. Tomorrow, a new day will let us find out who the finalists are.

Today's games:
10:00 CEST President's Cup: Austria vs Czech Republic (22:36) / Uzbekistan vs Switzerland (23:43) / Kazakhstan vs Argentina (18:30)
12:00 CEST President's Cup: Algeria vs Guinea (17:41) / Senegal vs Slovakia (25:41)
13:30 CEST President's Cup: India vs Uruguay (27:25)
14:00 CEST Placement round: Croatia vs Norway (39:40 a.p.) / Islamic Republic of Iran vs Romania (30:38)
16:00 CEST Placement round: North Macedonia vs Germany (21:34) / Portugal vs Brazil (35:21)
17:00 CEST President's Cup: Montenegro vs Slovenia (31:24)
18:15 CEST Quarter-finals: Iceland vs Netherlands (26:27) / Denmark vs France (32:26)
20:00 CEST President's Cup: Faroe Islands vs Spain (23:36)
20:30 CEST Quarter-finals: Republic of Korea vs Sweden (33:27) / Hungary vs Egypt (28:23)
22:02 CEST Full-time: Republic of Korea vs Sweden 33:27 (18:14)
Republic of Korea kept showing their skills and speed throughout the 60 minutes, which allowed them to clinch a win. The Asians extended their perfect record at North Macedonia 2022 to six matches and reached the semi-final of the IHF Women's Youth World Championship for the third consecutive time and the fourth time in history.
Sweden tried to put the pressure on their rivals until the end but were unable to cut the deficit to fewer than four goals. Korea showed moral strength and consistency, and their best scorer Kim Seojin ultimately netted 10 goals, almost a third of her team's tally. Thea Kylberg scored seven times for Sweden, but her team failed to book a ticket to their second semi-final in a row.
Notably, Korea became the only non-European team to reach the semi-final this time, and their next rival tomorrow will be Hungary. Four years ago, these two teams also met in the semi-final, and Hungary won 34:29, but now the Asians will be determined to take revenge. In turn, Sweden will head to the 5-8 Placement Round, where they are set to meet Egypt on Monday.
21:54 CEST Full-time: Hungary vs Egypt 28:23 (12:10)
What proof of fighting spirit, what grit and dedication this Egypt side proved tonight, in their first-ever quarter-final at the IHF Women's Youth World Championship. Facing the European champions, Hungary, the African side did not back down an inch and fought until the bitter end. And despite their 23:28 loss, they can be considered champions for how they proved themselves against some of the best teams in the world.
Hungary could have considered themselves already qualified, when they opened the first five-goal lead, 23:18, with ten minutes to go in the game. Yet it was far from over. Egypt cut the gap to only two goals, 23:21, with three goals in just over two minutes. However, Hungary had the experience, the depth and the level-headedness to never panic. A timeout called by Beata Bohus calmed down the players, which came on the court and did what they had to do. Back Petra Simon, their top scorer in the competition so far, had a superb outing, scoring eight goals, four of which at crucial moments of the second half, while Julia Farkas added another four. And just like that, without shining, but doing precisely what was asked of them, Hungary sealed a 28:23 win.
Hungary will face the Republic of Korea in the semi-finals, in the battle of two sides that have won all their matches until now. It will be a true test of their defence, as the Asian side has truly impressed in the tournament, all their wins coming against European sides. The reigning European champions made it to the semi-finals for the second consecutive time, as they won their semi-final at Poland 2018.
On the other hand, Egypt will now play in the Placement Matches 5/8. They have already achieved their best result in competition, so everything that follows is a bonus. However, they will be properly motivated for this challenge and could even start as favourites against Sweden, a team that was hit-and-miss throughout North Macedonia 2022.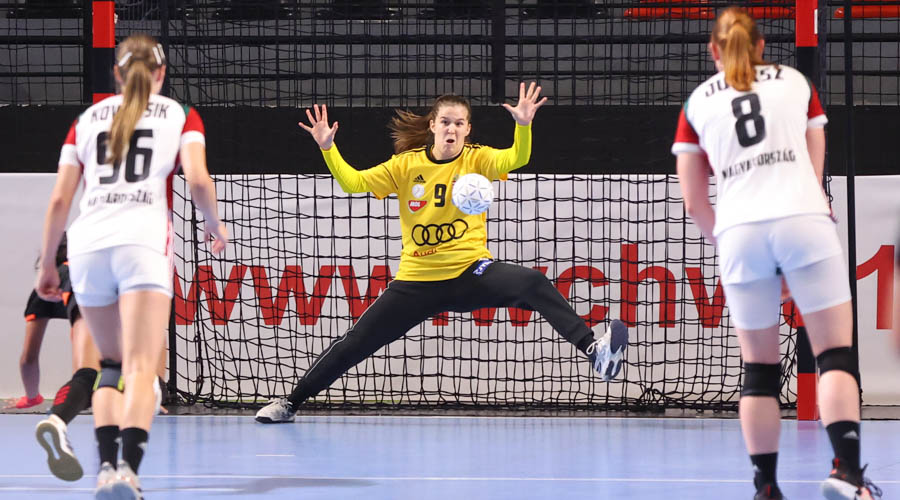 21:38 CEST Republic of Korea edge closer to the semi-final
Republic of Korea are quite likely to reach their third straight semi-final after 2016 and 2018. After 45 minutes, the Asians are holding a 29:23 lead against Sweden, and there is no feeling that the Scandinavians are capable of mounting a comeback in the remaining time.
The Koreans continued to dominate on the court after the break, with their attack efficiency reaching 73%. Kim Seojin has already netted nine times, while Kim Gayeong made 12 saves – none of the Swedish players is making such an impact in this quarter-final.
21:36 CEST: Egypt push Hungary to the limit
The mood really shifted, as Egypt came energised from the locker room and looked poised to give Hungary a really hard time. This team is motivated, wants this win hard and are trying to play their hearts out to get it. The defence is on point, keeping the Hungarian backs at bay, with the European champions definitely trying to exploit some weaknesses on the wings. However, Egypt's motivation also has its side effects. Wanting to do more than you really can do will affect your performance. This is clear in attack, where Egypt had two chances to score that went awry due to easy mistakes, and turnovers that could have been prevented.
This is precisely where the lack of experience kicks in, where good teams and powerhouses are divided into these categories. However, Hungary feel the pressure themselves. Centre back Julia Farkas, the MVP of last year's W17 EHF EURO 2021, is the fulcrum of Hungary's attack, but has scored only two goals, missing three shots. She dished four assists, though, some amazing ones that really put their teammates into superb positions.
Yet with 16 minutes to go, the game is still on a knife's edge. Egypt's costly mistakes – they had 15 turnovers so far – are what made the difference so far. But the sheer fact that they are here and still fighting is truly amazing. Hungary are still ahead, 18:16, but anything can happen.
21:27 CEST Full-time: Faroe Islands vs Spain 23:36 (11:19)
Spain dominated the second half and gave Faroe Islands no chance to get closer. They could afford to let their scoring efficiency drop to 61% and still won by a large margin. 
Faroe Islands improved to 55% and in the end it did not matter that they could not convert all penalties. They would still not have been able to close the gap. Spain also gave their second goalkeeper Sabina Minguez Garcia a chance and she made 6 saves on 17 shots, a similar result to her colleague Andrea Suarez Sanchez (6/16). Faroe Island's Silja Arngrimsdottir Müller saved 10 of 40 attacks on her goal. Lukka Arge remained the top scorer for the Northern Europeans with six goals. Spain's Ester Somaza Bosch scored the same number of goals.
For Spain it should be a redemption that they play tomorrow against Montenegro for the victory in the president`s Cup. Even if Faroe Islands missed this chance, they will have learned a lot at these World Championship and one can look forward to seeing more of these young women. Maybe in two years time at the IHF Women`s Junior (U20) Handball World Championship.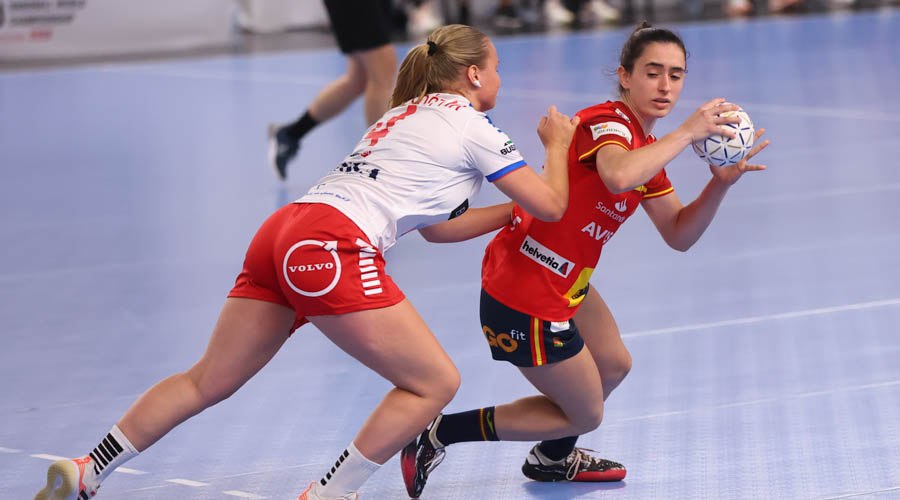 21:12 CEST Half-time: Republic of Korea vs Sweden 18:14
Sweden led just twice in the first half, 5:4 and 6:5. After that, Republic of Korea took the upper hand and pulled clear by four goals at half-time. Their aggressive defence and speedy attacks caused a lot of problems for the Swedish players. Like in the previous matches, goalkeeper Kim Gayeong had her impact, saving 7 of 21 shots. Kim Seojin stood out in attack with her six goals, while Kim Minseo, who was restricted to just one goal, did a good job as an assistant.
Sweden need to improve their game if they want to end Korea's winning run and progress to the semi-final for the second straight time. However, it is not an easy task for the team, who were somewhat lucky to squeeze into the quarter-final.
21:04 CEST Half-time: Hungary vs Egypt 12:10
Egypt need to hope that Hungary's efficiency will drop from the first-half levels, otherwise, it will be very difficult for them to take something out of this game. The African side has been truly impressive in attack, very versatile, as they really threw everything into this game. When their attack was not working, they quickly adapted and substituted the goalkeeper with an outfield player to create a seven-on-six situation, which worked quite good for them. However, whenever Hungary had the chance to open a gap, they still missed or turned the ball over, helping Egypt stay in with a fighting chance.
But. There is always a but. But Egypt already looked exhausted by the 20th minute, with many players giving it their all on the court. With this being their sixth game in nine days, it is starting to show. And, like in the previous match against Denmark, depth might be their problem. Hungary have plenty of it, an advantage they rode in many matches, including the ones against France and Norway in this tournament. They just stood back, never panicked and just outclassed their opponents in the second halves of the matches.
Right now, at the break, they lead, 12:10, as they really pulled out a good half against Egypt, especially on defence. The African side had a 53% attacking efficiency and turned the ball over nine times, especially after playing nearly ten minutes in attack seven-on-six. This must be very difficult for them, but they are trying and will do it until the end.
20:47 CEST Republic of Korea pulling in front
In the previous edition of the IHF Women's Youth World Championship in 2018, Republic of Korea beat Sweden in the third-place match to win their second straight bronze. But in 2022, only one of these teams will play in the semi-final, and Korea, who have a perfect record after five games at the tournament, are in front 11:8.
Sweden took their first timeout in the 14th minute, but will it help to hit back? So far, the Scandinavians seem to have struggled against fast and mobile Asian players, who have already scored twice from fast breaks. However, there is still plenty of time in the match.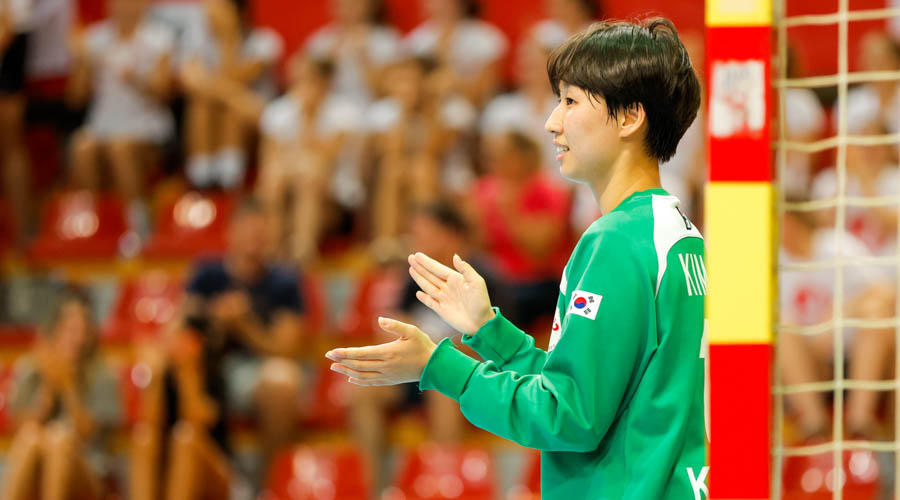 20:46 CEST: Can Egypt really eliminate Hungary?
The start has been somewhat surprising, with Hungary's defence collapsing on its right side, where left back Lojin Osama Abdalla scored twice, with strong shots. It did not help that they conceded two early suspensions and had to play shorthanded for four of the first six minutes of the game. This is very strong and very gritty from Egypt, who duly played well for the first 40 minutes against Denmark, collapsing in the final part of the game due to the lack of depth. But in that match, they failed to take the lead after mounting comebacks. This time around, they are in front, 4:3, after eight minutes and still going strong.
While Iceland did not lose a match until today's quarter-final against the Netherlands, Egypt surely must be the most surprising team in the competition at North Macedonia 2022. They came with a generation that was truly an unknown but has grown beautifully, organically, impressing in every aspect. To try and keep Hungary in check, is one thing, to actually do it for the whole first part of the quarter-final of the 2022 IHF Women's Youth World Championship is totally another one. After 15 minutes, Egypt are down a single goal, 7:6, after Hungary ushered in goalkeeper Szofi Imre into the squad, with her first save being a penalty.
20:35 CEST Half-time: Faroe Islands vs Spain 11:19
Spain continue to play off the frustration of missing out on the main round. They have managed to convert 66% of their chances so far, Faroe Islands was able to increase to a 50% after things didn't go so well at the beginning. Northern European goalkeeper Silja Arngrimsdottir Müller initially saved only 2 of 18 shots. Towards the end of the half, she found her feet and made six saves on 24 attempts. The goalkeeper of the opponents, Andrea Suarez Sanchez, made 6 of 16. 
Where the Faroe Islands have the edge is in goals from the wings. They have scored three, while Spain's wings have been hapless so far. Where the Faroe Islands have the edge is in goals from the wings. They have scored three, while Spain's wings have been hapless so far. Left back Ester Somaza Bosch has been even more successful with six goals so far. For the opponents, it was once again Lukka Arge who was the most accurate. She now has 29 goals in this competition.
Even though the Faroe Islands will probably miss out on the match for 17th place, they sold themselves well on their debut. And losing to Spain, who missed out on the main round for the first time, is no disgrace either. 
19:48 CEST Full-time: Iceland vs Netherlands 26:27 (12:15)
This quarter-final was so tense and nerve-wracking that many spectators probably expected it to be decided in a penalty shootout. However, the players of Netherlands were determined to win in a regular time – and after a long last attack, right wing Donna Bakker scored four seconds from the final whistle. It was her first goal from four attempts in this game – but it played a crucial role.
Netherlands' win seems well-deserved – after all, the Dutch side were in front for much of the game. However, Iceland should be credited for fighting extremely hard. They had a better shot efficiency (67% against 56%), Lilja Agustsdottir scored 10 goals, and goalkeeper Ethel Bjarnasen ended the match with 14 saves. However, it was not enough to reach the historic semi-final. No player scored more than six goals for Netherlands, but they did slightly better as a unit.
Iceland will play in the 5-8 Placement Round, but their performance at North Macedonia 2022 deserves praise in any case. And Netherlands will continue fighting for the championship trophy, as they will face Denmark in the semi-final.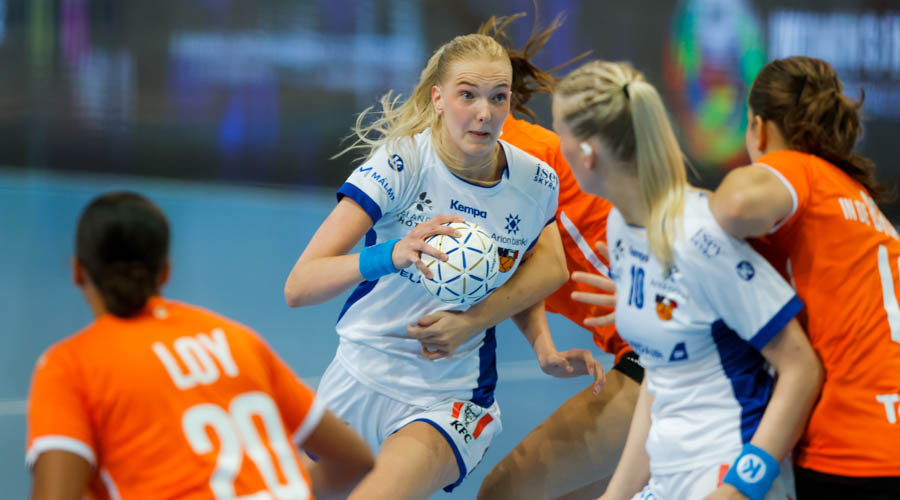 19:39 CEST Full-time: Denmark vs France 32:26 (13:10)
For the sixth time in eight editions of the IHF Women's Youth World Championship, Denmark are in the semi-finals, after delivering a great win, 32:26, against France, their sixth in a row at North Macedonia 2022. It was a match which they dominated from the first minute until the last, as the opponents never took the lead. This projects to be a strong generation for Denmark, with backs Julie Mathiesen Scaglione and Anne With Johansen leading the way, but left wing Matilde Vestergaard definitely projects as a top player on her position in the future. It is also telling that France conceded 30 goals in this tournament for the first time, another great feature for Denmark against a very strong defence.
In the end, the more complete team won, with Denmark being clearly superior in attack, as they were throughout the whole tournament against the opponents they faced. This team finished fourth at the W17 EHF EURO 2021 last summer and only improved over the last year, as they have every chance to go and fight for the gold medal. France, on the other hand, will not be happy with this loss, their second at North Macedonia 2022, but can be pleased with what they achieved so far.
The Scandinavian side has now extended their top-6 finishing streak to eight tournaments, averaging the best finishing between the teams that have played in the competition and will have the chance to improve their medal tally, which currently stands at five – two gold medals, a silver medal and two bronze medals. On the other hand, France will improve their 10th place from Poland 2018, but missed the chance to secure their first medal, after coming fourth in 2006 and 2008.
Denmark will face either Iceland or the Netherlands in a winner-takes-all semi-final, as they will be eyeing to play in their fourth final at the IHF Women's Youth World Championship. They have three wins and two losses in the semi-finals so far, as it definitely will be interesting to see if they can improve that record.
19:25 CEST Netherlands maintain their lead
After trailing by three goals at half-time, Iceland started their chase after the break. Their goalkeeper Ethel Bjarnasen has been doing a good job, having recorded 13 saves throughout the match so far. However, this is not enough to draw level, as Netherlands rely on a compact and solid defence and do not concede easy goals.
In the 45th minute, the Dutch are in front 19:17, with Daphne Luchies having the best impact with five goals. However, Iceland should not be written off, as a lot of things may still happen in the remaining quarter of an hour.
19:19 CEST: Denmark are edging closer to the win
It is getting increasingly difficult for France to mount a comeback in these conditions. Until the 36th minute, only four players – Lylou Borg, Enola Borg, Nina Perret and Clemance Nikidanda – scored in the match. They need more diversity in attack, trying to surprise Denmark's defence somehow, but the Scandinavian side has really done a number on France. A 5:3 run to start the second half, despite one suspension worked out wonders for Denmark, who has opened a five-goal gap. Indeed, it is somewhat expected, because France's attack has really not been up to par in the competition, as their good results came when the defence really shined. Adding a save from Ida Marie Kaysen, her first in the match so far, stopping a penalty was another down moment for France.
With a six-goal lead after 40 minutes, 20:14, it looks like Denmark have this in the bag. They just need to score some goals here and there and maintain the same rhythm in defence. And when Julie Mathiesen Scaglione hits her stride, as she did in this half, the odds are that France, despite an excellent outing from Lylou Borg, who scored seven goals, four of which came in the second half, are done.
18:55 CEST Half-time: Iceland vs Netherlands 12:15
Most of the first half of this quarter-final saw the same scenario: one team pulled in front before the other quickly drew level. It changed only in the 28th minute when the Dutch team finally created a two-goal advantage at 13:11 – and they further increased the gap to three goals by half-time.
Iceland heavily relied in attack on two players, Katrin Anna Asmundsdottir and Lilja Agustsdottir, who combined for two-thirds of the team's tally, 8 goals out of 12. In turn, Netherlands had more options in attack, as eight their players have already found their names on the scoresheet. However, one of the team leaders Jalisha Loy got an injury in the 22nd minute and was stretchered off the court.
While Netherlands lead, Iceland definitely have a chance for a second-half comeback. So the remaining 30 minutes should be entertaining.
18:49 CEST Half-time: Denmark vs France 13:10
Under the new rules, a direct hit to the face of the goalkeeper after a shot is penalised by a two-minute suspension. France's Lylou Borg was at the receiving end of one and Denmark could have taken advantage to open a three-goal lead. They failed but still took a 2:1 run on those two minutes to create a two-goal gap. It was a strong push for Denmark, who anticipated their issues on the back line and then decided to take two line players on the court, creating a superiority on the 6-metre line. It worked wonders, as the lead grow to 9:6 after 21 minutes, prompting France to take a timeout.
It worked wonders, as France regained their mojo in attack and forced two suspensions for Denmark. It looked like it went good for France, who cut the gap to a single goal, but the Scandinavian's side attack was simply too strong at times. With both sides boasting five steals in defence, underlining the excellent approach them in defence, it was about the team who lost the least amount of goals and who had the better goalkeeping department.
In the latter, surely it was France's shot stopper, Shana Wanda, who finished the half with eight saves and a 40% efficiency, including two one-on-one shots from Denmark's star, Julie Mathiesen Scaglione. The left back has scored three goals, a strong performance, but has missed the other five shots, including those clear-cut chances against Wanda. Will it hurt Denmark? It is still an open question. Right now, they are leading 13:10 at the break, after a very strong finish of the first half.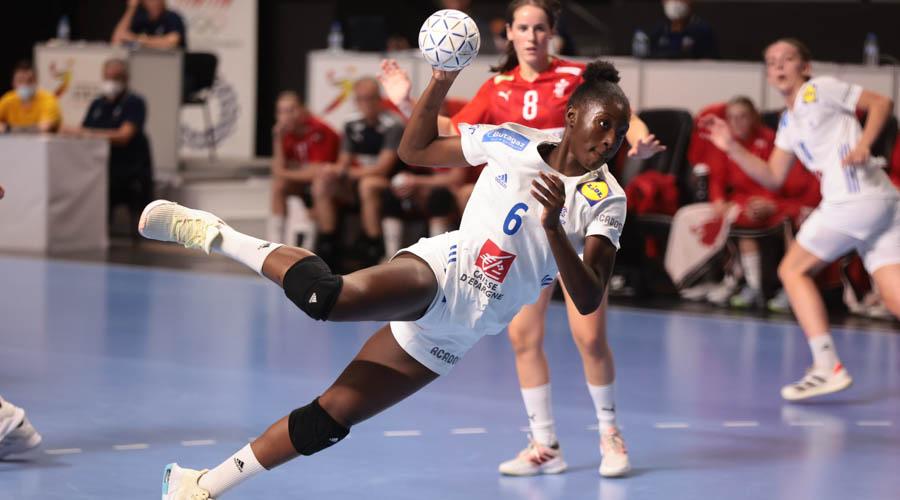 18:32 CEST Iceland and Netherlands level after 15 minutes
While Iceland became a surprise package of the tournament, winning both groups in which they played, Netherlands were somewhat lucky to reach that far. However, the quarter-final is like a fresh start for the rivals, and both teams are determined to win it.
The opening 15 minutes featured a tight and intense fight. Goals were few and far between early in the match, as the sides were tied at 1:1 in the eighth minute. However, then the shot efficiency grew, but the teams continued to go hand in hand, as none of them could pull away by more than one goal. So a 6:6 score midway through the first half looks quite logical.
18:31 CEST Old school battle shaping up between Denmark and France
We have already established that France had one of the best, if not the best defence in the competition so far. And what they are doing is pretty impressive, constantly frustrating Denmark's attack, who is failing to get easy shots, trying to work hard to break down the opponent, despite their two best scorers in the competition coming from the back line. It is clear that much relies on back Julie Scaglione, who has scored once and dished another assist in the first eight minutes of the match, but the star, so far, has been Enola Borg. France's centre back scored her team's first three goals, with strong shots that surprised Denmark's defence.
It's been nip and tuck, with the two sides trading both goals and misses, and defences on high alert, despite 11 goals scored in the first 15 minutes. However, there have been no easy goals, players had to sweat to put one up on the board. It's a really entertaining game and closer than one would have thought after Denmark clinched five wins in a row to get here. Currently, they are leading 6:5, but France have no intention of backing down.
18:27 CEST Full-time: Montenegro vs Slovenia: 31:24 (17:12)
Montenegro did not let Slovenia come close until the end and kept their lead relatively constant. Slovenia simply had a problem with converting their chances, only every attempt led to the goal. Not entirely innocent of this was Montenegro's goalkeeper Marija Marsenić, who shone with 17 saves. 
Up front, Montenegro's Jelena Vukcevic (seven goals), Nada Micevski (six goals) and Nikolina Markovic (four goals) kept the gap the same. Slovenia's Nena Černigoj, who scored 12 times, was the top scorer of the match.
Montenegro thus still has the chance to take home the President`s Cup trophy. At 20:00 CEST they will find out who their opponents will be, the debutants Faroe Islands or Spain, who will at least want to make up for their bitter miss in the main round by finishing 17th.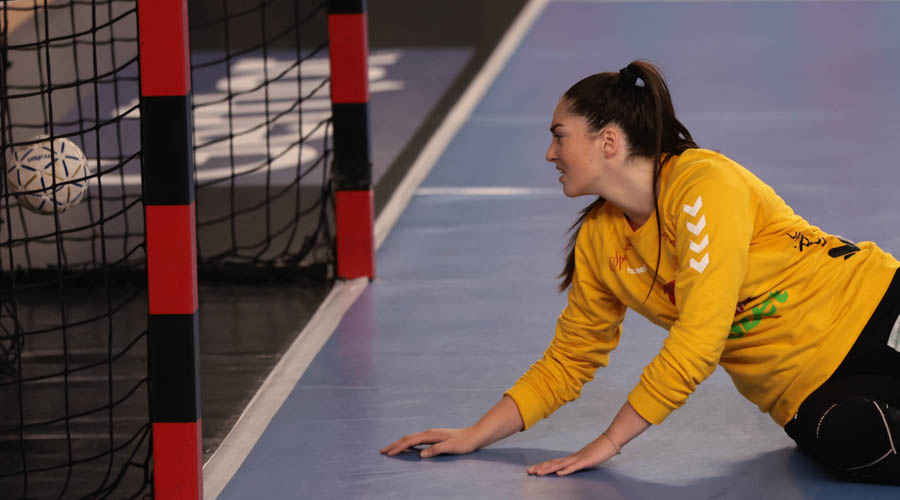 17:34 CEST Half-time: Montenegro vs Slovenia 17:12
After 30 minutes, Montenegro has the advantage. But Slovenia can still hope to qualify for the match for 17th place and the trophy. The opponent will be determined tonight in the last match of the President's Cup. 
In terms of efficiency, Slovenia don't have such a big backlog. 59% compared to 55% after the first half. The goalkeepers are more decisive. While Montenegro's Marija Marsenić saved 6 of 18 shots, Dijana Đajić also made 6 saves, but on 23 attempts. On the other hand, Slovenia's Nena Černigoj has already scored seven goals and is the most successful scorer of the game so far. On the other side, Jelena Vukcevic and Nada Micevski have scored four times each.
Can Slovenia work their way back up? It would be a small redemption if they could at least reach 17th place, because this is the worst result ever at an IHF Women's Youth World Championship for the Eastern Europeans. Montenegro, on the other hand, would equal their 17th place from 2018.
17:28 CEST Full-time: North Macedonia vs Germany 21:34 (12:17)
The match was settled long before the buzzer, as Germany were leading by double digits already midway through the second half. Powered by Viola Charlotte Leuchter, who became a top scorer with nine goals, they celebrated a well-deserved win even despite a mediocre shot efficiency of 57%.
Tomorrow Germany will play for ninth place against Norway, while North Macedonia, who suffered their second defeat in a row, will face Croatia in the Placement match 11-12. In any case, the Balkan team, who started the tournament with three wins in the preliminary round, will get their highest position in history. In their previous participation at the IHF Women's Youth Handball Championship, also on home court in 2014, they were ranked 17th.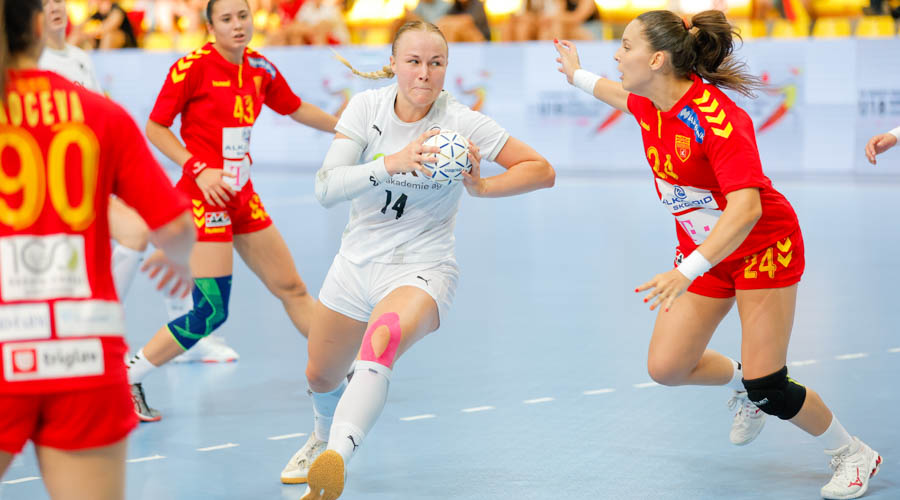 17:20 CEST Full-time: Portugal vs Brazil 35:21 (14:11)
This was Portugal's biggest win at North Macedonia 2022, also improving their win tally here at three wins, with a possible fourth on the horizon tomorrow. It was also tied their largest-ever win at the IHF Women's Youth World Championship, a record which was set eight years ago, also in North Macedonia, when Portugal secured a 14-goal win against Croatia, 32:18.The performance was truly conclusive, especially in the second half, from the European side, with backs Luciana Rebelo (nine goals) and Constanca Sequeira (five goals) leading the way throughout the whole game, as Rebelo was surely the star of the match, adding other seven assists in a well-rounded performance from the European side. With the men's and the women's younger age categories teams shining in the past events, Portugal prove they have a big future ahead of them, a testament to the constant work put in.
Brazil, on the other hand, have been on and off at both the 2022 IHF Women's Junior World Championship and at the 2022 IHF Women's Youth World Championship. Without a stellar lineup, rather than only some players who really rose to the occasion, they will need to go back to the drawing board. Too much emphasis was put on back Kelly Rosa, for example, in this tournament, as everything in attack went through her. Despite scoring 32 goals in the tournament, an average of over five goals per game, her efficiency plummeted to 41%, with over 40 shots missed at North Macedonia 2022.
Portugal will now play in the Placement Match 13/14 against Romania, while the South American side faces the Islamic Republic of Iran in the Placement Match 15/16, trying to still salvage something from North Macedonia 2022.
17:09 CEST Germany edge closer to a win
Despite playing at home and enjoying loud support from their devoted crowd, North Macedonia are unable to fight back into the game. On the contrary, Germany's dominance became even more evident after the restart, and in the 46th minute, they are in front 27:16 following a recent 5:0 run.
The Germans are playing very well in defence, conceding just four goals so far in the second half, and they regularly punish the hosts for their mistakes. After missing a chance to reach the quarter-final, North Macedonia will most likely also fail to proceed to the 9-10 Placement match and will have to fight for the 11th position tomorrow.
17:06 CEST Portugal strike hard to get closer to win
It has been a strong start for Portugal in the second half, outpacing Brazil 6:3 in the first five minutes. Doubling their number of fast breaks converted in just a short space of time really puts a strain on the opponent, as easy goals might count the same on the scoreboard, but put a strong dent into the morale of the team that concedes them.
And with Brazil not improving their attack, this game is as good as gone for them. Portugal have not stopped and just scored goal after goal, opening an eight-goal gap, 23:15, after 40 minutes, the largest in the match. Their four wings all scored at least two goals in the game, while the back line has also shined. Portugal are very efficient and will be looking for the Placement Match 13/14 against Romania tomorrow, trying to end this tournament on a high. Until then, however, entering the last 15 minutes, the European side is cruising, 26:18.
16:42 CEST North Macedonia vs Germany 12:17
Germany squeezed into the 9-12 Placement round following a last-gasp win against Romania, and now they seem to have gained momentum. In the first half of the match against the home side North Macedonia, the Germans were a clearly dominant team.
Although missing exactly half of their shots, they played well enough in defence to deny their Balkan opponents. Nieke Kühne and Viola Charlotte Leuchter stood out with their impact, scoring four goals each before the break. North Macedonia scored five goals from fast breaks, but that was not enough to pull in front at least once during the opening 30 minutes.
16:34 CEST Half-time: Portugal vs Brazil 14:11
Brazil's attack really faltered in the second part of the first half, with woes which were also on display in the previous matches, especially in the second half of the match against France two days ago. Their main issue is depth, with players coming in from the bench not matching the output of the starters. While their shooting efficiency has been good, their turnover ratio is horrendous, losing 15 attacks due to their own mistakes. While Kelly Rosa scored three goals, she also turned the ball over four times, which adds to Brazil's woes.
However, Portugal failed to truly take advantage of their opponent's mistakes. In the last eight minutes of the first half, they scored only one time, with misses piling up. It is still a close game, but Portugal have the upper hand, especially if their shooting efficiency starts to get better. Right now, Brazil have taken advantage and cut the gap to only three goals, 14:11 but, more importantly, prevented Portugal to score more when they were on a roll.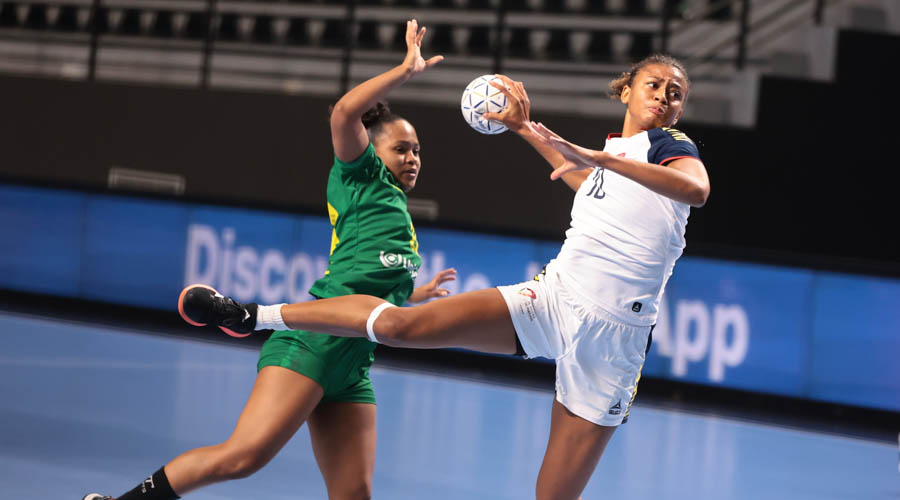 16:20 CEST Germany have the upper hand
After Norway beat Croatia in a nerve-wracking thriller which needed 26 shots in a post-match shootout, they are waiting for their rival in the 9-10 Placement match, which will be the winner of the game North Macedonia vs Germany.
And the opening quarter of an hour suggests that Germany have a better chance to win. Good defence and fast counterattacks propelled them to a commanding 8:3 lead 10 minutes into the match, and while the tournament hosts then closed the gap to 5:8, the Germans are still in front.
16:16 CEST Balanced start between Portugal and Brazil
It's a nice battle to see between two teams speaking Portuguese and, as previewed, Brazil and Portugal have not broken the deadlock yet. It's been the South American side who led throughout the start of the game, which is a bit surprising, as many would have expected Portugal to dictate the rhythm. But Brazil do have a future left back in Kelly Rosa, who could slot in the senior national team for some years, as she now hit the 30-goal mark at North Macedonia 2022 with the two goals she has already scored today.
Portugal rely heavily on the back line, with Carmen Figueiredo and Constanca Sequiera running the show. The two combined for five assists already in the first 15 minutes, while left wing Luana Jesus, one of the most consistent in this tournament, has added two goals. With a 3:0 run spanning over four minutes, Portugal have taken the lead in this game, 8:7, but it is still very close.
15:47 CEST Full-time: Croatia vs Norway 39:40 (30:30, 14:14)
The two European teams could not find a winner in 60 minutes of the regular time of this exciting battle. Croatia were in front more often, and Andela Zagar handed them a 30:29 lead with 50 seconds to go. However, Norway, who considerably improved their attack compared to their two previous games, managed to draw level in the remaining time, as Constance Hedenstad scored her 10th goal of the game 22 seconds from the final buzzer.
And in a long-lasting shootout, both teams had to produce 13 shots to determine the winning side. In this battle of nerves, Hedenstad missed Norway's 11th attempt, but Croatia failed to capitalize on it, as Zagar's shot was also saved. And a bit later, it was Iva Zrlic who did not convert her shot, and the Nordic team won.
Tomorrow Norway will have a chance to finish ninth, as they will meet either North Macedonia or Germany. In turn, Croatia will find to leave the tournament on a high by winning the 11-12 Placement match.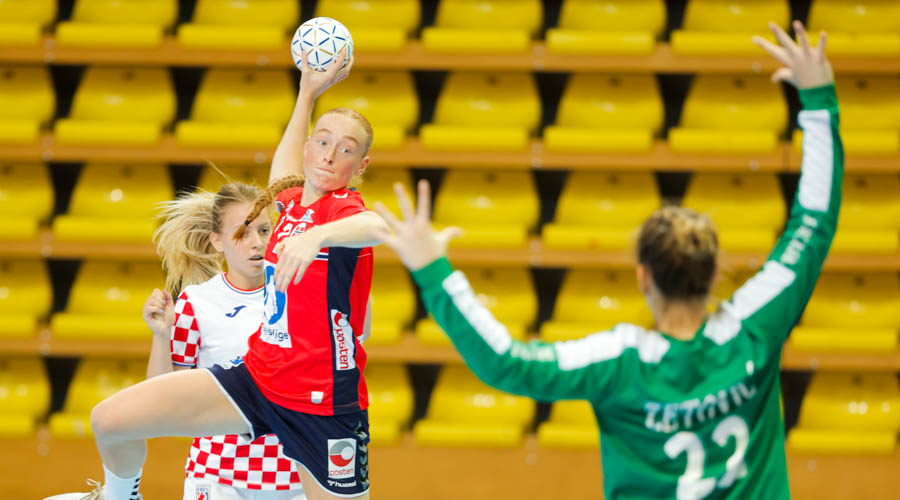 15:24 CEST Full-time: Islamic Republic of Iran vs Romania 30:38 (13:12)
Romania's superior experience and depth worked wonders in the closing stages of the match, as a 6:1 run spurred by right wing Mihaela Mihai and left back Maria Lixandroiu, who scored four goals between them, was the pivotal moment of the match. The two players were also Romania's top scorers in the match, combining for 17 goals, as Lixandroiu also jumped to fourth place in the top goal scorer standings, totalling 43 goals at the 2022 IHF Women's Youth World Championship.
Yet the feeling still lingers: Romania had the chance to score against the Netherlands to take the win in the final match of the preliminary round, yet the game ended in a draw. Against Germany, in the main round, they conceded a half-court goal in the dying seconds to lose the game by a single goal. Is this generation really unlucky or are they trying to figure out where they stand? It's difficult to say, however, because the results did not go their way.
On the other hand, this was the best game for the Islamic Republic of Iran at North Macedonia 2022, despite the eight-goal gap at its end. They will need to improve their basics, especially their defence, as they now conceded 195 goals, a huge average of 32.5 goals per game, which ranks them 28th in the standings. However, they will have a prime candidate to win the top goal scorer award – Fatemeh Merikhi. The left back finished this match with 14 goals and is co-leading the standings with Uzbekistan's Sevinch Erkabaeva, as the only two players to have scored 50 goals in the competition.
15:09 CEST Croatia have a small advantage
After struggling late in the first half, Croatia made some adjustments in their game and were back on track after the restart. However, they cannot pull clear by more than two goals. With 15 minutes to go, the Balkan side lead by a small margin, 22:21.
Both rivals have a similar goal efficiency – 57% for Norway, 55% for Croatia. It looks like the game will be decided in the closing minutes – or maybe even in a post-match shootout.
15:04 CEST Strong fight put by Iran
A 4:1 start of the second half for Romania was exactly what they needed to keep a strong presence in the game. In fact, they took the lead for the first time in the game, with Maria Lixandroiu running a riot in the Islamic Republic of Iran's defence. With seven goals scored so far in the match, Romania's left back has now hit the 41-goal mark in the competition and ranks fourth in the top goal scorer standings. She definitely is a player to watch in the future, having already represented Romania at the IHF Women's Junior World Championship last month, while being only 16 years old.
But with Fatemeh Merikhi also scoring goal after goal for Iran, the Asian side managed to keep close, with the gap hovering over the two-goal mark for the better part of the second half. Merikhi has now 11 goals under her belt, an amazing feature, which propels her directly to second place in the top goal scorer standings, her tally standing at 47 goals. Romania are in a mess of their own making right now, with Iran bouncing back and tying the game, 23:23, with 15 minutes to go.
15:00 CEST Full-time: India vs Uruguay 27:25 (13:13)
India won the match in the end.  At the beginning of the second half, Argentina were still ahead. Then a cat-and-mouse game began with equalisation and lead changes until India took the lead again in the 56th minute and did not give it away.
India goalkeeper Chetna Dev finished with 13 saves on 36 shots on goal. On the other side, both goalkeepers combined to save 10 shots. India's Prya was the top scorer of the match with six goals. In the end, India's efficiency was the deciding factor. They converted 64% of their chances, Uruguay only 51%. So the Asians were lucky that their missed penalties did not count.
India play Guinea tomorrow for 29th place, Uruguay face Algeria.
14:37 CEST Half-time: Croatia vs Norway 14:14
The first half of the European derby saw some close fights. Norway were in front just once during the 30 minutes, 9:8 in the 17th minute, before right wing Kala Kosovac scored three straight goals, and then Iva Biule and Andela Zagar handed Croatia a 13:9 lead.
However, the Norwegians weathered the storm and managed to strike back. A 4:0 run late in the first half helped them to draw level and surely improved their mood before going into the dressing-room. This is still anyone's match, and we can expect an entertaining second half.
14:33 CEST Half-time: Islamic Republic of Iran vs Romania 13:12
Nastaran Koudzarifarahani and Fatemeh Merikhi were nothing short of outstanding, as they combined for 10 goals in the first half, one which, surprisingly, the Islamic Republic of Iran were ahead throughout its entirety. Iran secured their result against Romania mostly due to the European side's mistakes and misses, who saw the shooting efficiency dwindle to 44% at one time in the first half. Still, they put up a courageous fight and this is surely their best game up to date in the competition, facing up a tougher opponent than Uzbekistan and Senegal, the teams which they won against in the preliminary round.
Romania have the means to clinch this win, but they definitely made it harder than needed. Riding the same players throughout the whole tournament could have been a tactic that needs to be improved in the future, as backs Maria Lixandroiu and Alisia Boiciuc and right wing Mihaela Mihai look in need of a rest. But nothing can explain how Romania allowed Iran to have two 3:0 unanswered runs and how exactly are they trailing at the break, 13:12.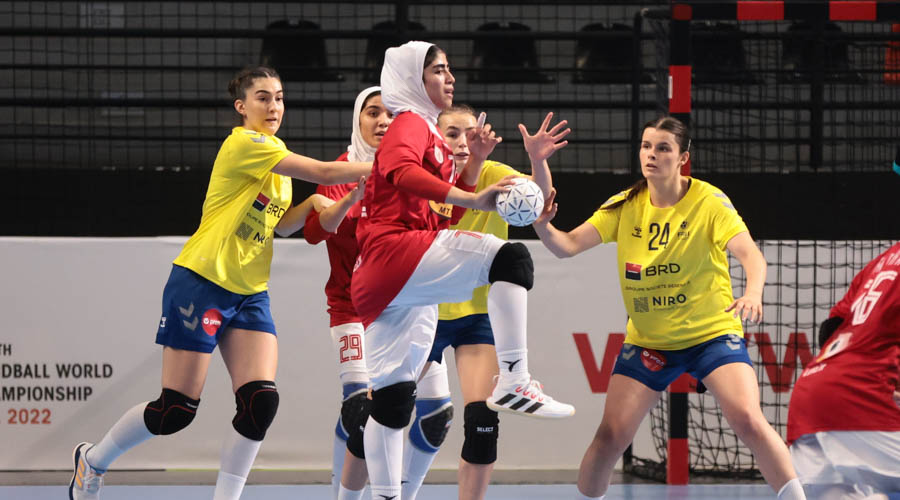 14:19 CEST Close fight between European rivals
Both Norway and Croatia failed to progress to the quarter-final and ended up in the 9-12 Placement Round. The two European teams hope to finish as high as possible, and their match has been very tight so far.
Croatia had a better start and took a 3:1 already in the fifth minute. But Dina Frisendahl's string of saves and some good defence helped Norway to draw level at 5:5 before the teams went on to exchange goals. 15 minutes into the game, the rivals are still tied at 8:8, and Norway are yet to take their first lead in this encounter.
14:15 CEST Islamic Republic of Iran shock Romania with good start
Entering the game on a three-match losing streak, which saw the Islamic Republic of Iran concede a 12-goal loss against North Macedonia, a nine-goal loss against Iceland and a 20-goal loss against Sweden, things were not looking good for the Asian side. However, they prevented Romania to score for the first three minutes and seven seconds and even took a two-goal lead, 4:2, after their top scorer, back Fatemeh Merikhi, scored three goals in a row, improving her overall tally at North Macedonia 2022 to 39 goals. With another three goals from Nastaran Koudzarifarahani, Iran even improved the lead to three goals, 7:4, which prompted a quick timeout from Romania.
This is not a good performance for Romania, who probably entered the game with too much confidence based on Iran's previous performances. But scoring only five goals in the first 15 minutes is a big wake-up call for the team that wanted to finish 13th, after a good start, with two wins and a draw in the preliminary round. The truth is that they are down three goals, 8:5, and need to step up.
14:09 CEST Half-time: India vs Uruguay 13:13
The score remains tied after 30 minutes. In the 23rd minute, Argentina had a three-goal lead, but then India gradually worked their way back until they were level again in the 27th minute. The South Americans managed to take the lead once again, but India responded once more. With the final whistle, they equalised again at 13:13. 
India goalkeeper Chetna Devi could only save 3 out of 15 shots and on the other side Lucia Belen Fernandez Pelaez could not maintain her quota either. She saved six times in 19 attempts. 
In terms of efficiency, India (59%) and Uruguay (60%) are almost tied. But India have only converted a third of their penalties so far, which could cost them dearly in the end.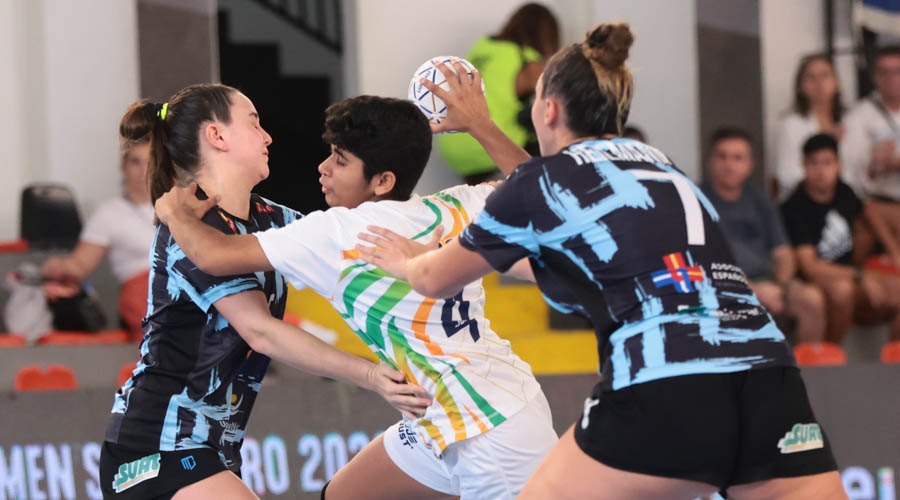 13:52 CEST Balanced game so far between India and Uruguay
We already know that the winner of the match against Guinea will play for 29th place. The loser will face Algeria. But so far, neither of the two teams has been able to pull away, as they are on an equal footing. After 15 minutes, the score is 5:5. 
With 50% (India) and 55% (Uruguay), the two teams are also almost equal in terms of chance conversion. South American goalkeeper Lucia Belen Fernandez Pelaez has made a convincing 4 saves so far, while Chetna Devi has only saved two balls on the other side. Will that make the difference in the end?
13:27 CEST Full-time: Algeria vs Guinea 17:41 (6:21) 
The African derby in the 29-32 Placement Round was basically one-sided, as Guinea were dominant from the beginning until the end. They ended their five-goal losing run at the 2022 IHF Women's Youth World Championship and earned their first win at this level in style, hitting the 40-goal mark. The trio of Fatoumata Yansane, Mariama Bangoura and M'mah Kouroma combined for 22 goals, making a key contribution to the team's success.
Tomorrow Guinea will play for the 29th place against the winner of the match India vs Uruguay, while Algeria will face the loser of the same tie in the 31st place game.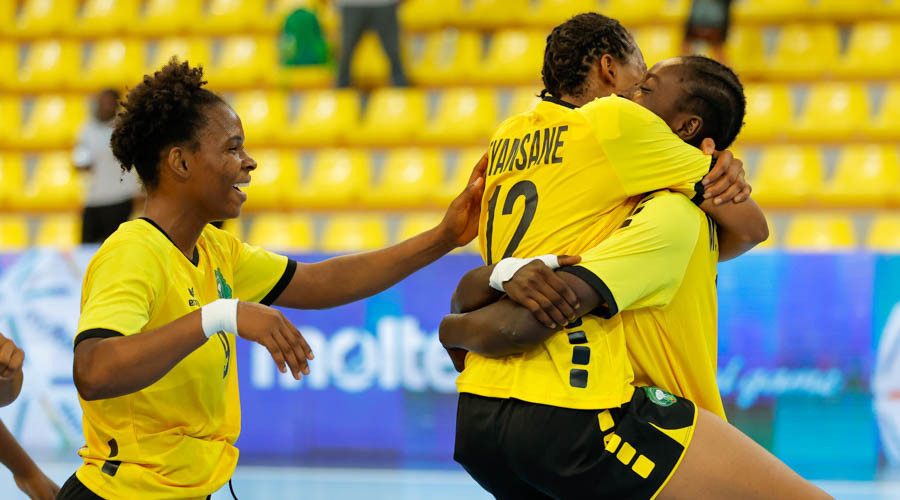 13:23 CEST: Full-time: Senegal vs Slovakia 25:41 (11:19)
After four consecutive losses to start the 2022 IHF Women's Youth World Championship, Slovakia improved their game and just concluded their clearest win yet in the tournament, 41:25, against Senegal. They are now on a two-game winning streak, after having already secured a win against an African side, Guinea, 31:27, as the gap between them and the two African sides has been quite large.
Slovakia just missed out on putting up the record for the largest number of goals scored in a single game at the IHF Women's Youth World Championship, which still stands at 43, against Uzbekistan in 2016, but this was one of the clearest wins in a long time for the European side in the competition. The start of the game, which saw Slovakia open a six-goal gap early, was the pivotal moment, as Senegal could never mount a comeback. This will surely be a big experience for Senegal for their future, as they need to face tougher opponents to improve. This game has been also a moment that they will need to grasp, after turning the ball over 23 times, way too much for a match at the IHF Women's Youth World Championship.
Slovakia will feature tomorrow in the Placement Match 25/26 against Argentina, while Senegal try to earn their second win in the competition in the Placement Match 27/28 against Kazakhstan. Their previous win, 34:32, was in the President's Cup group phase against Uzbekistan, therefore they will try to double up against another Asian side. And if Sira Kebe has one game like this, where she scored 11 goals, they might finish the competition with a win.
13:06 CEST: Slovakia edge closer to win
A 4:0 run to start the second half just sealed this win for Slovakia, who has been thoroughly dominating this match. They might just be heading to the largest-scoring game in the competition, a record set six years ago, 43 goals against Uzbekistan. However, they will need to keep up the production in the second half, which looks pretty likely, despite fringe players coming in on the court.
While misses on the fast breaks have been quite present, they still are scoring at a superb pace, with Bacenkova and Mydlova still impressing. They even outscored Senegal by themselves in the 36th minute, when they had 13 goals between them, while the African side posted only 12 goals. With 15 minutes to go, Slovakia are cruising to a 31:20 win. This won't be their largest-ever win, it won't come close to the 27-goal drubbing of Uzbekistan six years ago, but it will be concluded.
12:37 CEST Half-time: Algeria vs Guinea 6:21
In March, Guinea comfortably beat Algeria in the 2022 African Youth Women's Handball Championship (39:22), and now they are likely to celebrate another big win against the same rival. At least in the first half, Guinea had a big advantage, which translated into their 15-goal lead.
In particular, they stood well in defence, stole the ball time after time and have already scored nine goals from fast breaks. Goalkeeper Mabinty Bangoura recorded five saves in the first half, while Mariama Bangoura and Fatoumata Yansane scored five goals each. Algeria, who were restricted to just six goals and a 27% shot efficiency before the break, need a miracle to win this match, so basically there is hardly any doubt that Guinea play in the 29th place match tomorrow.
12:33 CEST Half-time: Senegal vs Slovakia 11:19
Senegal's top scorer in the tournament, Sira Kebe, has been outstanding in this match, scoring six times. In fact, with her goals and one assist, she had a direct hand in 62% of Senegal's 11 goals in the match, which is nothing short of amazing from an individual point of view. From a handball point of view, though, Senegal's shortcomings are clear and while their turnovers have not ballooned in the second part of the first half, they are still down eight goals at the break.
Dorota Bačenkova and Katarina Mydlova have combined for 10 goals between them, one less than the entire Senegal team, as Slovakia are cruising in this match, 19:11, at the break.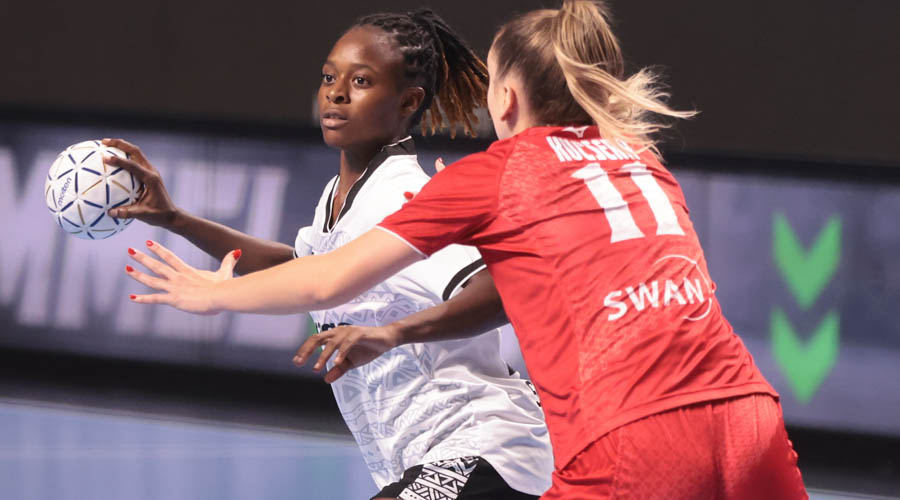 12:19 CEST Guinea take a commanding lead
Both African teams are debutants of the World Championship who finished bottom in their President's Cup groups. But while Algeria managed to beat Senegal in the previous round, Guinea are still looking for their maiden win at this level.
And 17 minutes into the match, they seem to be on the right way, holding a commanding 11:4 lead. Guinea opened the match with a 6:0 run before Lyna Yelles scored Algeria's first goal in the eighth minute. And after that, Guinea continued to dominate, boasting a 79% shot efficiency.
12:16 CEST Senegal fail to protect the ball with Slovakia opening up big gap
After previously ending in the seventh, 13th and 19th places, Slovakia will register their worst-ever finish at the IHF Women's Youth World Championship, as they are trying to secure the 25th place in the last two days in the competition at North Macedonia 2022. However, their start against Senegal, who have only won a single game so far, has been lacking the impetus needed for the challenge, with misses piling up from key players, including one from their top scorer, Laura Walterova.
However, the gap between the two sides, with Senegal still at their maiden edition at such a competition, is surely big and it is starting to show. In the first 15 minutes of the match, Senegal turned the ball over a whopping amount of 12 times, those costly misses reflecting in the overall picture of the match, with Slovakia leading 9:5 and only a big surprise will derail their challenge for a win.
11:25 CEST Full-time: Austria vs Czech Republic 22:36 (11:16)
Czech Republic were dominant throughout the match, especially in the second half, and had no problems taking a victory. Goalkeepers Patricie Wizurova and Kristyna Stojarova combined for 11 saves, and Stojarova also scored once. Overall, the Czechs had a 71% shot efficiency compared to Austria's 48%. Simona Schreibmeierova were their top scorer with seven goals, while her teammates Anna Jestribkova (who was elected Player of the Match) and Anna Kubalkova netted five times each.
After this win, Czech Republic will tomorrow fight for 21st place against Switzerland, while Austria will face Uzbekistan in the 23rd place match.
11:22 CEST Full-time: Kazakhstan vs Argentina 18:30 (10:16)
Argentina's victory was not in danger. The South Americans led from the beginning. Kazakhstan, chasing the deficit, could not close the gap, on the contrary, it grew steadily.
40% scoring efficiency on the Asian side, 61% for Argentina. Kazakhstan's biggest problems were the defence and the goalkeepers. Four goalkeepers and only five saves, you would have to have a 100% quota up front and it would still be difficult to win a game.
Argentina's Ailin Eugenia Cabana Hoeler (six from eight) and Martina Tajes and Camila Nahir Carrizo (five from six) came close to such a perfect rate. For the Asians, Zhanerke Kuandykova was the most successful scorer with seven goals.
At 12:00 CEST it will be decided who will face Senegal and who Slovakia.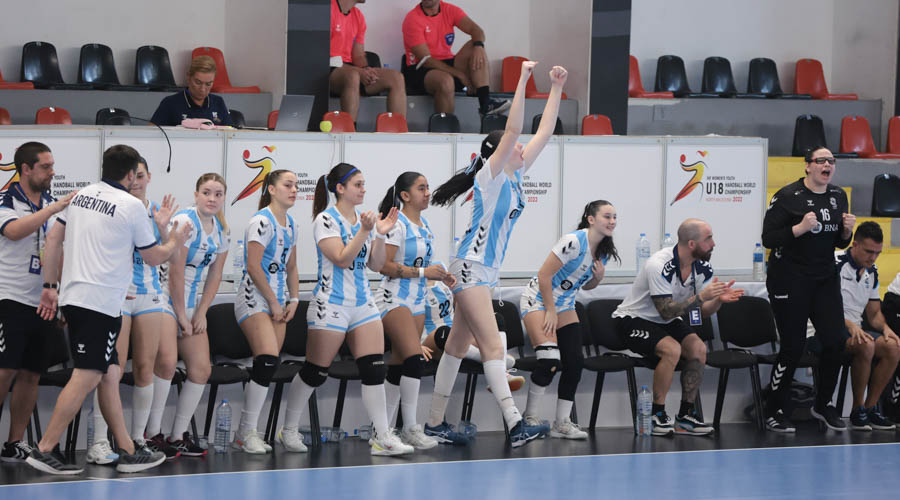 11:21 CEST Full-time: Uzbekistan vs Switzerland 23:43 (8:23)
Erkabaeva has finally reached the 50-goal mark at the 2022 IHF Women's Youth World Championship, becoming the first player to do so, with a goal in the 54th minute. It was a pale consolation for a side that has failed to deliver a good performance today, against Switzerland, with a huge gulf in class between the two sides. Switzerland's goalkeeper, Claire Hartz, has jumped to first place in the goalkeeper standings for the number of saves in the tournament, adding 17 to her tally, which now stands at 60, one more than Korea's Gayeong Kim.
Eventually, Switzerland sealed their third win in the competition by a large margin, 20 goals, setting the record for both the number of goals scored in a single game in the competition and the largest-ever win secured at the IHF Women's Youth World Championship, 43:23, something that was brewing after an 11:0 start that basically set up the tone for what was going to unfold during the match.
With their third win in the competition, Switzerland will play in the Placement Match 21/22 against the Czech Republic, a crunch tie for the team that features in its first-ever edition of the IHF Women's Youth World Championship. On the other hand, Uzbekistan face Austria in the Placement Match 23/24, as a win would see them secure the best-ever result in the competition. However, the European side are definite favourites, as Uzbekistan have never secured a win against a team from Europe in the history of the tournament.
11:08 CEST Czech Republic cruising to a win
After the break, Czech Republic further extended their advantage. With 15 minutes remaining, they a holding a 25:13 lead, and there is no doubt that they will cruise to a victory and continue fighting for the 21st place.
In the second half, Austria have scored only three goals so far, and have a 42% shot efficiency. In contrast, Czech Republic have 73%, and as many as 12 their players have already scored at least once.
11:03 CEST Switzerland on pace to record largest-ever win
Switzerland have improved their pace in this game and are still scoring for fun, hitting nine goals in the first eight minutes of the second half. However, for Uzbekistan, handing the top goal scorer title to Sevinch Erkabaeva was an objective, but the back has been hit and miss in this match scoring only three goals from 13 shots until the 45th minute. She is still first in the top goal scorer standings, with 49 goals, eight more than Korea's Minseo Kim, but the main thing is Kim will play one game more than Erbakaeva, having the best chance to secure the title. She is likely going to become the first player to hit the 50-goal mark here, which should probably happen in this game.
With 15 minutes to go in the match, Switzerland are on pace to secure their largest-ever win in the competition, 34:15, beating their previous record of 10 goals, 32:22, against Guinea, in the group phase of the President's Cup.
11:40 CEST Half-time: Austria vs Czech Republic 11:16
Czech Republic enjoyed a 5:0 run between the 16th and 23rd minute, and it allowed them to further expand their advantage. While Austria somewhat improved their attacking game, their performance in defence still leaves much to be desired. In particular, two Austrian goalkeepers stopped just one shot of 17.
The Czechs have a 73% shot efficiency at the moment, with Simona Schreibmeierova being their best scorer with four goals. However, Austria still have 30 minutes to make a comeback.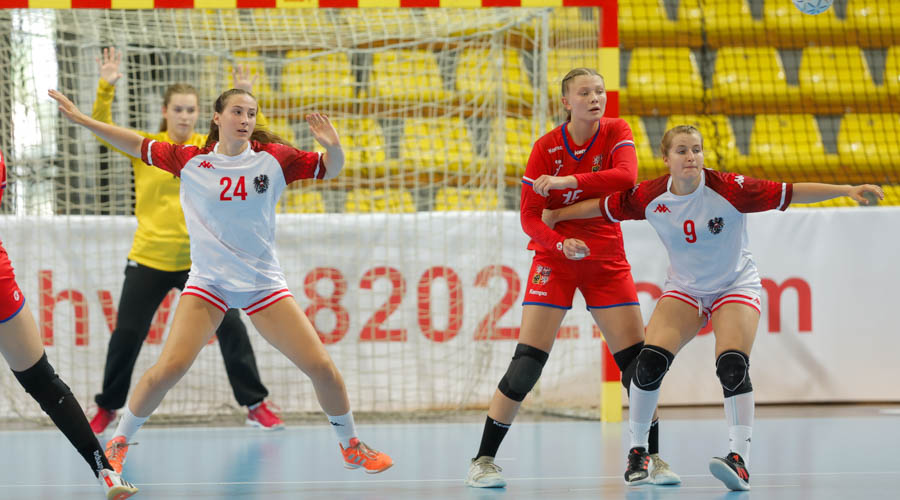 10:35 CEST Half-time: Uzbekistan vs Switzerland 8:23
As Switzerland started to rotate their players, Uzbekistan picked up the pace and started to score goals, but the 11:0 run in the first part of the game was simply too much for the Asian team to handle. The half ended with a 12:8 partial in favour of Switzerland, and Uzbekistan's chances to salvage from this game are basically zero. Emma Bächtiger has been superb for Switzerland in this match, scoring five times and dishing four assists, being rendered unstoppable from the Asian side's defence.
Sure, Uzbekistan will not be favoured in the last match of the tournament, and will probably finish 24th tomorrow, which ties their previous two finishes in the competition. But they will go home winning one game, their first-ever in the tournament, and this should bring some motivation. However, the gap between them and the other side is still huge. Right now, they are down 15 goals, 23:8, with 30 minutes still to go.
10:34 CEST Half-time: Kazakhstan vs Argentina 10:16
After the first half, we can already say that Argentina will most probably play for 25th place. They have a comfortable six-goal lead.
Kazakhstan has several problems: they can't find a way to stop Argentina's offensive, and at the same time they hardly create any chances themselves. When they have them, they don't score enough - but their goal efficiency of 29% increased to 45% towards the end. And then there was the goalkeeping. Darya Kolesnichenko made two saves since she replaced Mariya Golovleva. Now they rely on number three Damira Zhaparova, who made one save.
Argentina, on the other hand, score 53% of the time. Martina Tajes and Ailin Eugenia Cabana Hoeler in particular ensure that their team is in the lead. Goalkeeper Candelaria Martina Cuadrado has saved 5 of 13 shots so far. 
10:19 CEST Czech Republic dominant from the start
In the 21-24 Placement Round, Czech Republic took early control of the match against Austria. They enjoyed a 3:0 lead before Lina Kovacs scored Austria's first goal in the sixth minute.
Midway through the first half, the Czechs are in front 9:6, enjoying an 82% shot efficiency, so Austria need to improve their defence and goalkeeping to keep up with their rivals.
10:18 CEST Argentina set themselves apart
Thanks to a 3:0 run at the start of the match and another one just now, Argentina have pulled away. They lead 9:4 after 15 minutes. Kazakhstan scored on just one in four attempts at the start, but they have improved and now have a rate of 38%. Argentina, on the other hand, score on every second attempt. 
What is a problem for both teams is the performance of the goalkeepers. On Kazakhstan's side, both goalkeepers have managed to save only one shot so far. Argentina's Candelaria Martina Cuadrado has made two saves so far. 
10:17 CEST Switzerland deal Uzbekistan scoreless first 15 minutes
Uzbekistan had the largest-scoring attack at the 2022 IHF Women's Youth World Championship after five games, putting 171 goals past their opponents. They also boasted the top goal scorer of the tournament, Sevinch Erkabaeva, who had previously scored 46 goals. Yet they still have not scored a single goal in the first 15 minutes of the match, with Erkabaeva missing three shots in a row and Swiss goalkeeper Claire Hartz, who had a fine tournament so far, boasting a 100% saving efficiency over that period, racking up seven saves.
It is clear that the European side will secure the win in this game and fight with either Austria or the Czech Republic for 21st place tomorrow. There is little chance for Uzbekistan to come back from this hole, despite their previous attacking prowess, as Switzerland lead 9:0 after 15 minutes.
09:45 Stay tuned!
Are you interested in everything that happens at North Macedonia 2022? Don't worry, we got you covered. The preview for the third main round day is already live and you can watch every game.
Alternatively, you can also follow our social media channels for results, images to illustrate the event, interesting stories and much more.
09:30 CEST Inform yourself
Since you are here, you probably know who the quarter-finalists are. But what do you know about them? Read the preview for this long, long day in Skopje and do not miss a beat before the eighth day at North Macedonia 2022.
 
09:00 CEST Talking points after the main round
Interested in what happened until now in the competition? We review some of the best moments and share interesting insights, after a big part of this competition, the first-ever edition of the IHF Women's Youth World Championship boasting 32 teams at the start. Did you know that this is the highest-scoring edition on record? No? Find out more interesting things here. 
08:30 CEST Ready, steady, go!
Seven full days of games at the 2022 IHF Women's Youth World Championship are now gone and we are finally heading to the business end of the championship, with the knock-out phase starting today in the Boris Trajkovski and Jane Sandanski Sporting Centres in Skopje, North Macedonia.
Of course, all eyes will be centred on the quarter-finals, which will start at 18:15 CEST, but until then, we still have a long way to go, with plenty of placement round matches ready to start. These teams have given it their all to be here, so they will surely play with full grit on Sunday to achieve a better finish in the competition.