Preliminary round concludes with busy day at North Macedonia 2022
02 Aug. 2022
Live blog: The end of the preliminary round brings 16 games in three venues in Skopje, with five more berths to be decided, after 11 teams have already secured their spot in the next phase of the competition.
With the final matches of the day, which coincided with the end of the preliminary round at the 2022 IHF Women's Youth World Championship, the last two main round berths were awarded to Sweden and Germany.
The teams that progressed to the next phase of the competition are North Macedonia, Iceland, Sweden, Islamic Republic of Iran, Denmark, Egypt, Croatia, Portugal, Republic of Korea, Netherlands, Romania, Germany, Norway, Hungary, France and Brazil.
Only six of them – North Macedonia, Denmark, Egypt, the Republic of Korea, Norway and Hungary – have won all their matches and will be entering the main round with a three-game winning streak.Therefore, as the main round starts tomorrow, we already have the first standings before the throw off.
 
Today's matches:
10:00 CEST Egypt vs India (42:34)
10:30 CEST Uzbekistan vs Senegal (32:34) / Austria vs Faroe Islands (22:31)
12:30 CEST Algeria vs Iceland (18:42) / Denmark vs Portugal (33:25)
13:30 CEST Croatia vs Kazakhstan (31:26)
14:30 CEST Slovakia vs Republic of Korea (30:34) / Argentina vs Spain (26:39)
16:30 CEST Romania vs Netherlands (29:29) / Brazil vs Uruguay (31:18)
17:00 CEST Guinea vs Slovenia (32:33)
18:30 CEST Norway vs Czech Republic (23:19) / Hungary vs France (22:21)
20:30 CEST Montenegro vs Sweden (24:29) / Islamic Republic of Iran vs North Macedonia (19:31) / Germany vs Switzerland (30:23)
22:00 CEST Full-time: Islamic Republic of Iran vs North Macedonia 19:31 (8:11) 
Sure, debutants Islamic Republic of Iran should be praised for their wins against Senegal and Uzbekistan, which allowed them to progress to the main round. Yet their first-ever match against a European team at this level proved to be much more challenging.
Fatemeh Merikhi, who had been a top scorer of the competition before the last day of the group stage with 23 goals, added five more to her tally. But overall, her team scored just 19 times, which hardly compared to 47 and 39 in their previous matches. North Macedonia also struggled in attack in the first half but improved a lot as the game developed. Besides, the Balkan team could rely on good goalkeeping, as Matea Churlonovska recorded 13 saves.
After this victory, North Macedonia finished top of Group B and carried two points over to the main round, while second-placed Iran will start the next stage with zero points.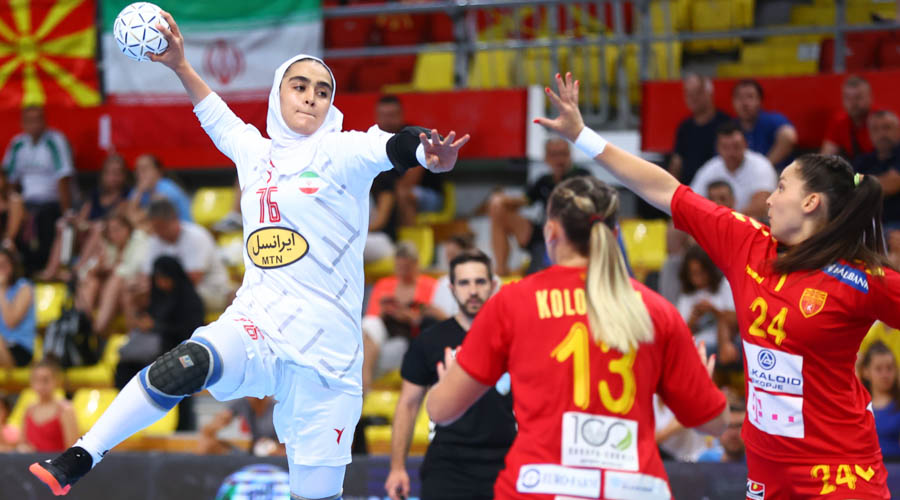 21:58 CEST Full-time: Germany vs Switzerland 30:23 (16:10)
It will be difficult for Germany in the main round. They were able to dominate the game against Switzerland for a while, but even that was not sustained. 
Both teams were below average in terms of taking their chances. 53% for Germany and 48% for Switzerland are not enough when it comes to playing against the favourites. The same goes for the performance of Germany's goalkeepers Marie Kristin Weiss stayed below 33% today, Claire Hartz on the other side was even a little worse. 
On a positive note from Germany's point of view, they are not dependent on a single goal scorer, with 22 goals shared between Nieke Kühne, Matilda Ehlert, Viola Charlotte Leuchter and Viola Charlotte Leuchter. On the Swiss side, Viola Charlotte Leuchter scored the most goals. However, she scored only five times in 10 attempts. Yara Mosimann was less successful once, but scored on every attempt.
Germany are in the main round in Group III with Republic of Korea, Romania and Netherlands. A heavy burden, while Korea takes two points, the other two bring one point each. Only Germany starts with zero.
Switzerland are in the President`s Cup in a group with Slovenia, Slovakia and Guinea. 
21:57 CEST Full-time: Montenegro vs Sweden 24:29 (10:13)
From start to finish, Sweden were the better side and deservedly progressed to the main round, after a superb 29:24 win against Montenegro, their second in a row in the tournament.
Sweden's left wing Stella Huselius has been in stellar form in the last two games, topping the scoring charts for her team in both matches. Today, she scored eight goals, improving her overall tally at North Macedonia 2022 to 23 goals, just enough to break into the top 10 in the overall top goal scorer standings. But it was not just Huselius who had a good game, it was Sweden overall who really deserved to win. Setting the tone with a 7:2 run to start the game, it was just a matter of protecting that lead and forcing Montenegro to turn the ball over as many times as possible, as they dictated the rhythm and made their opponents play exactly the way they wanted. Another 5:2 run late in the second half, powered by three goals from Huselius just tilted the game decisively into Sweden's way.
Progressing to the main round looked difficult after the first loss against Iceland, but with two wins in the next two games, Sweden really turned this tournament around. While they might start the next phase of the competition with zero points, wins against North Macedonia and the Islamic Republic of Iran are totally possible, which can help Sweden progress to the quarter-finals.
On the other hand, what a difference a goal makes for Montenegro. A win against Iceland would have likely set the tone for a different outcome for them in this tournament, but a missed penalty in the last seconds of the game decided their fate. They will at least tie their worst-ever performance in the competition, the 17th place at Poland 2018. If they do not win the President's Cup, then this will be the worst-ever finish for Montenegro.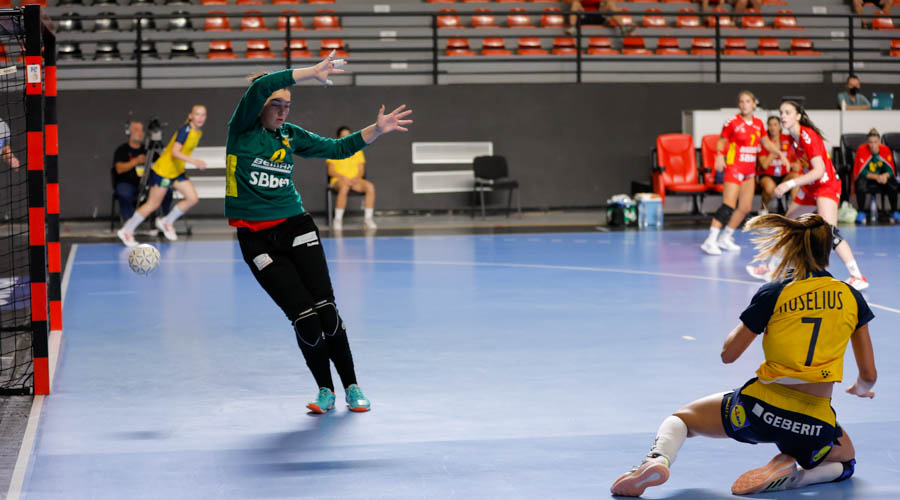 21:42 CEST North Macedonia pull away
Cheered by their home crowd, North Macedonia started the second half with a 4:1 run, and although the Islamic Republic of Iran somewhat stabilized the game later, the Balkan team are gradually approaching their third consecutive victory.
Teodora Duskoska, who scored three of her six goals after the restart, stands out in the North Macedonian team, which holds a comfortable 22:13 lead with 15 minutes remaining. Iran seem to have run out of ideas, and it does not look like the Asian team can mount a late comeback.
21:36 CEST Crunch 15 minutes to follow for Montenegro
Montenegro need to draw or win this game to proceed to the next phase, but they just missed a huge chance to mount a comeback. Cutting the gap to only two goals, they had the superiority after a suspension for Sweden, but the Scandinavian side took a 2:0 run over those two minutes to jump once again to a four-goal lead. They are constantly exploiting the space between Montenegro's defenders with clever breakthroughs, that Maja Savic's side has no answer to.
Without a left-handed right wing, Montenegro's actions on that side look doomed, with their attack lacking the cutting edge and speed required in modern handball to dominate. Whether that barren run happening at the worst moment will cost them or not, is still to be seen. From the looks of it, the answer is yes, because Sweden are still leading, 20:16, with 15 minutes to go.
21:10 CEST Half-time: Islamic Republic of Iran vs North Macedonia 8:11
Both sides can hardly be satisfied with their first-time performance, as they wasted a lot of chances. In particular, North Macedonia failed to score between minutes 5 and 17, and the Islamic Republic of Iran, who had been the highest-scoring team of the tournament after two matches, netted just four times in 20 opening minutes.
Still, North Macedonia were a superior side. Matea Churlunovska stood like a wall, and her nine saves (56% efficiency) lifted the hosts to a three-goal lead. In contrast, Iran's first-choice goalkeeper Elnaz Yarmohammadtouski could stop just two shots and was replaced by Hanieh Gharaghozlou before the break.
21:05 CEST Half-time: Germany v Switzerland 16:10
Now Germany have found their stride. Mainly thanks to goalkeeper Marie Kristin Weiss, who has now made eight saves, and Nieke Kühne, who has sunk five of her six attempts. But Switzerland` goalkeeper Claire Hartz was also convincing with seven saves. 
Will Switzerland get back to their fast game or can Germany pull further away and secure a place in the main round? If not, it would be the worst result they have achieved at an IHF Women's Youth Handball World Championship. This was a 14th place finish so far. Switzerland, on the other hand, would make history by reaching the main round: In their participation directly under the best 16, which the U20 at Slovenia 2022 showed them how to do. 
21:04 CEST Half-time: Montenegro vs Sweden 10:13
After coach Tomas Axner took a timeout in the 15th minute, he changed his entire back line and the move did not pay dividends. After a strong start in the attacking phase of the game, the two sides started to pay more attention to defence. And Montenegro were better here, as they used a 3:0 run to cut the gap to only three goals, 7:5, after 19 minutes, with Sweden failing to score 10 minutes and eight seconds. Still, in attack Montenegro were too negligent for their own good, turning the ball over 11 times, as the Scandinavian side kept control throughout the first half.
Sweden could have been even further up ahead, but their own mistakes cost them dearly, as they boast a three-goal lead at the break, 13:10. Three fast breaks were wasted due to poor passes that did not reach their recipient, but the mistakes were totally cancelled by an excellent defence and a strong goalkeeping performance from Line Bergfeldt, who saved seven shots for a 46% efficiency.Remember, with a win, Sweden are through to the main round and Montenegro are eliminated. This is why this game matters so much, especially as Montenegro failed to register a win against Iceland, after missing a last-gasp penalty, earning a single point. It would also be a superb comeback from Sweden, after losing their first match against Iceland, 17:22.
20:53 CEST Germany are struggling again
Just like yesterday in the match against Korea, Germany don't really get into the game. In addition, the efficiency of the chance evaluation is just 50%. The debutants from Switzerland are even more inefficient. Their rate is 48%. 
After 15 minutes, the score is only 9:6. Considering how high Germany won in a recent preparation match, they have to step up their game and leave fewer chances. A draw would be enough for the Germans to advance, Switzerland has to win in any case. 
The Swiss are convincing with their fast game, which already gave Germany trouble yesterday against Korea.
20:52 CEST Islamic Republic of Iran fight back
Both the home side North Macedonia and the debutants Islamic Republic of Iran have already secured their main round berths, and now they are facing each other to determine the Group B winner. The hosts enjoyed a dream start, taking a 3:0 lead, but as they failed to score in the next 10 minutes, Iran fought back to pull in front 4:3.
Both teams underperform in attack, as North Macedonia has a 38% shot efficiency, and Iran 33%, so the team which starts to convert their chances better will have a good chance to win.
20:47 CEST Flawless start for Sweden
This has been an enjoyable start of the match, with two good defences, which should have stopped their opponents, from failing to do so. Montenegro conceded six goals in the first six minutes, as Sweden diversified their attack, trying to score with their wings or through their line player. Back Thea Kylberg was nothing short of superb, scoring once and dishing two more assists, basically directing her team's play.
More interestingly, Montenegro conceded 21% of the number of goals conceded in the first two matches in the space of only eight minutes here, as Sweden have really pulled out a superb, flawless start of the match. Coach Maja Savic called a timeout for Montenegro, but it did not really change much outside of Montenegro being better in defence, as this deciding match between the two sides is dominated by Sweden, who are leading 7:3, after 13 minutes.
20:01 CEST Full-time: Hungary vs France 22:21 (7:7)
The spectators saw 14 goals in the first half, and more than twice as many – 29 - after the break. In this sense, the two halves of this match were quite different, but they were equally hard-fought and tense. Hungary held an advantage during most of the second half and led 22:19 with seven minutes remaining, but France fought hard until the end. 52 seconds from the final whistle, Delia Golvet closed the gap to 21:22, and after a timeout, France had the last attack but failed to draw level.
Szofi Imre made 10 saves for Hungary, and her teammate Luca Karman contributed to the win with her six goals. So Hungary celebrated their third straight victory and will take two points to the main round, while France will start the next stage with zero points. Both teams will play their next matches on Thursday 4 August.
19:56 CEST Full-time: Norway vs Czech Republic 23:19 (13:10)
Constance Hedenstad has definitely been Norway's best player in the match, consistently frustrating the opponent's defence in both halves. She finished the game with six goals from eight shots and two assists, two of those goals coming in a 5:0 run that saw Norway really take control of the game late in the second half. In fact, the Czech Republic, who had three chances to cut the gap to a single goal, failed to score a goal for six minutes and 57 seconds, basically letting all their hard work go to waste. Eventually, the team with the better depth and larger experience won the game, but there are surely some warning signs for the Scandinavian team, after a game in which they posted a 53% efficiency in attack and where they turned the ball over 14 times.
With their third win in a row at North Macedonia 2022, 23:19, Norway will be heading into the main round with two points, which is the main takeout after their win, but the toughest test are just around the corner – two matches against Hungary and France – where Norway have to seal at least one win to progress to the next phase. The Czech Republic will now head to the President's Cup, as they record their worst-ever finish in the competition.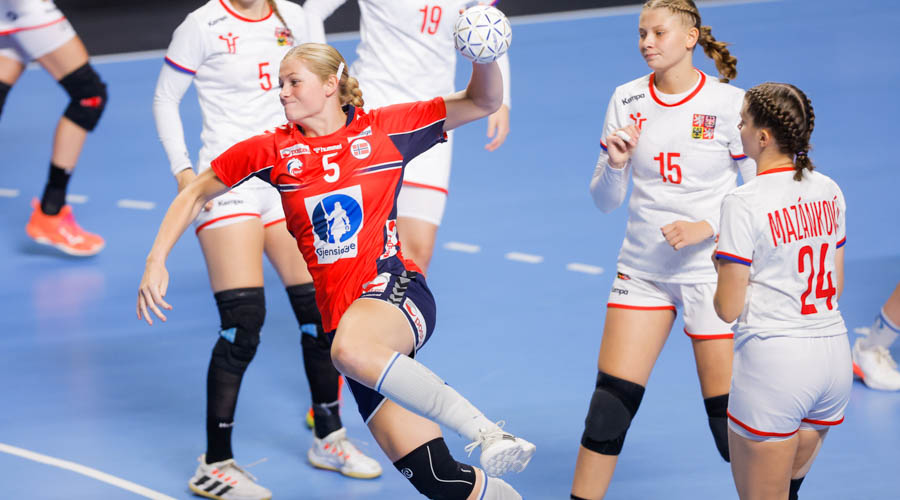 19:37 CEST Hungary pull in front 
After a low-scoring first half, both Hungary and France improved their attack efficiency. In particular, the Hungarian team needed only 10 minutes of the second half to score just as many goals – seven – as in the opening 30 minutes. France tried to match their opponents, yet, Hungary have the upper hand in the 45th minute, leading 16:14. Notably, Luca Karman did a good job, scoring five goals from as many attempts.
 
19:36 CEST Norway complicate their lives
Once again, Norway have been plagued by a slow start of a half, as they could only muster two goals in the first ten minutes of the second part, with the aggressive display in defence from the Czech Republic, a 5-1 switch that hampered the progression of the attack, really giving Norway serious headaches. This is why Katrine-Lunde Borgersen called a timeout after 41 minutes in the game, as the Czech Republic cut the gap to only two goals, 15:13 and missed three consecutive chances to make it a one-goal match.
Norway will have one day of rest to fix their issues, who are definitely endemic, as they did not impress throughout the whole tournament, predominantly in attack. This has been a step back from the games against Brazil and Uruguay, but they have one excuse – this match will not impact their status in the competition. But a slender 16:13 lead after 45 minutes is not what Norway are aiming for.
19:08 CEST Half-time: Hungary vs France 7:7
Hungary enjoyed a good start and led 3:1 by the 7th minute, but they were unable to score for the next 14 minutes. Inspired by Nina Dury's goals and Shana Wanda's saves, France used a 5:0 run to pull in front 6:3. Only after a timeout, the Hungarians end their goal drought, as Luka Csikos scored a long-awaited goal. Before the break, Hungary continued to push and drew level at 7:7.
So it was a very low-scoring first half, with both teams netting only 14 times combined. The attacking players made a lot of mistakes, which resulted in a 38% shot efficiency for France and 23% for Hungary. The goalkeepers, in contrast, can be credited for their inspired performance, as Wanda boasted a 53% save rate for France, and her colleague Szofi Imre 42% for Hungary. So it is still anyone's game, and the second half promises to be exciting.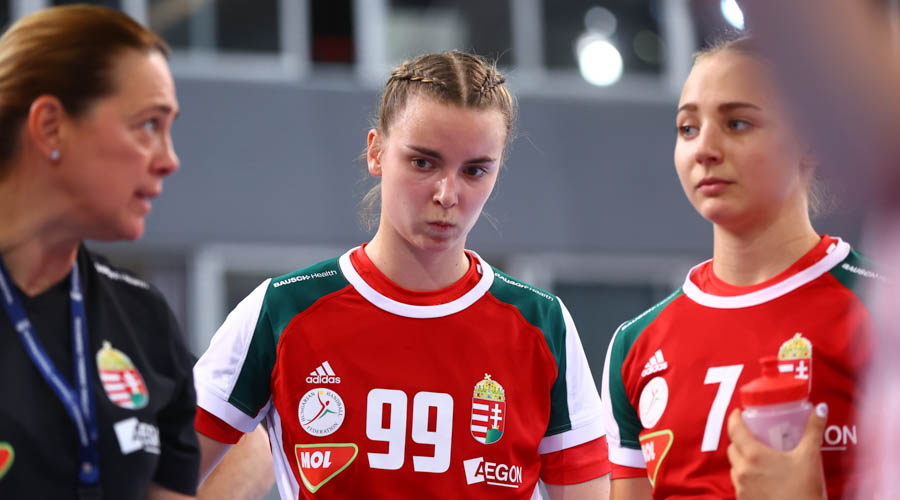 19:07 CEST Half-time: Norway vs Czech Republic 13:10
It is always difficult to see a player get injured, but by the moment that left back Stine Bore went down, everybody knew it was going to be serious. Bore left the court with a knee injury, just as she assisted Selin Kambruce's goal and she looked in pain as she received medical attention. She got back on her own feet, but will probably not feature during the match, another blow for Norway. However, the Scandinavian side has been very good in defence, which is why they control this match at half-time.
The Czech Republic have not been impressive so far at North Macedonia 2022 and it was only due to Norway's subpar performance that they are only three goals down at the break, especially as they closed the half with a 4:2 run. Limited to only 40% attacking efficiency, the Czech side really had no options in attack, with Norway's goalkeeper, Dina Frisendal, starring between the goalposts with a 44% saving efficiency, courtesy of her eight saves. Katrine Lunde-Borgersen's side is heading to their third win in a row, which will definitely up their morale before clashes against Hungary and France in the main round.
18:49 CEST Low-scoring match between Hungary and France
Group H looked very balanced before the start of the tournament, but after claiming two straight wins, both Hungary and France secured their main round berths before facing each other. But as teams hope to go far at North Macedonia 2022, they want to start the next stage with two points – and for this, each of them needs a win today.
The opening 15 minutes were low-scoring – the rivals netted only seven. There were not many shots, either, as both teams defended well. Hungary led 3:1 after 10 minutes, but France managed to hit back, so they are in front 4:3 after 15 minutes.
18:46 CEST Slow start for Norway
This has been far a stellar star for Norway, whose attack has not been up to par with the past production, where they scored at least 30 goals in the past two matches. In fact, they could only manage three goals in the first 11 minutes, as misses have been piling up and their attacking efficiency dropped to 37.5%. Surprisingly, the Czech Republic managed to weather down the storm, an impressive feature after drawing against Brazil and winning by a single goal against Uruguay. It's understandable, though, as they are playing for their lives, needing a big win against the Scandinavian side to clinch the main round berth.
It seems impossible, though, especially as Norway started to get up to speed with the match. They are leading 6:4, after 15 minutes, with Constance Hedenstad scoring three goals, one less than the entire Czech side.
18:30 CEST Full-time Guinea vs Slovenia 32:33 (15:21)
A second half that was not to be outdone in terms of drama at the end. Guinea, however, were not rewarded for their fight to catch up. Slovenia held a five-goal lead until the 41st minute, then Guinea fought their way closer and closer. Then, in the 51st minute, they closed the gap and equalised. A cat-and-mouse game ensued. Slovenia took the lead, Guinea equalised. When the Europeans were just one goal ahead again, three scoreless minutes followed until exactly one minute before the end the score was 32:32.
The Africans were so close to getting their first point at a World Cup. But fate, in the shape of Azra Zulić, had it different. With 11 seconds left, she put Slovenia back in the lead. Guinea reacted in a flash. But once again, luck was not on their side. First the ball hit the post, then Slovenia's goalkeeper Dijana Đajić blocked the follow-up shot. This, by the way, was convincing with a total of 18 saves. On the other side, Fall Aicha saved 10 balls. Guinea's M'mah Kouroma was by far the best scorer, scoring 17 times! She is now in the top 10 of the top scorers.
Guinea go into the President's Cup with 0 points, Slovenia with 2. 
18:03 CEST Full-time: Brazil vs Uruguay 31:18 (13:12)
Brazil struggled in the first half, but accelerated after the restart and cruised to a commanding 13-goal victory. Their goalkeeper Manuella Navarro did a great job, as she boasted a 45% save efficiency (14 saves). In attack, the trio of Julia Rodrigues, Ana Dos Santos and Nathaly Soares combined for 16 of the Brazil's goals.
After this win, Brazil stay in contention for a main round spot. They have three points and +1 goal difference – exactly like Czech Republic, who will start their match against Norway at 18:30 CEST. So a Norway win will help Brazil reach the main round, while the Czechs will need at least a draw to progress. As for Uruguay, they will continue in the President's Cup after three straight group defeats.
17:57 CET Full-time: Romania vs Netherlands 29:29 (16:14)
At one point in the first half, when Romania were up by four goals, it looked like Aurelian Rosca's side is firmly in control of the match. They were scoring easy goals while stopping the Netherlands in defence as much as they needed to. But in the second half, their efficiency dropped terribly. Romania did not take care of the ball, and missed too many easy chances, while the defence has been entirely permeable. It was a surprising turn of events, especially as the Netherlands conceded nine suspensions, with Judith Van Der Helm and Nomi In De Braekt, two of their defensive mainstays, seeing the red card, after earning three suspensions each.
But it was not enough for Romania to win, as their main backs, Maria Lixandroiu and Alisia Boiciuc turned the ball over seven times between them. The second part of the game was a total collapse, especially between the 46th and the 49th minutes, when the Netherlands engineered a 3:0 run, thanks to some intelligent handball from centre back Jalisha Loy. The finish was frantic – Romania tied the score, 29:29, and had a chance to clinch the winning goal, but line player Noemi Mezei missed a shot. In turn, the Netherlands did not have the time to clinch the win, so the match ended in a stalemate, 29:29.The two sides will start the main round with a point each, behind the Republic of Korea, who have two points.
17:40 CEST Brazil improved after the break
Brazil seem to have benefitted a lot from the break, as they improved a lot and now look more like themselves. In the opening 10 minutes of the second half, the Brazilians conceded just three goals, which allowed them to pull away at 24:15. Goalkeeper Manuella Navarro played an important role in her team's improved performance, stopping six shots after the restart, while her teammates Julia Rodrigues, Nathaly Soares, Elisa Jorge shone in attack.
Now Brazil are firmly on the way to their first victory at North Macedonia 2022, but will it be enough to reach the main round?
17:38 CEST Romania fall, but do not back down
This will surely go down to the wire and it could be branded one of the most entertaining games so far at the 2022 IHF Women's Youth World Championship. Romania's start of the second half has been on-and-off, littered with misses, including three one-on-one shots with goalkeeper Bianca Schanssema, who doubled her save tally from the first half in the space of just 10 minutes. Failing to score for more than three minutes left Romania in a hole, enabling the Netherlands to use a 4:0 run to turn the game on its head and clinch back the lead for the first time since the fifth minute, 21:19.
If Romania lose this game, it will be surely due to their lack of depth and viable solutions in attack when their top players are getting a rest. But with 16 minutes to go, Romania have bounced back, as Lixandroiu, Boiciuc and Mihai entered back to the fray and have tied the game, 21:21.
17:35 CEST Half-time: Guinea vs Slovenia 15:21
Slovenia dominate the match. Not only did they build up a six-goal lead, but they also had a scoring efficiency of 78%, which at times even cracked the 80% mark. For Guinea, on the other hand, only every second attempt landed in the opponent's goal. 
On the African side, M'mah Kouroma stands out, having scored eight goals so far. For the Europeans, Dijana Đajić. The goalkeeper has so far made 12 saves on 27 shots on goal. Nika Ocepek has contributed six goals in seven attempts so far. 
Who will be able to take two points to the President's Cup in the end?
17:12 CEST Half-time: Brazil vs Uruguay 13:12
Brazil desperately need a win to keep their hopes for a main round berth alive, but their continental rivals Uruguay are putting serious pressure on them. 20 seconds from the break, they had a chance to draw level, but Martina Marquez's shot was saved by Manuella Navarro.
Overall, the goalkeeping of both teams left much to be desired, as Navarro made only three saves, just as many as her Uruguayan colleague Virgina Antoria. Uruguay have already lost a chance to reach the main round, but they are fighting hard and trying to make Brazil's life more difficult. The second half will show if they will succeed.
17:04 CEST Half-time: Romania vs Netherlands 16:14
One of the Netherlands' top defenders, Romée Maarschalkerweerd, has earned two quick suspensions in the first 14 minutes, which definitely hampered Ricardo Clarijs' team, especially in defence. But as Romania changed their lines, with backs Alisia Boiciuc and Maria Lixandroiu earning a well-deserved rest, things started to go sour for the team who dominated the start of the match. But as the Dutch side earned another two suspensions which left them with only five players for a minute, Romania could still protect their four-goal lead, 14:10, after 24 minutes.
But the Dutch side cut into Romania's lead just as the break neared. Neutralising Lixandroiu put serious pressure on Romania and the lack of depth is one of the things, coach Aurelian Rosca knew, is a weakness for his side. In the last six minutes and 21 seconds of the first half, Romania scored only twice, but it was enough to keep a slender lead, 16:14, at the break. This is an entertaining match and the Netherlands will give it their all to snatch the win.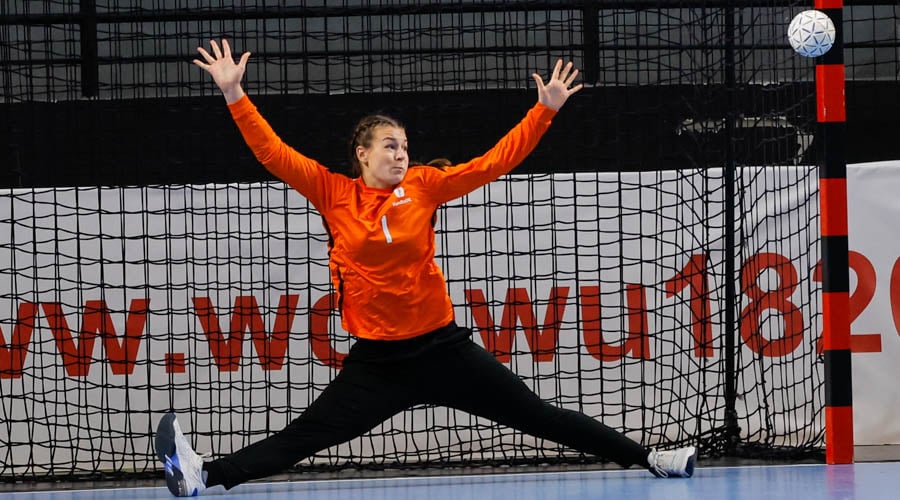 16:49 CEST Brazil lead in South American derby
Brazil, who are third-placed in Group G with one point, need a win against Uruguay to stay in contention for a main round spot. In April, the Brazilians easily beat their South American rivals at the 2022 South and Central American Women's Youth Handball Championship, but now the fight has been much closer.
Five minutes into the game, Brazil took a 4:1 lead, but Uruguay hit back and equalised at 5:5. In minute 15, Brazil again pulled in front, 8:6, but Uruguay do not give up and will further try to put the pressure on their rivals.
 
16:47 CEST High-scoring game on the cards between Romania and  Netherlands
Romania's right wing Mihaela Mihai has been on fire at the start of the game, scoring all of her team's four goals in the first eight minutes, after converting three penalties. We were promised an entertaining match and this is exactly what we got, as these two sides, who are battling for first place in the group and the chance to start the main round with two points are trading goals for fun. In fact, Romania and the Netherlands combined 15 goals in the first 13 minutes, with the attacks running on high-octane fuel.
However, Romania have still not used their top scorer, Maria Lixandroiu, to her full potential. After receiving the Player of the Match award yesterday, in the win against Slovenia, the 16-year-old left back has not scored a goal, with the Dutch defence really emphasising stopping her. A 4:0 run by Romania, which was built on two balls won in defence and converted via fast breaks, created the first significant gap of the game, 9:5, after 13 minutes. It has been a superb start for Romania's wings, with Mihai scoring six times, while Mariam Mohamed added another two.
15:53 CEST Full-time: Slovakia vs Republic of Korea 30:34 (15:17)
Three out of three for the Republic of Korea at the 2022 IHF Women's Youth World Championship, as the Asian side proved too strong for Slovakia, in their final game of the preliminary round. While the European team started strong and never lost an inch in the first 40 minutes, Korea's speed and creativity proved too much in the end, as Slovakia could simply not cope with the pressure exerted by their opponents in the latter part of the match, winning 34:30.
This time around, Jia Kim was Korea's top scorer, with nine goals, while Minseo Kim finished the match with seven goals and is on the second place on the top goal scorer standings at North Macedonia, with 27 goals in the first three matches, two goals shy of the top place sealed by Uzbekistan's Sevinch Erkabaeva.
Korea have a strong chance of retaining their record – a top 10 finish at every edition of the IHF Women's Youth World Championship - as they will start the main round with two points, needing only a win against the Netherlands and Romania to progress to the quarter-finals, which will mean they finish inside the top eight teams in the world. Without a point after three matches, Slovakia will continue in the President's Cup, where they face Guinea and Slovenia.
15:52 CEST Full-time: Argentina vs Spain 26:39 (11:21)
If Spain had been drawn to another group, they could probably have had a better chance to reach the main round, but in Group H, they claimed their first points only in the third match. However, this victory was quite convincing — the Europeans were dominant throughout the match and ultimately were just one goal shy of the 40-goal mark.
No player really stood out in their attack, but as Spain rotated their squad, seven players ended the match with four or more goals. Team performance in defence was also good, and goalkeeper Sabina Minguez and Andrea Suarez made 12 saves combined.
Spain finished third in Group H and are now heading to the President's Cup, where they will start with two points and will be seen as one of the favourites. Argentina, in turn, have no points to carry over to the next stage.
15:35 CEST Spain fully control the game
The scenario of the game did not change in the second half, as Spain continue to dominate against Argentina and lead 31:16 with 15 minutes to go. Andrea Suarez, who replaced Sabina Minguez in goal, has already made five saves, while as many as 11 of her teammates have found their names on the scoresheet.
Argentina, who had left a lot of power against France the day before, seem to have given up. Probably the South American team will have a better chance to grab some points in the President's Cup.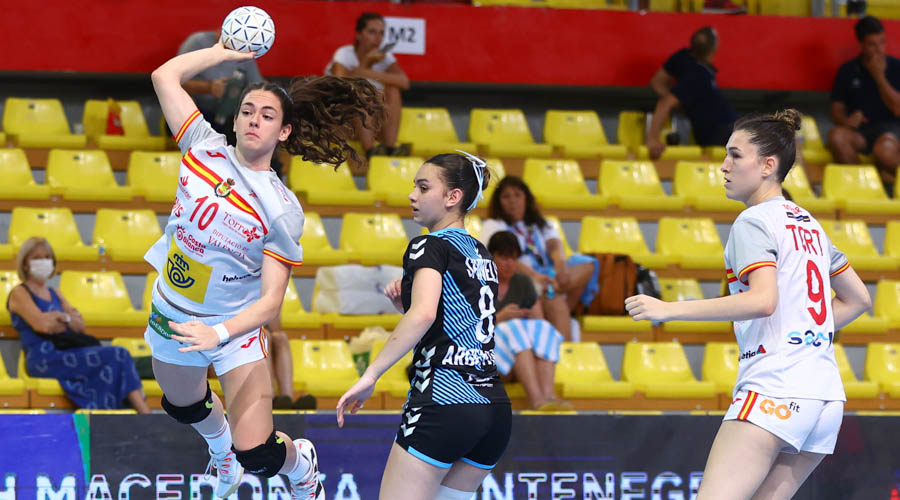 15:35 CEST Minseo Kim stars for Korea
Yesterday, the Republic of Korea had a field day in disposing of Germany, totally controlling the game, apart from 20 minutes in the second half. This time around, against an opponent which, on paper, looks far more vulnerable than Germany, they need to seriously sweat to clinch their third win at the 2022 IHF Women's Youth World Championship. Their largest gap in the match was four goals, 20:16, in the 35th minute, but from that moment on, Slovakia really balanced the match and are still in with a shout of winning.
Minseo Kim has already scored six goals for Korea and needs only three to top the scoring charts at North Macedonia 2022, being the fulcrum of the Asian team, while adding another seven assists. But other players missed the cue at times, turning the ball over 10 times and helping back Slovakia into the game. With 17 minutes still to go in the match, Korea are once again ahead by four goals, 26:22, and still are favoured to win it. It seems like Slovakia need something, and quick, if they are to save something from this match.
15:05 CEST Half-time: Argentina vs Spain 11:21
The difference in quality between the two teams was obvious in the first half. Although the Spanish goalkeeper Sabina Minguez recorded only four saves, her teammates did well in defence, forcing the Argentines to make mistakes time after time. As a result, the advantage of Spain grew steadily and reached as many as 10 goals by the break. They also boast a 68% goal efficiency, compared to Argentina's mediocre 48%.
As it looks now, Spain should take their first victory at North Macedonia 2022. Argentina, who fought so hard against France yesterday, now need a miracle to turn things around and avoid their third straight defeat.
15:04 CEST Half-time: Slovakia vs Republic of Korea 15:17
Three goals on fast break in quick succession for Korea from Seoyeon Cha helped the Asian side build their first two-goal lead in the game, 9:7, after a 3:0 unanswered run, only for it to be cancelled quickly by Slovakia. But it was the first sign of weakness from the European side, who has been starting to tire due to the uncanny rhythm proposed by Korea. As goalkeeper Gayeong Kim started to rack up saves, it quickly became apparent that the Asian side only needed to be more focused in attack and improve their efficiency.
And they did just that, opening a two-goal lead at the break, 17:15, courtesy of four goals each scored by Seojin Kim and Jia Kim, with Slovakia's defence collapsing in the dying minutes of the first half. Sure, Korea are already through and will boast a two-point tally in the main round, but what's the harm in opening a three-goal lead before facing the Netherlands and Romania in the next phase of the competition?
14:58 CEST Full-time: Croatia vs Kazakhstan 31:26 (15:12)
In this match, too, the favourites prevailed in the end. It sounds like a repeat but Kazakhstan, like India before them, sold themselves well. 
After the clear defeat against Egypt, they showed morale and fighting spirit and never let themselves be completely shaken off, even if there was a five-goal difference in the end. It should be borne in mind, however, that Croatia were the favourites in this group beforehand. 
Kazakhstan increased their efficiency to 57%, while Croatia scored 61% of their attempts. But they also missed a penalty. Kazakhstan's Zhanerke Kuandykova was the top scorer with ten goals, followed by Croatia's Anđela Žagar.
While Kazakhstan start the President`s Cup with two points, Croatia have zero.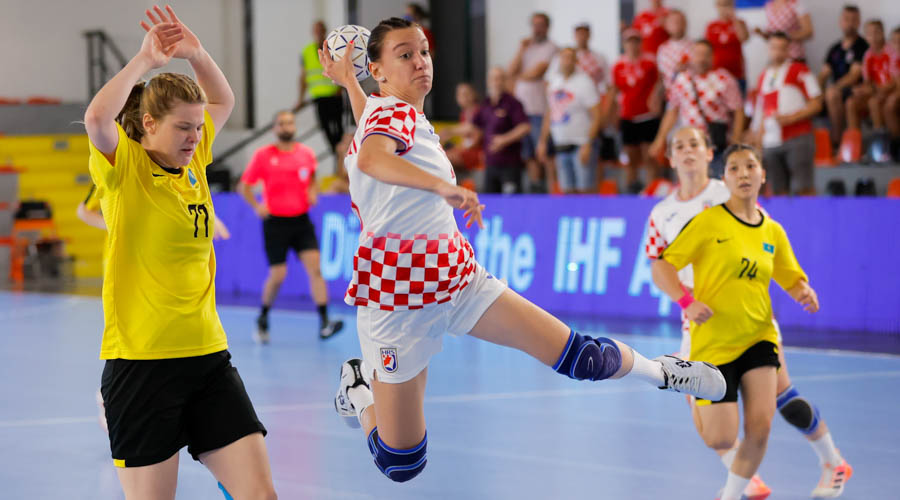 14:47 CEST Spain lead against Argentina
In the competitive Group H, Argentina and Spain lost a chance to progress to the main round already after two matches – although they fought hard, especially in their Monday game. Both teams will continue in the President's Cup, and the winner of their today's encounter will start it with two points.
Argentine goalkeeper Candelaria Cuadrado, who had done a good job against France the day before, stopped five shots in the opening 15 minutes, but it did not stop Spain from taking the initiative. Midway through the first half, they enjoy a 8:4 advantage, and Argentina has just taken their first timeout. Will it help them to find their rhythm?
14:47 CET Slovakia deliver best start at North Macedonia 2022 against favourites Korea
The start of the game was not the walk in the park the Republic of Korea might have expected after properly dismantling Germany's defence in the 34:28 win they registered. Facing Slovakia, a team that was heading into the game on a two-match losing streak, the Asian side would have been seen as a big favourite, but they first took the lead after nearly eight minutes, thanks to two goals from Seojin Kim. It is a totally different match than yesterday when Korea used their wings extensively, but right now, facing a much shorter defence in height, they are relying mostly on the back line.
But Slovakia are not ceding ground: Laura Walterová and Radka Šalatová scored three goals each to help their team take back the lead, 7:6, after 14 minutes. It is a question of how much Slovakia will keep this rhythm up, with Korea still favoured to win the game. Their fast-paced game is a nuisance for every opponent, especially for one like Slovakia.
14:06 CEST Half-time: Croatia vs Kazakhstan 15:12
Even after 30 minutes, Croatia were still unable to break away decisively. Despite being outnumbered, Kazakhstan's top scorer Zhanerke Kuandykova (six goals) was sent off for two minutes. The Asians have to be careful that they do not become even less efficient. This has dropped to 48%. And this despite the fact that Croatia's goalkeepers only had three saves each. Since Darya Kolesnichenko has been standing between Kazakhstan's posts, at least the problem has become smaller. She has saved five balls so far. 
The question now is, will the match remain even and exciting or will the Kazakhs be the next to fall victim to the "underdog curse" and not be able to keep up in the second half? Croatia will definitely have to step it up a notch if they want to have a chance in the main round, because so far they have not been as dominant as one would have thought in advance. They were considered favourites in the group, but will now start the main round as runners-up without points.
14:00 CEST Full-time: Denmark vs Portugal 33:25 (16:13)
Seen as favourites of this clash, Denmark ultimately earned their third consecutive win and finished the group stage with a perfect record. Their game was not flawless, as suggested by just a 58% shot efficiency, but the Nordic team did not really give Portugal a chance for the second-half comeback. They improved defence, and Signe Rasmussen ended the game with nine saves, while Anne Johansen, who was elected the Player of the Match, added nine goals to her tally of 16 goals in two previous encounters.
Thanks to this win, Denmark will start the main round with two points, and they will play the next game on Thursday – just like Portugal, who will head to the next stage with no points.
13:56 CEST Full-time: Algeria vs Iceland 18:42 (8:23)
The gap between the two sides was too big, despite Iceland rolling out their entire roster during the match. The European side recorded a superb win, without going into much trouble, as they secured the main round berth. Whether they will win the group, is still a question that will be answered after the last match of the day in the Jane Sandanski Sports Centre, when Montenegro face Sweden. Montenegro need to win by at least five goals to secure the first place.
But Iceland did exactly what was asked of them, which was win against Algeria by a high margin. The African side conceded their third loss in a row, after a 22-goal loss against Montenegro and a 24-goal loss against Sweden. This win also tied the highest winning margin at North Macedonia 2022, despite Iceland opening a 25-goal gap in the game, as in the end, they could only clinch a 42:18 win. Interestingly enough, Iceland scored more goals in the match alone than they did in the previous two combined – 40.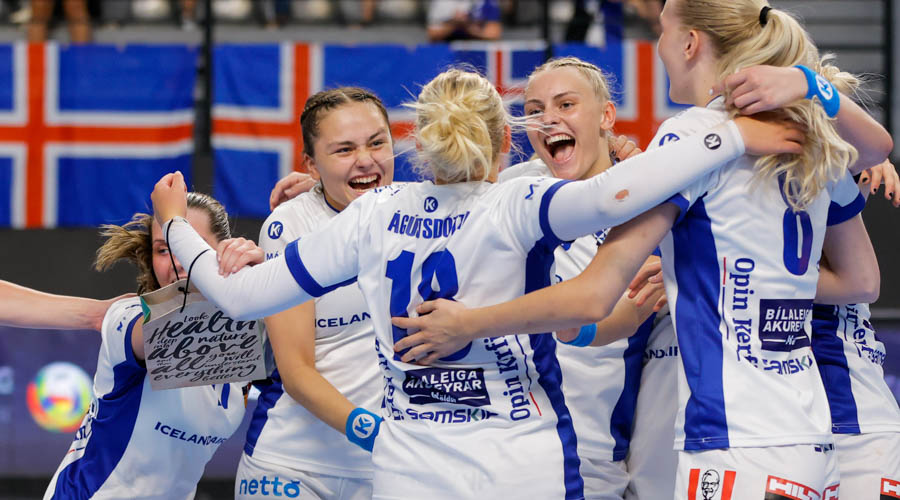 13:48 CEST Still an even match so far between Croatia and Kazakhstan
It's like deja vu, just like the match between India and Egypt before, both teams are on an equal footing so far. Even though the Europeans already have a slight advantage, leading 10:8. That is because they are better at converting their chances (69%). Kazakhstan will have to improve on this (55%) if they want to keep up for more than 60 minutes.  
After goalkeeper Damira Zhaparova failed to save a shot, Darya Kolesnichenko was substituted. She has distinguished herself three times so far. 
13:40 CEST Denmark continue to dominate
Just like in the first half, Denmark have the upper hand in the second half of their match with Portugal. 15 minutes from full-time, their enjoy a 26:22 lead. Goalkeeper Signe Rasmussen, who replaced Ida Barholm, has already made five saves, and Anne Johansen now has seven goals. Besides, right wing Laura Hansen had been doing well, as she scored four of her five goals in the second half.
However, Portugal are not giving up, as their goalkeeper Matilde Rosa has already made 10 saves. But will they have enough time for a comeback?
13:12 CEST Half-time: Denmark vs Portugal 16:13
Both teams had problems with defence and goalkeeping for much of the first half, but Portugal's Matilde Rosa, who replaced Maria Costa after the 20th minute, entered the game well, making five saves. Her impact helped the Portuguese to move the score from 10:14 to 13:14, and although the Nordic team weathered the storm to take a three-goal lead into the break, we can expect an exciting second half.
Denmark enjoy a slightly better attack efficiency, 59% against 52%. Just like in the previous games, Julia Scaglione and Anne Johansen stood out in their attack, combining for nine goals. And at Portugal, Luciana Rebelo did a good job, converting all her five shots.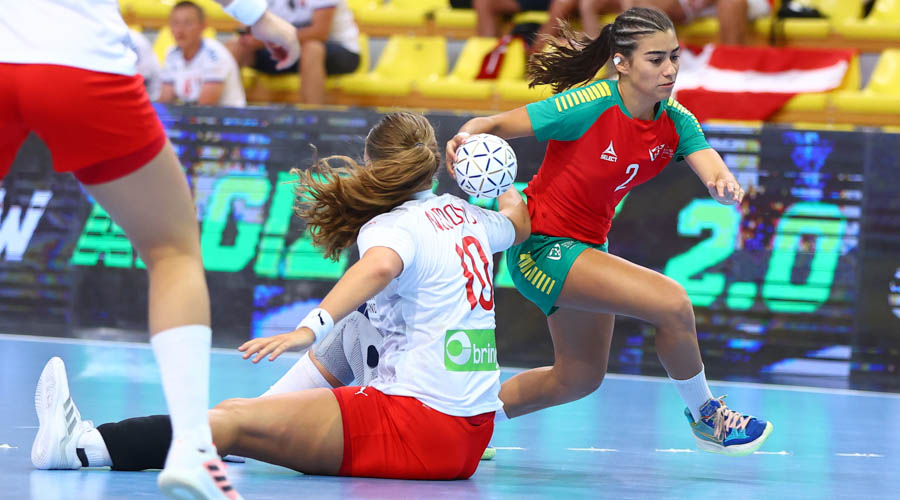 13:03 CEST Half-time: Algeria vs Iceland 8:23
Algeria's first five goals were scored by the same player, Lina Ines Sadi, who also missed four shots. The other five players combined for six missed shots, with the African side struggling to really get their game going. This helped Iceland open up an unassailable gap, 18:5, after 22 minutes, which has only consolidated until the end of the first half, when they lead 23:8.
There is no question here about the winner, only by the margin of the win for the European team. They will also head to the main round, where they will either start with two points – if Sweden qualify – or with one point – if Montenegro progress. Either way, this preliminary round has been really a treat for Iceland.
12:49 CEST Denmark have slight advantage
Both Denmark and Portugal are already through to the main round, but each team is determined to win and carry two points over to the next stage. The fight in the opening 15 minutes has been tight, but Denmark have a slight advantage and are in front 9:7.
Their player Anne Johansen enjoyed a good start of the encounter, having already netted four times. However, the Portuguese are fighting hard, and they will definitely try to mount a comeback already in the first half.
12:47 CEST Iceland jump to early big lead
Iceland needed a win against Algeria to progress to the main round in their debut at the IHF Women's Youth World Championship and there is no shadow of a doubt that they will make it happen today. Their start has been nearly flawless, despite a turnover here or there and some misses, as centre back Elín Klara Thorkelsdóttir scored four times to help her side create a 10:1 lead after only nine minutes.
Algeria, who have conceded the largest amount of goals in the competition so far, 92 after two games and are the second team to hit the 100 conceded goals mark at North Macedonia 2022 after Uzbekistan, are finding it hard to keep the pace in their maiden tournament at this level. We might not see a 54:30 score line, like in their loss against Sweden, but Iceland will surely have their largest-scoring game in history in this tournament. After 15 minutes, the European side is cruising to the win, 12:1.
12:00 CEST Full-time: Faroe Islands vs Austria 22:31 (12:15)
Faroe Islands had a slow start but improved a lot as the game developed, and they enjoyed full dominance in the second half. Goalkeeper Silja Muller did a good job, recording 16 saves for a 43% save efficiency, while Silja Hedinsdottor became a top scorer with seven goals. The Austrian goalkeeper Nina Tilliacher also did well in the first half, but neither she nor her two colleagues Sara Jancic and Valentina Hernach could impress after the break.
The Faroese team earned their first-ever win at the World Championship and finished third in Group C. With two points, they will continue in the President's Cup – just like Austria, who are yet to earn their first points at North Macedonia 2022.
The final standings in Group C will be determined after the game Denmark vs Portugal, which is about to start at 12:30 CEST. Both teams have already progressed to the main round.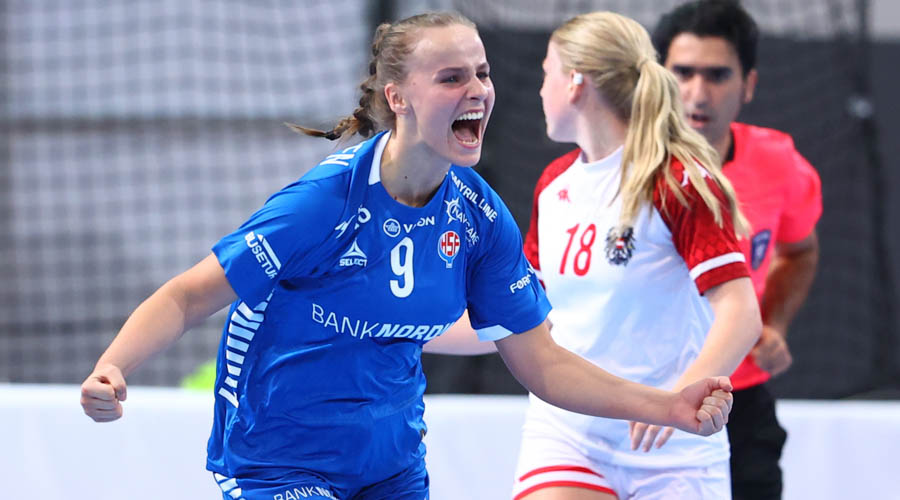 11:55 CEST Full-time: Uzbekistan vs Senegal 32:34 (15:18)
How does a team drop an eight-goal lead and is just on the verge of losing a game? Well, Senegal just proved how unpredictable handball can be. They had an eight-goal lead with 15 minutes to go, but Uzbekistan mounted an impressive comeback, first by stopping the African side score as many goals as they previously managed. In fact, Senegal only scored four times in the last 12 minutes of the game, with one of those goals coming in the last second of the game.
It is a heart-breaking loss for Uzbekistan, though, who had the chance to tie the game, but Sarbinaz Saparbaeva dropped the ball when trying to shoot a penalty with 30 seconds to go, handing the possession and the win to Senegal. The African side celebrated the first-ever win at the IHF Women's Youth World Championship, and the Player of the Match, Theresia Gomis, had a big hand in it, scoring 12 goals.Uzbekistan, who lost their 17th game in a row in the competition, and Senegal will now head for the President's Cup, as the Asian side tries to avoid finishing last for the third time in a row in the tournament.
11:39 CEST Faroe Islands cruising to maiden win
Faroe Islands, who are playing their debut World Championship, seem to have a good chance to celebrate their first victory at this level. After the break, they continue to dominate, leading 22:16 after 45 minutes.
Their goalkeeping has improved a lot, as Silja Muller has already made 13 saves. In attack, they have a 56% shot efficiency compared to Austria's 43%, and 10 Faroese players have already found their names on the scoresheet. Austria seem to have run out of ideas, and they look unlikely to mount a strong comeback in the remaining time.
11:38 CEST Senegal are heading for their first-ever win in the competition
It looks like it is not going to be the first-ever win for Uzbekistan at the IHF Women's Youth World Championship, rather than the first win for Senegal in the competition. Predictably, Uzbekistan's defence collapsed once again and started conceding goals for fun, as Senegal are now cruising to a 29:21 win, with 15 minutes to go. Theresia Gomis and Mamboup Gueye combined for 18 goals in this game, being an unstoppable force for the African side, who, remember, at are their debut in the competition.
Gomis has now scored 18 goals in the competition, but the big news is that we have a new top scorer at North Macedonia 2022, Uzbekistan's Sevinch Erkabaeva. With her seven goals today, Erbakaeva jumped to the first place in the top goal scorer standings, with 24 goals, one more than Fatemeh Merikhi. And the game is still not over. In fact, the top four players in this standing come from Asia – Erbakaeva and Merikhi are followed by Minseo Kim and Seojin Kim, who scored 20 goals for the Republic of Korea.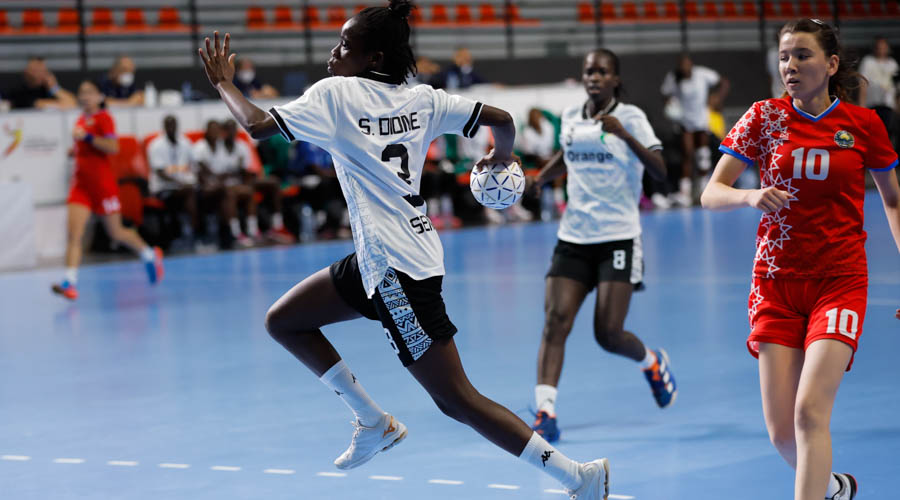 11:25 CEST Full-time: Egypt vs India 42:34 (21:18)
As in most of the matches in the last few days, the favourites prevailed in the end. But to lose by only eight goals after a clear defeat in the last match shows that India have potential. They have sold themselves well and can now start the President's Cup with new self-confidence.
With 62% of shots converted, they are also only 4% behind Egypt, who will now enter the main round with three wins, top of the table and with two points. Shrouk Mahmoud Elsheref and Mariam Omar Ibrahim played a big part in today's victory, scoring eight and seven goals respectively. Priya (eight) and Jassi (seven) scored as many goals for India.
11:08 CEST Half-time: Austria vs Faroe Islands 12:15
Nina Tilliacher made as many as 12 saves in the first half, but her heroics did not help Austria to take a half-time lead. While the Austrians enjoyed a better start, Faroe Islands used a timeout to improve their game, particularly in defence, and pulled clear at 12:9. And although Austria then drew level at 12:12, three unanswered goals in the last two minutes helped the islanders to get in front at half-time.
Before this game, both teams had no points, but Faroe Islands took a higher position thanks to a slightly better goal difference. Now it looks like they have a fair chance to stay third in Group C – and head to the President's Cup with two points.
11:03 CEST HALF-TIME: UZBEKISTAN vs SENEGAL 15:18
Another 5:0 run by Senegal really cemented their place in the game, as the African debutants are leading 18:15 at the break. Senegal prevented their opponents to score for nearly six minutes, with some great goalkeeping from Nguenar Cisse. Mostly, though, Uzbekistan have faltered to bring their game to the table, plagued by turnover and misses.
It is getting increasingly difficult for Uzbekistan to try and salvage something from this game, as their attack dipped to a 51% efficiency, insufficient to mount a comeback in the first half. They did cut the gap to three goals at one point in the match, including at the break, but Senegal controlled the game well after their slow start.
10:49 CEST Austria and Faroe Islands level after 15 minutes
Both Austria and Faroe Islands lost a chance to reach the main round and will head to the President's Cup. But the winner of their Group C match will start the next stage with two points. Thanks to Nina Tilliacher's string of early saves, Austria enjoyed a good start, taking a 3:0 lead before the Faroese team opened their account.
10 minutes into the game, Faroe Islands took their first timeout, as they were losing 3:6. That seemed to help, as they improved their performance and drew level in the 15th minute, 7:7. Austria have just also taken a timeout – will it help to pull away again?
10:47 CEST Uzbekistan try to stop losing streak
Uzbekistan's record at the IHF Women's Youth World Championship read as 0 wins, 0 draws, and 16 losses before the match against Senegal. It was the largest-ever losing skid in the history of the competition and their start against the African side was not too good either, as they scored their first goal after three minutes and 44 seconds. Yet in the next five minutes, the Asian side powered to a 6:1 run to create a four-goal gap, prompting Senegal to take an early timeout to weather the storm.
Sevinch Erkabaeva, their top scorer in the competition so far, has scored two goals in that run, improving her overall tally in the competition to 19 goals, jumping to the fourth place in the standings. But, more importantly, Uzbekistan looked to be on the verge of writing history, stopping that losing streak and winning their first game in history at the IHF Women's Youth World Championship. Yet it is never as easy as it looks. After the timeout, Senegal used their own 7:1 run, spurred by four goals from Theresia Gomis to take back the lead, 9:7, after 15 minutes.
10:35 CEST Half-time: Egypt vs India 21:18
In the second half of the first half, Egypt got into the game better and managed to pull away a little. This was also due to India's lack of efficiency. The rate dropped from 75% to 65%. At 56%, the Africans are also rather below average so far. 
India, however, did not let themselves be shaken off and managed to close the gap to two goals. But 30 seconds before the whistle, the next penalty kick was taken. Shrouk Mahmoud Elsheref's first attempt failed against India's Chetna Devi, who has made a convincing eight saves so far. But the ball landed in the net with the second shot. 
Mariam Omar Ibrahim has been Egypt's best scorer so far. With five goals, she is one behind India's Priya. 
Will India be able to keep up the pace in the second half or will the setback follow, as so often in recent days, for the teams that are not considered favourites in the respective match?
10:16 CEST India off to a good start 
After India had to forfeit their first match due to travel problems, they quickly went down to defeat in their match against Croatia. It is all the more surprising how well they are still keeping up with Egypt after 15 minutes. After all, they beat Croatia. 
The score is 13:12 for Egypt at the moment. And this despite the fact that India has the better scoring rate with 75% than the Africans with 61%, who also missed one of their two penalties. 
9:50 CEST How to watch
Want to follow the action in the arenas in Traijkovski and Sandanski? Then you can do so via live stream or partly also on TV.
Viaplay, for example, today broadcasts several matches like those of Sweden or Netherlands. AMC / Sport 1 will cover the matches of Hungary and Czech Republic.
 
9:45 CEST Who are the top scorers of the tournament so far?
Talking about the Republic of Korea, Minseo Kim and Seojin Kim have been thoroughly impressive at the start of the tournament, placing joint second in the top goal scorer standings, with 20 goals each. The top is led by Iran's Fatemeh Merikhi, with 23 goals, while Czech Republic's Simona Schreibmeierová is fourth, with 18 goals, followed by four players with 17 goals, Andjela Zagar (Croatia), Sevinch Erkabaeva (Uzbekistan), Maria Lixandroiu (Romania) and Mariam Omar Ibrahim (Egypt).

 
9:30 CEST Winners and losers after the first three days
Who's hot and who's not at the 2022 IHF Women's Youth World Championship? 11 teams have mounted winning streaks in the first two games and those are the sides who have already made it to the main round.
Eight of them will feature in head-to-head clashes on Tuesday, as the winners of the groups will be revealed today, as only Egypt and Republic of Korea are certain of the first place.  From those 11 sides, the most impressive one might just be Korea, whose type of fast-paced handball really shocked Germany yesterday.
On the other hand, Croatia – who lost against Egypt – are one of the sides which failed to impress in the tournament, despite being favoured to make it to the main round. Sweden, with a loss against Iceland, can still qualify but will need to win against Montenegro, while the Czech Republic could be out if they lose and Brazil win against Uruguay.
9:00 CEST Day four throws off in Skopje
All the 32 teams at the 2022 IHF Women's Youth World Championship in Skopje, North Macedonia will enter the fray on Tuesday, as the preliminary round concludes. With 11 main round berths already sealed by North Macedonia, Islamic Republic of Iran, Denmark, Portugal, Egypt, Romania, Netherlands, Republic of Korea, Norway, France and Hungary, five more will be awarded at the end of the day, completing the main round table.
Crunch deciders will be played in Group A, where Montenegro, Sweden and Iceland all battle for two spots, while Czech Republic and Brazil fight for one coveted spot in Group G.