High expectations as the 2022 IHF Women's Youth World Championship throws off
30 Jul. 2022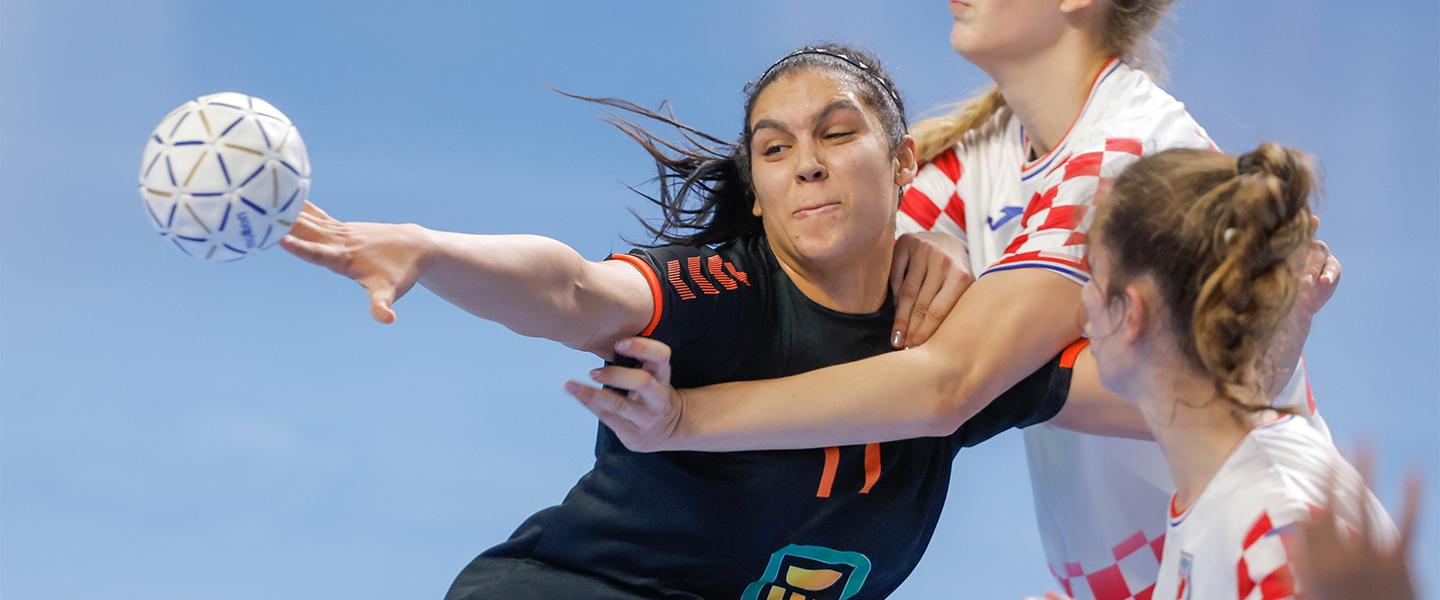 Live blog: The first-ever edition of the IHF Women's Youth (U18) World Championship with 32 teams throws off today with a full card. Probably the biggest surprise of the match day so far was the victory of debutants Iceland against Sweden.
That's all, folks! After 12 hours of intense handball, big surprises and some big wins for the favourites, the first day of the 2022 IHF Women's Youth World Championship is over. Egypt's 33:31 win against Croatia is surely one of the highlights of the day, as well as North Macedonia's win against Senegal, as the African team dashed from the airport to play the match, which was delayed by an hour.
Favourites like Hungary, Denmark, France and Norway secured straightforward wins on the first match day, as the picture for the main round is starting to get clearer. We end the live blog for today, but we expect you here back tomorrow when 16 teams will take to the court once again in Skopje. 
Today's matches:
Kazakhstan vs India 10:0 
10:30 CEST Montenegro vs Algeria (38:16) / Croatia vs Egypt (31:33)
12:30 CEST Sweden vs Iceland (17:22) / France vs Spain (31:28)
13:30 CEST Portugal vs Faroe Islands (29:24)
14:30 CEST Norway vs Brazil (30:19) / Czech Republic vs Uruguay (24:23)
16:30 CEST Islamic Republic of Iran vs Uzbekistan (47:31) / Denmark vs Austria (32:21)
17:00 CEST Switzerland vs Republic of Korea (28:32)
18:30 CEST Netherlands vs Slovenia / Hungary vs Argentina (39:23)
20:30 CEST Romania vs Guinea (39:27) / Germany vs Slovakia (39:19)
21:30 CEST North Macedonia vs Senegal (31:14)
23:01 CEST Full-time: North Macedonia vs Senegal 31:14 (17:7)
There it is, North Macedonia have just sealed their largest-ever win at the IHF Women's Youth World Championship. 31:14, against Senegal, breaking their previous record of eight goals, set in 2014, against Uzbekistan, 36:28. It was a straightforward win, with a great defensive performance – they limited Senegal to a 31% attacking efficiency – while all the players took the court and had minutes in the game, something that could really help the hosts in the next phase of the competition, where they are definitely favoured to progress.
The 17-goal win was also the third largest today, after Montenegro's 38:16 win against Algeria and Germany's 39:18 win against Slovakia, a feature that North Macedonia can really be proud of. On the other hand, Africa have not fared so well today, as Algeria lost by 22 goals against Montenegro, Guinea lost against Romania by 12 goals, with only Egypt saving face with their amazing 33:31 win against Croatia. Senegal and Algeria are also the teams to have scored the lowest amount of goals on the first day of the 2022 IHF Women's Youth World Championship.
22:38 CEST North Macedonia set to secure best-ever win in the competition
The twins Borjana and Bojana Koceva have been starring all evening for North Macedonia, combining for ten goals, splitting their output equally throughout the game. They have been impossible to stop at times during the match, with the hosts really making their mark on this game. North Macedonia are definite favourites to win this group and progress to the main round with the maximum amount of points, which will seal their best-ever result in the competition. And the players are looking hungry for this to happen, at least from how motivated they are in this game.
They will probably seal their best-ever result in the competition, which is a superb result to throw off the tournament, only making them even more confident as the competition progresses. The quarter-finals might be difficult to reach, but everything can happen, provided things go their way. One ingredient – motivation – is certainly there. As for Senegal, things did not improve for the African side in their maiden game at the IHF Women's Youth World Championship. They still did not break the 10-goal mark until the 45th minute, as North Macedonia are already up, 23:9.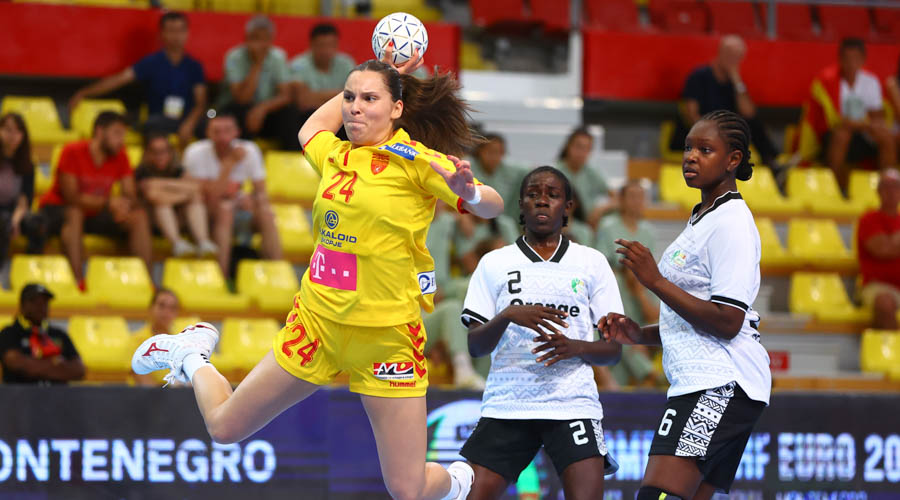 22:06 CEST Half-time: North Macedonia vs Senegal 17:7
This will definitely be North Macedonia's fourth win in history at the IHF Women's Youth World Championship and it has a high chance to break the team's record for the largest-ever win in the competition. It currently stands at eight goals, 36:28, against Uzbekistan, when they previously hosted the tournament in 2014, but that margin is likely to be beaten tonight. Between the 12th and the 22nd minute, Senegal endured a stint of 10 minutes and 22 seconds without a goal, where North Macedonia ran riot and opened an 8:0 unanswered run, spurred by three goals from Bojana Koceva and two from Teodora Duskoska.
The two players have also been North Macedonia's top scorers in the match, as Senegal ran out of steam, turning the ball over 18 times in attack, while goalkeeper Marija Jovanovska had a field day, posting a 46% saving efficiency. Senegal were also hurt by their lack of discipline, conceding five suspensions, therefore it is only a question about how large will North Macedonia's win is, not about the winner anymore.
21:58 CEST Full-time: Germany vs Slovakia 39:19 (16:11)
The first 20 minutes of this match hardly suggested such a result. The game was extremely hard-fought with Slovakia even holding a slight advantage, but then the situation started to change fast. Germany improved their defence and pulled clear by five goals already at the break before marching on after the restart, so all questions about the outcome were removed long before the final whistle.
As Germany rotated the squad, 12 their players scored at least once, with Matilda Ehlert becoming the best with seven goals, and Nieke Kühne adding six more. The Germans finished the game with a 71% shot efficiency, while Slovakia had just 46% - and this difference translated into a 20-goal victory.
21:55 Full-time: Romania vs Guinea 39:27 (19:13)
It was an unchallenged victory for Romania. They dominated the game from minute 15 and gave Guinea no chance. With a very good chance evaluation of 75%, they laid the foundation to get their first two points. 
It won't be any easier for the African debutants. After all, the group favourites Netherlands and Slovenia are waiting for them. They will have to hope that their goalkeepers get into the game better, as they managed to save just 8 of 44 shots together. That is too few to be able to play for victory. On the other hand, the offensive team managed to put more than every second ball into the goal, which is something to build on. 
Romania's Maria Diana Lixandroiu was the top scorer, scoring eight times from 10 attempts. 
21:46 CET 3:0 run propels North Macedonia in the lead
Senegal barely made it in time for the match, as their flight landed at 19:37 CEST in Skopje and they just got to the arena one hour before the throw off. Their resilience to play the match is amazing and they must be praised for not conceding a loss, even if it was the easier thing to do.
But after a good start, things started to go sour for the African side. Despite not having a huge turnout in the Boris Trajkovski Sports Center, the North Macedonian players fed on the support from the home fans, opening a 3:0 unanswered run that looks to be the backbone of their win. However, misses keep turning up for the hosts, as their lead is slender at this point, 7:4, after 13 minutes.
21:37 CEST Germany enjoy a commanding lead
After creating a five-goal gap late in the first half, Germany continued to dominate after the break. Midway through the second half, they are enjoying a commanding 27:14 lead. Their aggressive defence is making a lot of problems for the Slovaks, and 10 German players have already found their names on the scoresheet. Slovakia seem to have run out of both, ideas and energy, they are losing the ball time after time and do not look capable of changing the situation in the remaining quarter of an hour.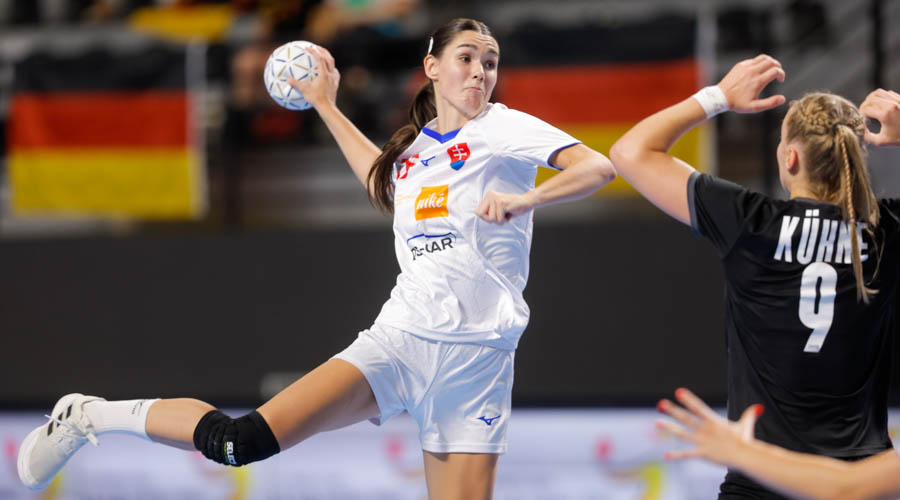 21:10 CEST Half-time: Germany vs Slovakia 16:11
Much of the first half featured a tight fight, as no team could pull clear by more than two goals before the 28th minute. Slovakia had a slight advantage for a long time, but Germany seized the initiative afterwards. A 4:0 run helped them to take a 12:10 lead before the German team further increased their advantage, creating a comfortable five-goal lead at the break.
They also hold an advantage in terms of shot efficiency, 59% against 52%. Nieke Kühne stood out for Germany, as her five goals helped the team to fight back. However, Slovakia is not going to give up, as they hole for a second-half comeback.
21:04 Half-time: Romania vs Guinea 19:13
Guinea were one of the teams affected by the flight chaos, so not only were they barely able to acclimatise, but for a long time they didn't know whether they would be allowed to play or have to forfeit. 
But they started well and scored the first goal. For the first quarter of an hour, it looked as if the Africans could annoy Romania. But then the Europeans steadily pulled away. While they manage to convert 79% of their shots on goal, the debutants only manage 54%. The goalkeepers also make the difference. Romania's Teodora Diana Neagu has so far made 7 saves on 18 shots on goal. On the other hand, both goalkeepers together have only managed to save 3 of the 18 shots. 
20:48 CEST Tight fight between Germany and Slovakia
Slovakia enjoyed a better start to the match to lead 3:1, but Germany soon fought back to draw level. Midway through the first half, the teams are level at 7:7, and the German coach has just taken his first timeout.
Slovakia are a better side in terms of shot efficiency, 70% against 47%, so Germany have to improve their attacking performance to win this match.
20:30 CEST CEST One-hour delay for North Macedonia vs Senegal
Due to unforeseen circumstances regarding the travel conditions for Senegal, the match between the hosts and the African side is postponed one hour. The new start time will be 21:30 CEST.
19:55 CEST Full-time: Netherlands vs Slovenia 31:17 (18:10)
Netherlands did not have any problems clinching a win in this encounter. Although their shot efficiency, almost perfect before the break, dropped to 63%, it was still much better than Slovenia's modest 35%. The Dutch goalkeeper Bianca Schanssema boasted a 50% save rate (12 saves) before being replaced by Nikki van der Vorst, who stopped four more shots.
The second Saturday game in Group E is yet to be played, as Romania and Guinea will face each other at 20:30 CEST.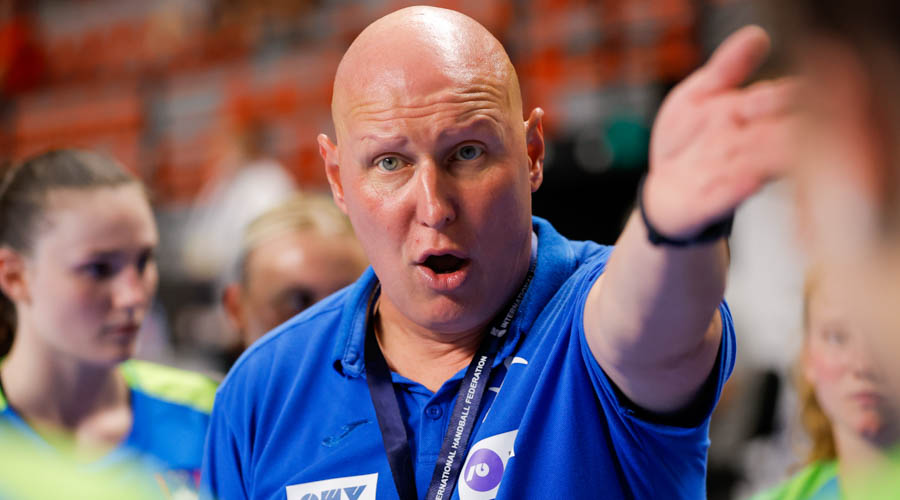 19:52 CEST Full-time: Hungary vs Argentina 39:23 (16:11)
The silver medallists from the previous edition, Hungary, have started North Macedonia 2022 with a bang, confirming their status as favourites, with a good display against Argentina, which turned flawless at times, especially in creating fast breaks after winning balls in defence. Despite not turning their engines at 100% throughout the match, Hungary did just enough to create a large gap, and score the third largest number of goals today, after the Islamic Republic of Iran (47) and Montenegro (38), while proving to be an efficient machine. The number of goals scored via fast breaks – 12 of their 39 – was truly impressive and provides a warning sign for their future opponents, as all the outfield players who donned the court scored at least once for Hungary.
Argentina could only stay close for 20 minutes, as the lack of depth kicked in, but as much as they tried, they could not apply the needed pressure on the European champions. Things will not get easier for the South American side, who will face France and Spain in the next matches, another two games where they are slated as underdogs. But this is a good experience for the young Argentinian players, as they will surely learn a lot.
19:38 CEST Netherlands extending their lead
The Dutch team continued to dominate after the break, extending their lead slowly but surely. After 45 minutes, they are in front 26:14, which does not leave Slovenia a realistic chance to avoid a defeat.
Lois van Vliet is still Netherlands' top scorer, with five goals from as many attempts, and goalkeeper Bianca Schanssema has already made 12 saves.
 
19:32 CEST Hungary use depth to create big gap
Hungary have now found a way to score goals easier, via fast breaks or with powerful shots from the 9-metre line. The gap has ballooned to eight goals, after a 4:1 run to start the second half and Argentina will have serious trouble to mount a comeback from this position. It was always difficult for the South American side to take something out of this game, but now it is looking increasingly unlikely, if not impossible. Between the 23rd and the 35th minutes, Hungary went on a 12:4 run that really turned the game in their way. Even a timeout from Argentina did not help, as the European champions are cruising to the win, 27:16, with 18 minutes to go.
While not impressing, Hungary proved to be one of the teams to beat in the competition. Retaining the main core from the side that secured the gold medal at the W17 EHF EURO 2021, including All-Star goalkeeper Klara Zaj and All-Star line player Kata Juhasz and the MVP of the competition, Julia Farkas, helped them create a baseline and some familiarity for a team that is seeking their first gold medal at the IHF Women's Youth World Championship.
19:04 CEST Half-time: Hungary vs Argentina 16:11
Argentina are definitely no pushovers, though, and forced coach Beata Bohus to call a timeout for Hungary after 19 minutes, when the South American side cut the gap to a single goal, 8:7. This has not been a performance up to par for the standards of the reigning European champions, with too many easy mistakes and turnovers conceded in attack, while the defence has been, at times, too passive and did not react to Argentina's charges.
The MVP of the W17 EHF EURO 2021, back Julia Farkas, has been superb for Hungary, scoring four goals and dishing one assist, while goalkeeper Szofi Imre, who is donning an unconventional number 9 between the posts, has been also strong for Hungary, saving six shots. Yet Argentina somehow constantly managed to stay afloat. However, the turning point of the match was Hungary's 3:0 unanswered run that helped them open a four-goal lead, 13:9, for the first time. It went from bad to worse from that moment, as only the break weathered the storm. Hungary have imposed their will just in the final moments and are now leading, 16:11, after converting a flurry of fast breaks, that left their opponents red-faced.
19:07 CEST Half-time: Netherlands vs Slovenia 18:10
Netherlands had their ups and downs in the opening 15 minutes of their Group E match against Slovenia, but overall they were a superior side, so their 9:6 lead looks well-deserved. The Dutch boast an impressive 90% shot efficiency and Lois van Vliet has already scored four goals. Slovenia is trying to fight hard, but it is not easy for them to defend against the free-flowing Dutch attack.
18:47 CEST Netherlands efficient in attack
Netherlands had their ups and downs in the opening 15 minutes of their Group E match against Slovenia, but overall they were a superior side, so their 9:6 lead looks well-deserved. The Dutch boast an impressive 90% shot efficiency and Lois van Vliet has already scored four goals. Slovenia is trying to fight hard, but it is not easy for them to defend against the free-flowing Dutch attack.
 
18:46 CEST Hungary leave little to chance to control game against Argentina
Hungary are surely one of the favourites to win the title at the 2022 IHF Women's Youth World Championship, but they did not take Argentina by storm. They needn't, as the schedule will be getting hectic in the next days when they are going to face France and Spain. Argentina's goalkeeper, Candelaria Martina Cuadrado, has been superb in the first six minutes, saving two shots, but the South American side missed the cue in attack, where they failed to score more than one goal in the first eight minutes, with Hungary taking a 3:1 lead.
The pace went faster in the next minutes, but always with Hungary charging on. Argentina managed to stay close to their opponents, but the lack of depth will probably be their undoing, as Hungary's experience will prove decisive in the next phase of the match. After all, they are the W17 EHF EURO 2021 champions, having already proven themselves at the highest level last summer. But until now, after 15 minutes, Hungary are in the lead, 7:5.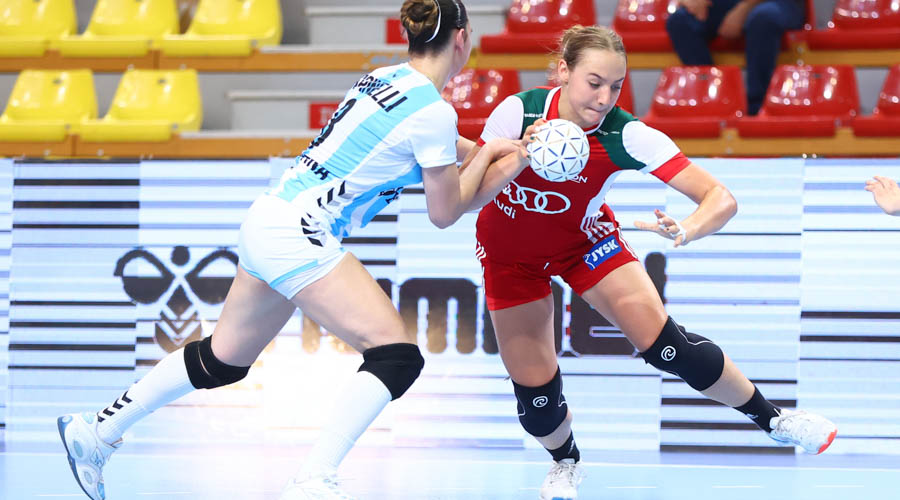 18:25 CEST Full-time: Switzerland vs Republic of Korea 28:32 (13:15)
As in game one at the Sport Centre Jane Sandanski Hall, the game turned in the second half. While the first 30 minutes were even, Korea dominated the second. Until the 50th minute, Switzerland were able to keep up, and then Korea increased their lead more and more. In the meantime, they even scored six goals. 
Minseo Kim (12 goals / 15 attempts) and Seojin Kim (11 out of 12) played a major role in this victory. The staff, however, will be worried about the goalkeeping performance. Gayeong Kim made only eight saves on 31 shots on goal. Things looked a little better on the Swiss side. Claire Hartz saved 10 out of 30 shots. But even she should improve, after all, Slovakia and Germany are normally strong offensively as well. 
Both teams have a rest day tomorrow before Korea meets Germany and Switzerland Slovakia on Monday. 
17:57 CEST Full-time: Denmark vs Austria 32:21 (18:9)
In the end, Denmark cruised to a well-deserved 11-goal win. Although they slowed down and scored just six goals in the last 20 minutes, overall the Nordic team did a good job both in attack and defence. Julie Scaglione, a rising star of Danish handball who has already played for the senior national team, became their top scorer with seven goals. Austria simply did not have enough level to claim any points in this game.
Tomorrow Denmark will be again the favourites, this time against Faroe Islands, while Austria will face Portugal and will only need a win to retain a realistic chance to go through.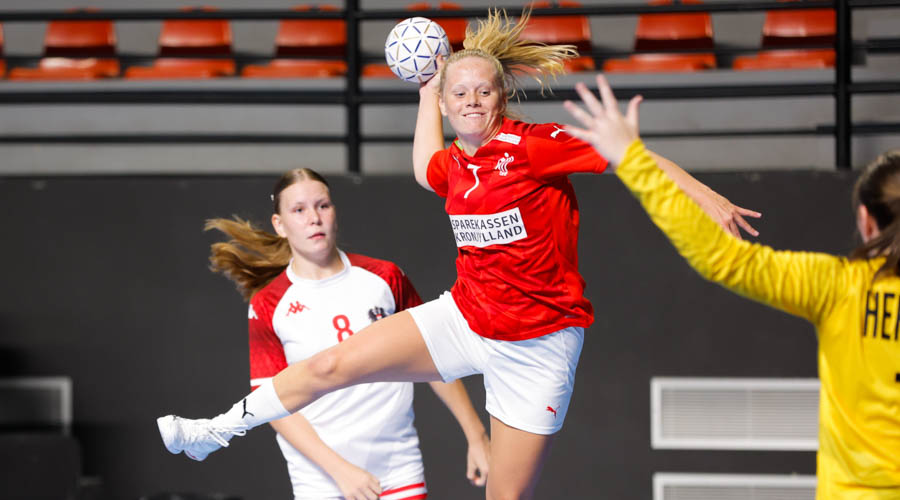 17:54 CEST Full-time: Islamic Republic of Iran vs Uzbekistan 47:31 (21:17)
It's historic and it's beautiful, a pretty much flawless game for the Islamic Republic of Iran. Making their debut at the IHF Women's Youth Championship, the Asian side thoroughly displayed some great attacking handball, provided the largest number of goals scored by a single side at North Macedonia 2022 so far and is also boasting the top scorer of the competition so far – Fatemeh Merikhi – who scored 11 goals in the win against Uzbekistan, 47:31. Between the 15th and the 45th minutes, Iran outscored their opponents 22:11, as they really turned up the heat, while Uzbekistan could only score once between the 34th and the 46th minutes, as goalkeeper Elnaz Yarmohammadtouski finished the match with 20 saves for a 47% saving efficiency for Iran.
It surely had something to do with the quality of the opponents, who will likely be in the fight to avoid the last place in the competition, but handball in Iran and especially in the women's category is growing, with the Asian side making their debut at the senior, junior and youth IHF Women's World Championship in the past eight months. Iran are no world beaters and will probably concede a loss against North Macedonia, but if they win against Senegal, then they could progress to the main round, which would be an amazing feature for them. This was also the second-largest scoring match in the last four editions of the competition, with the record still held by the match between France and the Republic of Korea in 2018, which provided 84 goals.
17:37 CEST Denmark continue to dominate
The Danish team continued to show their firepower. Their coach has rotated the squad, and as many as 11 players have already scored at least once, with Anne Johansen leading the way with six goals. As Denmark lead 27:14 in the 45th minute, there is no doubt who will claim two points in this match.
17:37 CEST Half-time: Switzerland vs Republic of Korea 13:15
After Switzerland led by two goals, Korea drew level again. The Asians then took the lead back and were able to pull ahead to two goals with a counter-attack one minute before the end of the match, Switzerland reduced the score again, but Korea counter-attacked again. A few seconds before the end, Sujeong Park missed the Swiss goal and the score remained 13:15 at the break. 
Minseo Kim was the top scorer of the first half with 7 goals on 10 attempts. The score is 59% (Switzerland) to 58% (Korea) in terms of scoring efficiency. So it is still a duel of equals. Will it continue like this in the second half or will one of the teams in the Sport Centre Jane Sandanski two be able to turn up the heat after the break and pull away?
 
17:20 CEST Balanced match between Switzerland and Republic of Korea
Republic of Korea were considered the great unknown for Switzerland in the run-up to the competition. "The Asians have not played a test match in Europe in the run-up to the World Championship and are therefore rather difficult to calculate. We have to be at our best right from the start, otherwise, it won't be enough," said coach Martin Albertsen before the match. 
After 15 minutes, his players are selling themselves very well in their first IHF. After Korea scored the first goal, Switzerland equalised and later took the lead. Since then, the two teams have been engaged in a cat-and-mouse race. Sometimes one team leads, sometimes the other. 
In terms of chances, Switzerland has a slight lead (67% as opposed to 64%).  
17:07 CEST Half-time: Denmark vs Austria 18:9
Both teams failed to find the net between minutes 21 and 27, as the score of 15:7 remained intact for seven minutes. But overall Denmark enjoyed a big advantage in the first half, which resulted in a nine-goal lead and 18 goals.
The Danish defensive block was so good that they even did not need good goalkeeping – Ida Barholm made just one save, while her Austrian colleague Nina Tilliacher stopped five shots. It looks like Denmark are on the way to their opening win, while Austria will need a small miracle to make a comeback.
17:04 CEST Half-time: Islamic Republic of Iran vs Uzbekistan 21:17
One month ago, Fatemeh Merikhi was the Islamic Republic of Iran's top scorer at the IHF Women's Junior (U20) World Championship in Slovenia, scoring 38 goals in seven games, finishing in the top 20 of the top scorers of the competition. She is back again at the IHF Women's Youth World Championship in North Macedonia, and the Iranian player did not lose her scoring prowess. Merikhi scored four goals in the first half of Iran's debut at North Macedonia 2022, but it was back Nastaran Koudzarifarahani who really impressed in the first half, scoring two of her six goals in a 6:0 unanswered run against Uzbekistan to turn the game on its head, creating a five-goal gap, 17:12, much to Uzbekistan's disbelief.
It quickly became clear that this game was going to be a shootout between the two Asian sides, but as Uzbekistan faltered and their attack was stopped in its tracks, Iran really impressed, especially via fast breaks, where they were truly unstoppable. At the break, they hold a 21:17 lead, which surely makes them favourites to take their first-ever win in the competition. This is projected to be the highest-scoring match on the first day at North Macedonia 2022 and follows Iran's penchant for this type of game at all levels in women's handball.
16:48 CEST: Denmark enjoy big advantage
Seen as favourites of the Group C match against Austria, Denmark have so far lived up to expectations. Good defence and free-flowing attack propelled them to a 12:4 lead midway through the first half. Notably, the Nordic team boast an impressive 85% shot efficiency, so Austria will need to improve their defence a lot if they want to grab any points from this encounter.
 
16:01 CEST Full-time: Czech Republic vs Uruguay 24:23 (14:12)
Both teams had a chance to win this hard-fought match, but Czech Republic did better in the closing stage, which helped them to get two points. Goalkeeper Kristyna Stojarova, who entered the court in the last third of the game, boasted a 40% save rate, while her teammate Simona Schreibmeierova became the top scorer of the match with eight goals.
A 4:1 run after the 54th minute helped the Czechs to take a 24:22 lead, and Martina Marquez's goal, 12 seconds from full-time, did not prevent the Europeans from winning.
15:54 CEST Full-time: Norway vs Brazil 30:19 (14:8)
This has the potential to be a tricky group, especially after Uruguay took the Czech Republic on a ride. But Norway look like definite and clear favourites, especially after delivering a strong defensive outing against Brazil, limiting the South American side to only 19 goals scored, a total which only increased gradually until the end of the game as the European side took the foot from the pedal, managing their stamina for the next matches. This was Brazil's worst attacking outing since 2016 when they scored only 17 goals against Germany in the Placement Match 11/12.
Undoubtedly, Norway will be huge favourites to end the group in the first place, with six points, as the matches against the Czech Republic and Uruguay follow. Only two of their 14 outfield players failed to score a goal today, therefore it was a well-rounded effort from the European side. On the other hand, Brazil need more in the last two matches if they are to proceed. They will be favoured against Uruguay, but they definitely need a win against the Czech Republic to progress to the next phase of the competition. The main thing which needs to be improved is the attack, who posted a meagre 40% efficiency, while their goalkeepers also combined for only 10 saves, yet a 24% saving efficiency.

 
15:38 CEST Norway head to first win at North Macedonia 2022
As soon as the second half started, the winner was clear. Norway used an 8:1-run to extend their lead to 12 goals, 21:9, as Brazil's woes in attack have continued to plague them even after the break. Despite missing two penalties in the first minutes of the second half through Jullumstro, Norway have continued to dominate and created an unassailable gap, forcing Brazil to take an early timeout to weather the storm.
The manual says that Norway should not be allowed to have easy fast breaks which they can convert and Brazil did exactly just the opposite, as the Scandinavian side scored half the amount of goals they did in the first half just in under nine minutes. There is simply no way how Norway can throw this game out of the window now, as they are leading 23:11, with only 15 minutes left.
15:37 CEST Uruguay seize the initiative
Uruguay, who were down by two goals at the break, started a chase after the restart and drew level at 17:17 in the 40th minute before taking their first lead in the match. Goalkeeper Virginia Antoria, who replaced Lucia Fernandez, helped her team to improve, as she has already made four saves. Midway through the second half, Uruguay lead 18:17, but it is still anyone's game, so the remaining minutes promise to be entertaining.
15:04 CEST Half-time: Norway vs Brazil 14:8
Brazil's attacking efficiency is what let the South American team down in the first half, as they could only convert 36% of the shots they made throughout the 30 minutes elapsed in the game up until this point. Adding four more turnovers was not ideal, as they really struggled ahead of a strong, cohesive and well-organised defence. But the game is not lost for Brazil, despite being down six goals at the break, 14:8. Yet they will need more from their team, especially from Kelly Rosa, the top goal scorer of the 2022 South and Central America Women's Youth Championship, who scored only two times from five shots.
In fact, Norway have not impressed at all in the first half, but have definitely been the better side here. Whether it is about experience or just a better day on the court, the European powerhouse, coached by a former star Kristine Lunde-Borgersen, managed to dominate the match even without shining. Wing Nicoline Jullumstro scored four goals for Norway, exactly half the amount of what Brazil managed in this game.
15:05 CEST Half-time: Czech Republic vs Uruguay 14:12
Czech Republic's results in the recent friendly matches were disappointing, but now it looks like the European team has a fair chance to open their World Championship campaign with a good result. After a somewhat slow start, they managed to improve their game, which resulted in a two-goal lead at the break.
At some point, the Czechs led by a bigger margin, 10:6, yet Uruguay did not give up and cut the deficit before the break, so an exciting fight is likely to continue in the second half.
14:59 CEST Full-time: Portigal vs Faroe Island 29:24 (15:13)
Faroe Islands could not build on their great first half. Their goal-scoring efficiency dropped from over 70% to 55%. Portugal, too, slackened off at the end and were no longer as good at taking their chances, but with a lead of between five and six goals, they were also able to manage. In the first 30 minutes, they could not afford to do that.
Faroe Islands` Lukka Arge is one to watch. She was the top scorer of the game with 10 goals on eleven attempts. This shows that last year`s W17 EHF championships, where she scored 30 goals in 5 games, was definitely not a one-off. For Spain, Constança Sequeira was the most successful. She scored eight times in nine attempts. 
Tomorrow, Denmark will be a tough opponent for the debutants. Portugal have to compete with Austria.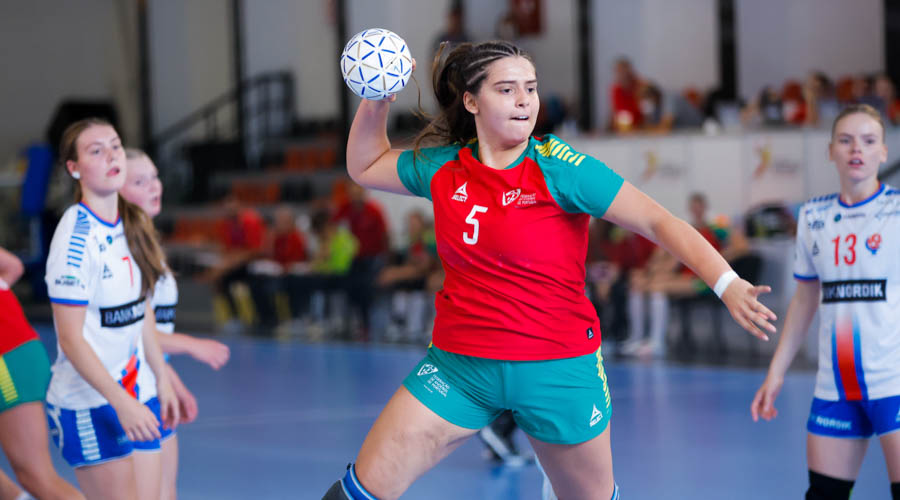 14:50 CEST Slow start between Norway and Brazil
This has been a slow start for both teams, as Norway and Brazil turned the ball over too many times, while their attacks have been far from productive. Norway used a 4:1 run to create a four-goal lead, but this is not the typical Scandinavian side, with a fast-paced attack and very good fast breaks. Instead, their attack has been relying on their backs, but it was their defence who really shined, preventing Brazil to score more than seven goals in the first 20 minutes of the match.
Goalkeeper Dina Frisendal has saved four shots for a 36% efficiency, while Brazil's goalkeepers have not been too good until now, with only a shot saved. And the South American side just lost back Eduarda Borges to an injury, as she needed to be carried off the court and could not put weight on her right knee.
14:47 CEST Czech Republic pull in front
Both Czech Republic and Uruguay are playing their first match at this level since 2012, so obviously, each team wants to open their campaign with a victory. While the rivals are fighting hard, both defend better than they attack, and the game has been rather low-scoring so far. However, Czech Republic have somewhat improved their attack in recent minutes, and they are in front 6:4 after 15 minutes.
14:40 CEST Portugal pull away 
Portugal started the second half better. They now lead by five goals. Faroe Islands, on the other hand, are now only scoring on just under every second attempt (goal-scoring efficiency 55%), too little to seriously threaten Portugal. Their goalkeeper Matilde Rosa now has 10 saves to her credit, almost a 50% rate. On the other side, Silja Arngrimsdottir Müller stopped only 6 of 29 shots on goal. That is also too few. Can Faroe Islands fight their way back into the game or will they have to pay tribute to their inexperience?
14:07 CEST Half-time: Portugal vs Faroe Islands 15:13
The game between the two teams is still exciting. Faroe Islands fought their way back and not only equalised after 20 minutes, but also took the lead again shortly afterwards. But the lead did not last long. Portugal scored at 12:12 and extended the lead to two goals again. A long period of scoreless play followed. Six minutes later, Júlia Figueira scored to make it 15:12, before Barbara Hammer was able to cut the deficit before the break. 
Lukka Arge was the most successful scorer for the Northern Europeans with five goals on five attempts. Spain's Constança Sequeira was also successful five times but missed one chance. 
13:58 CEST Full-time: Sweden vs Iceland 17:22 (9:11)
Iceland deserved their maiden win at the World Championship, playing with a lot of fighting spirit and commitment. Goalkeeper Ethel Bjarnasen, who replaced Ingunn Brynjasdottir in the first half, stood like a wall, saving 14 shots for an amazing 64% save efficiency.
Sweden, who had conceded three hard losses at the recent Scandinavian Cup, again did not live up to expectations, as their shot efficiency stood just at 40%. Tea Kylberg became the top scorer of the game with seven goals and was elected the Player of the Match, but her effort was not supported by her teammates.
Tomorrow Sweden will try to bounce back against Algeria, while group leaders Iceland and Montenegro, who are both on two points, will face each other.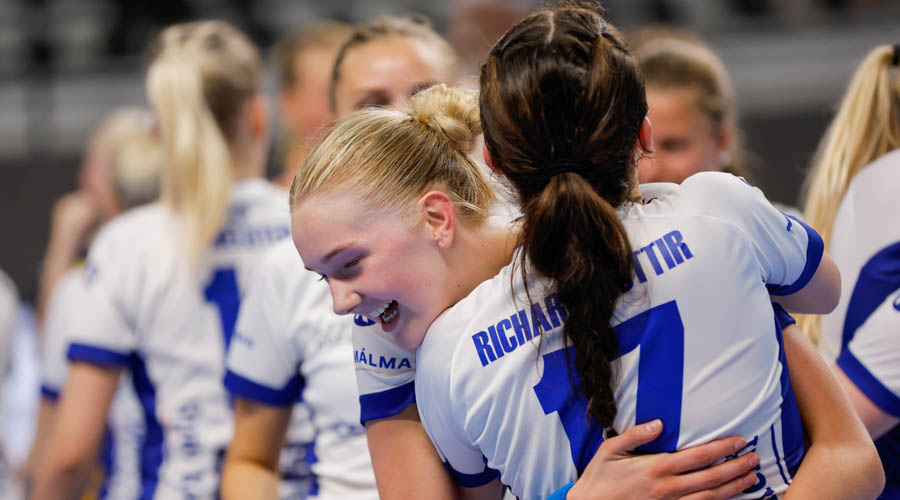 13:57 CEST Full-time: France vs Spain 31:28 (16:14)
"We are still in the game, fight until the end. We are still here." Those words were extensively repeated by Spain's bench throughout the second half, trying to motivate the team, despite France's domination. For some part, it worked, because Spain cut the gap to only one goal, 23:24, with 11 minutes to go in the game. By that time, France looked flummoxed, could not get going in attack and the momentum totally shifted towards Spain.

But some magic from the recipient of the Player of the Match award Lylou Borg helped France seal the win, 31:28, in the first match at North Macedonia 2022. Indeed, Borg finished the match with 10 goals from 10 shots, three assists and three earned penalties, having a direct hand in 61% of France's goals. It was a performance for the ages for the diminutive back, who carried her team to the win.

In the toughest group in the competition, France's win means that Spain will virtually need to win against Hungary and Argentina to secure safe passage to the main round. However, the progress of this generation has been nothing short of impressive in just a short time, so the future looks bright for the young "Guerreras".
13:48 CEST Tight game between Portugal and Faroe Islands
At their first IHF, Faroe Islands scored the first goal of the match. Until the 3rd minute they were able to keep Portugal at two goals distance. After that, the southern Europeans got into the game better and even managed to equalise in the 8th minute. Another four minutes later they had turned the game in their favour. Portugal then took the lead through a goal by Carmen Figueirdo, who had already made her debut in the senior team. They extended this lead to two goals in the meantime. But the Faroe Islands did not let themselves be shaken off and the score was 10:9 after 15 minutes. 
You can see how evenly matched the game is by the fact that both teams have a goal-scoring efficiency of over 70%. While the two goalkeepers have not yet been able to shine, Mathilde Rosa has only saved 2 shots for Spain, her team-mate Rita Guimaraes only one. Faroe Islands' Silja Arngrimsdottir Müller made three saves. 
13:38 CEST Iceland edge closer to maiden win
After the break, Iceland continued where they had left off. Solid defence and a few further saves by the brilliant Ethel Bjarnasen propelled them to a 16:12 lead midway through the second half.
Sweden are obviously not in their best shape, which was already suggested by their poor pre-tournament results. They have only scored three goals in the second half so far and need to improve a lot in the remaining quarter of an hour to avoid a defeat.
13:34 CEST France stay in total control
Spain's attack totally collapsed at the start of the second half, as they only scored once in the first seven minutes, prompting an immediate timeout from their coach. This is looking increasingly more like France's game to lose, with "Les Bleuettes" totally dominating in defence after a shaky start.
The first match in such a tournament usually proves to be one of the hardest and Spain were coming in hot, with very good results in friendly matches, including a win against Germany. But their mistakes have been piling up, with 16 turnovers in the first 43 minutes. Therefore, France are cruising to the win, leading by six goals, 23:17.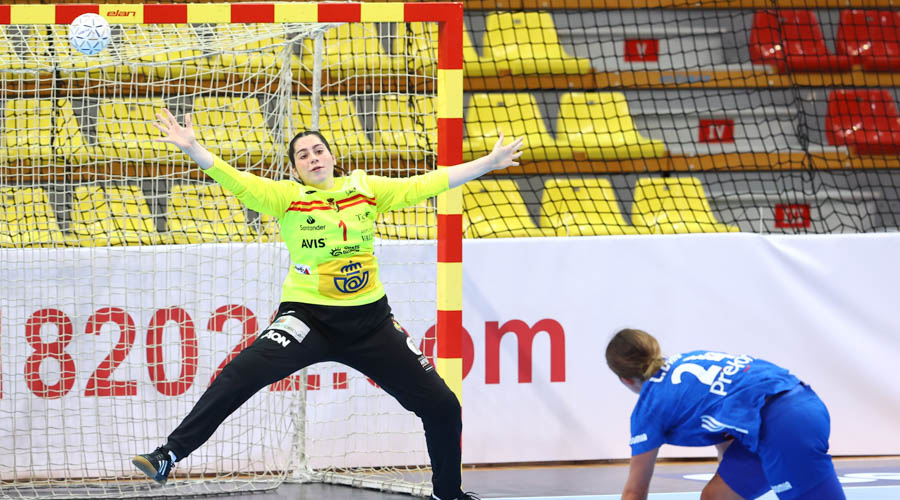 13:10 CEST Half-time: Sweden vs Iceland 9:11
Sweden, who won gold in 2010, are playing their sixth straight IHF Women's Youth World Championship, while Iceland are debutants at this level. However, this difference in historic record hardly translated into an actual performance of both sides in the first half.
Iceland were a better side before the break, boasting a 73% goal efficiency compared to Sweden's meagre 36%. Lilja Agustdottir, who scored their first goal at this level, went on to net three more times, while no Swedish player managed to score more than twice in the opening 30 minutes. Besides, goalkeeper Ethel Bjarnason entered the game well, making five shots. So Iceland's lead looks quite deserved, yet this game is still very open.
13:05 CEST Half-time: France vs Spain 16:14
Back Lylou Borg has been nothing other than outstanding in this match, scoring seven of France's 16 goals in the first half, while also earning two penalties and delivering two assists. Borg had a direct hand in 11 of France's goals, or a 68% of her team's goals. It has been a good first half for "Les Bleuettes", who even led by three goals, 12:9, in the 21st minute, but found themselves with a two-goal lead, 16:14, at the break.
The main issue for Spain was that their goalkeepers saved only two shots, the first which came after 26 minutes, enabling France to score some easy goals during the match. This will be a crucial win for Olivier De Lafuente's team, as progressing to the main round is now closer. But Spain are not a team that can be easily neglected. They had a very good efficiency from the wings in the first half and can spring a surprise or two if they are not properly contained. But with Borg in outstanding form, France are favourites to win the match.
12:48 CEST Debutants Iceland fighting hard
Iceland, who are playing their maiden IHF Women's Youth World Championship, opened the score, as Lilja Agustdottir scored their first goal at this level in the third minute. Sweden have much more experience, as this is their sixth straight World Championship, and they tried to seize the initiative. But as both rivals have a lot of turnovers, the fight has been very tight so far. 15 minutes into the match, the teams are level at 6:6, and no team really has an advantage.
12:46 CEST Great start for Spain and France
For two teams that pride themselves on defence, who have a defence-first mentality in all age categories, this has been a totally uncharacteristic start. A fast-paced, high-octane game is on the cards now, with Spain leading throughout the first minutes, as nine goals have been scored until the seventh minute of the match. These two teams show no pride in how big they are, but rather in their speed and creativity
France's left back, Lylou Borg, has been nothing short of impressive, scoring five times, but France have still been lacking some impetus in defence at times. Yet immediately after they started to force some turnovers from Spain, the game changed. Spain failed to score for five minutes and 52 seconds, but France could not open more than a 2:0 unanswered run. Therefore, after 15 minutes, Spain and France are tied, 7:7.
12:00 CEST Full-time: Croatia vs Egypt 31:33 (11:15)
After beating Slovakia and Czech Republic in pre-tournament friendly matches, Egypt showed that they are in good form, defeating another European side in their opening match of the World Championship. After taking an early lead, the Africans did their best to maintain an advantage, and while Croatia tried hard to draw level, all they could do was close the gap to two goals in the last minute.
Mariam Omar Ibhahim was Egypt's heroine of the day, scoring 11 goals, including four from 7m spot. For Croatia, Andela Zadar netted 10 times, and Ema Novosel made just as many saves, yet their effort did not bring a positive result.
After this surprising win, Egypt lead Group D alongside Kazakhstan, who got a forfeit 10:0 win after their game with India was cancelled. Tomorrow Egypt and Kazakhstan will face each other, while Croatia will try to bounce back against India.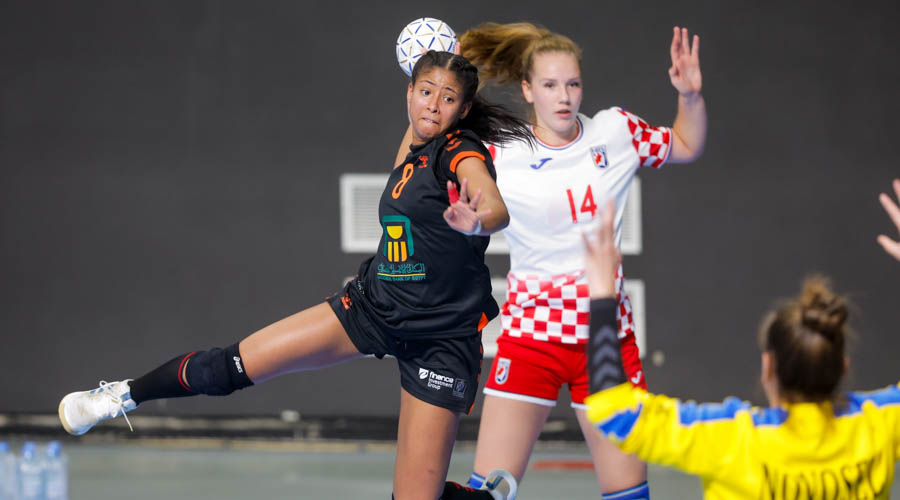 11:52 CEST Full-time: Montenegro vs Algeria 38:16 (20:7)
The first game in history for Algeria at the IHF Women's Youth World Championship was thoroughly difficult for the African side, whose lack of experience proved decisive in the match against Montenegro. A strong 8:0 start for the European side set the tone for what was going to follow, a match totally dominated by Maja Savic's side, who basically ticked all the proper boxes: a strong defensive performance, good training for the next matches against Iceland and Sweden, the largest win in history and the largest number of goals scored in a single game in the competition. Eventually, Montenegro clinched a clear 38:16 win against Algeria.
Montenegro, whose goalkeepers – Marija Marsenic (15 saves for 71% saving efficiency) and Aleksandra Bazovic (nine saves for 50% saving efficiency) – have starred, have now secured the first win at North Macedonia 2022, their first winning start at the IHF Women's World Championship since 2014. Things are looking on the up for a generation that looks promising, but yes, the true tests will start in the next days.
11:40 CEST Egypt continue to dominate
While Croatia entered the second half with the hopes to turn the tide, Egypt continue to show a good game. 15 minutes from full time, they are still in front, 26:22.
In terms of shot efficiency, the difference between the rivals has shrunk, as Egypt now has 66%, and Croatia 57%. However, the African team have the upper hand and hope to clinch a victory.
11:34 CEST: Montenegro aim to beat their largest win ever
As coach Maja Savic changed the lines for Montenegro in the second half, giving meaningful minutes to all of her players, the gap stabilised in the region of 13-14 goals throughout most of the second half. Algeria passed the 10-goal mark after 39 minutes, but they are still conceding too many turnovers, 12 until the 45th minute, with six coming from centre back Dalila Aini.
The gap is surely insurmountable, 29:13, after 45 minutes, but the main question now is whether Montenegro will seal their biggest-ever win at the IHF Women's Youth World Championship. Right now, the record is an 18-goal win, 29:11, against Portugal at North Macedonia 2014. It sure looks like this will be beaten this morning in the "Boris Trajkovski Sports Center" in Skopje.
11:11 CEST Half-time: Croatia vs Egypt 11:15
After a poor start, a time-out in the sixth minute helped Croatia to wake up and stabilise their game. However, the inspired Egyptians continued to have the upper hand, and they deservedly lead by four goals at the break.
Egypt have a 71% shot efficiency, compared to Croatia's 50%, and Mariam Omar Ibharim led their attack, having already scored six goals. The African team can be proud of their performance in the first half, yet there are still 30 minutes to be played, and no doubt Croatia will try hard to turn things around.
11:05 CEST Half-time: Montenegro vs Algeria 20:7
Montenegro's goalkeeper, Marija Marsenic, put on a masterclass in goalkeeping in the first half against Algeria, saving 14 shots. Including two of the three penalties she faced, for a 70% saving efficiency. It was, basically, one of the deciding factors of the first half, but the gap was so big between the two sides, that any other turnout is impossible to entertain.
In their maiden game at the IHF Women's Youth World Championship, Algeria learned the hard way how better teams play, as their attack could not find the decisive pass to create superiority. The gap in class between these two sides is huge, but it will be interesting to see Montenegro playing against Sweden and Iceland, two games that will shape up their competition. But until this point, everything looks fine for Maja Savic's side.
This is the largest difference that Montenegro created at half-time in this competition, beating the previous record, nine goals against Kazakhstan in 2012, 22:13, by four goals.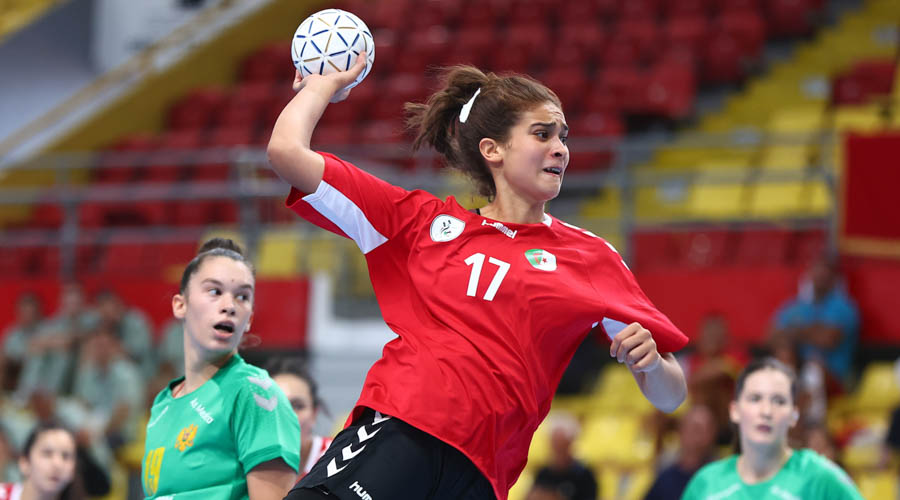 10:48 CEST Egypt enjoyed a better start
In the third minute, Egypt's Mariam Omar Ibrahim opened the score from a 7m shot, and it was the first goal at Jane Sandanski Arena in the current tournament. The enthusiastic African team went on to take a 4:0 lead, forcing Croatia to take an early time-out. It helped the Europeans to improve, yet Egypt are still in front after 15 minutes, 9:6.
11:43 CEST Flawless start for Montenegro
It is the stuff of dreams, as every team wants to start a game like this. Montenegro's defence looked totally flawless, as they stopped Algeria in their tracks, forcing turnovers at every point throughout the first part of the match. It was a difficult start for the rookies, who scored their first goal after nine minutes. By that time, Montenegro were up 8:0, basically deciding the game in just a short outburst.
Centre back Nada Micevski was in superb form, scoring three goals, as she was the fulcrum of Montenegro's attack, while left wing Lana Pavicevic added two more goals. It's all Montenegro now and they could not have wished for a better start.
10:28 CET Croatia to face Egypt at Jane Sandanski
While the match between India and Kazakhstan was cancelled, the two other teams from Group D, Croatia and Egypt, will open the six-game Saturday programme at Jane Sandanski in a few minutes. Croatia are probably the favourites, but Egypt also hopes to start the tournament with a win. Let's see what happens!
10:15 CEST Five talking points – more information about North Macedonia 2022
Who are the players to watch? What impact will the 32-team line-up have on the competition? Who are the favourites at North Macedonia 2022? Every subject has been long debated in this article – the talking points before the start of the competition. Are you interested to know more about the 2022 IHF Women's Youth World Championship?
10:00 CEST First game cancelled
Unfortunately, the current situation around the world is uncertain and that applies also to the current flight schedule, which can spring a surprise or two. The last teams arrived in North Macedonia last night, but it was too late for India, who could not find a connection to arrive in Skopje in time. Therefore, according to the rules of the competition, India forfeited the match against Kazakhstan, due to throw off the 2022 IHF Women's Youth World Championship, 0:10, as Kazakhstan are now on two points in Group D.
9:45 CEST All about North Macedonia 2022
Are you interested in everything at North Macedonia 2022? Don't worry, we got you covered. The preview for the first day is already online. You can also follow our Social Media channels, where every meaningful info will go up.
9:30 CEST How to watch
Want to follow the action in the arenas in Traijkovski and Sandanski? Then you can do so via live stream or partly also on TV.
Viaplay, for example, today broadcasts several matches like those of Sweden or Netherlands. AMC / Sport 1 will cover the matches of Hungary and Czech Republic.
9:00 CEST One and a half hour to go until the throw-off of the opening match
Ready? The start of the 2022 IHF Women's Youth World Championship is just around the corner, and we will have our first two games right away at 10:30 CEST, due to be played in the Boris Trajkovski Sport Center and the Jane Sandanski Sport Center, as Montenegro and Algeria throw off the competition in Group A, while Croatia and Egypt face off in Group D.
After four years, the best Under 18 teams in world handball are lining up for the competition and we will cover everything here, on ihf.info. The clock is ticking – there is no time to waste!