Greece 2022 wraps up with passionate clashes
19 Jun. 2022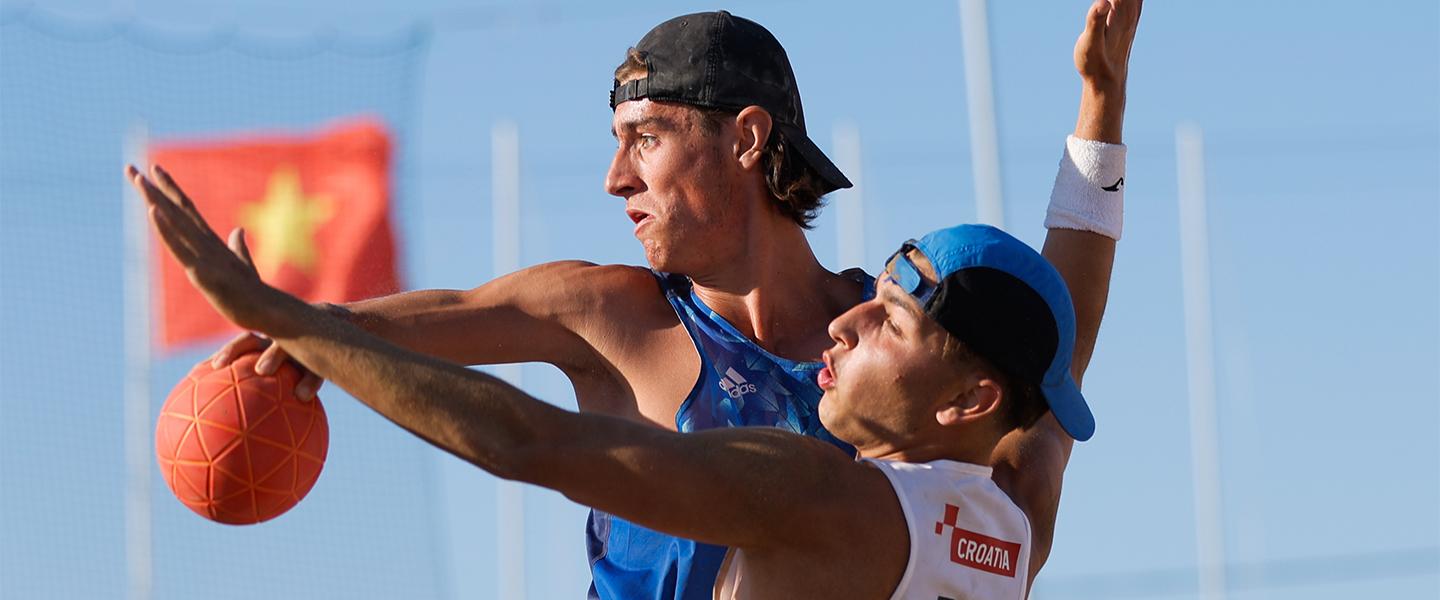 Live blog: Croatia are 2022 IHF Men's Youth Beach Handball World Championship winners.
Croatia win shoot-out final
Brazil finish with second spot
Iran grab bronze
Three continents win the medals
All-star Team announced
Today's matches:
09:30 EEST 7/8 Germany vs Spain (1-2) / 11/12 Czech Republic vs Jordan (2-0) / 15/16 Togo vs United States of America (2-1)
11:10 EEST 5/6 Ukraine vs Argentina (0-2) / 9/10 Sweden vs Qatar (2-0) / 13/14 Greece vs Uruguay (2-0)
17:00 EEST Bronze-medal match: France vs Islamic Republic of Iran (1-2)
19:00 EEST Gold-medal match: Croatia vs Brazil (2-1)
Ranking tracker:

1 Croatia, 2 Brazil, 3 Iran, 4 France, 5 Argentina, 6 Ukraine, 7 Spain, 8 Germany, 9 Sweden, 10 Qatar, 11 Czech Republic, 12 Jordan, 13 Greece, 14 Uruguay, 15 Togo, 16 USA
21:06 EEST See you in 2024!
That's it, 72 games completed in the men's championship and Croatia are champions.
Thanks for following and see you in two years (or two days when the senior championships start)
20:40 EEST All-star Team announced
On the final day of the 2022 IHF Men's Youth Beach Handball World Championship, the Greece 2022 Men's Youth All-star Team has been selected by the IHF Beach Handball Working Group. The selection is based on performance throughout the tournament.
Six national teams are represented among the individual positions, plus a seventh team that has received the Fair Play Award. 
MVP: Lars Zelser, Germany
Best goalkeeper: Antonio Kranjcevic, Croatia
Best left wing: Eduardo Escobedo Romero, Spain
Best right wing: Luka Glavendekic, Croatia
Best specialist: Yalles Lara Caetano, Brazil
Best pivot: Ali Heidarian, Islamic Republic of Iran
Best defender: Adrien Oulieu, France
Top scorer: Lennart Liebeck, Germany – 143 points
Fair Play Award: Togo
19:59 EEST Croatia captain full of emotion
Vigo Konforta spoke to ihf.info moments after winning the world championship.

"I can't talk," he said. "This is my dream, this is what we were working for. This is everything, we feel incredible I don't know. We can't wait to put the trophy up…I don't know, it's incredible."

And when asked about his thoughts on his teammates?

"These guys, they are everything I love them. We made this together. We fought."

And his coach, Stjepan Babic?

"He's the master of everything, he's the head of everything."
19:44 EEST Croatia are world champions
They beat Brazil 9:6 in the shoot-out now which was full of drama - including an actual penalty when Pedro Santana Raposo saved with his leg outside of the area.
A six-metre was awarded and Josip Tomic scored to put his Croatia side 4:0 ahead. They never looked back, winning 9:6.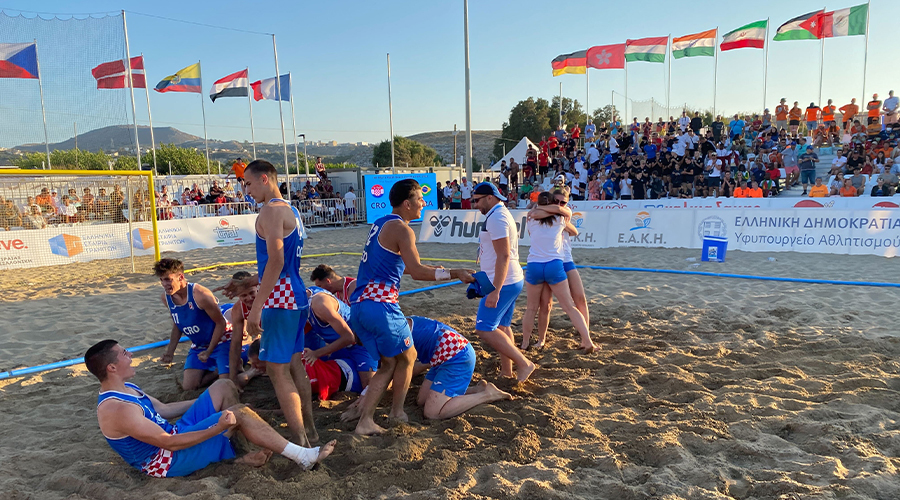 19:34 EEST A shoot-out for gold
Brazil pulled away from Croatia midway through the second period and after that point (12:4 up) they never looked back as the second five minutes passed by without incident or worry for the South Americans.
It's 1-1 and a shoot-out.
19:17 EEST Croatia do enough to take first period, they're 1-0 ahead
Anyone who has followed beach handball for more than five minutes knows the rivalry in the men's game between Brazil and Croatia.
Finally, it has come to the youth world championships and it's a cracker.
After a few stoppages here and there the first period has come to an end and despite a last-second two-pointer, it was not enough for Brazil as Croatia kept a one-point lead to win the first period.
There have been amazing saves, steals and a lot more - another great final has followed the women's earlier.
Let's see what will happen in the second period.
19:00 EEST Croatia and Brazil jump off for gold
It's started. Match 144 of 144 in the men's and women's youth world championships is underway.
Brazil take on Croatia for gold.
18:16 EEST The Iran quote is here...
"It is an historic moment for us, a great accomplishment to win this bronze medal," said Mehdi Ghashghaeirad to beachhandballheraklion22.gr

"We were nervous, but we managed to overcome the pressure with our performance in the first set. We all wanted to win desperately. We fought hard and we won. Congratulations to my players."
17:56 EEST Waiting for a quote from Iran...
The coach of Iran is the only person in the delegation speaking English but he was taken away a little bit too early for some translation work with the post-match procedures. We waited for 20 minutes with Arad, the matchwinner patiently but still nothing.
We will see what we can do. Arad just said "calm" about his winning strike. That's problem enough to be fair.
17:36 EEST Iran win bronze with a golden goal
They have taken the second period 19:18, to win 2-0. Arad Hosseini Gohari only scored one point in the game, but it was the most important one.
He sinks to the ground, flat on the sand.
While he is having a rest, the rest of his players pick up coach Mehdi Ghashghaeirad and throw him up and down in celebration.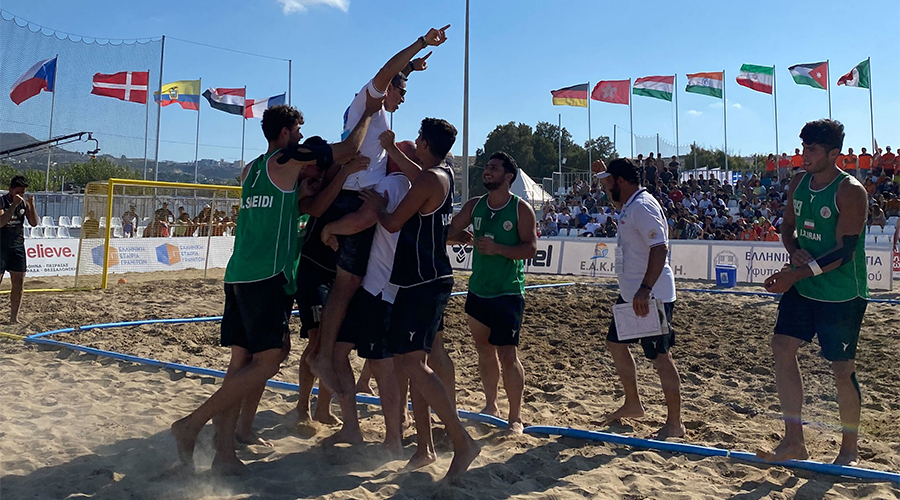 17:16 EEST Half-time and Iran with a hand on bronze, ahead against France
The Asian side lead the Europeans 1-0 at the break, thanks to a 20:16 first period win. But it has not all been plain sailing for Iran. 
14:8 ahead, Hossein Heidarian was disqualified with a red card and France mounted a comeback, of sorts, but it was not enough.
17:00 EEST Iran vs France is underway
Who will win bronze? Watch on our YouTube channel now.
15:39 EEST Ever wondered what a beach handball court looks like all nicely brushed and smoothed over?
Did you? Wonder no more.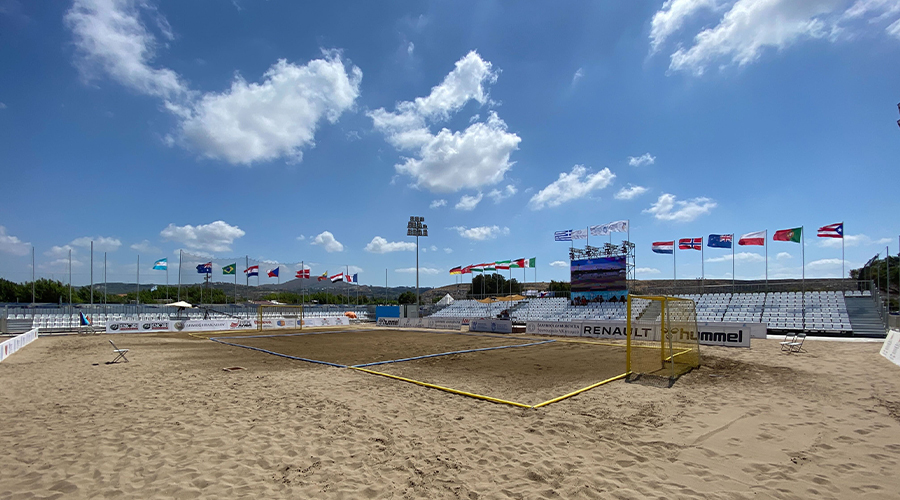 11:45 EEST That's it until the medal matches at 17:00 EEST, see you then!
70 games down, two to go - four teams and three medals. Join us later.
11:37 EEST Host nation finish 13th
The three 11:10 games have just finished and all were 2-0 victories. Argentina take a top five spot, Sweden finish ninth and Greece are in 13th.
10:24 EEST Togo, Czech Republic and Spain end their campaigns with wins
Togo record their second, successive IHF Men's Youth Beach Handball World Championship with a win to their name. They had to do it the hard way - via a shoot-out. In the sixth round of shots they went ahead 10:8 and after, pressurising the final USA attacker, they forced a technical and could celebrate.
They finish 15th, overturning an earlier consolation round defeat to the US. This means all 32 teams in Greece for both the men's and women's championships have won at least one game here in Heraklion.
A number of teams, including Qatar and Sweden, were watching the shoot-out over here on court 3 which is right by the athlete entrance when they arrive on the bus.
Once Togo had won, they applauded the team which has just six players here in Crete.
After starting so promisingly, with a shoot-out win over Spain, Jordan lost against the Czech Republic for a second time, to finish 12th.
Title-holders Spain can call themselves that for around nine hours more, they beat Germany in a shoot-out to finish seventh.
10:04 EEST Could Togo win their first game at Greece 2022?
They won a couple of games at Mauritius 2017 and now they have a chance to win their first here.
09:30 EEST Can Togo make it a full house of winners at Greece 2022?
31 of the 32 teams in Heraklion in both the Men's and Women's Youth Beach Handball World Championships have got at least one win. The only nation who hasn't yet? Togo. 
Will they be able to change that now against USA? 
09:10 EEST The final day has arrived
How time has flown! It seems like yesterday that the teams played their first matches at the IHF Men's Youth Beach Handball World Championship but it is true, we will already determine the world champions today – and it will be a brand new one. 
But before the top three teams will be known later in the day, as three continents play for the medals, places 5 to 16 will be determined in the morning at 09:30 EEST and 11:10 EEST. 
Read more about today's clashes in our preview here.