Kepesidou: "This world title is not a burden for us, it's an eternal light."
20 Jun. 2022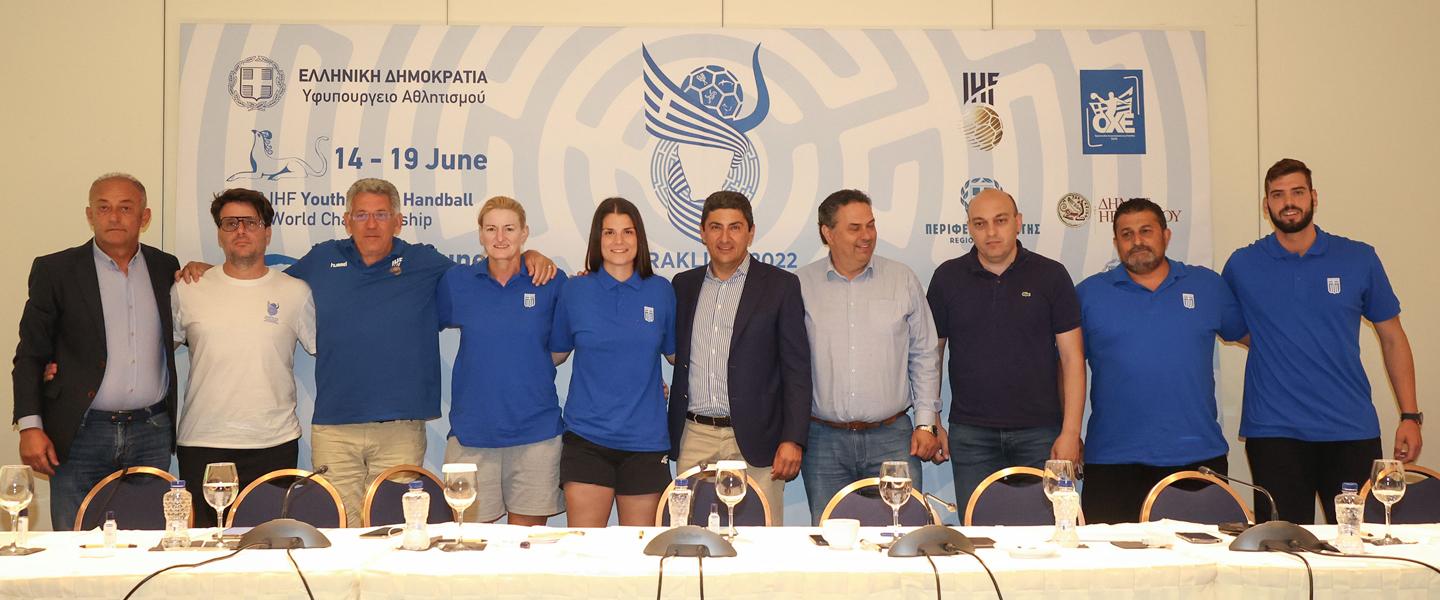 Today marks the rest day between the end of the 2022 IHF Men's and Women's Youth Beach Handball World Championships which finished yesterday (Sunday 19 June) and the beginning of the 2022 IHF Men's and Women's Beach Handball Championships which start tomorrow (Tuesday 21 June).
To celebrate the championships, a special media conference was held with a number of dignitaries attending earlier today.
Magda Kepesidou, 2018 IHF Women's Beach Handball World Championship gold medallist:
"It's been four years since the last World Championships and I still remember how we celebrated, how it felt back then.
"I will never forget it as long as I play handball," she added with her customary, wide smile. "This world title is not a burden for us, it's like an eternal light. 
"We were looking forward to defending our title in 2020, but due to the pandemic the World Championships were cancelled. I don't feel nervous (before Greece 2022), on the contrary, the gold medal we won in 2018 keeps us alert to finish in an equally high position in this tournament. "
  
Vasiliki Skara, 2018 IHF Women's Beach Handball World Championship gold medallist, now coach with Greece national teams:
"I was already old when we won the world title," she said. "But once a world champion, always a world champion. I feel I am blessed, we are all blessed, having lived this great success.  We will never forget it.
"Although I competed at the 2004 Olympic Games, the world championship medal is unique. I have no words to describe the feeling. I hope the national team will continue thriving, there are good players in the team. This doesn't mean they need to win again, although we dream of it.
 
"Now, it's an honour to be part of this team regardless of your role. When interacting with youth players it makes me feel young again, although the youngsters see me like a role model. I think I am an inspiration for them, hence the HHF put me in this position."
 
Theodoros Boskos, Greece men's national team player:
 
"It's important for us to have the support of the local fans, especially at a world championship that's taking place in your own country - the players will be extra motivated. 
 
"Fans get engaged with handball and beach handball from the very first moment. It's the speed, the spectacle, that makes people who watch handball for the very first time come and watch it again. 
"These facilities here in Heraklion are fantastic, one of the best in Europe. I am sure the fans will come and cheer for us will help us get victories and in the end, we will celebrate together."
Ioannis Lazaridis, Greece men's national team coach:
"We're all looking forward to participating at these world championships. This is the first time Greece will host them. The gold medal the girls won four years ago is a great motivation for our team.
"Our first target is to reach the quarter-finals and then anything can happen. I'm expecting fans and supporters to come and support the team because they need their support. The team is experienced with most of the players playing both indoors and beach."
Konstantinos Gkandis, President – Hellenic Handball Federation:
"Beach handball is becoming ever more popular and it will be even more popular after this championship. I want to thanks everyone who helped make this event happen – the Ministry of Sport, the region, municipality and all the sponsors. Without their help, we couldn't have done this event. 
"I want to also thank Giampiero Masi, Chairman of the Beach Handball Working Group, for the perfect communication and cooperation because it's a difficult event (to organise) because everything is happening very fast.
"Greece today can be considered a superpower because we have won a world title and two gold medals at the Mediterranean Games. We will do everything we have as a federation to also help the help the indoor team reach the same level. I want to end by thanking the volunteers."
Photo: Stefanos Rapanis, Translation: Vassilis Georgiotis / Hellenic Handball Federation