Spain with work to do as men's preliminary round stage concludes
15 Jun. 2022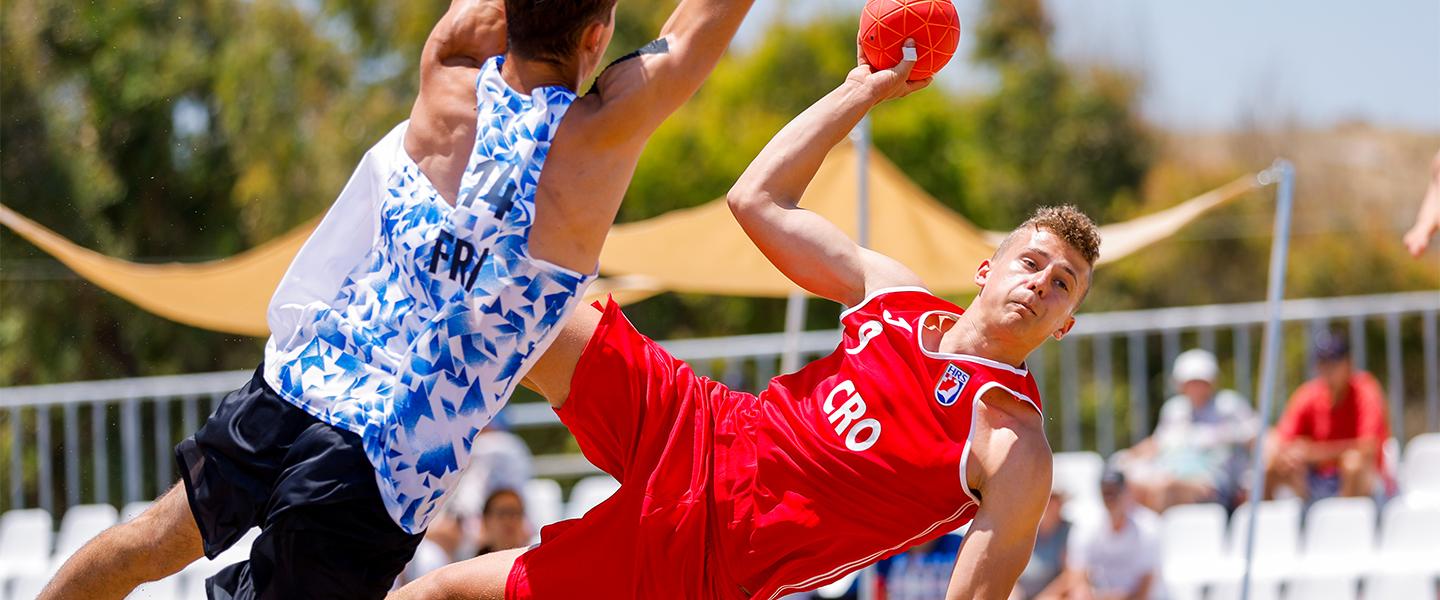 Live blog: The last day of preliminary action at the IHF Men's Youth Beach Handball World Championship is finished and we look forward to another action-packed day in Heraklion tomorrow. 
Today's matches:
11:20 EEST Togo vs France (0-2) / Brazil vs Croatia (0-2)
15:00 EEST Sweden vs Islamic Republic of Iran (2-0) / Qatar vs United States of America (2-0)
16:40 EEST Ukraine vs Argentina (1-2) / Germany vs Uruguay (2-0)
17:30 EEST Spain vs Greece (2-0) / Jordan vs Czech Republic (0-2)
18:20 EEST Brazil vs Togo (2-0)
19:15 EEST 48 games down at Greece 2022, 96 to go!
That's it for today! We are one-third through the total of 144 games which make up the IHF Men's and Women's Youth Beach Handball World Championships in Heraklion.
The main and consolation rounds start tomorrow, it's time for a reset and refresh for all 32 teams.
Many stories have been written already and more are to come.
19:10 EEST Raposo: "Brazil has beach handball idols all over the country, we are getting stronger"
Brazil's Pedro Santana Raposo was a relieved man after his side secured a victory over Togo to progress through to the main round.
"We are really grateful now because we are going to the main round," he said after their 2-0 win.
"We can improve more in the next part of the competition, we can get stronger and go for the title."
Brazil had lost their first two games, against France and Croatia, a very untypical start for a Brazilian beach team at a world championship.
"We were too nervous and not feeling the championship already," explained Raposo about the double loss.
"After this game (Togo), we are better and improving game by game. We are always together as a team and this is what makes us strong. We have good teams in the main round, but we are getting stronger and we are going to win this championship."
And a word on wearing that famous shirt?
"It's a pleasure," he said. "We have idols all over our country, different states and different parts of the planet and we're really grateful to represent this country in this championship. We want to say thank you to all our fans, they are always supporting us."
18:49 EEST It's all over on court 3
Brazil left it late but they have qualified for the main round, taking a 20:10 second period win to beat Togo 2-0.
They will now reset ahead of their main round campaign.
18:42 EEST Togo to go out?
Togo have a lot to do in this second period if they are to force a shoot out and keep their chances of progression alive. They lost the first period and are now 3:12 down against Brazil in the second with four minutes remaining.
In the meantime, the senior teams of Qatar and Greece are playing a warm-up game here. Watching on is Maria Karantoni, the 2018 World Championship winning women's coach.
18:20 EEST Three teams unbeaten so far, last main round team to be decided.
Sweden, France, Germany. These are the only unbeaten teams in the men's championship so far.
There is just one game left in the preliminary round and it's a big one, with the winners going through to the main round: the rearranged fixture between Brazil and Togo. It throws-off now, at 18:20.
18:10 EEST Not enough for the Czech Republic
An impressive 2-0 win over the already-qualified Jordan was not enough for the Czech Republic team as their fate was already sealed before the games today.
After they lost 1-2 to Greece yesterday, the host nation had the head-to-head record, so even though both ended on two points each, it is the host nation who go through to the main round.
Jordan and Spain end on four points each at the top, but Jordan beat Spain yesterday so they go through as table-toppers.
17:52 EEST Greece with it all to do in second period
The home nation are playing Spain and have lost the first period.  Czech Republic are leading Jordan in the parallel Group C game.
As it stands, Jordan and Spain are both on four points and through, with Czech Republic and Greece both on two, but with the head-to-head 2-1 victory over the Czech side, who will go out.
17:30 EEST Argentina are the shoot-out nation today
Both Argentina sides have won their third preliminary group games today via shoot-outs, the men now just overcoming Ukraine.
17:15 EEST Ukraine take Argentina to a shoot-out
After taking the first set the South Americans let the Europeans back in it.
16:00 EEST Qatar through to main round with a famous name in their ranks
After losing against Sweden and Iran, Qatar's qualification through to the main round at Greece 2022 was hanging in the balance. A loss against the USA would see them into the consolation round, and a win would see them into the main round.
They prevailed 2-0, and with it, will now face France and Croatia in main round group I, with the winners of Brazil and Togo later the third team they will face.
"It feels good," said Qatar goalkeeper Filip Danijel Saric about the qualification. "But still, there are a lot of jobs to be done. We have to look forward to our next games now, against France, Brazil and Croatia.
"We have to try and find a way to progress and to find the wins, to  win the three games. These three games are important to us. So you can try and manage to qualify to the quarter-finals.
"I still have to improve some things as a goalkeeper and as a goalkeeper and as a team defensively, offensively, some mistakes to be corrected but that's normal, but overall it was a decent performance.
"After every game, I look back at them and I see what I can improve on what I did well in and so the next game I can fix those mistakes and I can keep improving myself and my techniques.
"Our coach has been in beach handball for a long time. You can learn different tactics, different ways, different ways to shoot. He gives a good environment for the team and he makes the players improve."
And with a name like Filip Danijel Saric, we had to ask about his famous father, Danijel Saric who has won numerous titles and medals around the world, most notably with Barcelona in Spain and the Qatar national team.
"I'm just myself at the end of the day," said Saric junior. "I have his surname and his middle name but I want to make my own path and my name known in handball not because of who he is or what he has achieved. I want to achieve separate from him.
"It doesn't give me any pressure. I don't think anyone looks at me more. I want to be myself every time.
"I'm not sure if he's played beach, I never talked to him about that.
"It was a bit different," he added when talking about switching from his usual role in indoor, seven-a-side handball to the sand.
"Obviously, you have different rules and as a goalkeeper it's different. I just had to adjust and he (Danijel) supported me every part of the way. I still play indoor, that's my main (focus) I just come and help in beach."
15:36 EEST Sweden en route to a medal?
The European champions have been one of the most impressive teams here in Heraklion so far. They stepped up a level against Iran today, playing until the very last seconds in the first period to take that (26:25) and then pushing ahead in the second forcing an Iran time out as they extended their lead upwards, eventually winning 24:21.
However, coach Jesper Knutsson will be aware of some things to work with, they let Iran get close after that pause, but then what coach is ever fully happy, even after a win?
15:20 EEST Qatar in driving seat
The USA have it all to do now – they are one set behind and have to win the second to take it to a shoot-out and keep their main round dreams alive.
15:00 EEST The final chance for a main round spot
It is 15:00 in Heraklion and we have just 11 games left in the preliminary group stage – four in the women's competition and seven in the men's.
Those who don't go through to the main round will stay in Greece, but play in the consolation round.
In the men's competition Qatar play the USA, with the winners going through to the main round behind Iran and Sweden and there is also an equivalent play-off in the women's competition, with the winners of France vs Romania booking their last 12 ticket.
12:40 EEST A break in action
There are no more men's games until 15:00 today, when Qatar and the USA will play off for a main round spot, with Sweden and Islamic Republic of Iran already through.
Join us again then.
12:15 EEST Three matches and three 2-0 wins, France on fire on hot Greek sand
First it was Croatia, then Brazil, today it was Togo. France's men have overcome three continents and three opponents in their preliminary group. They now have a long break until their main round challenge starts tomorrow.
"We are very happy at this championship because we beat the big teams of beach handball, Brazil and Croatia, and now Togo, who are a good team who we are happy to play," said France's right win Sébastien Desbonnet.
France found out just over 40 days before Greece 2022 that they would be playing, with coach Patrick Teyssier telling ihf.info before the chmapionship that this meant they would not have too much time to overthink the games.
"I very much agree," said Desbonnet when asked if he thought the same as his coach. "During these 40 days we practised very hard in training and the work is paying off. I have a mission here, to finish better than at the EURO last year (they finished seventh), and get a medal (too)."
France is well-known for their indoor, seven-a-side success and Teyssier is using that storied history, mixing it with a sprinkle of sand to create a team who are turning into one to watch in Heraklion.
"In indoor, seven-a-side handball we have a very good experience for 30 years or so," he said. "We have good players of handball in general in France, so it's much easier to play beach handball. Both beach and indoor handball are very complementary.
"For France it is very important to practise both both beach and indoor for young players, it's very important for their formation. Beach handball and indoor handball may be two different sports, but they are very complementary."
11:20 EEST Two continents, two classic men's beach handball nations
It's the beach handball inter-continental classic – although nowadays we can expand this list.
Brazil and Croatia are playing on the central court and the Brazilian percussion sounds can be heard above the jets taking off at the nearby airport.
11:00 EEST Teams are getting ready
Less than half of the main round spots confirmed so far and we expect a day filled with thrilling matches. The teams are getting ready and we take a look at the group situation again. 
Islamic Republic of Iran and Jordan from Asia, plus three from Europe – Germany, Sweden and France – have already booked their main round tickets thanks to two wins each from two games on Tuesday.
This means that seven spots are still up for grabs and there's  a lot to play for. 
Read more about the match day in our preview here.