Historic semi-final sees Portugal and Egypt in first penultimate stage berth
15 Aug. 2019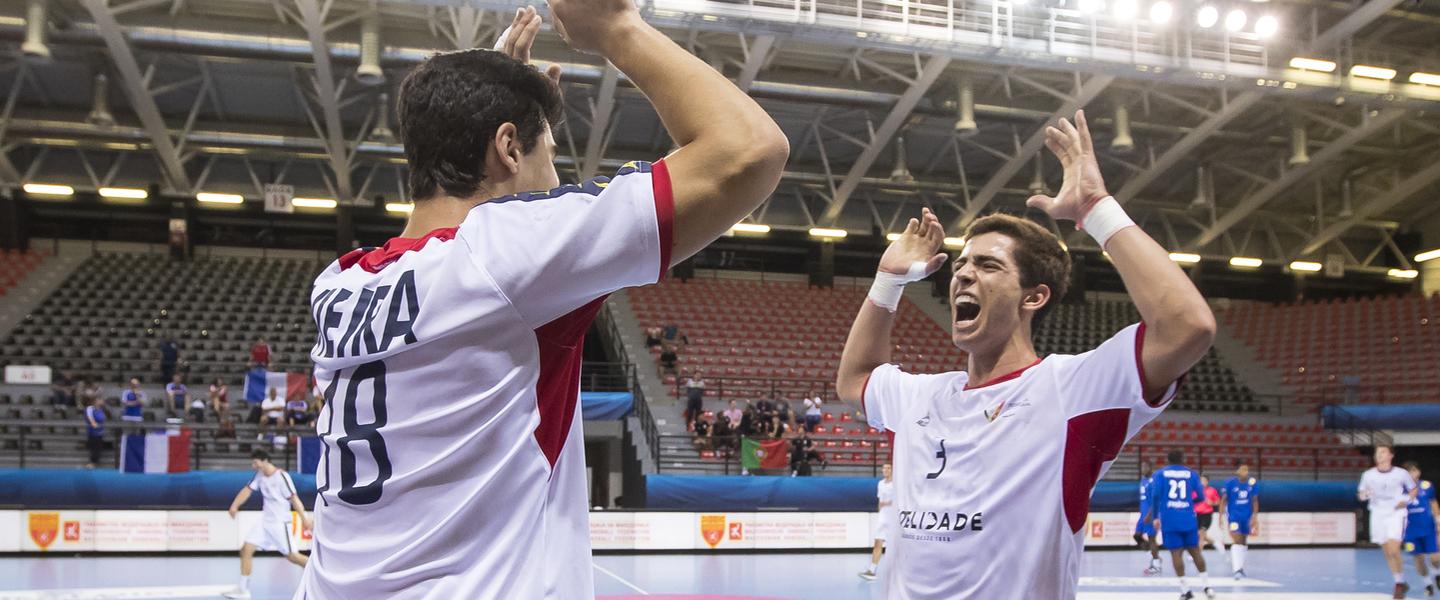 Neither Portugal nor Egypt have contested the IHF Men's Youth World Championship semi-final before. On Saturday, the two will clash in the opening semi-final in Boris Trajkovski Arena, making history for their respective nations. 
SEMI-FINAL
Egypt vs Portugal 
Boris Trajkovski Arena, 17:30 local time
Not only it is already a historic result for both teams in the IHF Men's Youth World Championship, but the two nations have reached both semi-finals played at World Championships this summer. Their U21 sides met just weeks ago in Vigo, Spain, after each was defeated in the semi-final stage. At Spain 2019, it was Egypt that secured the bronze medal, while Portugal placed fourth. 
"It's a very good feeling," said Egypt left back Hassan Walid Ahmed, who was one of several players also on court at Spain 2019, after reaching the North Macedonia 2019 semi-final. "The second time for me, but we want to go to the final." 
It is a remarkable achievement, particularly considering the Portugal U19 squad did not qualify for North Macedonia 2019 at first. After a 12th-place finish at the U18 EHF EURO 2018, Portugal secured a berth at the Youth World Championship as replacement for the continent of Oceania, which withdrew. 
Portugal were therefore in something of a perfect position arriving in Skopje – completely without pressure or expectations, and with a great chance to surprise their opponents. They did just that, defeating Germany, Iceland, Tunisia, Serbia and Brazil to end the preliminary round with a perfect record of five wins and first place in Group D. 
They were one of just three teams with perfect records, the other two being Denmark in Group C and now eliminated Croatia in Group A. 
In the eighth-final, Portugal beat North Macedonia 29:25, and were responsible for eliminating the defending champions France in the quarter-final with a 31:26 result. Portugal were led by huge games from Martim Costa and Andre Sousa, who scored 11 and nine goals, respectively. Their goalkeeper Alexandre Magalhaes also had a great game in combination with the strong defence, saving  13 shots. All three will undoubtedly be crucial in the semi-final against Egypt, but the team is strong all around.  
"I think we made almost a perfect game. France had no chance against us today. We were too strong for them," said Portugal coach Carlos Martingo following the win. 
Egypt have scored the most goals of any team in the competition, with a total of 235 in the seven games. The two sides have allowed a similar number of goals against them, with Portugal receiving 170 and Egypt 174. It is clear the teams will be defensively well-matched and each side's attack will need to be on top form, but with the quality on both sides a great match is assured. 
While Egypt finished on top of their group, they do not hold the same undefeated record as Portugal. They beat Sweden, Hungary, Chinese Taipei and Canada in Group B, but lost to France. In what was a highly competitive group, their four wins were enough to see them secure first position on the table, ahead of European champions Sweden in second. 
In the eighth-final, Egypt defeated Slovenia 30:23, then took a confident 35:31 victory over Iceland in the quarter-final. They can rely on the strongest goalkeeper in the competition – Abdelrahman Mohamed Homayed has made the most saves at North Macedonia 2019, with 72.