Perfect Denmark face Spain test 
15 Aug. 2019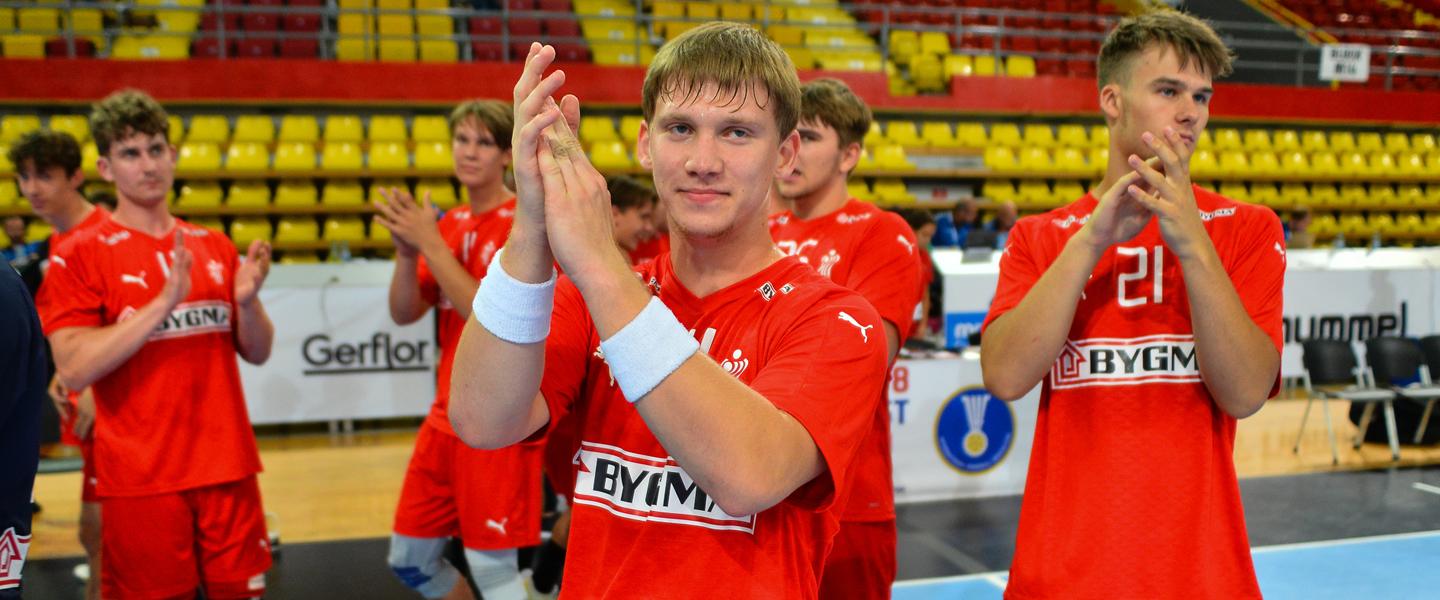 The Boris Trajkovski Arena in Skopje welcomes 12 teams today as the quarter-finals, 9-16 and 17-24 placement rounds conclude at the 2019 IHF Men's Youth World Championship in North Macedonia.
In the last eight, Germany take on Hungary, while Spain play Denmark. Both Hungary and Spain were impressive in their eighth-finals yesterday, while Germany and Denmark eased past their opponents to set up two intriguing knock-out matches
QUARTER-FINALS
Feature match: Spain vs Denmark, 20:45 local time
Boris Trajkovski Arena, Skopje
Little separates these sides in the M18 EHF EURO from last year with Denmark finishing in third and Spain fifth, but in North Macedonia it is a different story with the Danes winning all six games so far and Spain managing four wins a draw, and loss.
Both teams however do have something in common in Skopje – losing key players. For Spain, influential left back Alex Pascual was replaced on Monday, while Simon Sorensen had to make two changes for Denmark with the big loss of captain Simon Pytlick as well as Magnus Haubro Jensen. Both Matias Campbell and Jon Katballe came in yesterday for their comfortable win against Tunisia, but it was HF Mors' right back Mads Hoxer Hangaard who has been the most impressive 'addition' to the squad.
Having played just seven seconds against Japan, missing the next matches against Argentina and Nigeria due to injury he came back against North Macedonia, scoring six, and another six against Bahrain, before scoring seven against the North Africans. 
Despite only playing three games he has already grabbed two best player of the match awards – highlighting his importance to the team which is further exemplified by being giving the role of captain by Sorensen, a role he has with his club back in Denmark.
"I was injured the first three games as I hurt my back," he told IHF.info. "The coach told me to wait until the big matches and then we lost our captain and another good player, so the coaches took me as a captain and I just spoke to everyone, and now we're here - I have to step up and now we move on. 
"The two who have come in are very good and they were close to being with us from the start, but we have so many good players in Denmark and it's tough to get in the side, but they will come and do what they do. 
"Of course I am happy about winning the awards, but I play for the team and we are united, ultimately they don't matter for me.
"It's very nice to be in the quarter-final and we have to prepare well," he said. "I think we are looking forward to testing ourselves against a better team than we have played so far but even though I think we can beat anybody in this competition, we take every game as it comes."
At the end of every game, the Danish side celebrate and shout loudly, and they will be hoping to do it again after the Spain match later. "We always do it after every game because the fans are here and our parents here. We just love to play handball for the country, for our fans, and when we hear the anthem it's amazing. We like every game we play here – it's big."
Opponents Spain will still be buzzing after their come-from-behind victory against the M18 EHF EURO champions Sweden. Spain's Oscar Garcia Sanchez impressed, and he and his teammates will be hoping they have enough energy left to make it through to the last four, a position they have not dropped below since 2009 in this competition.
Rematch from Croatia 2018
In the other quarter-final, Hungary will take on Germany, with the Hungarians impressing against the previously-perfect Croatia last night, thanks to a great defensive performance, led by goalkeeper Kristof Gyori.
The match is a repeat of the M18 EHF EURO preliminary group clash from last year when Germany dominated the Hungarians to win 29:18. Whatever the result, Hungary have already exceeded their previous best ever rank in the tournament – 10th place in 2013 and 2015.
Places and records to go for
The final placement match round gets underway with four games in the morning and early afternoon sessions at the Boris Trajkovski Arena. Argentina and North Macedonia compete for 13/14 place with the host nation looking to end their tournament with a victory, while Slovenia and Tunisia play off for 15/16 place.
In the early games, debutants Nigeria and Canada will battle it out to get their first win and to not finish last, while Brazil will record their worst-ever ranking, whatever the result against Chile in the 21/22 placement match.
Thursday 15 August
Boris Trajkovski Arena, Skopje
All times local
Quarter-Finals
18:30    Quarter-Final: Germany vs Hungary 
20:45    Quarter-Final: Spain vs Denmark
Placement Matches 9-6
14:00    Placement 15/16: Slovenia vs Tunisia 
16:15    Placement 13/14: Argentina vs North Macedonia
Placement Matches 17-24
09:30    Placement 23/24: Canada vs Nigeria (Boris Trajkovski)
11:45    Placement 21/22: Chile vs Brazil (Boris Trajkovski)

Photo: WCH 2019 / Filip Viranovski