Japan's winning streak comes to an end as Iceland step forward
14 Aug. 2019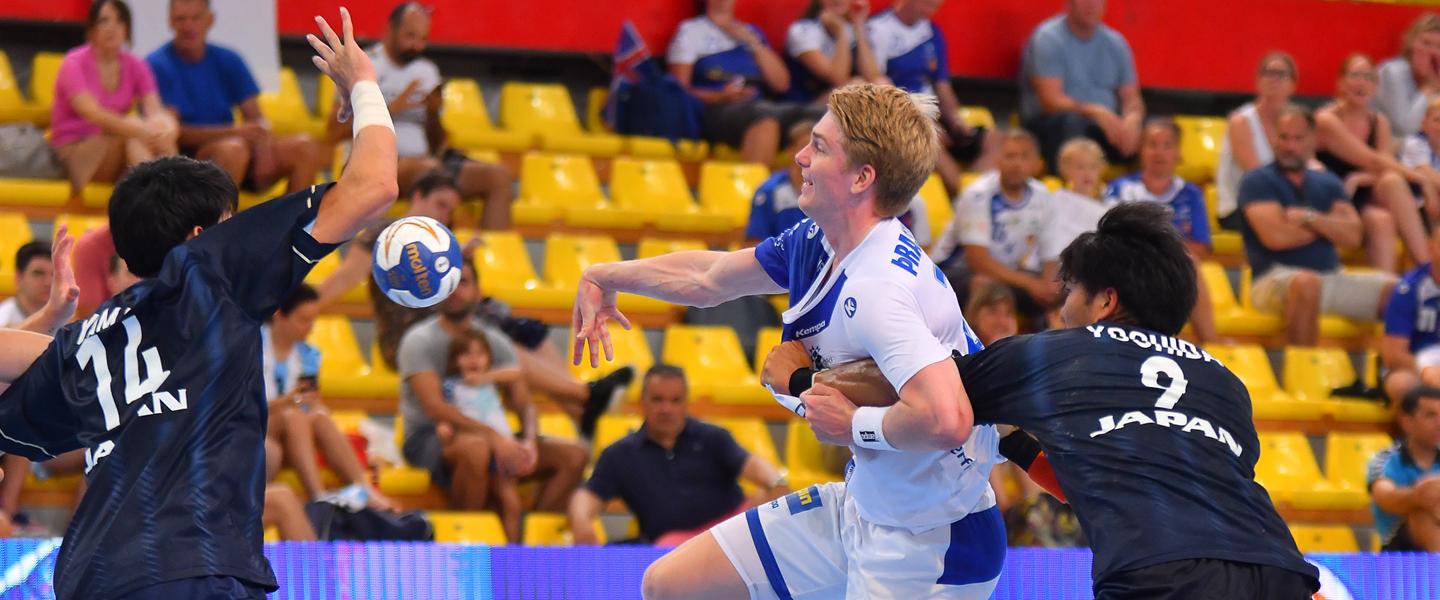 In the end, the five-goal win (39:34) by Iceland over Japan flattered the European side as they scored three quick goals in the last few seconds when the game was already decided. The goal total of 73 strikes made it the highest scoring game at the 2019 IHF Men's Youth World Championship so far, surpassing the 71 goals between Nigeria and North Macedonia in the preliminary round.
The win for Iceland means they will play Egypt in the quarter-finals, while Japan had their streak of wins – four in a row – ended. The Asian silver medallists now have to wait to see who their opponents are, and the place they will play for, until all the eighth-finals are completed.
EIGHTH-FINAL
Iceland vs Japan 39:34 (16:13)
Boris Trajkovski Arena, Skopje
Coach Heimir Rikardsson reached for his time out card just after the seven minute mark as his Iceland side found themselves 4:1 down already thanks to a fraught opening period which saw his player Tjorvi Tyr Gislason receive a two-minute suspension inside the first minute, turnovers, missed goals, and Rikardsson already warned for his behaviour.
The time out did the trick though as Iceland, welcoming back the influential Haukur Thrastarson, then went on a 7:0 run to lead 8:4 (18th minute) and they never looked back, taking a three-goal (16:13) lead into the half-time break.
The second half saw Japan only come as close as three goals, but they never gave up, playing a highly-pressured defence. But it was not enough to make back the deficit and as the game entered the last quarter, Iceland were seven ahead (27:20) in a half that ended with 44 goals scored – not one for fans of defence.
"We knew it would be a tough game because Japan play very fast," said coach Rikardsson after the match. "We studied them very well, but we didn't start the game very good, however, after 7,8 minutes the defence was good – but the last 15 minutes was terrible as we shouldn't concede over 30 goals and this is something we want to do better. 
"Haukur coming back made all the difference," added the coach to IHF.info. "He is a very important player in this team and group, on and off court. We didn't know until seven days before the tournament that he would come because he had a long season.
"We left him out against Germany for rest mostly because I thought about the next game and I didn't know who it would be at the time, so I thought it was better to have him prepared for this game. I went to him and we had a discussion about how he was feeling. 
"He said 'I think it's better to rest' so I agreed with him, because the importance of the game against Germany wasn't so much, in my opinion, as finishing second or third in the group is not so different compared to first or fourth - it's a little bit like chess; you have to think about going further in the tournament and I think it was very important.
"We play Egypt next and they are very strong, we have seen them [here], they are good physically, they have everything to be a very good team, we know that it will be a very difficult game but we showed last year at the M18 EHF EURO that we can beat good teams too because we are a good team as well."
Best player of the match: Tumi Steinn Runarsson (ISL)
Photo: WCH 2019 / Filip Viranovski