Argentina and hosts looking for eighth-finals upset
13 Aug. 2019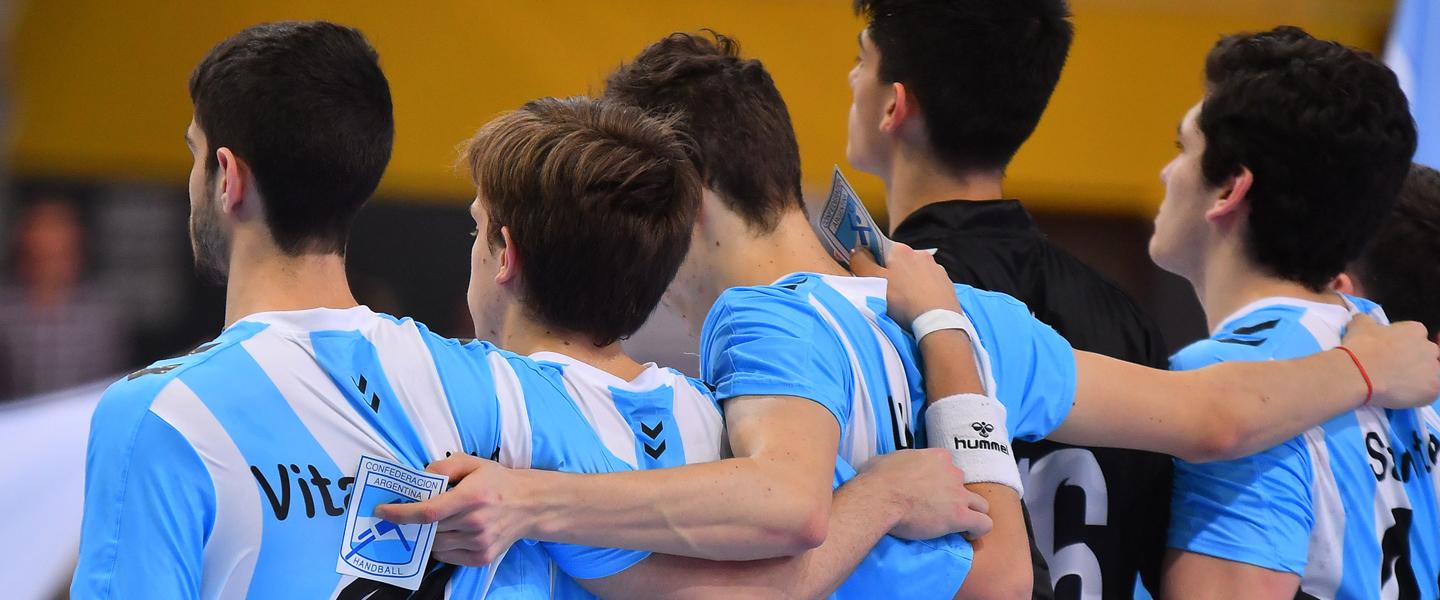 Fans in North Macedonia attending the Boris Trajkovski Arena in Skopje tomorrow have six interesting matches to experience as the 2019 IHF Men's Youth World Championship enters the eighth-finals and President's Cup/Placement Round 17-24.
EIGHTH-FINALS
Feature match: Argentina vs Germany
Boris Trajkovski Arena, Skopje 14:00 (local time)
'Do you want to win this game?' asked Argentina coach Fernando Capurro last night when his players let slip a lead against Nigeria, eventually going into the break 10:10. But they then powered away in the second half to set up an eighth-final against Germany tomorrow in one of four exciting last 16 clashes at the Boris Trajkovski Arena in Skopje, North Macedonia.
"In the first half we had some tactical problems and I think it had to with the nerves of my players," he told IHF.info. "So at half-time we talked about that and how we could change it, which we did in the second half."
Argentina already made history with that win, taking six points from the preliminary group stage - equalling their most-ever points haul in a men's or women's youth or junior world championship – the same as the Diego Simonet-generation who played in the 2009 IHF Men's Junior World Championship and many of whom who recently took gold at the Pan American Games in Lima.
Ahead of the championship, the Argentina Handball Confederation (CAH) revealed that the squad appearing in Skopje was one of the tallest ever for this generation, with many coming through the 'ProHand' talent search programme for the 2012-2020 period.
The CAH looked for potential athletes through physical, technical and genetic traits and a number of the players now on court in North Macedonia came through this programme – with some even grabbing bronze with the youth beach handball squad at the 2018 Youth Olympic Games, held in Buenos Aires.
"Although the junior squad were the first generation to come from ProHand, this youth generation has provided more to select the team from," said Capurro to IHF.info after the Nigeria victory. "In fact, good players were not on the squad list for here because we had too many.
"The idea is that ProHand continues because all of this [here in Skopje] is thanks to this project," added Capurro, who also coached the U21 side in Spain at the junior world championship last month. "Even though the juniors are better as a team together, the youth side have more individual capacity."
However, Argentina face a German side with a better record of eight points in the preliminary round thanks to four wins, their only defeat coming against the impressive Portugal side.

Germany beat Iceland yesterday easily, with Carsten Klavehn, Head of Delegation and DHB Talent Coach happy with their four wins in a row, following that opening day defeat to the Portuguese.
"We wanted to go on a winning streak after that defeat against Portugal and we've done that," said Klavehn to DHB.de after the Iceland win. "After we were able to settle shortly before half time, it was a safe and deserved victory. Nevertheless, the boys had to remain highly concentrated all the time, because the Icelanders were dangerous until the end. The good defence and goalkeeping performance was the cornerstone." 
Neither team have a player in the top 30 goalscoring charts, highlighting the collective power of both squads, while anyone watching North Macedonia 2019 will have been hard-pressed not to have been impressed by their first-choice goalkeepers – Germany's Lukas Diedrich (39 saves from 91 shots – 43% overall and 7.8 per match) and Argentina's Juan Ignacio Villarreal (48/133, 36%, 9.6).
Historically, Argentina have appeared in all editions of this championship since 2005, while Germany missed the first two, but have the best result – a third place in 2013. With their final 16 place, Argentina have their best ranking since 2011 (10th) and a win tomorrow would give them their third best-ever finish, after 4th in 2007 and 7th in 2005.

The winners of the match will face Croatia or Hungary in the quarter-finals.

Japan hoping to repeat 2017, hosts and Tunisia face big challenge
In the other eighth-finals in the Boris Trajkovski, Japan are on their own hot streak having won four in a row after an opening day defeat to Denmark. They finished second in their group and play Iceland knowing a win will equal their best-ever ranking in any men's world championship in their history, gained last time around in Georgia (2017). Iceland had a number of players with injuries in their last preliminary group game against Germany, most notably though, key player Haukur Prastarson was not even named on the start list and his recovery from injury will be key.
Host nation North Macedonia face a massive test against Portugal, who have won all five of their games so far and impressed – just like their U21 team did in Spain. They can boast the top two goalscorers in the tournament though, with Nenad Kosteski (40 goals) and Martin Serafimov (37 goals) in first and second place. Portugal's Salvador Salvador is in 17th place with 24 goals, but with 149 goals as a team, they are well ahead of their opponents.
Another perfect team is Denmark but they, arguably, came from the easiest preliminary group which featured Japan, Argentina, Nigeria and North Macedonia. 
"There have been five matches where we have met a completely different kind of handball from other cultures," said Denmark coach Simon Sorensen. "The boys have handled the different tests nicely, where I think we have kept a reasonable level in our matches. We have not won big, but conversely we have not thrown the lead. We especially had a good match against North Macedonia, where they played their best match at the final round, but where we still managed to do many things - it is important for us now that we do not let go of the accelerator." 
Ahead of the match, the Denmark Handball Federation revealed that Sorensen has lost two key centre backs due to injury. Captain Simon Pytlick is replaced by left back Matias Campbell, while right back Jon Katballe Christensen comes in for Magnus Haubro Jensen. 
"Thankfully we have qualified to the next round," said Tunisia's Mohamed Madiouni to IHF.info after his side beat Serbia to qualify for the last 16. "The next match will not be easy against Denmark who finished first in their group, so we will have to work more and more.  We continue to progress and hope to give a good picture about Tunisian handball - I said to our fans that we are going to the end and we will honour them in this championship."
A chance for a first win

In the 17-24 placement round Nigeria, looking for an historic first point at this level, take on Brazil, while Bahrain play Serbia.
Wednesday 14 August
Boris Trajkovski Arena, Skopje
Placement Round 17-24
09:30    Placement 21-24: Nigeria vs Brazil
11:45    Placement 17-20: Bahrain vs Serbia
Eighth-Finals
14:00     Argentina vs Germany
16:15     Iceland vs Japan
18:30     Denmark vs Tunisia
20:45     Portugal vs North Macedonia

Photo: WCH 2019 / Filip Viranovski