Portugal stage huge comeback to collect second win
07 Aug. 2019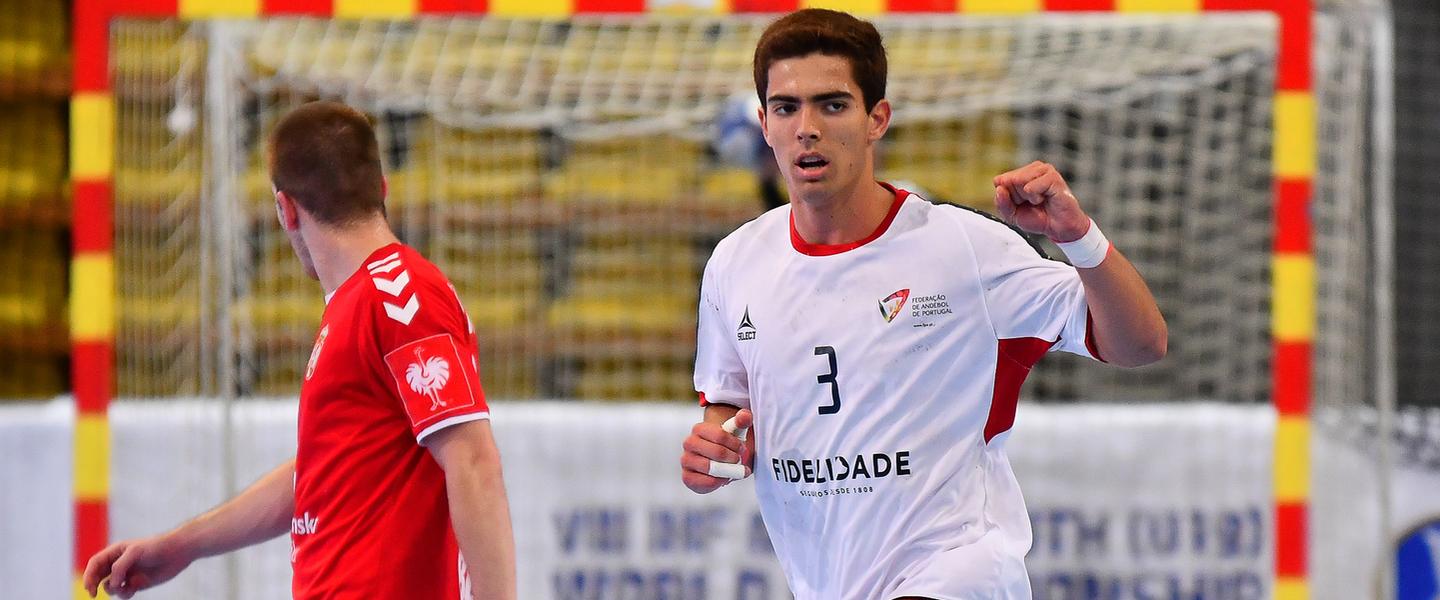 Portugal celebrated a remarkable win to close round two for Group D at the 2019 IHF Men's Youth World Championship, as they came back from a difficult start that saw them score only two gaols in the first 19 minutes. Portugal had to fight back for a deficit as clear as seven, and also survive a hard-fought final few minutes in order to collect their second victory at North Macedonia 2019. 
With the result, Portugal moved up to four points on the table, while Serbia stayed on two. 
GROUP D
Portugal vs Serbia 22:21 (7:11)
Portugal had opened their North Macedonia 2019 campaign with a win that was somewhat surprising: versus Germany, who ranked sixth at last year's European championship for this age category, Portugal won by seven goals in round one. They therefore seemed to be a danger for Serbia, but the match was completely one-sided through the first half before Portugal pulled off an impressive comeback. 
Serbia's defence was outstanding in the opening half, particularly in the first 20 minutes, during which they allowed Portugal only three goals. With their goalkeeper Nikola Cirovic saving almost every shot that came his way, Serbia breezed ahead to lead 7:1 in the 14th minute. Portugal could not score their second goal until the last minute of the opening quarter, 2:8. 
Not only did Cirovic save at an otherworldly 83% in the first 14 minutes, with five saves out of six attempts against him, Portugal also hit the post three times in that period. Portugal keeper Francisco Oliveira had some strong moments, including a penalty save in the 18th minute, 2:8 – but Cirovic was clearly the star of the first period. The Serbia keeper finished with nine saves at 56% in the first half, after the defence dropped off a little and Portugal were able to reduce the deficit to a more manageable four goals at the break. 
The four-goal difference proved too little to keep Serbia safe, as Portugal returned from the break far stronger and reduced the deficit. By the 43rd minute, Portugal had claimed the upper hand, 15:14. Serbia changed their keeper to Darko Stosic, and he also saved the first shots against him before Cirovic returned for the final minutes. 
Portugal stayed steadily in front from the 43rd minute, creating a three-goal advantage at 19:16 in the 52nd and 20:17 in the 55th. But then it was Serbia's turn to stage a comeback, and as the last time-out was called with 53 seconds on the clock, Portugal were in front by only one goal, 21:20. Serbia added another goal and Portugal had to respond quickly – and it was Martim Costa who delivered the winning goal under pressure to secure his side's second win. 
Player of the match: Martim Costa, Portugal
Photo: WCH 2019 / Filip Viranovski