Hungary follow France and Egypt to two points
06 Aug. 2019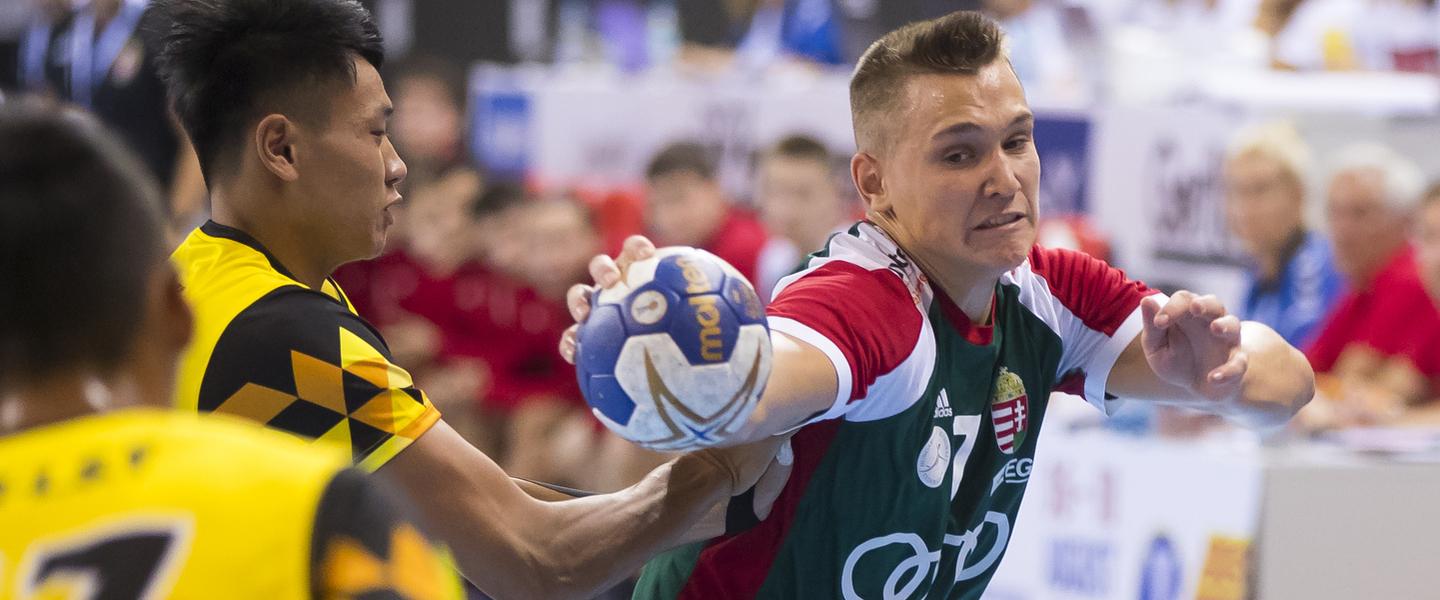 The final match of the first day of competition in Sport Centre "Jane Sandanski" at the 2019 IHF Men's Youth World Champions saw a commanding victory for Hungary, who defeated Chinese Taipei by 18 goals to earn their first set of two points. 
Chinese Taipei remain on zero points alongside Sweden and Canada at the end of round one. 
GROUP B
Hungary vs Chinese Taipei 38:20 (20:12)
Hungary had a little trouble against the fast-paced attack played by Chinese Taipei early one, but were ultimately the worthy victors in the closing match of round one for Group B at the 2019 IHF Men's Youth World Championship. A huge game from goalkeeper Kristof Gyori was key in Hungary's victory, as he saved at 52% in the first 30 minutes, with 13 attempts stopped, and finished with 50% overall. 
Chinese Taipei's offensive defence was strong and forced Hungary to play to their wings often, but there they found reliable shooting options. Right wing Bence Hornyak top scored in the first half for Hungary, with four goals, while left wing Bence Holdosi contributed three goals from three attempts. 
Hungary had the stronger start before Chinese Taipei drew the game back to level at 4:4 in the ninth minute. That was the last time the score stood level however, as Hungary pulled in front again. Chinese Taipei stayed within reach, at 10:6 in the 15th minute, but by the end of the opening half the score board showed a decisive eight-goal advantage for Hungary. 
10 minutes into the second period, Hungary had increased their lead further, to 27:16. Despite the difficult 3-3 defensive system they faced, which forced the European side to play very different attack to that they are accustomed to, Hungary kept their offence well organised and their advantage only continued to grow as the clock ticked on. 
When the score board showed 29:17 in the 45th minute, there was no question Hungary would follow Egypt and France to two points. 
Player of the match: Kristof Gyori, Hungary