Slovenia earn hard-fought win versus Chile
06 Aug. 2019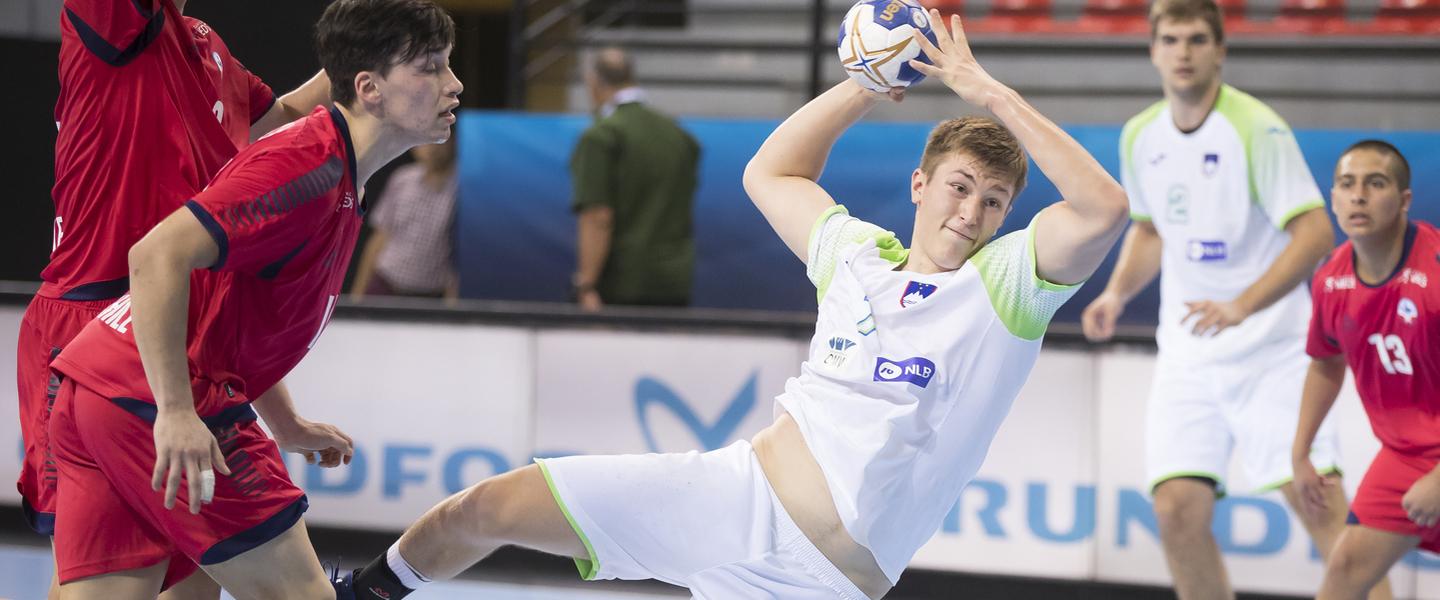 Slovenia had to work hard for it, but the European side earned the two points in the closing match of round one for Group A at the 2019 IHF Men's Youth World Championship in the end. Although it took some time for Slovenia to find their rhythm against Chile, their superior strength became clear in the last quarter of the match and they finished with a five-goal difference in their favour. 
GROUP A
Slovenia vs Chile 35:30 (17:18) 
It was a level match through the opening minutes half, with both sides taking their turn holding the edge and neither able to create an advantage that stuck. Slovenia's Tadej Kljun made his mark early, contributing half of the European side's goals when the score stood at 6:6 in the ninth minute. 
The 35 goals scored in the first 30 minutes demonstrated the fact that attack was the main factor in the match, as neither team's defence was overly effective. There were no goalkeeper saves until Chile's Hugo Valenzuela stopped a penalty in the 15th minute, with Slovenia just in front at 10:9. 
Slovenia changed their keeper from starter Jošt Juričan to Miljan Vujovic for the second quarter, and Vujovic proved more effective. Chile's Diego Caro also made a penalty save, in the 21st minute, 12:11 – but it was never a day for the goalkeepers to dominate. 
After Chile held the edge at half-time, Slovenia returned stronger. Led by a number of breakthrough goals from the back court, the European team pulled ahead to 24:21 in the 42nd minute and 28:23 in the 46th. Chile managed to fight back from that five-goal difference, and with the score at 30:27 and still over four minutes on the clock, the match could still have gone either way. 
Indeed, Chile reduced the deficit to just two goals, 30:28, one minute later. The score line hovered around two or three goals in final minutes, before Kljun scored his 10th goal off a penalty in the final minute to secure a four-goal lead and with that, the victory. 
Player of the match: Tadej Kljun, Slovenia