European powerhouses face off at Olympic Games Tokyo 2020
25 Jul. 2021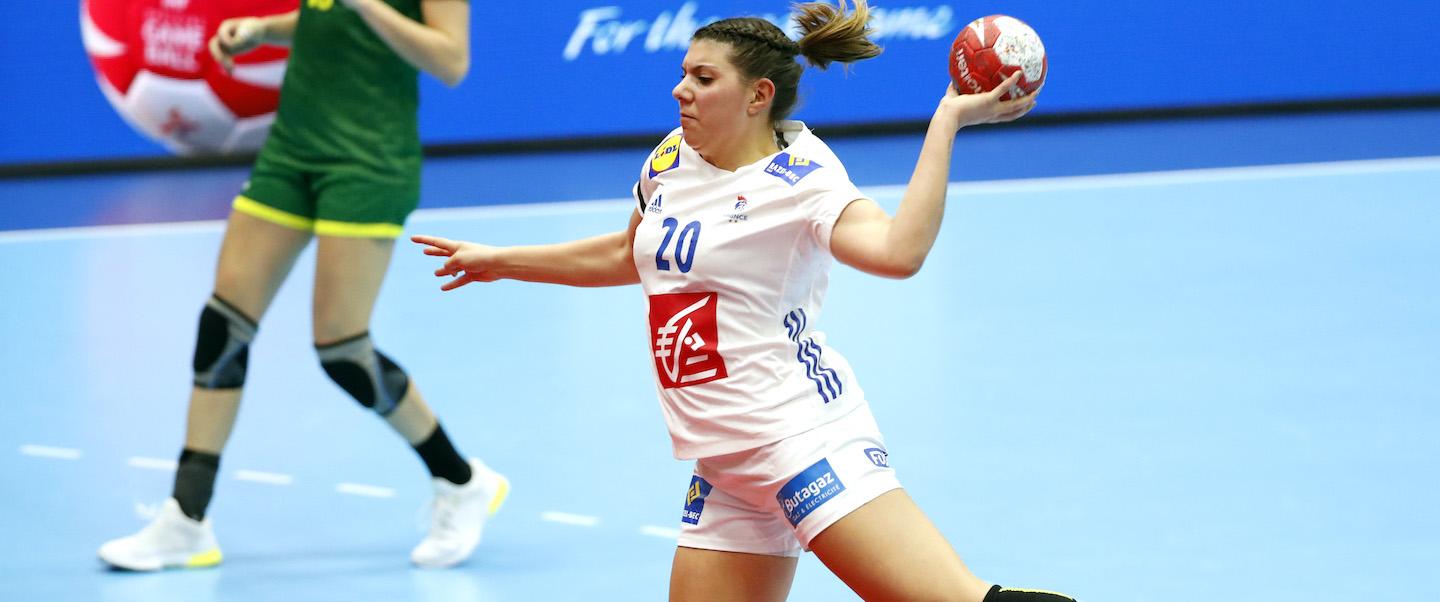 Running updates of Tokyo 2020 women's Group B – follow the action of the Olympic handball tournament live and always stay up-to-date. Brazil secured a shocking draw against the reigning Olympic champions in the first match, Sweden overpowered Spain in the second match and France hung on for a win against Hungary.

After the men's teams opened the Olympic Games Tokyo 2020 yesterday, the women's tournament throws off today, with three games in Group B scheduled. 
Today's matches:
11:00 JST: ROC vs Brazil (24:24)
19:30 JST: Spain vs Sweden (24:31)
21:30 JST: Hungary vs France (29:30)

23:00 JST FINAL WHISTLE Hungary vs France 29:30

It might not have been the most convincing performance for France, but they start on the right foot and that's all that counts for the moment. Hungary were definitely a tough challenge. Especially after they added some drama by reducing the edge to only one goal in the 48th minute — although France never gave them the chance to equalise.
10 goals for captain Grace Zaadi, the commander and the brain of a French side that take their first two points in the beginning of a long race for an Olympic medal.
Earlier this year, 20-year-old back Petra Vamos said she had one dream; to be part of the Hungarian side at the Olympics. Tonight she made her debut and was Hungary's highest scorer with a seven-goal tally. The future is here.

22:45 JST Hungary keep fight but it's France still in the lead

An unstoppable Grace Zaadi is causing Hungary more than one headache. Nine goals so far for the French captain. Cleopatre Darleux has come in to defend their goal and is doing just as good as Leynaud — six saves at a 38% rate.
Hungary find hope in 20-year-old centre back Petra Vamos, who has five goals. France are up 27:24 with 10 minutes left.
 
22:10 JST HALF-TIME Hungary vs France 12:15

When Viktoria Lukacs scored with an empty goal and levelled the game at 12:12, there were only three minutes left on the clock until the half-time break and it seemed that Hungary could take the lead for the first time. But France pulled-off another three-goal advantage.
Eight French goals came from fast breaks and breakthroughs. Hungary, however, owe most of their goals to their long range shot power and the work of their wings — Lukacs is on five goals, the same as France captain Grace Zaadi.
The match is totally open, and it looks like the mental strength might determine who wins and loses tonight.
 
21:50 JST France take the lead in first 15 minutes

It was a slow start for Hungary and France took advantage to build a four-goal advantage. Noemi Hafra put her quality at Hungary's disposal to lead their attack and equalise in the 8th minute.
Pushed by a marvelous Amandine Leynaud (45% saves), France managed to keep their nerves under control and build a new three-goal edge as we reach the 15th minute. The score is 8:5 in favour of the French side.

21:20 JST Rio 2016 silver medallists France take on Hungary

Five years ago, in Rio de Janeiro, France claimed an Olympic medal for the first time. A lot has happened since, but one thing has not changed; they dream of repeating their 2016 Olympic Games feat.
As for Hungary, they return to the Olympic stage for the first time since Beijing 2008, when they made the semi-finals. A new generation of talented players have pushed them forward and they want to reach the limelight.
We anticipate a big clash to close day two at Tokyo 2020.
 
21:00 JST FINAL WHISTLE Spain vs Sweden 24:31

Memorable opener for Sweden in Group B and a big upset for the Spaniards! It was a very physical game and in that aspect and many others the Swedes demonstrated their superiority.
Pivot Linn Blohm was a key factor in attack — five goals, 100% efficiency — but also leading an authoritative defensive line. Spain will have nightmares about her tonight.
This commanding win by the Swedes was also based on a brilliant performance by keeper Johanna Bundsen who stopped 11 balls at a 32% rate.
Left wing Elin Hansson was also dominant in her Olympic debut. She was Sweden's top scorer with six goals, while Spain playmaker Nerea Pena was the game's highest scorer with seven.

20:40 JST Sweden walk away from Spain

"We are not covering them in defence collectively. We are only defending them individually," says Spain coach Carlos Viver in a time-out. Their defensive flaws are visible as the Swedes make it a seven-goal edge. The score is 24:17 into the 47th minute.
38% save record for Spain's Silvia Navarro, but it's not enough to fight back as Johanna Bundsen is on 37% in the opposite goal.
 
20:10 JST HALF-TIME Spain vs Sweden 8:12

The Swedes hold a four-goal advantage at the break. A rock-solid performance so far by the Scandinavian side, both in defence and offensively.
Line player Linn Blohm might have only scored two goals but her contribution to the team has been substantial — her agrgessive play forced Spain to concede a couple of 7-metre throws in their brave efforts to stop her. Then, Nathalie Hagman converted them into goals.
Three successful fast breaks for Sweden versus zero for Spain partly explains the result at half-time. Everyone are doing their job tonight in the squad coached by Tomas Axner.

19:50 JST Sweden open up a two-goal lead versus Spain

Handball can easily be considered an intense sport, but these first 16 minutes have been a little bit more than that — neither of the two teams have given their opponents one second to breathe.
It's Sweden in the lead 8:6. Goalkeeper Johanna Bundsen is on a 40% save rate (4/10), helped by a pressing defence that is causing problems for the Spaniards.

19:30 JST World championship silver medallists Spain to begin their Tokyo 2020 campaign versus Sweden

Both teams recently met at the Olympic qualification tournament in March. Sweden were leading by three with 90 seconds left but somehow the Spaniards managed to equalise with the last ball to make it 28:28. No wonder why they are called ' Las Guerreras'.
The 2019 IHF Women's World Championship runners-up Spain are expected to be one of the medal contenders of these Olympic Games, but Sweden are here with a renewed confidence and their speed might be a huge threat for any team in the competition.
Will we see an exciting contest? Surely yes!

13:30 JST Quotes after the draw between the ROC and Brazil

Barbara Arenhart, Brazil goalkeeper
On their celebration and whether the draw is therefore a positive result: "Of course, especially because we were two goals behind in the first half. I think this is such an achievement for us. They are the current Olympic champions. Russia is always Russia. We have a lot of newcomers in our team for the Olympics, so it is an achievement. We are happy with the point and I think from now on we just want to go for more. We showed to ourselves that we can fight equally with everyone."
On the rebuilding period for Brazil and where they are now: "We've been training a lot. We are together for such a long time now. I think everything comes from the belief we have. We have a big team with many players that can help and I think we showed this today. We have such a mix of experienced players with young players, with not-so-young players, so hopefully this is going to lead us to a very nice tournament."
On Brazil's defence: "I think this is our heart. Our game is a lot in our defence. As you could see we are very emotional and this brings us to a point that we have to fight all the time. This is the biggest thing I think we have – our defence is our strength and we believe in it. That is the most decisive moment for us: When they are coming we want to show that we are there in front of them and it's not going to be easy."
On the visible cohesiveness and collective heart of the team:
"I'm really happy to hear that to be honest – that you can feel and see that, because it is exactly how we are in and out of the court. We are a big family. We have the big mamas but we also have the big kids. I think it can be seen in the court exactly how we are off it, so I'm really happy. It is a compliment for me and I will transmit it to the girls."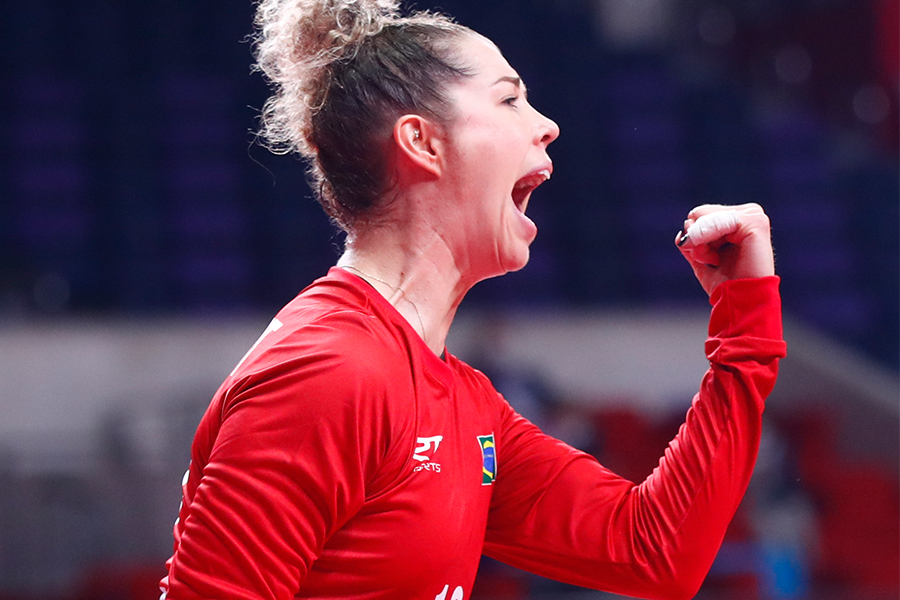 13:15 JST Taking a break from Group B
 
How is that for an inaugural game of the group? Brazil really gave it all on the court and finally broke a four-game losing streak against the ROC team, who had comfortably won the mutual games at the Olympic Games – by four goals (31:27) at London 2012 and by nine goals (28:19) at Beijing 2008.
After the 24:24 draw, both teams are now at one point each in the standings, with Brazil taking on Hungary next Tuesday, while the ROC team face Sweden.
Brazil had the better shooting efficiency, 55%, as opposed to ROC's 53%, but also boasted the fastest shot of the game, an 89 km/h unstoppable rocket from Bruna de Paula, who proved she is the whole package: a creative player, who can dribble efficiently and has a powerful shot.
We take a short break from Group B, as the next two games will feature Group A, but we will be back with two 100% European clashes, with Spain taking on Sweden (19:30 JST) and France facing Hungary (21:30 JST).
 
12:35 JST FINAL WHISTLE ROC vs Brazil 24:24

The biggest surprise of the first two days at Tthe Tokyo 2020 handball tournament so far has just happened! The reigning Olympic champions, the ROC team, were held to a 24:24 draw by Brazil after a nail-biting game, in which the Brazilian side never trailed by more than three goals and came back in the second half, taking a 22:20 lead with nine minutes to go, only for the ROC team to snatch out a draw.
The final minute was electrifying, as the ROC team were in attack, but Anna Vyakhireva misplaced a pass to line player Ksenia Makeeva. Brazil then had the chance to pounce and seal the win, yet preparing their attack took a bit of time and Bruna de Paula was forced to throw from afar, with her shot blocked by the sturdy Russian defence.
The two teams share the spoils now, but the main take is that in a group with five European teams and Brazil, the South American side is a force to be reckoned with. They showed grit and character and, in spite of their mistakes, have a superb, generational talent in Bruna de Paula, who can change the outcome of the game by herself. Surely, experienced players like goalkeeper Barbara Arenhart, with key saves in crucial moments, and Alexandra do Nascimento do their part and really lift this Brazilian side. What a superb game to witness!
 
12:12 JST 10 minutes to go and Brazil's hopes are up

What a second half for Brazilian goalkeeper Barbara Arenhart. She saved six shots already and is single-handedly keeping the South American team in contention.
The ROC's attack has dipped strongly, with their back line, so powerful in the first part of the game, nowhere to be seen. This is on knife's edge now, there are only 10 minutes to go and Brazil are leading, 21:20, for the first time since the second minute of the game. A superb comeback, that prompted ROC's coach, Aleksey Alexeev, to take a time-out.
Props to Alexandra do Nascimento, who is playing like at her first Olympic Games, despite this being the fifth edition for her. The 39-year-old right wing, who is playing for Bourg de Peage, in the French league, scored six goals, converting four penalties, being a leader whenever Brazil needed it. She and Bruna de Paula, who also scored six goals, are Brazil's top players in attack in this game.
 
12:04 JST Reigning Olympic champions in trouble

For a moment or so, Brazil looked to be back in the game, after goalkeeper Barbara Arenhart made a double stop against Polina Vedekhina and Polina Kuznetsova. However, their attack quickly squandered the chance, with costly turnovers marring Brazil's game throughout the 40 minutes of the match against the ROC team.
However, Aleksey Alexeev's side also has a penchant for turnovers, losing 10 balls in attack up until this point.
The game started brightly, but both teams improved on defence, so mistakes in attack are being more and more present. Still, Brazil have a chance, as they are only down by one goal (17:18), with 20 minutes to go. Correct some of the mistakes, and they can still win something from this.
Duenas spotted Amorim's weak patch in attack and is using Brazil's left back only in defence. This could be a turning point for Amorim's confidence, who will be facing Russian players in the next season, after signing at club level for Rostov-Don this summer.
 
11:39 JST HALF-TIME ROC vs Brazil 14:12

A 3:0 unanswered run for Brazil saw the South American side tie the gameat 11:11 and things were looking good for Jorge Duenas' side. However, that run was followed by eight minutes and 56 seconds without a goal scored, helping the ROC team establish their own 3:0 run, where Anna Vyakhireva was instrumental. The right back improved in the second part of the half, dominating Dayane da Rocha in attack and dishing five assists to her teammates.
There were misses for both sides, but the ROC look more composed, with clearer purpose in attack. Brazil's efficiency in attack dipped to only 52%, while Amorim, the leader of the team, has still not scored a goal. Duenas experimented with more line-ups in attack, yet the truth is that Brazil rely on Bruna de Paula to create something in attack. The 24-year-old back has been superb this season for Nantes Atlantique Handball and is carrying the form also with the national team, scoring four of Brazil's 12 goals in the first half.

 
11:25 JST ROC's strong backs frustrate Brazil's defence

If Brazil started the game very well, it was down to their defence and creativity in attack. However, the ROC team improved heavily and prompted Brazil's coach, Jorge Duenas, to take a time-out, instilling new confidence in his side.
This is not a vintage display from the MVP of the Rio 2016 Olympic Games, Anna Vyakhireva, who had three turnovers and missed one shot, but she improved as the time passed, dishing three assists and scoring one goal.
Right now, if Brazil want to save something from this game, they will need to stop the ROC's nine-metre line, who scored 10 of Russia's 11 goals in this game.
It's an amazing all-round performance from Daria Dmitrieva and Polina Vedekhina, yet the ROC only lead by one goal (11:10), with 10 minutes to go in the first half.
 
11:15 JST Good handball on display with the ROC unstoppable in attack

This is a very fast-paced game, with both teams shooting nine times in the first 10 minutes and leaving little to chance in attack.
The defences have also been hard at play, trying to stop the opponents. All in all, this looks like proper handball and there is little to separate the two sides. The ROC took a narrow 8:6 lead, with left back Polina Vedekhina scoring four times. Maybe Brazil need a bit more on attack from Eduarda Amorim, who missed her first three shots, but Amorim is a very clever and experienced player, bouncing back from the most difficult situations.
A mention for Alexandra do Nascimento, the 39-year-old right wing from Brazil, who scored her first goal at her fifth Olympic Games. Do Nascimento's best placement is the fifth place at Rio 2016, while she also played at seven IHF Women's World Championship editions, with her first being Croatia 2003. Such a talent!
 
10:45 JST Group B throws off with fiery clash

Ok, ready for more handball? We have you covered. Reigning Olympic champions, the ROC team, will throw off Group B in a fiery clash against former world champions Brazil, the only non-European side to feature in this group. In the closing games of the card, Spain meet Sweden, in a rematch of the draw from March, when the two teams faced off in the Olympic Qualification Tournament in Lliria, Spain. This one will be exciting to watch as, in fact, the last three matches between the two sides ended in a stalemate. France aim to repeat their Rio 2016 performance, when they secured the silver medal. However, the first challenge will be a tough game against fellow European powerhouse Hungary in the last game of the card.
The reigning Olympic champions are now taking to the court against Brazil. Two teams with different styles will be facing off in the Yoyogi National Stadium in Tokyo, with a very, very interesting game starting in just a few minutes.
The ROC side are the favourites, but can Brazil, a team full of players who are plying their trade in Europe, spring a surprise? We'll see in just a few minutes.
Group B of the Tokyo 2020 Olympic Games is throwing off now, with the ROC team never dropping a game against Brazil, winning four out of four, including two at the Olympic Games, 28:19 at Beijing 2008 and 31:27 at London 2012.
 
Find out more about Group B at the Tokyo 2020 Olympic Games
If you want to know more about Group B, you can find everything you need on our website. 
Who's who at the Tokyo 2020 Olympic Games
All the rosters are available here.
How did teams fare in Japan
The teams have travelled to Japan, with players and staff acclimating to the conditions in Tokyo, while also playing several friendly games during the last couple of weeks.