Qatar 2019 – Denmark's (women's) gold medal in quotes
19 Oct. 2019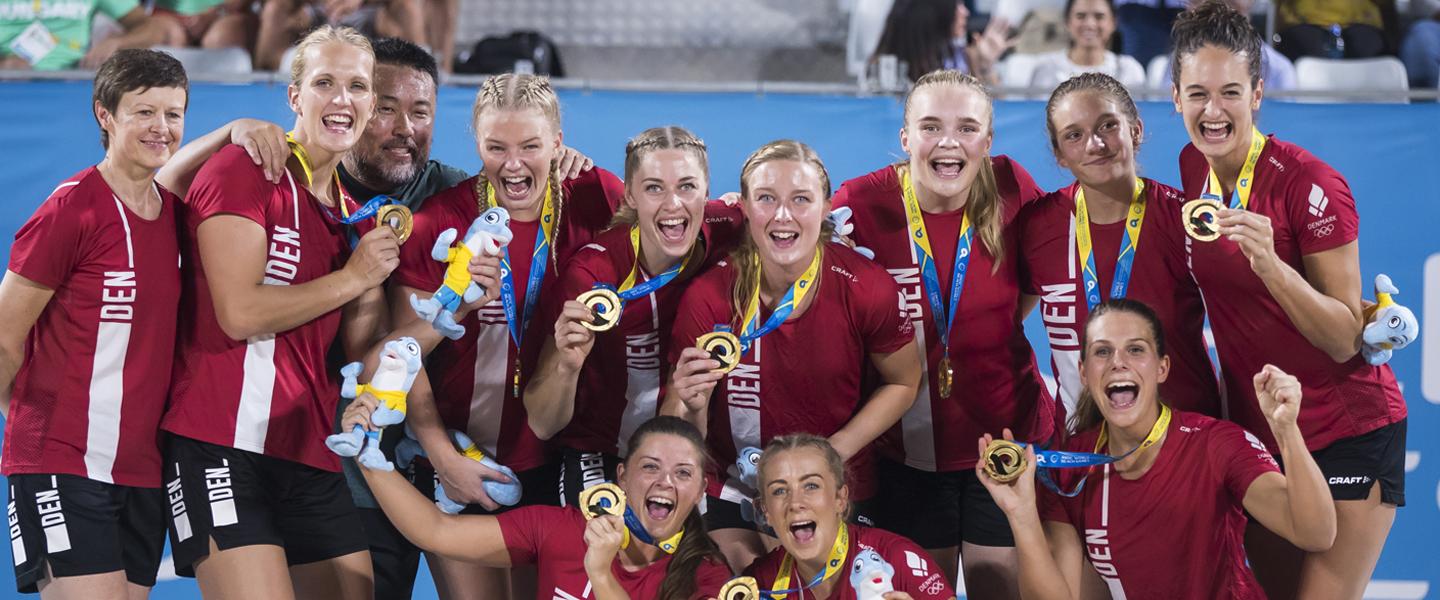 After Denmark won the women's beach handball competition at the ANOC World Beach Games – Qatar 2019, IHF.info spoke with their coach and players in the mixed zone to get their reactions and emotions after they claimed gold in the very first edition of the tournament.
Denmark Coach Morten Frandsen Holmen
IHF.info: After the final whistle, you ran all the way down the other end of the court and back, what were you feeling?
Morten Frandsen Holmen: I remember how it was last time when we met Hungary [in the final of the EHF EURO]; it was the same as we scored in the last second, although I regret it (running) now as I am so tired. But we had just won the gold medal match and it was fantastic.
IHF.info: Hungary came back in the second period and you were behind, did you still think you had a chance to take the game 2-0?
Morten Frandsen Holmen: In the second half we had some problems with Hungary, but we came back, made a little change and then the girls fought like hell and we won.
Even when Hungary were four, six points up, we never gave up. Oh no, we kept chasing the chance and we knew that we still had four minutes to go so we still hoped we could get it (the win) and we did it. They are amazing girls - what a team they are.
Denmark defender Camilla Fangel

IHF.info: So, you were right what you told us the other day...

Camilla Fangel: 2019 is our year – I told you. 
IHF.info: Were you sure you would win it 2-0 or had you started thinking about the shoot-out already?
Camilla Fangel: We were under pressure in the second half and, as always, we had a little bit of luck. We worked hard until the last seconds and it paid off. Although if it had gone to a shoot-out we are good too, so we were not too nervous about going to that.
Denmark goalkeeper Maria-Teresa Gronning Faurhoj
IHF.info: The past three months has seen Denmark win the EHF Women's Beach Handball EURO and now this World Beach Games, what has it been like?
Maria-Teresa Gronning Faurhoj: It's just that I am so happy that all the hard work finally pays off. We have trained in rain and storms – you couldn't believe it and now we are in Qatar with a gold.

I just cannot believe it and it's great that people now know beach handball Denmark, it's fantastic.
IHF.info: You are here standing next to Frederikke Buhl Laerke who won the Qatar 2019 MVP award. What's do you feel when you make a save knowing that she is down the other end, and she will convert your work into points, it must make you feel really good?
Maria-Teresa Gronning Faurhoj: Exactly. I feel really confident in our attacking players and for Frederikke she has been very confident throughout the game, making the right choices in the attack.

Frederikke and I are teammates at home as well and we're really, really good friends. This gold is also a personal victory for us as we're here together and we won gold together.
Denmark specialist Frederikke Buhl Laerke
IHF.info: When you look at Maria-Teresa here, standing next to you, and think about your other goalkeeper and defenders, you must know you will always get chances to score?
Frederikke Buhl Laerke: They did a very, very great job and it was more than I can have ever expected. Maria-Teresa is new to the national team but has been playing beach (handball) forever. 
She has just stepped up, stepped in and saved the balls when we needed it. It was an outstanding performance and she did so because she's a little bit crazy at the right times, but goalkeepers - they have to be.
IHF.info: Your shooting style as a specialist is very direct, shots from distance, not with 360-degree shots. It is quite reminiscent of 'indoor' style...
Frederikke Buhl Laerke: Beach handball can be played in very different ways and I chose to play it in the way I do best and that is by shooting. Of course, my style is more indoor style than what a Brazilian or Spanish specialist would do, but I don't think its indoor style specifically, it's just beach handball the way we do it and it works this way.
IHF.info: Even though you score so many points, do you get fun from assisting your teammates, as, at times, when you receive the ball in attack you have two defenders on you straight away and can then pass to allow your wings to score?
Frederikke Buhl Laerke: I don't care about scoring the goals, I care about winning and if that means playing the ball and not shooting the whole game I don't care, and I give the ball away. But, of course, as a specialist you go towards the goal because that's the role you have, but, in the end, if we win, I'm happy either way.
IHF.info: You are the first-ever champions of the women's beach handball competition at the ANOC World Beach Games – Qatar 2019. How does that sound?
Frederikke Buhl Laerke: Sounds good to me, sounds really good to me.