Qatar 2019 – IWGA President: "Beach handball has a very good future"
24 Oct. 2019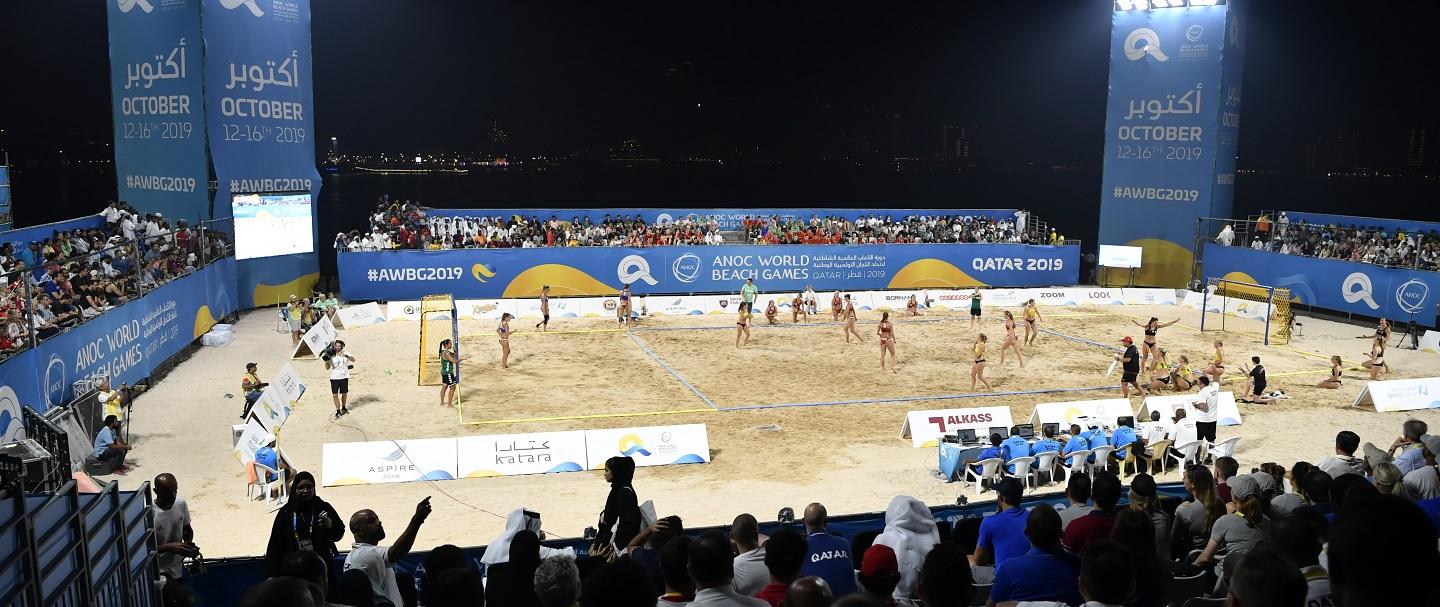 One VIP with an extra interest in the men's beach handball final of the ANOC World Beach Games – Qatar 2019 between Brazil and Spain was President of the International World Games Association, Jose Perurena Lopez.
Perurena Lopez sat with IHF President Dr Hassan Moustafa during the match and spoke with IHF.info.
IHF.info: Beach handball has been at the World Games since 2001, starting as a demonstration sport, before being officially recognised at Cali in Colombia for the 2013 edition, and then last time around, in Wroclaw, Poland in 2017. What is it about beach handball that the World Games like?
Perurena Lopez: In this moment, beach handball is in the top sports of the whole World Games. It's a safe, dynamic, modern sport which has a very, very good future. It's officially on the programme for our next two editions in Birmingham, USA in 2021 and Chengdu, China in 2025.
IHF.info: What do you think the future is for beach handball, can it continue to grow?
Perurena Lopez: The problem is that we need to synchronise the calendar because it's difficult for the athletes competing in the World Beach Games now and the World Games in the same year.
We organise the World Games every four years, the year after an Olympic Games, and I think it is good for the World Beach Games to take place the year before each Olympics and to synchronise for the athletes this way is a good demonstration.
I have an agreement on memorandum to the IOC to show the best potential sports for the future who are competing in the World Games.
IHF.info: One example of that in beach handball is the Spain player who you are watching in the final now, Domingo Luis Mosquera, who won the 2018 Youth Olympic Games gold medal with Spain in 2018 and is now here playing at Qatar 2019. How important is that, to have the young athletes coming through this way?
Perurena Lopez: Most important now for the future of the Olympic Games is that sport is contacting well with young people and has relationships with them too – this is the secret. Also important is its relationship with the media too.