IOC President Bach experiences beach handball again
14 Jul. 2022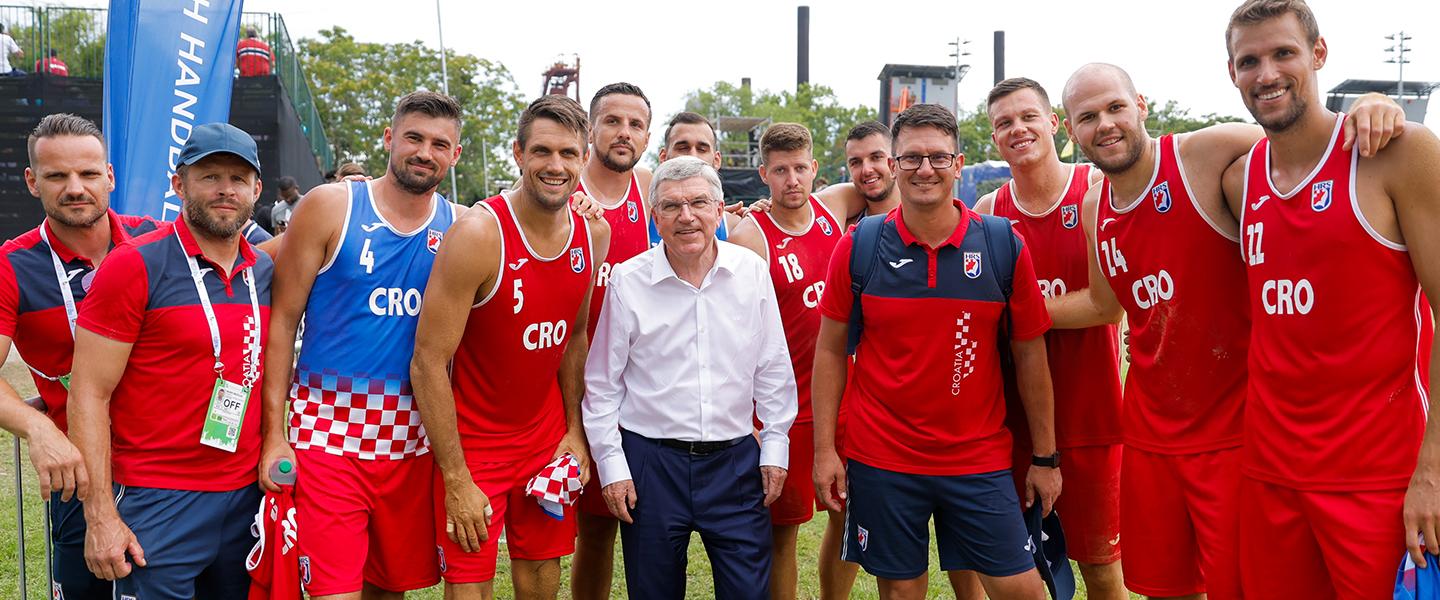 International Olympic Committee (IOC) President Dr Thomas Bach, along with International World Games Association (IWGA) President José Perurena Lopez, took in some beach handball action at The World Games on Wednesday.
The men's and women's beach handball competitions at the global multisport event are taking place in Birmingham, USA and the pair used the opportunity to meet with the IHF Beach Handball Working Group (BHWG) Chair Giampiero Masi, and those involved in the competition.
Both Bach and Perurena Lopez are long-term supporters of beach handball, attending events across the world.
The IOC President was present at the beach handball finals of the 2018 Youth Olympic Games, while the IWGA President attended games at the 2019 ANOC World Beach Games in Qatar.
Upon arriving at the historic Sloss Furnaces venue, Masi introduced the pair to the IHF BHWG members and IHF staff on-site before watching the first period of the New Zealand versus USA men's match.
Bach, who won Olympic gold fencing for Germany, then met with the Germany women's team who are current European and world women's beach handball champions.
He discussed with them their recent world title win at the 2022 IHF Women's Beach Handball World Championship in Greece as well as their expectations for The World Games and future competitions.
Significantly, Bach then met with the Argentinean women's players Gisella Bonomi and Fiorella Corimberto, who both won 2018 Youth Olympic Games gold in Buenos Aires and are evidence of how the sport has attracted and excited the next generation of athletes.
"A pride to be able to live such special moments," said Bonomi about the meeting. "Thank you beach handball."
This event in the Argentina capital was the first-ever time beach handball was played at an Olympic Games. The IHF have since made an application for beach handball to be part of the programme at the Olympic Games Los Angeles 2028 .
Dr Bach was then keen to have his photo taken with Corimberto pointing out her Olympic rings tattoo on her arm, which she got following her experience four years ago.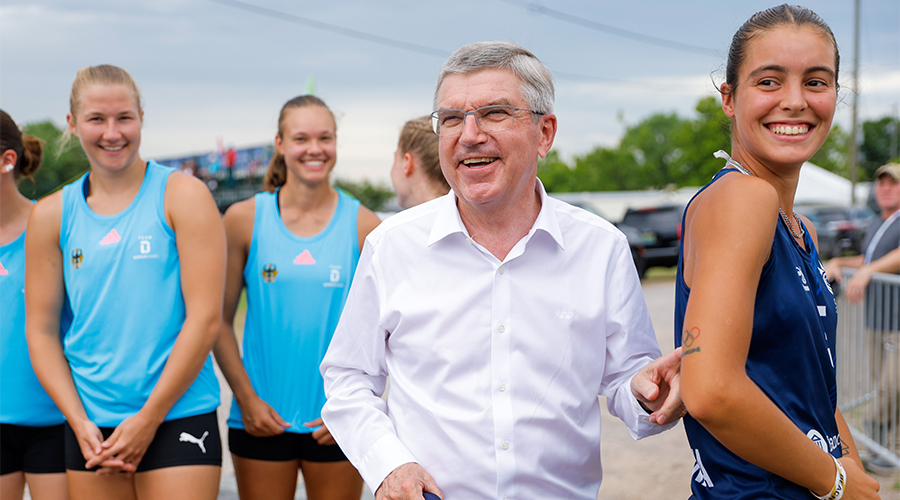 "[These are the] unforgettable moments that sport gives you," said Corimberto in a social media post after meeting the IOC President. "May beach handball continue to grow."
After a number of photos with teams and individuals present, Bach and Perurena Lopez then concluded their visit by meeting another world champion, Croatia, and Puerto Rico, who had just finished their match in the men's competition.
"It was an honour and pleasure to have both the IOC president and IWGA president visit our sport," said Masi to ihf.info after the event.
"I had the opportunity to confirm the universality of beach handball as soon as they arrived when we watched the traditional 'Haka' delivered by New Zealand together ahead of their match.
"We discussed the progress of the tournament here in Birmingham and how much beach handball has grown since the 2018 Youth Olympic Games, which Dr Bach saw in person.
"Both commented directly to me how dynamic, fast and exciting beach handball is and this made me enormously pleased," added Masi.
"They closed their visit with Dr Bach speaking to all the players and staff present and reminding us all to be an example for the youth generations in view of the 2026 Youth Olympic Games in Dakar, Senegal, which will feature beach handball again."
What the players and coaches said about the presidential visit
Alexander Novakovic, coach – Germany women:
"It was a pleasure to meet Dr Bach. He is obviously one of the key players in the decisions of beach handball becoming part of the Olympic Games. 
"It was quite nice to talk in German and to share our impressions about The World Games and our World Championship title with him.
"For Los Angeles 2028, beach handball needs worldwide more development and, hopefully, we are in a good way looking forward for that.
"As the biggest handball federation in the world (Germany) we have a role to play. We have taken responsibility in the past, are taking responsibility now and will take further responsibility in the future not only in helping the continued growth of the sport but towards inclusion in the Olympic Games programme."
Ivan Juric, player and captain – Croatia men:
"The talk with Dr Bach went very well. I hope it will turn out to be very productive for beach handball in the future. It sure helps that both the USA men's and women's qualified to the semi-finals at this World Games and have continuity of participating at the big competitions."
"I really hope beach handball will be on the Olympic programme for LA 2028."
Christine Mansour, player – USA women:
"We all truly believe that this sport deserves Olympic recognition and, hopefully, he felt this sport's potential and will become a proponent of adding it to LA 2028.
"After all, it would only be right to showcase our sport on the beaches of California where our programme was founded."
Mohamed Ahmed Zaky, player – Qatar men:
"This game is my life and I wish to see it in its place at the Olympic Games, just for the love of the game itself."
"You are taking about a dream for an athlete who has been playing this game since 2005. I know that I am not going to be in it when it is in the Olympic Games, but I wish and dream for the younger ones to know how we fought, gave every single drop of sweat, tears, blood and our money to get in the right place.
"This game deserves more than what it is now; this game is about a big family who live all around the world, know each other by their first names, misses each other when they are apart and sharing and caring in losses before winning."
Lisa Dunn, coach – USA women:
"It's absolutely amazing and what an honour to present this sport to him live here in the USA. I hope he sees all of the passion and drive each team has for beach handball and that it deserves to be in the Olympics."