German women deliver again to take The World Games 2022 gold
16 Jul. 2022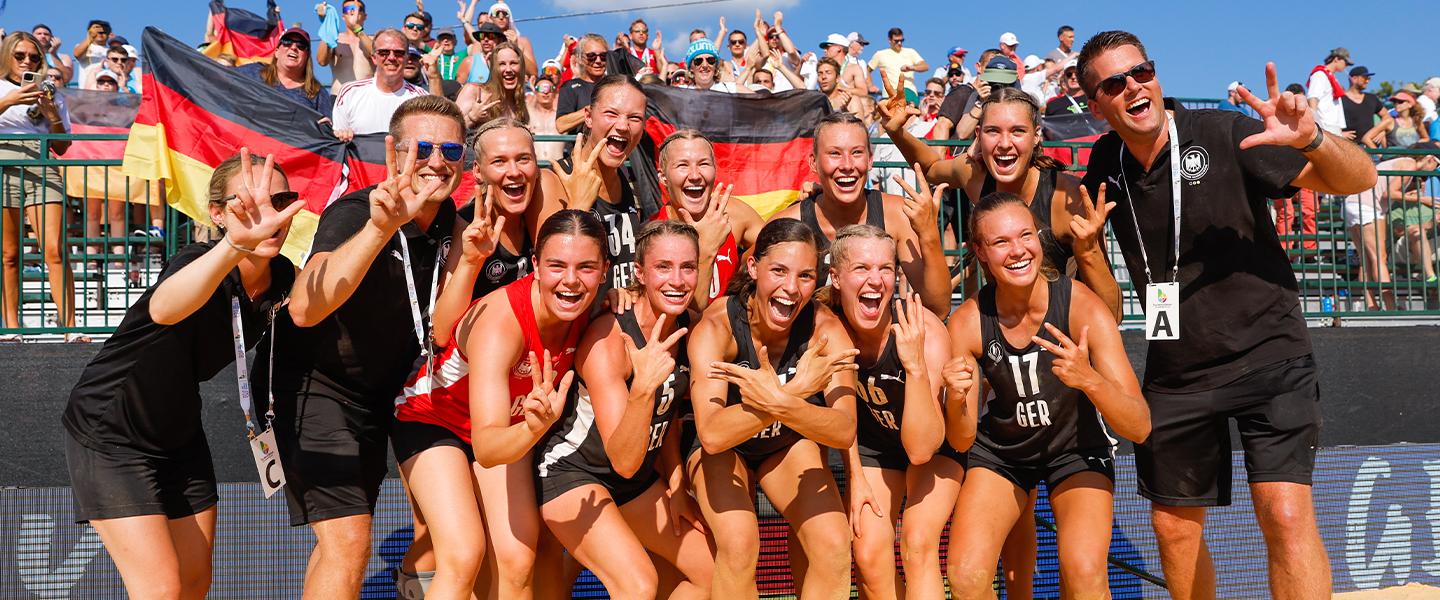 With their 25th consecutive championship victory in an incredible 12 months, Germany have won The World Games 2022 women's beach handball competition in Birmingham, USA.
They beat Norway 2-0 (15:14, 9:8) in a defensively-minded match at Sloss Furnaces in Alabama.
The gold is Germany's first in The World Games and their second medal overall, after they won silver in 2001. Norway claim silver for the first time and also their second The World Games medal, after bronze in 2013.
Germany's record is unprecedented.
Nine straight victories to become European champions in 2021, nine straight victories to become world champions in June and now seven straight victories to become The World Games champions.
Alexander Novakovic's side were tested again by Norway, who had taken them to a shoot-out earlier this week in the preliminary group, but they would not be denied a third gold medal in an incredible unbeaten championship year.
"We believed in it the whole time," said goalkeeper Katharina Filter after the match. "First Isi bangs the thing in the first set, and nobody really knows how she did it. And in the second set it was simply indescribable how our defence worked."
The "bang" was a rocket from Isabelle Kattner (Isi) which had come with four seconds left in the opening 10 minutes. Novakovic had taken a time-out after Norway had missed a chance to go ahead at 14:14.
With so little time left, it was down to Kattner try her luck, and she did from inside her own half, with the ball flying past Tonje Lerstad in the Norwegian goal.
"We knew we couldn't play more than one pass," explained Kattner to DHB.de afterwards. "The ball came to me, I actually wanted to play it, but there wasn't enough time for that. So I put myself in the centre and threw. I was surprised myself that it went in."
The second set was even closer, going to a golden goal with both sides having chances to seal it before Amelie Möllmann composed herself on the line and dinked the ball over the onrushing Lerstad to delicately place the ball in the net and another gold around Germany's necks.
"You don't think about throws like that, all that counts is the will and the thought that the team absolutely deserved to take the gold medal," said Möllmann to DHB.de. "The fact that my shot was the decisive one is not important. Team performance counts."
It was apt that Möllmann scored the gold-medal goal, ahead of the game she was named MVP of the tournament and best right wing to seal her place in the All-star Team. She also ended as top scorer with 102 points.
"It was very tactical, both teams know each other inside out," said Novakovic to DHB.de about the game. "If we hadn't missed one or two chances, things would have gone in our favour faster.
"The feelings are still difficult to grasp, the World Championship victory was only 19 days ago and we can look back on a series of 25 wins in a row.
"It will take us many days to process this, but first a great burden will be lifted from our shoulders. Now we really feel like celebrating – with the knowledge that the next cracker isn't waiting for us straight away."
In the bronze-medal match, Argentina won their second straight The World Games medal, following silver in 2017. They beat the USA 2-0.
"The girls played a nice game and we were able to win the bronze medal to fulfil one of our goals," said coach Salvador Comparone to ihf.info. "The tournament was very interesting. We got a lot of positive things and by adjusting some details, we can be more up in the next events we have."
Mexico finished fifth, defeating Australia 2-0 in the 5/6 placement match.