World champions and late additions do battle for women's gold in Alabama
15 Jul. 2022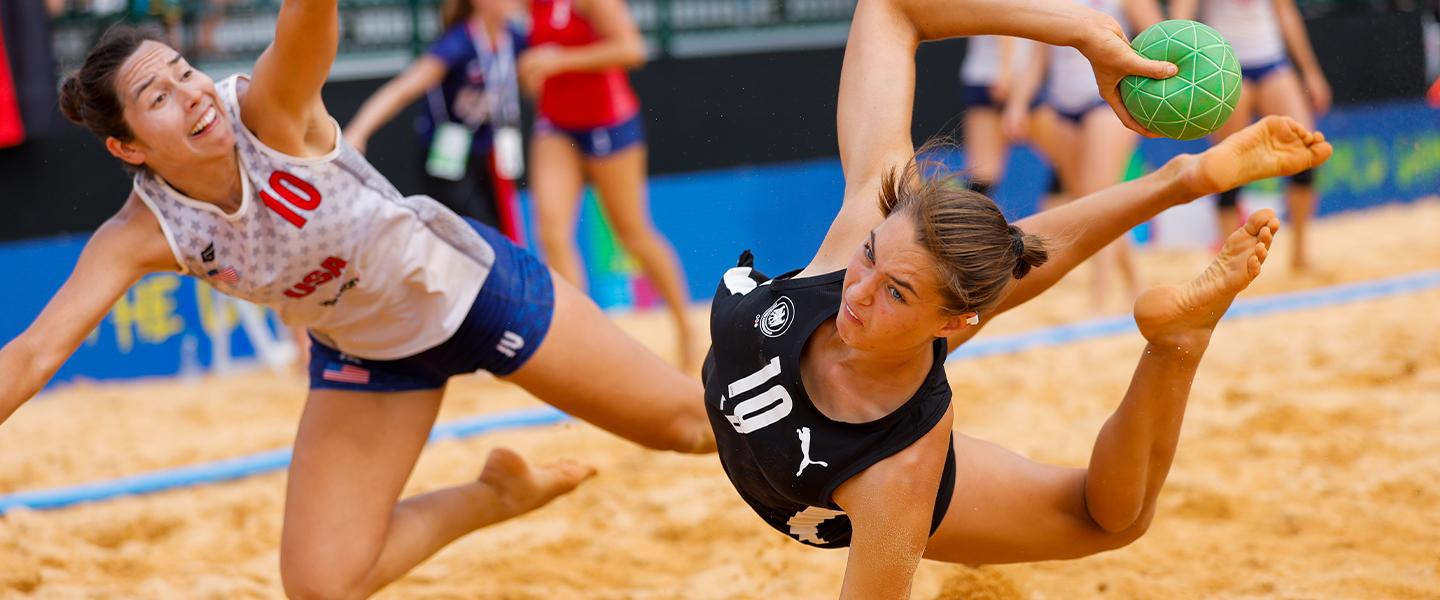 Just three games remain in the women's beach handball competition of The World Games 2022 in Birmingham, USA.
On Friday, Norway take on Germany in the final, Argentina play the host nation USA for bronze and Mexico and Australia play off for a top-five finish.
The Final: Norway vs Germany 
16:30 local time
Two teams with a pedigree in The World Games meet in match number 20 of the championship, with neither having a gold medal to their name: Germany won silver in their first-ever appearance, in 2001, while Norway won bronze in 2013 and just missed out on a medal in 2017, when they finished fourth.
On Tuesday, these two teams met in their preliminary round-robin group match, with Germany winning the shoot-out 7:6. Goalkeeper Isabel Kattner was decisive for the winning side, opening the scoring and then saving Norway's third.
The Norwegians, who were a late replacement for the 2018 world champions Greece (who could not attend the Games, so the place went to Norway as runners-up) won the first period 16:14, thanks to a last-second Maren Sjaamo two pointer, but were outplayed by the world and European champions in the second, losing 16:23.
As they prepare for their third, consecutive gold-medal match in a year, Germany are one of the most in-form teams in the world, having now won 24 games in a row on their way to European and world titles (nine at both the European and World championships and six at The World Games 2022).
"Germany has done amazing in the last years and in this competition as well," said Norway's Elisabeth Hammerstad to ihf.info a few hours before the gold-medal match.
"The pressure is on Germany going into the final and that feels amazing. We love being the underdogs and I know we have a really good chance at winning. We are a team that play with a lot of enthusiasm and passion for the game, and that will help us in the final.
"We will do everything in our power to try to win the final and we can't wait to get started."
Reaching the final is maybe unexpected for Norway, following their worst-ever ranking (11th) at the 2022 IHF Women's Beach Handball World Championship in Greece last month.
Norway coach Eskil Berg Andreassen had bemoaned losing Katinka Haltvik, "our most important defensive player", and Julie Aspelund Berg to injury ahead of Greece 2022, plus they were also missing influential Maren Aardahl, who has been called up to the indoor squad.
"We miss big profiles like those three," said Norway's Marielle Martinsen about the missing trio. "But  new players have taken big steps and grown into their roles. Ine Grimsrud, especially, has improved already since the World Championship and is more calm in the way she plays."
For Birmingham 2022, Andreassen made five changes to his Greece 2022 squad, including the returning Martine Welfler, who played at both The World Games editions in 2013 and 2017.
"We also got Martine Welfler and Tonje Lerstad back in the team and they have a lot of experience that is very valuable for us," added Martinsen. "The other girls have gotten more experience playing the World Championship and have improved a lot since then."
Martinsen also credited less technical fouls and a better defence for their improvement in the USA, but the team are using the disappointment of that World Championship experience to power their medal quest in Alabama.
"Greece was a low for us and everyone really wanted to show that we are better than that," said Hammerstad. "It has been a big motivator, pushing us to go for a final and it feels amazing. It always feels good to be able to play a final, especially now, after Greece."
"We proved that we are better than the performance at the World Championship and I'm proud of the team to stand here in the final of The World Games," added Martinsen.
As replacement team for Birmingham 2022, the Norwegian players found out much later than their competitors that they would take part and very nearly did not go.
"We were first told that we couldn't go [to The World Games] because it was hard to find flight tickets," explained Martinsen. "But when we got the message during the World Championship, about three weeks ago, that we were going anyway – everyone got so excited." 
"It was a big thing for me," added Hammerstad about confirming her third The World Games experience. "I have participated in two before and they were such a crazy experience, so I was very excited for us to be able to go again."
Now, Hammerstad and co. have a medal, but which one will depend on how they can overcome the seemingly-impossible job of defeating an undefeated team.
"Germany is obviously a really good team," said Martinsen. "We got a chance to beat them in the final. We have to play with few technical fouls and have a good defence to be able to secure gold. They are big favourites, so we will just go out there, have fun and do our best."
Germany coach Alexander Novakovic will be down to nine players with Belen Gettwart missing for the final after the player sustained a concussion in the preliminary round.
And he was keeping his cards close to his chest about how to beat Norway again.
"After the match we can tell you our tactics," joked the coach to ihf.info. "On a serious note, it will be a tough match. They won a set against us in the first match so we need to be very careful.
"Our defence will be fundamental," he added. "In offence, we need to play as consistently as we have done in our last matches."
Bronze: Argentina vs USA 
14:30 local time
On Tuesday, Argentina beat the hosts 2-0 in the preliminary round but today, the 2017 silver medallists will feel the energy of what is sure to be a passionate home crowd, willing debutant side USA to their first medal.
And this is something the players recognise.
"As a team we definitely feed off the energy of the crowd, so being in front of an energetic crowd on our side will pump us up," said USA goalkeeper Staci Self to ihf.info.
"We can win by having fun. As a team we are creative and strong, we just need to show up. We have all the tools. Our defence will lock it down in the back to keep it manageable for our offence to put it away.
"We need big stops from Emma (Johnson, goalkeeper) and I in the back to give the offence confidence to do their thing up front."
5/6 Placement Match: Mexico vs Australia 
13:40 local time
After losing all six of their matches 0-2, including against Mexico earlier this week, Oceania champions Australia will be looking to end their week in the USA – and for some of the squad, six weeks away from home in total including Greece 2022 – with a win.
The Aussies brought in six debutants to their squad for Alabama, keeping four in from the World Championship.