Montenegro's DNA: Defence and emotion
21 Mar. 2021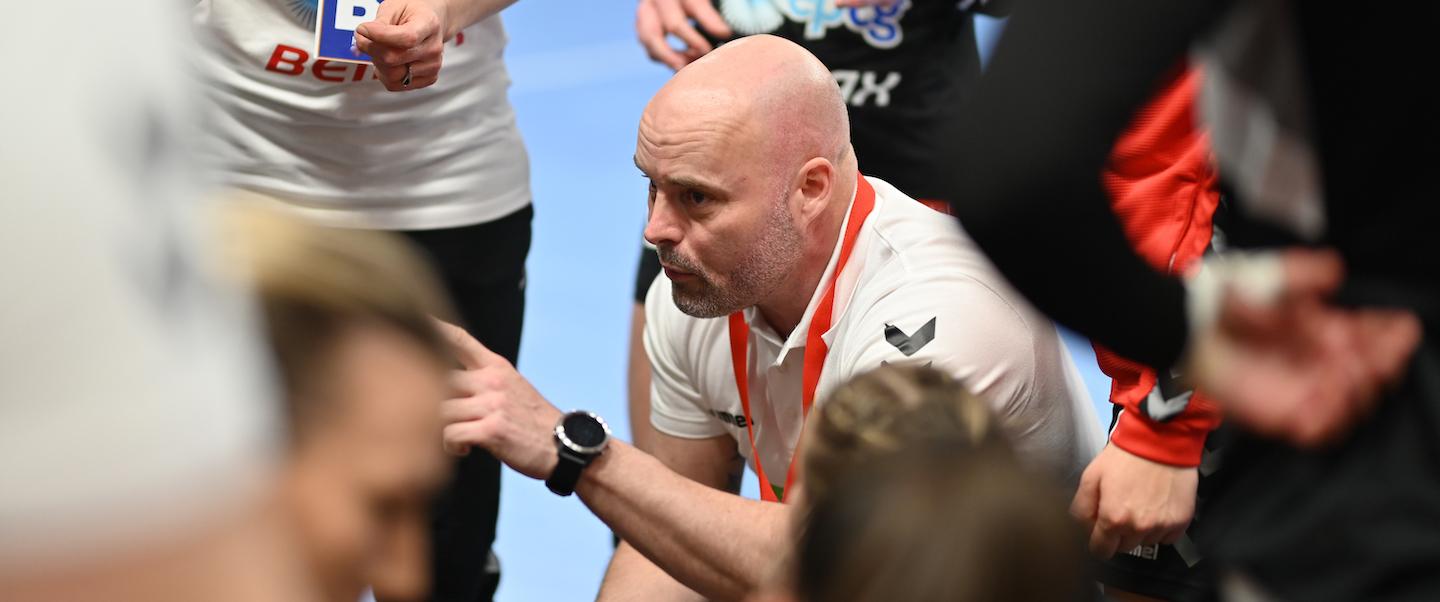 Host nation Montenegro lie on the brink of qualification through to the Tokyo 2020 Olympic Games today, following their 28:23 win over Norway on Friday, and Norway's 29:24 defeat of Romania yesterday in the Tokyo Handball Qualification 2020 – Women's Tournament 3 in Podgorica.
A draw, win, or even a loss – by a specific number of goals – against Romania this afternoon could see Montenegro qualify through, although the nightmare for the host nation is a 23:28 loss which would mean they go out on goals and Romania and Norway will book their tickets through to Japan.
Despite the mathematics, two things are for sure with Montenegro today: emotion and defence.
"Emotions are everything," says Montenegro captain Jovanka Radicevic to ihf.info about the spirit her side showed in just their second-ever victory against Norway. "It was a special day, not because of [beating] Norway, but because from the beginning of this preparation we had a lot of problems with injuries and we miss 'Jeca' (Jelena Despotovic – out with COVID-19) a lot. We made sure we 'breathed' all the time like a family."
The 'breathing' Radicevic talks about sounds simple, but anyone watching the Montenegrins play knows that the energy they put into their celebrations and motivational acts from the bench is sometimes more physical than those actions on court, something which coach Kim Rasmussen was keen to manage after taking over coaching duties last December.
"They are so emotional these players," he tells ihf.info. "Some of the key players when they come to the bench [to rest] they spend all the time there screaming (encouraging) and their pulse [rate] will not go down. So they need to breathe because that means their pulse will go down quicker and they can be ready for the court again.
"It was very good [against Norway] as I could choose the time outs in the second half when I felt the team really needed it," he added. "In the end, we knew some key players played a lot so it was good to use those time outs in a good way and it made sure we stayed calm in the last five, six minutes because everyone knew we had two time outs left and were in a good situation."
And with their 5-1 defence completely disrupting the Norwegian attacking flow, Rasmussen is quick to lay credit at the door of the Montenegro coaching legend Dragan Adzic, as well as current national team assistant coach Bojana Popovic.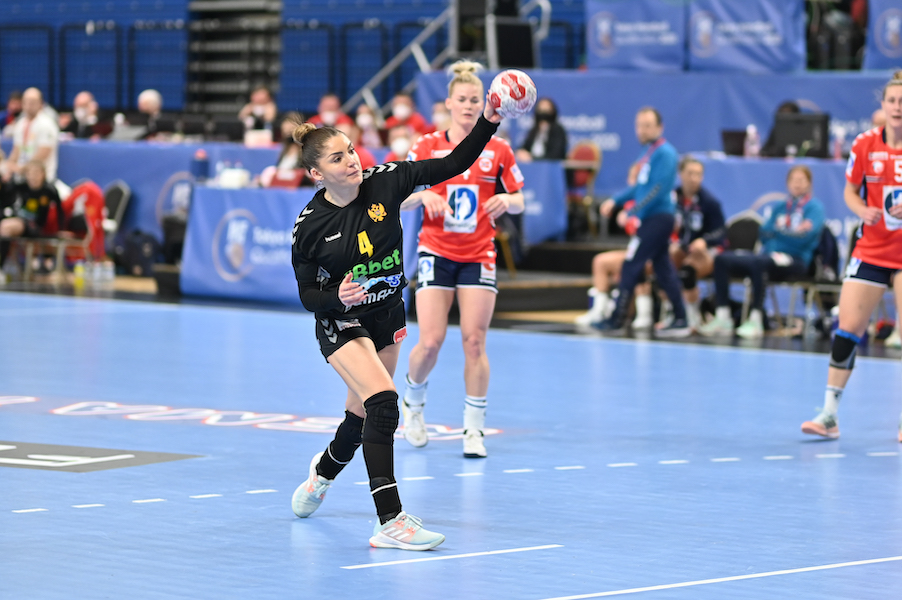 "It's everything and it's what brings us the wins and results," said Rasmussen about the Montenegrin defensive line. "The defence has built up over many years of good work under Dragan Adzic in the handball school of Montenegro, and we started working with this 5-1 defence in December at the European Championship a little bit.
"Bojana took it to Buducnost, and now we have both a  6-0 and 5-1 defence at a high international level and it's perfect to have that combination. Against Norway it was 5-1, and we will see what it will be against Romania, but it is good to have those options."
Ahead of the crunch clash today captain Radicevic was, as usual, in no doubt about what the DNA is of her side and what has led to many happy memories at both club and international level, including a London 2012 Olympic Games silver medal.
"Everything starts and finishes with defence," said the Buducnost player. "We took all our medals with defence so even if we had some problems in attack we don't think about attack. When you have good defence, nobody can go easy in attack, even from nine metres and I think this is the key.
"You can win one game with good attack, but if you want to win big titles, if you want big success, you need to show really, really good defence and we showed this [against Norway], even if we are a mix between young and experienced players."
A third key element of the Montenegro handball DNA alongside defence and emotion is the notion of them being the 'underdog' – the team from a country of just over 600,000 people gaining results that people do not expect.
But is that still relevant these days having beaten European Champions Norway and with one foot in their third successive Olympic Games?
"When I say maybe we are not with the quality on a high level [like Norway], I mean we miss some players who are most important for our national team and we have a mixture of experienced players and youth," explains Radicevic when asked if they can still be classified as underdogs.
"OK, Norway are not full of experienced players, but they play Champions League and we miss these [type of] players, but I am so proud because from the first second until the last [against Norway] we breathe like a family and were living for all balls, for all defence and we support each other. Even when they came within one goal we didn't stop; we ran, we had good defence, good attack and I am so proud how we played smart. They were really like lions from the first minute."
"We know what the team is capable of," adds Rasmussen. "We don't have the star players like Norway have, but we have something special. Everything worked when we beat Norway and with this team I don't think anyone could believe that we could do that.
"This just shows that our wonderful sport of handball is not only about the quality it's also about the heart and emotions."
As Montenegro prepare to face their destiny on court today both Radicevic and Rasmussen have important jobs to do on and off court and are aware of the importance – or not in Radicevic's case – of every single goal.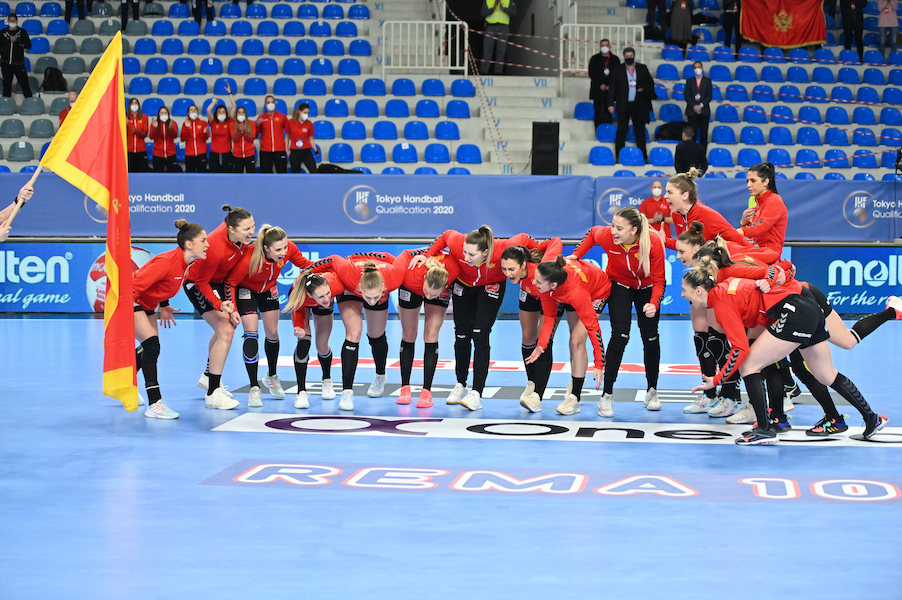 "In the end, I wanted every single goal to count against Norway because it can give us an advantage against Romania," said Rasmussen. "We will do our best to win the game but I will keep my players' feet on the ground because if we celebrate too early, [well] things can happen in this sport of handball and we need to make sure we are focussed on what we want to do."
"People always say to me 'I am the leader, the experienced player in Montenegro'," added Radicevic. "But I don't care who scores. We have shown that many times even if I don't score or miss, the team will trust me and I know in the end I will score. The team is the most important – I can score 11 or 12 goals but if we lose, for me, I can put those goals in the garbage."
Photos: Luka Novovic / RSCG