Spain 2021 Closing Media Conference: "A fantastic job"
19 Dec. 2021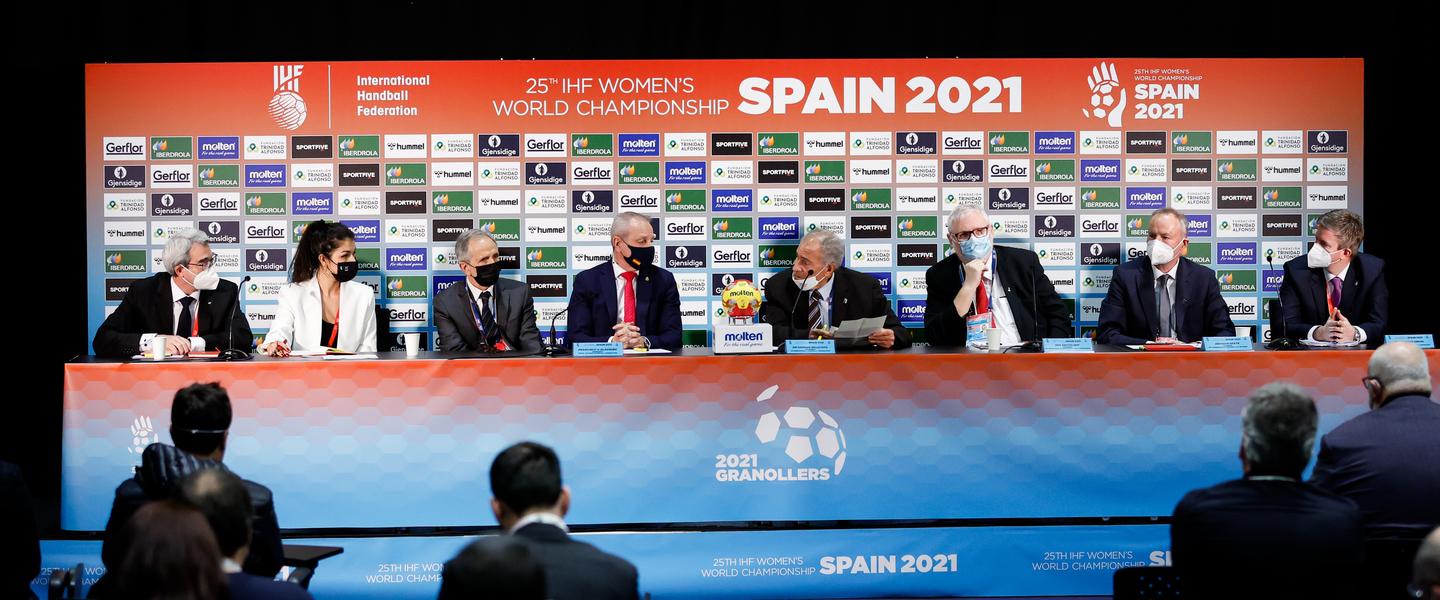 On Sunday (19 December), the closing media conference of the 2021 IHF Women's World Championship took place in Granollers. We hear from those involved.
Francisco V. Blázquez García, President – Royal Spanish Handball Federation (RFEBM) 
I would like to express my gratitude to the IHF and IHF President, Hassan Moustafa for the support and the understanding the difficult situation to make this world championship. 
Thank you so much for the support and making this world championship the first IHF Women's World Championship for 32 teams in this moment, a very difficult moment.
I would also like to thank the RFEBM and the people working around the world championship. I am very happy for the development of this world championship and our director of the 2021 Women's Handball World Championship, Jaume Fort, and your team for making a special and good tournament.
For the delegations for coming and understanding all the issues or the situations, the referees and the delegates and the cities, especially for the Mayors of Granollers, Torrevieja, Castellon and Lliria in this moment.
I also give my gratitude for the Government of Spain and the regional governments of Catalonia and Valencia for making a very good event with security of health and especially with spectators. It's the first tournament of handball with spectators after the pandemic situation. 
I am very happy for the level of the world championship and I give my gratitude for all the people and especially for the journalists who come from Spain, to put the world championship around the world.
Thank you so much, Mr. President, thank you for all. This is your house. This is the house of handball. This is especially the city of handball. Thank you for making a good a difficult and very beautiful event.
Dr Juan José Muñoz Benito, Head of Medical Services – RFEBM
I send my gratitude to all participants, all teams, all officials. Thank you for your collaboration to reduce the risk of infection. 
We have taken 6,850 tests, [of which] 5,500 were antigen tests and 1,300 were PCR tests. There were 16 positive results among participants, players and officials.
Per Bertelsen, Chairman – IHF Commission of Organising and Competitions (COC)
First of all, I would like to thank the Royal Spanish Handball Federation, especially the organising committee, for a fantastic job in difficult times. Corona more or less makes the agenda for you and for us – especially what we cannot do, when many people are together. 
This has not always been easy, I'm sure and then we (IHF) are coming here and want to have a finger in all small places, then I'm really sure that it has been not so easy for you, but you have done a fantastic job. Thank you very much. 
As everyone knows and the President (Moustafa) has said before, that is first time that we have an IHF Women's World Championship with 32 teams, this has done very, very well. 
At the same time, our new system around always having a rest day after a match day, is good for the tournament, just like our new system with the 4.5 hour-rule around travelling days, which means that if you cannot move from one hotel to the next under 4.5 hours, then the whole tournament will have one more rest day. That has been a success. I have heard a lot of teams and players and coaches who have said that's really good for the tournament that we have this rest day always and I'm happy that we have taken this decision. 
We will, of course, evaluate everything about this tournament, as we always do after the championship, but I don't think that you shall expect many changes after that. 
The IHF had the clear goal of developing handball in new countries as well, which we have seen here and it's gone very well. We have, so far, played 103 matches, 13 of these have been played in the President's Cup with Angola winning. 
So far (ahead of the final day) there's only been eight disciplinary cases – and very small cases – and I'm very, very happy for this. It is not nice when we have big disciplinary cases.
I would like to congratulate all four nations being in the last four and a lot of good luck to everyone today.
Dietrich Späte, Chairman – IHF Commission of Coaching and Methods (CCM)
From the coaching side, we are looking to new trends, to developments and also to the performance in this tournament. 
Using the best eight teams in 2021, the first and the most important fact is that we when we compare the quality of this championship to the 2019 IHF Women's World Championship, we can notice a clear further increase in quality in women's handball.
An indicator for us, as always, is the attack efficiency, not the scoring efficiency. In 2019, we had 51.6%. Now, we have 55.1%, so this means 3.5% more. At the 2021 IHF Men's World Championship in Egypt, we had a new record, with 58.6%. 
Women's handball is a modern, high speed game. Here at Spain 2021, we saw more fast breaks. They were always ready to go after a fast break when the opponent lose the ball or makes a pass mistake or missed shot, it's a very effective attractive game. 
We also saw a trend – which started some years ago in the men's game and is coming more and more in the women's game – cooperation, especially with the line player. It is sure not surprising that in this final today, we have the two best line players in the tournament, so for us it will be really interesting to see the best line players and maybe they're responsible for the result at the end. 
For assists, at Japan 2019, we had 16.2 assists per team, per match and now, an unbelievable increase in Spain to 21.7. The players are looking to play good cooperation in the position in attack and that's really good. Around 30% of all goals were scored from the line players, that's also a new record and it is higher than men's game.
Defence is important and one criteria for this we also look into steals. At Japan 2019 we have 4.3 per game. In 2021, right now, it's 5.8. It is also an increase. You can connect this with the observation that a lot of teams are playing active in the defence. This is also a positive way for the quality of our game. 
Not so much interruption, fouls. Now it's active defence to block passes, to put pressure on the attack. You saw nice situations from the attack six against seven. That was really interesting. 
Per Morten Sødal, Chairman – IHF Playing Rules and Referees Commission (PRC)
We have played 103 games so far and there's not been so much complaining from outside about referees and also from inside we are quite satisfied. Of course, we have 103 games, we cannot be satisfied with 103 performances. That's logical. We also have ups and downs. But in general, we are satisfied. 
We started with 18 couples in the tournament. Then we made two cuts, going from 18 to 12 and we went from 12 to six after the quarter-finals and the completion of the Presidents Cup. We have six couples left here. 
Out of the 18 from the beginning. We have four twins, one couple of sisters and one couple of brothers. So, 1/3 of our referee squad here are related. If you ask me for an explanation, you must ask somebody with a higher degree than me because I don't know why.
For the first time in an IHF Women's World Championship, of course, we also used it at the Tokyo 2020 Olympic Games, we have used our Video Proof System (VPS).
Here, they can check if the ball has been totally inside the goal line, and if the ball has been totally inside the goal line before the time has run out, for example and they can check the different situations concerning strong fouls and also the delegates have the opportunity to check if it's faulty substitutions and who was the guilty player.
VPS is not VAR as we know from football. That means that the referees themselves take the decision if they're going to watch and they are the ones that are watching. Or if there's a faulty substitution, then it's the Match Delegate because the referees can't see [that].
Feedback from the referees is good and this is also a system we really hope to develop further in the future. 
Dietrich spoke a little bit about attacking efficiency and the trends he sees in the game. We want to be a facilitator for a high speed and spectacular game. We see these trends also, that means the referees need to be in good physical conditions. We have physical coaches; we have physiotherapists working with the referees before the tournament and also during the tournament.
Using statistics from the 2009 IHF Women's World Championships in China to today, in this championship we have the lowest average of two-minute suspensions in any of those championships.
In Kumamoto, at Japan 2019, the average of suspensions was 7.64 per game, with two games to go,  we'll see what happened later of course, but after103 games, we have an average of 6.21. That means one reduction of 1.4, two-minute suspension per game, not per team.
We focus on giving advantage, letting the game flow with as less interruptions as possible. But of course, we also must protect our sport, we must protect the health of the players, therefore all the referees should of course also take the suspensions that are suspensions.
Another issue which is difficult for referees, as you probably know yourself and  very often you have the advantage of seeing replays, the referees must take a decision when they see it live, is the relation between seven metres and offensive fouls. Is the contact outside and ends up inside? Or is the contact you when the defender is clearly inside? Who has the space first? It's not so easy to decide when it goes quick. 
This group of referees (here at Spain 2021) is also for the future. As the teams we need to think short term, to have strong referees in the championship, enough referees for the championship. But we also must also think 2, 3, 4, 5 ,6, 7, 8 years ahead of us to ensure that we also have top couples in the future.
I must say that the some of the couples that have been in a senior world championship for the first time have made a really good impression. I must also say that we see a clear positive development in many of the female couples and also female couples from outside Europe. 
As an example, among those six referee couples who remain here in the tournament now, the female couple from Argentina have made really big progress and have made a really solid tournament.
Following the media conference statements, questions were invited from the media.
What are you doing to help developing countries?
Dietrich Späte, Chairman – IHF Commission of Coaching and Methods (CCM)
This is one of our main topics in our work. We are working with most of the developing countries in different development concepts. We have a new concept, when the decision was made to go to 32 teams with a concept called 'Reach the Next Level', so that we can provide such developing countries which qualify for our world championship with a good expert, with an experienced coach, as a supervisor to give them advice for training, analyses via internet and direct in the training camp during matches. This was a little bit difficult in the last few years due to the covid situation.
We are focusing at first on the defence. We have a New Markets concept with China. We are working for two years really hard to develop the whole training philosophy in China concerning the defence. We changed their competition system a little to force this a little bit. 
For Korea, their attack is really a really attractive game, look to the centre back [she] is one of the best in the world. But look to the defence and the transition from attack to defence and organised defence.
(IHF Analyst) Jorge Duenas made several analyses during this tournament for Korea. They received this information to work on this. For all the focus is on developing the individual defence and cooperation and then we are going to the next step.