The mother of all comebacks: How Norway silenced France in 22 minutes
20 Dec. 2021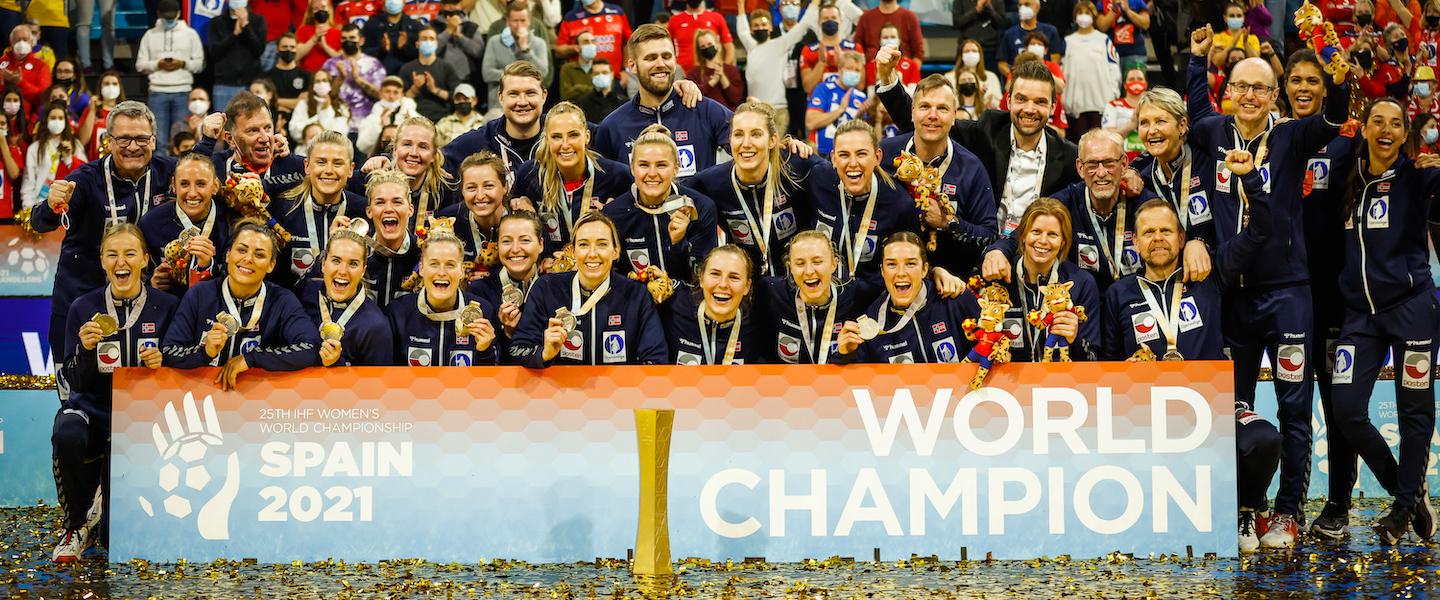 "I honestly do not know how we did it."
With the gold medal around her neck, fresh from celebrating with her teammates the fourth win for Norway at the IHF Women's World Championship, goalkeeper Silje Solberg was at a loss for words.
Aged 31, Solberg had just won her eighth medal at a major international tournament for Norway since her debut in the Scandinavian team 10 years ago, but has never made a bigger contribution to the team like the one in Spain 2021's final against France.
Down six goals in the 28th minute, 10:16, Norway produced one of the comebacks of the century in women's handball to take a 29:22 win and Solberg, the hummel Player of the Match in the last game of the competition, was duly responsible for the majestic turnaround.
After replacing Katrine Lunde after 22 minutes in the game and making one save throughout the first half, Solberg stopped virtually every single important shot from France, finishing the game with 12 saves and a 50% saving efficiency, including seven one-on-one saves, frustrating line player Pauletta Foppa, wings Alicia Toublanc and Lucie Granier and backs Estelle Nze Minko and Laura Flippes multiple times.
But Solberg herself could not have saved Norway were it not for the amazing attack of the Scandinavian powerhouse, which improved its efficiency from 50% at the break to 66% at the final whistle. It was not a player in particular, rather the machine-like efficiency displayed by Norway time and time again at Spain 2021, with no defence being able to stop whatever the world champions were doing on the court. 
"We were calm and talked about what we needed to do to come back. Tempers were not flaring, we understood that we need to get back to our plan, to stick to what we do best and believe in ourselves," said Norway's left wing, Camilla Herrem, the second most experienced player in the roster.
With 287 matches played for Norway and 811 goals scored in a career spanning more than 15 years, Herrem has pretty much seen it all in handball, being an integral part of the Scandinavian team that have won a plethora of medals in the last decade. In fact, Herrem was there for 15 of the 30 medals won by Norway in the major tournaments, becoming only the 20th player to win gold three times at the IHF Women's World Championship and only the fourth to secure five medals in her career.
"This has to be one of the greatest comebacks in my career, right up there with the one against Brazil in the quarter-finals at the London 2012 Olympic Games. It is quite unbelievable that we did this," said Herrem.
Indeed, Norway looked totally out of sorts during the first half, with plenty of uncharacteristic mistakes, that basically gave France a helping hand to build a six-goal lead, 16:10, after 28 minutes. It would have been incredulous to even think about a team like France, well-organised and experienced, handing over the keys to a game they had in their hands so easily.
But in only 22 minutes, Norway were the team leading by six goals, 26:20, producing a baffling comeback for even the most pessimistic French fan. And it all started in the final minutes of the first half, when Norway scored their first goals via their wings, in the 25th minute, to understand that a comeback is possible.
"I was surprised to see Stine [Oftedal] and Nora [Mork] take the initiative and tell everybody that everything is possible and we got this," said right wing Malin Aune, who scored three times at the end of the first half.
Led by Solberg, who initiated the comeback with her superb saves and powered by the MVP of the 25th IHF Women's World Championship, Kari Brattset Dale, Norway totally shocked France. Even coach Olivier Krumbholz, who won his 12th medal in his career in major tournaments, looked shell shocked on the sidelines.
His two time-outs of the second half were taken in the space of just two minutes, 41st and 43rd, but that did not manage to wake up his team.
"We started the second half leaking goals, which definitely affected our morale. They have beat us in every aspect possible in the second part and credit to them, we must acknowledge when we lose against a better side and this was the case today," said France's coach Olivier Krumbholz after the game.
For their part in the competition, left back Henny Reistad and right back Nora Mork, who will become teammates also at club level at Danish outfit Team Esbjerg from next summer, were selected in the All-star Team at Spain 2021. 
For Mork in particular, this edition of the IHF Women's World Championship was special, after missing Japan 2019 due to a recurring knee injury that almost ended her career.
Yet, the 30-year-old right back was back in business and became one of the leaders of the team, scoring the most goals for Norway in the tournament, 43, while also dishing 44 assists, the fourth-most at Spain 2021.
"This is why I play for, to be able to win such tournaments in such amazing fashion. I am truly happy, because I overcame difficult moments and was able to help the team in this final," said the All-star right back of Spain 2021.
With only six goals scored in the second half, France became the team with the lowest output in a single half in the final of the IHF Women's World Championship since 1973, when Romania scored only four times against Yugoslavia in their 11:16 loss.
Handball is different now and what Norway did, with all of us as witnesses, might never be repeated. It was the mother of all comebacks and we all got to experience it.