Dr Moustafa: "Handball talent is everywhere"
19 Dec. 2021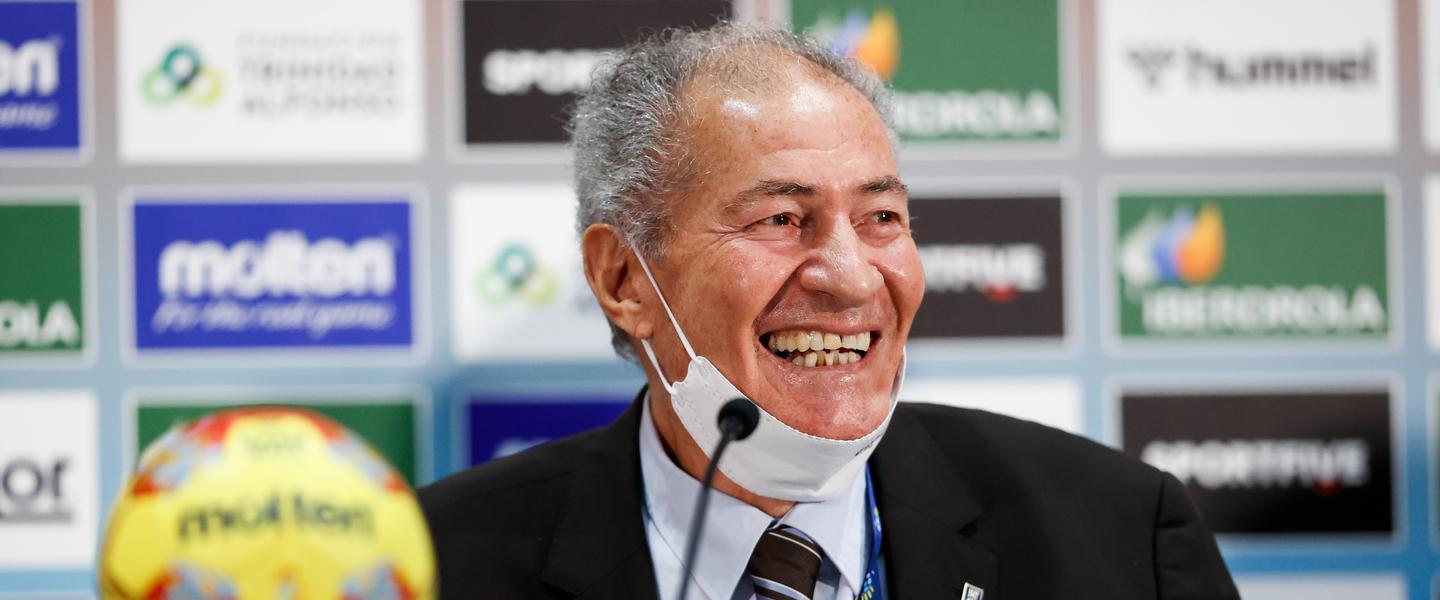 IHF President Dr Hassan Moustafa spoke to the world's media earlier today at the closing media conference, ahead of the final two matches of Spain 2021.
First of all, I would like to give my gratitude to the Government of Spain who accepted, in this very difficult time, to organise this World Championship.
I would also like to give my gratitude to my dear friend and colleague, Paco of the Royal Spanish Handball Federation (Francisco V. Blázquez García, President – Royal Spanish Handball Federation) as well as their organisation committee, including the medical commission with Dr Benito (Head of Medical Services, RFEBM – Juan José Muñoz Benito), who did a very good job, thank you so much for everything and in the name of all delegations, I thank you.
99% of all delegations are very happy and satisfied with the World Championship and I hope they will be the best ambassadors for Spain back in their countries.
It is the first IHF Women's World Championship with 32 teams and it's not easy. It was in four cities and all four hosts did a very, very good job. We have had over 100 matches with five continents qualified out of our six here. Oceania [was not], but we are concentrated on Oceania, especially with beach handball.
We are in a very difficult time. It's not normal working [conditions for a] World Championship with COVID and the increase in cases everywhere, especially in Europe. It was not easy for all of us, but I will really give my thanks again, to all those people who are working with us to make this World Championship a success. 
It was also the first time for the Iranian women to take part in an IHF Women's World Championship, Iran is a special country and I am very happy [they are here]. 
We also have a women's referee delegation from Saudi Arabia here and this is history for us, for the IHF, that we receive women's referees from Saudi Arabia. I want to give my thanks to the Saudi Arabia Government who accepted our invitation for these women to be here with us as Spain 2021.
(Note: During the 2021 IHF Men's Super Globe in Jeddah, Saudi Arabia, Dr Hassan Moustafa awarded certificates to a number of new referees who had successfully passed a recent Women's Handball Referee Course (Preparation of Leaders) in the Asian country. Dr Moustafa extended an invitation to participants from the course to attend the final weekend of Spain 2021 to congratulate them on their achievements, promote the role of women in handball globally and handball in Asia in general.)
We have three continents in the top 11 (Japan – AHF, Brazil – SCAHC, + EHF). Brazil finished sixth here and the three hosts of 2023 IHF Women's World Championship are in the top five here: Denmark, Norway and Sweden. We are looking forward to then.
This is the first time for Per Morten [Sødal, Chairman – IHF Playing Rules and Referees Commission]
to be with us at the World Championship after our election, he was newly-elected from the Congress about one month ago. Wish him very good luck and he's done a very good job.
We have had over 1,000 media accredited her and on television it was strongest in Denmark and Norway with the Scandinavians reaching the final.
Following the opening statements, the world's media were invited to ask any questions.
There have been some matches with large differences in scores at Spain 2021, will you change anything before the next World Championship?

We are very happy to help and support our handball family worldwide, to put handball in each corner of the world. Everyone of us – everyone of us – is starting very small. 
I will give you an example. Brazil. When Brazil started they were zero for handball, but in 2013 they were world champions in Serbia. Here at Spain 2021 Japan have had a very good performance. We can really say now that handball is worldwide. 
This is why we decided that we're going to increase the number of teams, especially from outside of Europe. This didn't mean we cancelled the strong matches. If you look at the matches the day before yesterday (semi-finals) and today and also some main round matches, they are strong matches.
We are working with the teams to develop and to promote handball outside Europe but the main problem for us – and all sports – is the result does not come between day and night. 
You have to work very hard, results will not come in one year, six months or one month. We have to give [them the] chance to play strong matches. 
We're not going to come back [to less teams]. We will continue with 32 because we already studied this before we took this decision, with statistics about everything. We have talent everywhere. We have talent in and outside of Europe.
For example, Iran were here for the first time, but an Iran player won the best player award (first Iran player to win the award: goalkeeper Fatemeh Khalili Behfar vs Norway). This is talent and they have to work with us to give them a chance for them to play with us during the World Championship. 
It's our duty, and also the duty of the top nations, to work together with these small nations when they qualify for the World Championship [so they can] make a good preparation. For example: Germany, Denmark, Sweden, Norway, France – you can work together with such teams when they are ready and qualified. These is our family and we have to help them.
It is very important to have handball everywhere, not only in Europe. If we came back [from 32 teams] it means we'll be come back like before and it means the strong teams come from Europe. 
If we look at the men's teams, the last World Championship had very good teams coming from outside Europe. It was a dream before [for them]. It was a dream for all of us. 
In my experience, when I started as a President of Egyptian Handball Federation, Egypt were number four in Africa. I finished in 2000 and in 2021 Egypt played in the semi-final against France.
If you have been following the World Championships, the first match for some small countries [here] was not like the last match and you can see. This is why we want to ask all our colleagues and friends – the top nations – to help and support these countries.