Mighty Denmark secure first medal since 2013
19 Dec. 2021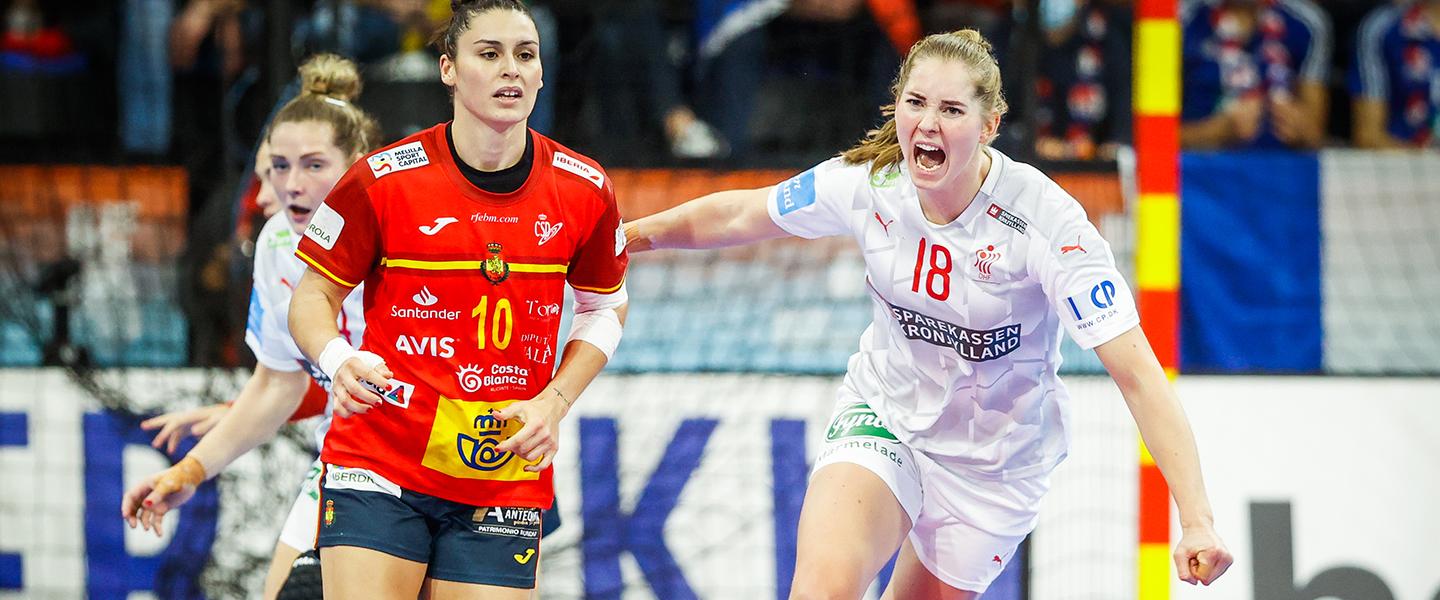 It was always a question about which one of the two sides contending for the bronze medal at Spain 2021 was going to overcome their semi-final defeat easier. In the case of the 25th IHF Women's World Championship, the answer was Denmark, who rode three strong unanswered runs to open an unassailable gap and clinch a 35:28 win against hosts Spain.
The Scandinavian side, the team who conceded the lowest number of goals on average at Spain 2021, won their first medal in major international tournaments since Serbia 2013, displaying once again the type of game which could help them challenge for more in the next years.
BRONZE-MEDAL GAME
Denmark vs Spain 35:28 (16:13)
A bronze-medal game is usually not as important as the final at the IHF Women's World Championship, for clear reasons, but for both Denmark and hosts Spain, this match was paramount, with clear implications for their future and their development.
Denmark failed to win a medal at a major international competition since Serbia 2013, when they took a 30:26 win in the bronze-medal game against Poland, and Spain were aiming to end the competition, which they both hosted and started so well, on a high.
And for the first four minutes, 'Las Guererras' delighted their fans, who flocked to the Palau de l'Esports de Granollers, shocking Denmark with their aggressive 5-1 defensive system, that prevented the Scandinavian side to score a goal. Taking the lead was enough for Spain, who deployed their usual style, trying to extend the attacks as much as possible, knowing that Denmark can be deadly on fast breaks.
But Denmark are far from being pushovers and, despite their defeat in the semi-final against France on Friday, can still be pretty good in attack. Right back Louise Burgaard, in particular, was in fine shooting form, enabling Denmark to deploy a 3:0 run between the 12th and 16th minute to take an 8:6 lead.
However, the difference between the two teams, who are definitely among the top four defensive sides in the competition, was surely the attack. Denmark converted 73% of their shots in the first half, while Spain missed half of their chances, including some one-on-ones with Denmark's goalkeeper Sandra Toft.
 
While the usually reliable Toft did not record more than five saves in the first half, it was Denmark's defence who constantly forced Spain to take risky shots, riding a 4:0 run that prevented their opponents to score for nearly six minutes. Hitting the post four times did not help, but, in general, Spain's woes were more about missing the clear-cut chances they had than not creating them in the first place.
Spain's usually vocal fans were, therefore, disappointed, but 'Las Guerreras' needed their push to mount a comeback in the second half, trying to cancel the three-goal lead taken by Denmark in the first 30 minutes (16:13).
Yet, something was amiss for the hosts. Failing to score in the first five minutes and three seconds of the second half enabled Denmark to use another 3:0 run to open a six-goal gap, 19:13.
By that moment, it was pretty clear for both sides who will win the bronze medal, with Spain having nothing in the tank, especially in attack, to push Denmark one bit. The superb display of backs Louise Burgaard and Anne Mette Hansen, who combined for 13 goals while missing only one shot between them, lifted the Scandinavian to an unassailable 28:19 lead, with 11 minutes to go.
As the celebrations had already started on Denmark's bench, Spain could really do nothing, as Denmark celebrated the second largest win ever in an IHF Women's World Championship bronze-medal match, 35:28, only two goals shy of the record set by Romania against Poland at Denmark 2015 (31:22).
With their stated objective of a place among the top four teams in the world, Denmark had already made good on their promise, but clinching the bronze medal at Spain 2021 will surely boost the morale of the Scandinavian team, which has known a big resurgence under coach Jesper Jensen, who was appointed in 2020.
A great defence, two of the best goalkeepers in the competition and an efficient attack were the ingredients that brought Denmark their first medal in major international tournaments since 2013, with the Scandinavian side aiming higher in the next years.
On the other hand, Spain took a step back after Japan 2019, when they won the silver medal, finishing the competition on home soil with two losses in a row after winning their first seven games. Yet, for 'Las Guerreras', this could still be considered as a positive, with new players like Paula Arcos Poveda and Elisabet Cesareo emerging to form a good base for the future.
hummel Player of the Match: Sandra Toft, Denmark