Supreme comeback sees France sail into final
17 Dec. 2021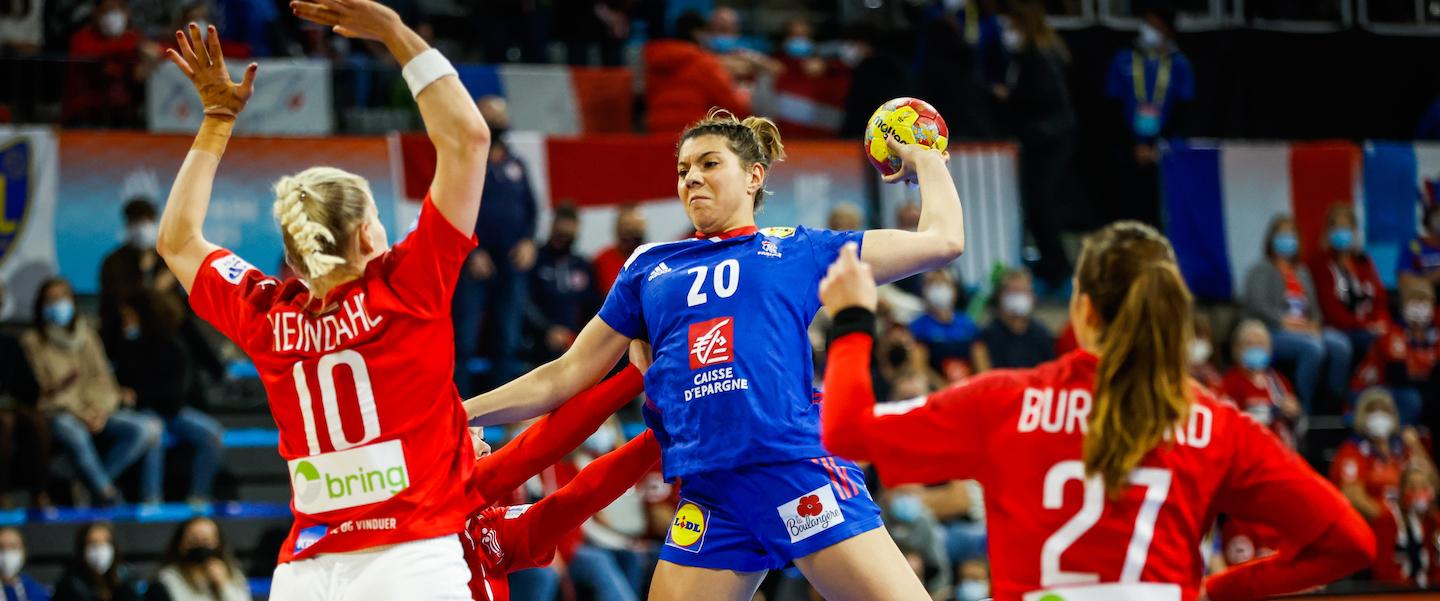 Down by four goals in the 40th minute, France mounted a comeback for the ages to beat Denmark, 23:22, and seal their place into the 25th IHF Women's World Championship final, the third last act in the last three major tournaments for the reigning Olympic champions.
With their fifth consecutive IHF Women's World Championship semi-final loss, Denmark repeated their fate from Italy 2001 and Brazil 2011, when they went undefeated into the semi-final, but failed the chance to secure a place between the top two teams in the world.
SEMI-FINALS
France vs Denmark 23:22 (10:12)
Defence versus defence. It is usually a battle between a top attack and a strong defence in the business end of the IHF Women's World Championship, but this time around, two evenly matched teams were toughing it out for a place in the final.
Of course, Denmark had conceded only 131 goals up until this point in the competition, an average of 18.7 goals per game, especially thanks to their outstanding pair of goalkeepers, Althea Reinhardt and Sandra Toft, who boasted a 49% saving efficiency throughout the tournament.
And Reinhardt, who got the nod on Friday evening in Granollers, was once again flawless in the first four minutes, when she boasted a 100% saving efficiency, leaving France flabbergasted and setting the tone for what was about to follow.
Sure, France never excelled truly in attack and were not set up to especially bring something out of the hat, but what Denmark managed was a thing of beauty for handball purists. In just 14 minutes, France turned the ball over seven times, with four of those balls stolen by the outstanding Scandinavian defence.
Therefore, it was no surprise that Denmark opened a four-goal gap, 10:6, leaving experienced coach Olivier Krumbholz scratching his head on France's bench. Before it got good for France, it had to be worse, with their attacking efficiency iced at 40% throughout the first half.
But the reigning Olympic champions, who were gunning for the final for the third major tournament in a row after the ones at the Women's EHF EURO 2020 and the Olympic Games Tokyo 2020, had been backed into a corner many times. And knew exactly not to panic and how to react.
Until the break, their attacking efficiency jumped to 53%, thanks to their unparalleled collective game, with none of their 14 outfield players scoring more than two goals. And just as the final shot of the first half, a penalty from Simone Christine Petersen, was saved by goalkeeper Laura Glauser, France were suddenly feeling more confident.
But they were still down by four goals, 13:17, with 21 minutes to go, as Reinhardt confirmed her amazing form, continuing with a flurry of saves. Yet as they usually do, France never gave up and never backed down.
It all started with the defence and Cleopatre Darleux's saves, six in the second half, some crucial ones against wings Laerke Nolsoe Pedersen and Trine Ostergaard Jensen, who scored only three goals from eight shots.
And in attack, it boiled down to Grace Zaadi magnifically orchestrating all the play. France let everything late, as they usually do, but Olivier Krumbholz's heart is surely well-trained for all those amazing comebacks.
It started with a 4:1 run, boosted by amazing line player Pauletta Foppa and Zaadi herself scoring the third goal of the game. But in the end, it was France's defence who really shined.
Denmark scored only three times in the last 13 minutes, as France first took the lead in the 57th minute, after a pair of goals from right wing Alicia Toublanc, only ushered by Krumbholz back in the game in the 54th minute. Foppa scored the final goal of the game, to make 23:22, as Denmark were constantly trembling and their only idea was to pass to their wings, who were read superbly by Darleux.
No goal was scored in the last 137 seconds of the game, as France sealed the 23:22 win and made a superb comeback to the top, after finishing 13th at Japan 2019.
France have never finished an edition of the IHF Women's World Championship undefeated, but have the chance now, when they will face either Norway or Spain come Sunday, in Granollers.
hummel Player of the Match: Althea Reinhardt, Denmark