Chameleonic display lifts France past Sweden
15 Dec. 2021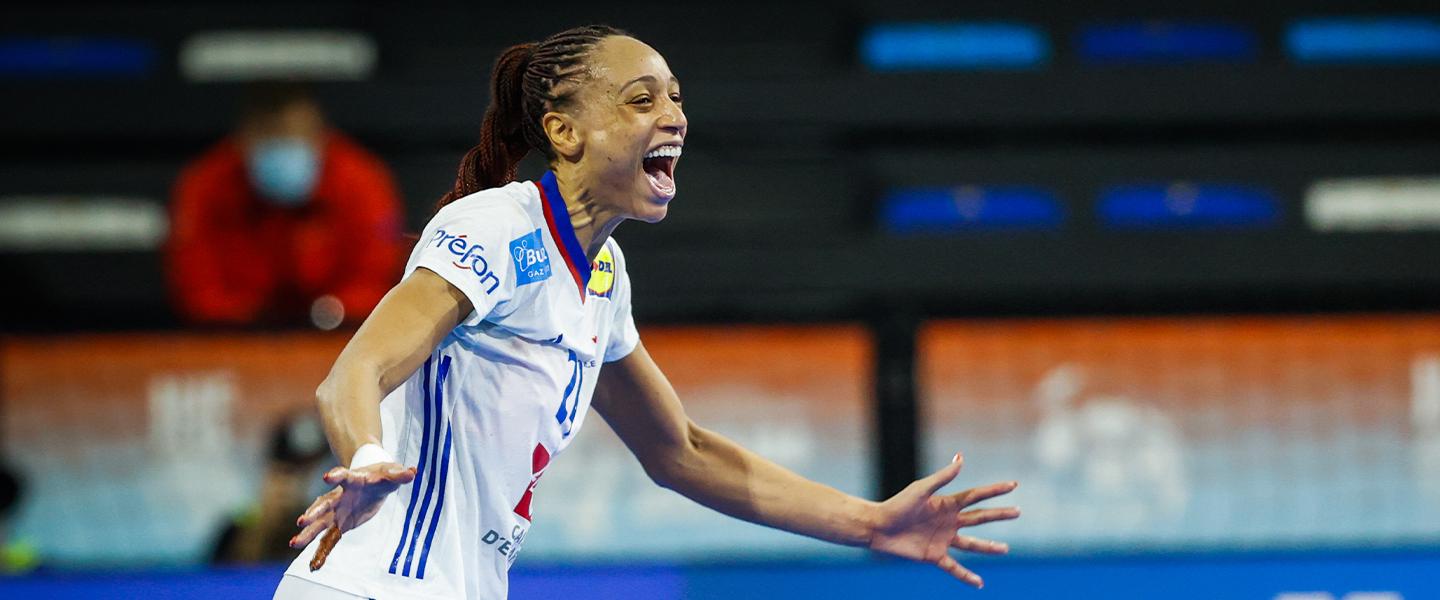 France adapted to Sweden's fast-paced game, adding a layer of defensive intensity and are now back among the top four teams at the IHF Women's World Championship after a dominating display against the Scandinavian side, beating them 31:26 in the last quarter-final at Spain 2021.
 
The 2017 world champions will now face Denmark for a place in the final on Friday, in the battle of the two teams that conceded the lowest amount of goals in this tournament, an old school match-up that will definitely provide entertainment.
QUARTER-FINALS
France vs Sweden 31:26 (15:15)
The big question before the game was which team was going to adapt to the style deployed by their opponents in the match and the answer was probably going to be the side progressing to the semi-finals at Spain 2021.
Yet, after the first 30 minutes, the situation in the most balanced quarter-final on paper at the 25th IHF Women's World Championship was still a coin toss, with France and Sweden engaged in a deadlock, 15:15. 
However, it was not a case of two teams with similar outputs, rather than a match that went back and forth, with the two European powerhouses taking advantage of every mistake made by the opponent and producing four lead changes.
While Sweden had eight turnovers, four more than France, they still held the lead the most and were the only side to open a gap larger than one goal, 11:9 in the 23rd minute. 
But apart from a superb game from right wing Nathalie Hagman, who scored eight times to take her overall tally at Spain 2021 to 70 goals, the Scandinavian side had little to offer in attack, as centre back Jamina Roberts dished six assists, but also was responsible for 62.5% of Sweden's turnovers in the first 30 minutes.
France had their own share of woes, with a shaky attack, with costly mistakes, including three shots that hit the post, helping Sweden maintain their natural rhythm. And their traditional flawless defence needed more from their goalkeepers, who failed to make a save until the 23rd minute, when Cleopatre Darleux was already substituted in the place of Laura Glauser.
But something had to give. And the answer was rather obvious from the first minutes of the second half, when Sweden's attack collapsed entirely, producing only two goals in the first nine minutes. By that time, France were already up 22:17, with a 7:2 start in the first half that also included a 2:0 run despite being a player down due to a suspension for Estelle Nze Minko.
Three of those goals were scored by left wing Coralie Lassource, all on fast breaks, underlining once again the key of France's success throughout the years, their astonishing defensive nous, which few teams are able to replicate in crunch moments.
Sweden had already been in this situation at Spain 2021, when they were down by four in the main round game against Norway, but still bounced back and earned the tie which helped them seal the quarter-final berth.
This was not the case now. To his credit, Sweden's coach Tomas Axner tried everything and threw all he had at France, substituting the goalkeeper for an outfield player in attack, deploying two line players to force lanes in France's defence – but this time around, their opponents had already seen the surprises coming.
Briefly, Sweden had a glimmer of hope when they cut the gap to only three goals, 22:25, with 14 minutes to go, but Axner's all-in tactics backfired, with France scoring three open goals and handing a huge confidence boost for Olivier Krumbholz's side, to lift them to a 31:26 win.
After a disappointing 13th-place finish at Japan 2019 two years ago, the reigning Olympic champions bounced back admirably and qualified for their sixth IHF Women's World Championship semi-finals.
Their amazing consistency over the past year is also worth underlining, with France progressing to the top four teams in the tournament at the EHF EURO 2020, at the Olympic Games Tokyo 2020 and, now, at Spain 2021, where they have their best-ever start in the competition, winning all seven games.
With four wins, two draws and one loss at Spain 2021, Sweden finished fifth, courtesy of winning more points in the main round than Germany and Brazil. It is their second-best finish in history at the IHF Women's World Championship, after the fourth place at Germany 2017 and an improvement from their seventh place at Japan 2019.
hummel Player of the Match: Linn Blohm, Sweden