RHF's Liudmila Bodnieva – 'Be brave, be calm, show passion'
15 Dec. 2021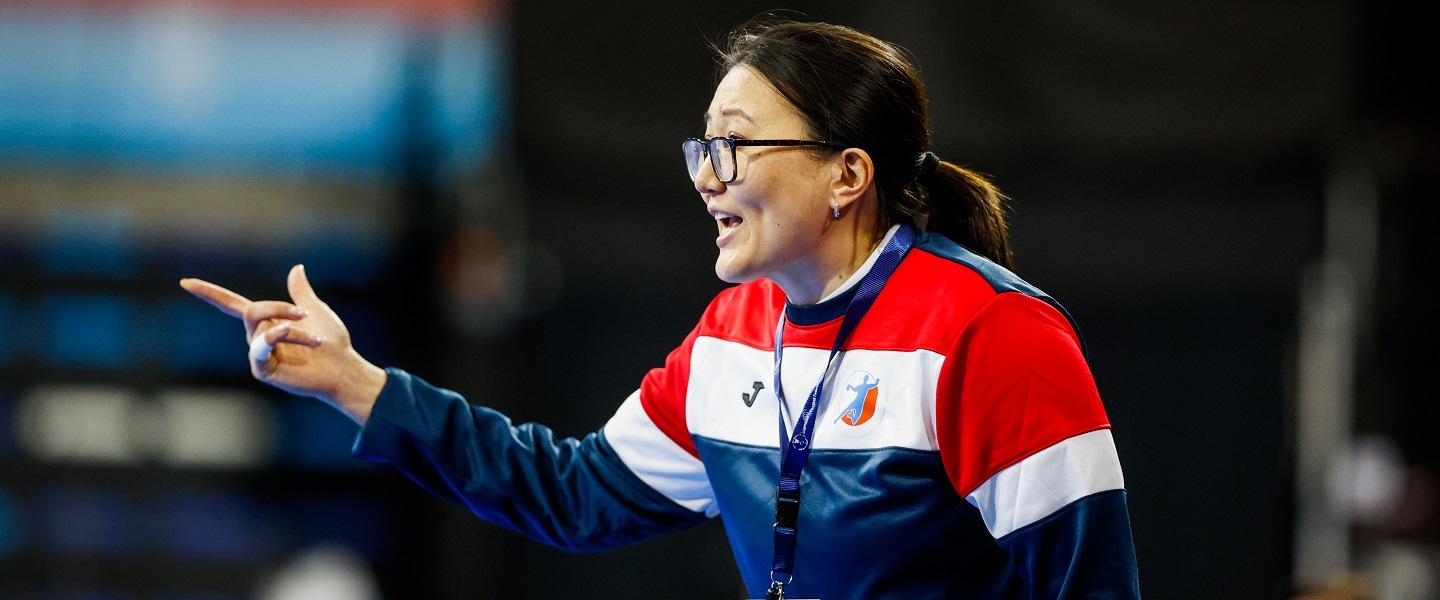 As a line player representing Russia, current RHF women's head coach Liudmila Bodnieva won double IHF Women's World Championship gold as a player, in 2001 (Italy) and 2005 (Russia). 
She also earned numerous All-star Team selections at both the continental and global level, while at club level she won championships in both Russia and Slovenia as well as reaching the Champions League final.
After retiring from playing in 2014, Bodnieva became involved in the administrative side of handball through her membership within various commissions within the game and sharpened her coaching experience as assistant with Russian league champions and EHF Champions League Final 4 side CSKA Moscow and most recently, as assistant to Alexey Alekseev, with whom she helped guide ROC to a silver medal at the Olympic Games Tokyo 2020.
However, in September, she was asked by the Russian Handball Federation to replace Alekseev as head coach, taking charge of her first game in October with the 2021 IHF Women's World Championship in Spain her first championship in that role.
In this exclusive interview, ihf.info sat down with the new coach for an in-depth conversation ahead of their Spain 2021 quarter-final on Wednesday (15 December).
ihf.info: You are head coach of your national team. How does it feel?
Liudmila Bodnieva: First of all, it's a big challenge for me. It was, on one hand, an unexpected offer for me at the end of September. But what can I say? It was a really hard decision for me. When I received this challenge, I said to myself: 'okay, I will try to do my best and we'll see how it's working'. I understand that everybody thought around me I'm not an experienced coach, that I don't have a lot of experience behind me, but I try to do things what I really think are right.
ihf.info: When you were playing, did you ever think of coaching your country?
Liudmila Bodnieva: I have never dreamed about it really. I have never thought about it. This year, everything turned around. I always thought [as a player] that it's the hardest position in the sport of handball is to be coach and I agree with myself (from back then).
ihf.info: But you have coaching experience and success, not least, the most recent: a silver medal from the Olympic Games Tokyo 2020 as an assistant coach…
Liudmila Bodnieva: Believe me, that it is a really big, huge difference, between being an assistant coach and to be a head coach. Now I know it. It's just a great thing for me and I understand how big the responsibility is to be a head coach and I really would like to do my best, to make my team the best team ever.
ihf.info: You talk about the "challenge" as stepping up to head coach, but you have also had a bigger challenge because of the player changes since Tokyo 2020. Just five here at Spain 2021 are from that squad. Daria Dmitrieva and Anna Vyakhireva have briefly retired from handball after Tokyo, for example.
Liudmila Bodnieva: It was one of the reasons why I received this position; we know that after the Olympic Games it's the new [cycle], it's always the season for opportunity to change something [and] to be ready for the next Olympic Games.
They really need it now as our age at Tokyo 2020 was 30 years old average. So, we need to have fresh blood in our squad and this time is the best time to do it. And you know, everybody told us that this team [in Spain 2021] has a lack of experience, but if we need experience, we have to do it, we have to start somewhere and sometime and why should it not be now, here?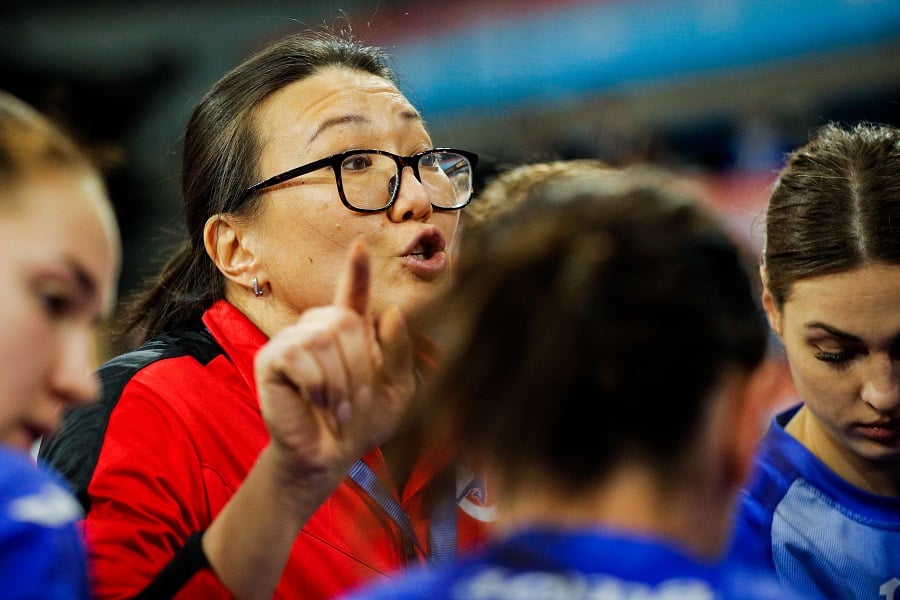 ihf.info: You and France coach Olivier Krumbholz have both brought young, inexperienced players to Spain 2021 and put them on court to play and not just keeping them on the bench. Why is that important to you, to have players gain match experience?
Liudmila Bodnieva: I really want to have them not just on the team, but I would like to give them the minutes on the court because this is playing experience that they really need. I know that it's a huge experience for them. I'm really happy that we can give them this opportunity now after the Olympic Games. 
Of course, we don't forget – I count on the players who are not in the squad today and who are not in Spain. I mean, [they are] some players who are really experienced and still in handball but they took a pause or another reason. 
I believe that when they will be back, [combined with] the girls who are now in Spain, it should be a really good mix. The experienced players have a lot of experience with big, big tournaments and players who already felt this passion of big handball.
ihf.info: How do you balance looking back at games and looking forward to games at championships when there is little time in-between?
Liudmila Bodnieva: We didn't think about [potential quarter-final opponents] Norway, Holland [Netherlands] or Sweden any time before our match with France. We were really focused on the match against France, we really wanted to play for first place in our group. So really, we didn't work or think about our next opponent.
ihf.info: How are you feeling after the France defeat (28:33) and how do you look at the Norway quarter-final?
Liudmila Bodnieva: I already watched our match [France], before [I went to] sleep (that night) and what I can say is that we have to admit that they were better in all components of the match. We didn't have any counter argument for their defence, the best defence in the world. 
ihf.info: Do you assess yourself as a coach when you conduct video analysis and not just the players?
Liudmila Bodnieva: I look at everything. I made some mistakes in the match, sure that is my responsibility. I also watch the moments [when] the things which we have had agreement before the match [to do] and we didn't do. Sometimes, they surprise me that we didn't do what we talked about before the match.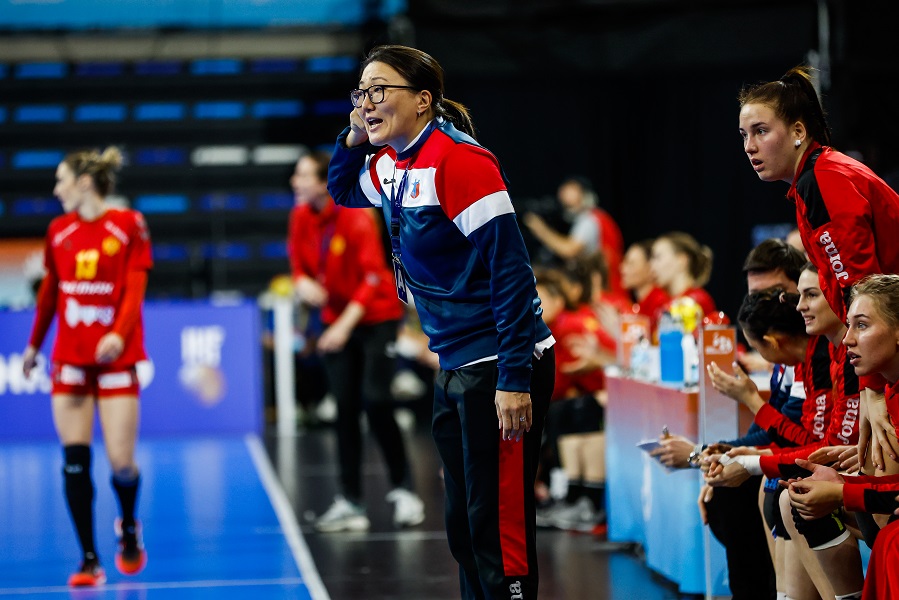 ihf.info: You beat Norway at Tokyo 2020 in August, can you beat them again?
Liudmila Bodnieva: It's true that we played with another team [in Tokyo], the Russian team has already changed more than half a squad, so it's history. The Olympic Games are over.
ihf.info: The squad you have at Spain 2021 all play their club handball in Russia. Is that good for you as a coach or would you like to see players spread around Europe?
Liudmila Bodnieva: I think it doesn't matter. We already checked all players who play in the foreign championships. We have some players who were on our [provisional] list of 35, so it doesn't matter who plays in other countries. But now, the best players are in Spain [with us] now.
ihf.info: Russia is a huge country, so how does the system work to find the national team players?
Liudmila Bodnieva: It's a logical question, but an illogical answer because not all regions in Russia play handball. We have just 12 teams in our Super League. It's not too many for a 'huge Russia' as you say. 
This is our biggest problem, that [handball] is not one of the most popular sports in Russia. Our goal is to promote handball through, and in, the other regions. It depends how many kids, how many people and of course, it has consequences for the players we collect for the national teams.
ihf.info: You were born in Elista, the capital of the Kalmykia region and home to the Kalmyk ethnic group. Can you tell us a little about this background?
Liudmila Bodnieva: I was born there, but all my life I lived in Volgograd. Of course, I have memories, but I left there [Elista] when I was six, just my childhood. It's a really small republic. The border is just 100 kilometres from Volgograd, so I'm not far away from my city where I was born. 
ihf.info: Do you speak the language, Kalmyk Oirat?
Liudmila Bodnieva: It is a pity, my shame, but not. I haven't lived there because I go to Volgograd at a really young age. I'm really proud to be Kalmyk [and] my big family, my uncle and my nephews are still there and I visit them at the first opportunity [but] my parents live in Volgograd.
ihf.info: You only retired seven years ago; do you wish you were on court sometimes?
Liudmila Bodnieva: I told my girls before the start of the championship, that I don't know how you feel, but that I would like to start now and on the court. But you know, now I have another position, but if you have a passion to play handball, it doesn't matter where you are. I'm really tired after the match [as coach], like I played 60 minutes.
ihf.info: How do you watch games as a coach, wishing you were on court as a player? You seem to be calm from the bench.
Liudmila Bodnieva: It's the hardest position really, because sometimes I know how it should be and how I would like to play in this situation, but I can just shout onto court. 
I think that I help my players and the players know that I support them with my full power. During the match, I would like to show them in the positive way.
I told them before every match [that] with full power, full passion and full concentration we can beat everyone, but if we are ever not ready 100% and if we're afraid for one minute, somebody, the game is over for us.
ihf.info: You won gold at the 2005 IHF Women's World Championship at home in Russia – is this one of your playing career highlights?
Liudmila Bodnieva: I won the World Championship twice and the first one was a really special one, but the second one was more special because we played at home. Everything was special. For us, it's unusual to play at home with our own spectators. We know that [when we play away] everybody, the spectators, fans are against us. 
But this feeling [at home] when I don't know how many, 10,000 people, support you, is a really special feeling and I would like that my girls are feeling it just for example, the 2026 Women's European Championship in Russia.
ihf.info: Your step into coaching from playing is slightly different than the usual route as you became involved in various commissions, including as a member of the IHF Women's Handball Working Group, EHF and EUSA first before becoming head coach. Why is this important for you?
Liudmila Bodnieva: When I stopped with my [playing] career, it was my wish to be part of handball because I really love it. I took this opportunity to be involved in handball, to be involved in commissions with the IHF, the EHF and I was also an EHF [match] delegate.
Now I understand handball from another side and I respect all the jobs that officials made during tournaments and I know the big responsibility of that. I hope that it will be a valuable experience for me, but I still think that that women's handball is behind men's and we have a lot of job to make it, to push it, higher.
ihf.info: Is being the first Russian women's female coach helping towards this push?
Liudmila Bodnieva: To be honest, I really don't like when everybody told me: you're the first women's coach. It's just a fact. It doesn't matter if the coach is a woman or a man, it's just a question of the quality of the job [the coach is doing].
ihf.info: What have you learnt as a coach so far?
Liudmila Bodnieva: When I was a player, I always thought that the best characteristics for players and also for the coach is to be brave, to be calm and really show the passion and this is the right way to be good; it doesn't matter where – on the bench or on the court. 
The biggest goal for me as a player before and as a coach now is that if somebody says about my team that they are brave and fighters on court. I will be proud of this. If somebody tells me that I help them to feel it, I will be proud of myself.