Warrior-like mentality lifts hosts Spain into semi-finals
14 Dec. 2021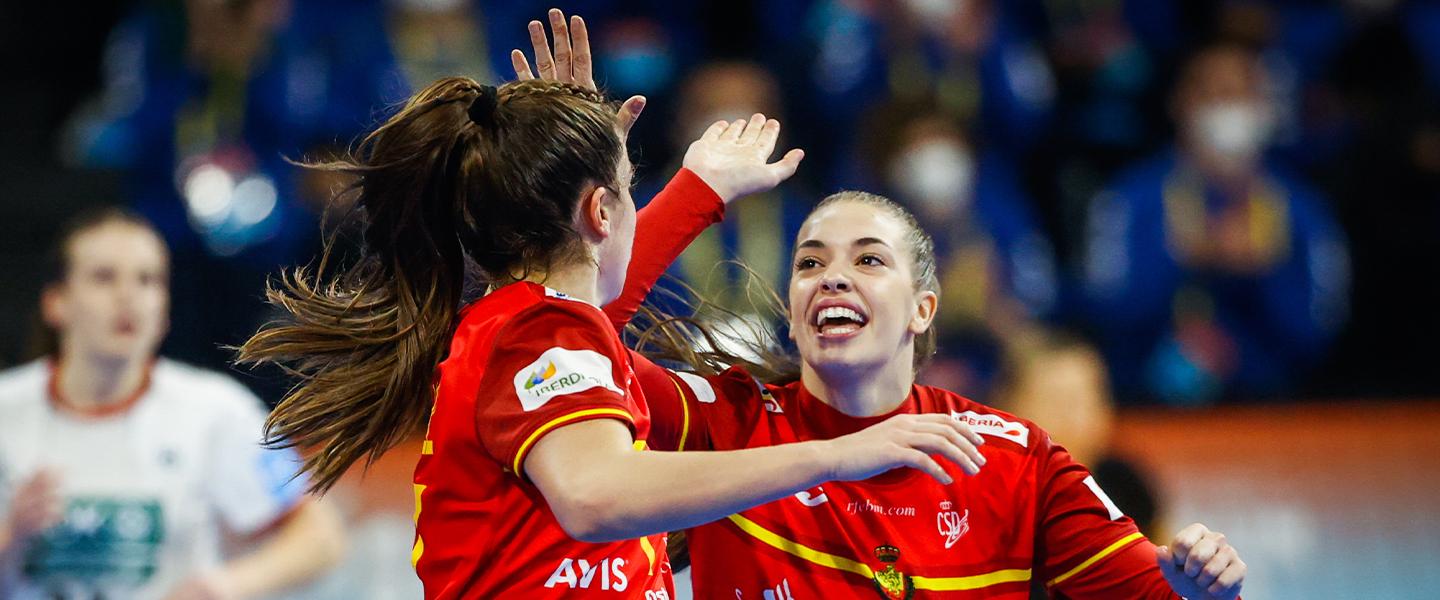 They do not call them 'Las Guerreras' – The Warriors – for nothing. Because when it mattered the most and everything was on the line, Spain women's national team clung by the skin of their teeth and bounced back admirably, to win their quarter-final against Germany, 26:21.
The hosts are now playing an IHF Women's World Championship semi-final for the second consecutive time, after they finished second two years ago at Japan 2019, and have set a new record for their best start in the competition, with seven wins out of the first seven games.
QUARTER-FINALS
Spain vs Germany 26:21 (14:10)
For the first seven minutes and 51 seconds, one could hear a pin drop in the packed Palau d'Esports de Granollers. The home fans were reduced to silence by a sturdy display from Germany, who prevented Spain from scoring in the second quarter-final of the 25th IHF Women's World Championship.
But when left back Alexandra Cabral finally broke the ice with a nice shot to beat goalkeeper Dinah Eckerle, the cheers were overwhelming. Even for Spain, who had 15 minutes to forget against Germany, scoring only three times, one time less than German right back Julia Maidhof.
Germany were leading 7:3 and nobody could believe what was happening, after the previously flawless Spain side, who won six out of six games in the preliminary round and the main round, were lagging behind, with the attacks failing to bring any pressure whatsoever for Germany's defence.
It did not take a time-out, it did not take a long look at the scoreboard, or any precise moment for Spain to bounce back. But as soon as the crowd starting roaring, celebrating goal after goal, it was clear what was happening.
It started with some balls won by the traditional aggressive Spanish defence. It continued with six saves from Mercedes Castellano, who boasted an impressive 42% saving efficiency. And it was superbly delivered by back Carmen Campos and right wing Maitane Echeverria, who replaced starters Alicia Fraga Fernandez and Carmen Martin and combined for seven goals.
Germany did not know what hit them, but the last 14 minutes and 26 seconds of the first half finished with an 11:3 run from Spain, who cruised to a four-goal lead at the break, 14:10, and it was looking increasingly likely that the hosts would qualify for the IHF Women's World Championship semi-finals for a second consecutive time.
Knowing that they had little chance if things continued like that, Germany threw everything they had against Spain, as coach Henk Groener even went all-in and substituted his goalkeeper with an outfield player, to have an extra player in attack.
While it might have worked briefly, as Germany cut the gap to two goals, 17:19, with 17 minutes to go, Spain upped their game. A 4:0 run, which prevented Germany to score for eight minutes and 28 seconds, was decisive, especially as veteran goalkeeper Silvia Navarro saved two penalties from Germany's top scorers Julia Maidhof and Alina Grijseels.
By the time Spain were already celebrating the win, the start of the game was basically forgotten. What will be remembered is their 26:21 win, another proof that 'Las Guerreras' are the real deal at Spain 2021, the first championship they ever started with seven wins in a row.
And, potentially, another thing to remember is the emergence of a new player for Spain, the hummel Player of the Match, back Paula Arcos Poveda, who, at 19 years old, delivered a performance for the ages, scoring four goals out of four shots and dishing one assist.
This evening will probably be reserved for celebration for Spain, with a three-day rest period now following for the hosts, who will face the winner of the quarter-final between Norway and RHF in the semi-final, a clash for the ages in which Spain can seal their second final berth in a row.
On the other hand, Germany missed the chance to proceed to the semi-finals at the IHF Women's World Championship, which would have been the first time in 14 years, but their displays could encourage the side, who was just missing that little extra to proceed to the next phase of the competition.
hummel Player of the Match: Paula Arcos Poveda, Spain