World champions Croatia clinch inaugural Beach Handball Global Tour stage win
02 Jul. 2022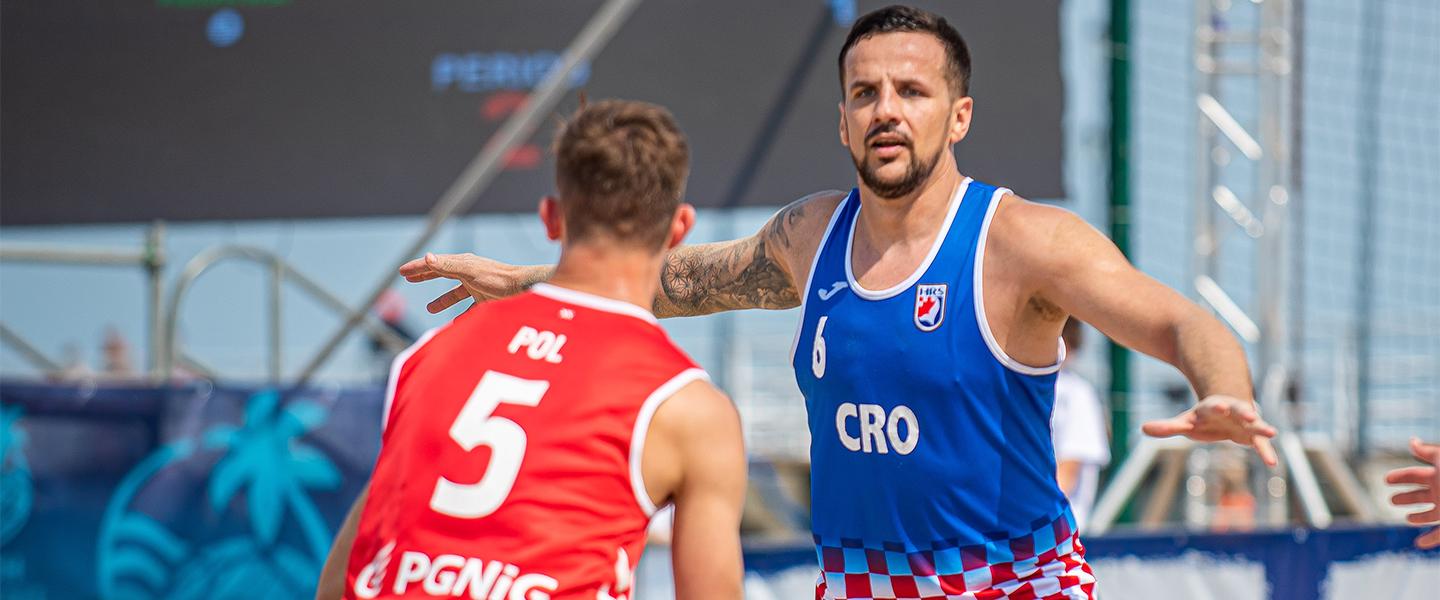 Croatia's men's beach handball team have won the first-ever stage of the IHF Beach Handball Global Tour in Gdansk, Poland.
Today saw the final two group games followed by the medal matches of the newly-launched tour from the IHF and it was a dramatic finale, not least following a start to the day which saw games postponed due to severe weather conditions in the northern coastal city.
Last Sunday, Croatia coach Mladen Paradžik and captain Ivan Juric sealed gold with their team at the 2022 IHF Men's Beach Handball World Championship in Heraklion, Greece and today they made even more history by adding a medal from this new event to their trophy cabinet.
After the results from yesterday the German men started today top of the solitary group with four points from two games, having won them both.
This was maybe a little surprise seeing as they had not even been in action in Greece last week, unlike Spain and Croatia – both of those sat second and third on two points each. Hosts Poland were bottom.
Juric had said yesterday his side needed to improve and they did. Facing Germany, they saw off the threat 2-0 thanks to 27:26 first-period win, after Juric himself scored a single-pointer at the death and then a second period 23:22 win.
This second half victory was made possible thanks to an ingenious piece of play from Croatia's Valentino Valentakovic who scored a single point strike from the restart, putting his side 23:20 up with only enough time for the Germans to score once.
The earlier group game of the day had seen Spain ease to a 2-0 win over Poland to ensure that they, along with Germany and Croatia, would all be tied on four points.
However, Spain would be the unlucky ones, as their total period score was not enough compared to their two rivals on the head-to-head, so they went through to play Poland in the 3/4 placement match.
That second encounter was completely different, with Poland, in front of their home fans and the match being broadcast live on TV, winning 2-1 thanks to a 6:4 shoot-out victory.
Germany and Croatia's rematch was different too, also going to a shoot-out. The first period saw Germany holding a late 24:22 lead, but with two seconds remaining Croatia could not get close to a goal and the Germans would not be tricked this time from a long-range shot.
The second period saw a massive 59 points scored, with Croatia securing most of them to win (34:25). In the subsequent shoot-out, Germany failed with their second and third shots as their opponents punished them, scoring their first three and then grabbing the single point with their fourth to ensure a 7:2 victory.
"History always remembers the first"
After the victory, Ivan Juric spoke to ihf.info about the importance of the win for his country and the stage overall.
"It was great for us to win the first Beach Handball Global Tour stage because history always remembers the first, the winners," he said.
"The Germans came to Gdansk with a strong team and a 'nothing-to-lose attitude' and it sure helped them. I don't like playing the same team twice at the same tournament, especially when we have won the first game and the final was, as expected, a very close and intense game.
"We used this tournament to stay in competitive mode for The World Games next week, and we did a good job," he added. "We felt the taste of defeat against Spain, and it was a game we learnt our lessons from."
Juric ended as stage one's top scorer with 58 points from his four games (14.5 per game), scoring 30 goals from 44 attempts. Croatia scored the most points too, with 208 registered across the four games. Spain's goalkeeper Pol Gavanach Llobet made the most saves with 20 from 94 shots faced and the host nation did have something to celebrate – they had the meanest defence, which let in just 162 points.
Croatia will now turn their thoughts to those World Games in Birmingham, USA which gets underway in Alabama in just over a week.
Juric, like the rest of those involved with the sport, is hoping to return to the USA in just six years for the LA 2028 Olympic Games after the IHF revealed last month that it has applied for beach handball to be included on the list of future Olympic sports.
"This Tour is a good way to expand beach handball on the top, international level," he said. "I'm happy to see the IHF making efforts to promote beach handball globally with the final goal of the sport entering the Olympic family of sports."
Following the conclusion of this first stage, the second stage of the IHF Beach Handball Global Tour will take place in Orihuela, Spain from Friday 29 to Sunday 31 July. In total, 2022 will see four stages played on the tour debut.
To find out about the Beach Handball Global Tour competition format and a lot more, click here.  
Photo: ZPRP