Poland/Sweden 2023: The Best
25 Jan. 2023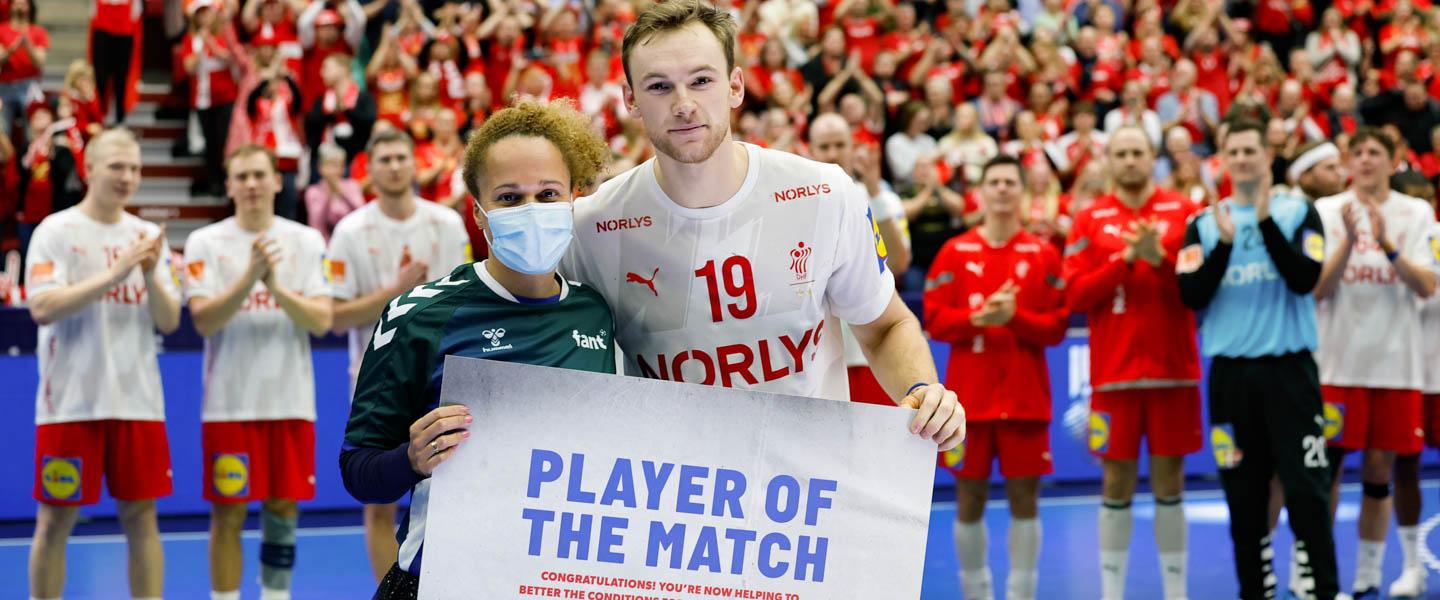 With 16 matches left, the action is heating up on court at the 28th IHF Men's World Championship as the world's best players look to claim the World Championship title.
96 matches of the 112 scheduled at Poland/Sweden 2023 have been played, with the quarter-finals, semi-finals, placement matches, bronze-medal match and final remaining.
Every single match has seen a 'hummel Best Player of the Match' awarded thanks to International Handball Federation partner hummel.
After each match, the 'hummel Player of The Match' will get the opportunity to pass on his talent and passion for handball to the next generation by donating handball equipment to the organisation FANT (Football for A New Tomorrow), which was founded in 2012 by the Athens 2004 women's handball Olympic gold medallist with Denmark, Josephine Touray.
And it is no surprise that the eight quarter-final teams dominate the awards. Egypt, France, Germany, Norway and Spain all have five awards each in their six matches played, while Denmark and Sweden have taken the award in every single one of their matches at Poland/Sweden 2023. 
The eighth team, Hungary, have recorded two so far, while the Republic of Korea have an impressive five awards from their six matches so far and could make it six awards as they face North Macedonia for 27/28 place on Wednesday (25 January).
Only Algeria have failed to win an award so far out of the 32 teams playing. They have one last chance on Wednesday when they take on Uruguay in the 31/32 placement match.
In terms of continental federations, all five represented at Poland/Sweden 2023 have won awards, with Europe, on 63, taking just short of two-thirds of all awards on offer, despite having over half of the teams competing (17 out of 32).
With Denmark and Spain holding 11 best player awards between them so far, it is no surprise that two of their key players head up the nominations – but at very different ends of the court.
Denmark's right back Mathias Gidsel has won half of his team's awards so far and is joined by Spain's goalkeeper Gonzalo Pérez de Vargas at the top of the awarding with three each.
It is fitting that Pérez de Vargas' position is not only the most awarded one (35 awards), 17 more than the next position – centre back (18) – but also that his shirt number (#1) is the most popular with 10 awards, three more than #12, another classic goalkeeper number.
To see the awards from Egypt 2021 click here, for Germany/Denmark 2019 click here. 
hummel Best Players of the Match – Poland/Sweden 2023
(up to 23 January 2023)
Per team:
6: Denmark (DEN), Sweden (SWE)
5: Egypt (EGY), France (FRA), Germany (GER), Republic of Korea (KOR), Netherlands (NED), Norway (NOR), Spain (ESP)
4: Iceland (ISL), Poland (POL), Slovenia (SLO), United States of America (USA)
3: Brazil (BRA), Cape Verde (CPV), Croatia (CRO), Serbia (SRB)
2: Argentina (ARG), Bahrain (BRN), Montenegro (MNE), Morocco (MAR), North Macedonia (MKD), Portugal (POR), Tunisia TUN)
1: Belgium (BEL), Chile (CHI), Hungary (HUN), Islamic Republic of Iran (IRI), Qatar (QAT), Saudi Arabia (KSA), Uruguay (URU)
0: Algeria (ALG)
Per continental federation:
Europe (EHF – 17 teams at Poland/Sweden 2023): 63
Africa (CAHB – 5): 12
Asia (AHF – 5): 10
South and Central America (SCAHC – 4): 7
North America and The Caribbean (NACHC – 1): 4
Per player:
3: Gonzalo Perez de Vargas (ESP), Mathias Gidsel (DEN)
2: Torbjorn Bergerud (NOR), Szymon Sicko (POL), Simon Pytlick (DEN), Sander Sagosen (NOR), Pal Merkovszky (USA), Nedim Remili (FRA), Luc Steins (NED), Milos Vujovic (MNE), Kay Smits (NED), Leonardo Tercariol (BRA), Andreas Palicka (SWE), Bjarki Mar Elisson (ISL), Daniel Fernandez Jimenez (ESP), Blaz Janc (SLO)
1: 62 players
Per position:
Goalkeeper (GK): 35
Centre Back (CB): 18
Left Back (LB): 15
Right Back (RB): 10
Left Wing (LW): 9
Line Player (LP): 4
Right Wing (RW): 5
Per shirt number:
10: #1
7: #12
5: #8
4: #5, #9, #16, #30
3: #6, #10, #19, #35
2: #3, #4, #7, #11, #15, #20, #25, #31, #39, #43, #44, #62, #66, #70, #71, #90
1: #18, #21, #23, #33, #36, #45, #51, #77, #80, #88, #92, #94, #95, #98
Per match:
Date
Match
Player
Country
Position
Jersey #
Preliminary Round
11/01
FRA-POL
Nedim Remili
France
Centre back
5
12/01
CHI-IRI
Mohammad Siavoshishahenayati
Iran
Goalkeeper
16
12/01
ESP-MNE
Gonzalo Perez de Vargas
Spain
Goalkeeper
1
12/01
KSA-SLO
Blaz Janc
Slovenia
Right wing
8
12/01
CPV-URU
Bruno Landim
Cape Verde
Right back
10
12/01
SWE-BRA
Andreas Palicka
Sweden
Goalkeeper
12
12/01
HUN-KOR
Donguk Kim
Korea
Goalkeeper
66
12/01
ISL-POR
Bjarki Mar Elisson
Iceland
Left wing
8
13/01
ARG-NED
Bart Ravensbergen
Netherlands
Goalkeeper
1
13/01
NOR-MKD
Sander Sagosen
Norway
Left back
5
13/01
GER-QAT
Juri Knorr
Germany
Centre back
15
13/01
SRB-ALG
Petar Djordjic
Serbia
Left back
44
13/01
BRN-TUN
Ahmed Fadhul
Bahrain
Right wing
18
13/01
DEN-BEL
Mathias Gidsel
Denmark
Right back
19
13/01
MAR-USA
Pal Merkovszky
USA
Goalkeeper
1
13/01
EGY-CRO
Ali Mohamed
Egypt
Left back
90
14/01
MNE-IRI
Milos Vujovic
Montenegro
Left wing
6
14/01
ESP-CHI
Daniel Fernandez Jimenez
Spain
Left wing
70
14/01
FRA-KSA
Nicolas Tournat
France
Line player
11
14/01
POL-SLO
Blaz Janc
Slovenia
Right wing
8
14/01
BRA-URU
Leonardo Tercariol
Brazil
Goalkeeper
62
14/01
SWE-CPV
Mikael Appelgren
Sweden
Goalkeeper
20
14/01
POR-KOR
Hyeonsik Lee
Korea
Left back
71
14/01
ISL-HUN
Bjarki Mar Elisson
Iceland
Left wing
8
15/01
MKD-NED
Kay Smits
Netherlands
Right back
31
15/01
NOR-ARG
Sander Sagosen
Norway
Left back
5
15/01
GER-SRB
Johannes Golla
Germany
Line player
4
15/01
QAT-ALG
Rafael Capote
Qatar
Left back
9
15/01
BEL-TUN
Raphaël Kotters
Belgium
Right back 
10
15/01
DEN-BRN
Mathias Gidsel
Denmark
Right back 
19
15/01
EGY-MAR
Abdelraham Homayed
Egypt
Goalkeeper
1
15/01
CRO-USA
Gary Hines
USA
Left back
9
16/01
MNE-CHI
Milos Vujovic
Montenegro
Left wing
6
16/01
IRI-ESP
Gonzalo Perez de Vargas
Spain
Goalkeeper
1
16/01
SLO-FRA
Nedim Remili
France
Centre back 
5
16/01
POL-KSA
Szymon Sicko
Poland
Left back
9
16/01
BRA-CPV
Gualther Furtado
Cape Verde
Centre back
44
16/01
URU-SWE
Tobias Thulin
Sweden
Goalkeeper
30
16/01
KOR-ISL
Viktor Gísli Hallgrímsson
Iceland
Goalkeeper
16
16/01
POR-HUN
Miguel Ferreira
Portugal
Goalkeeper
35
17/01
MKD-ARG
Diego Simonet
Argentina
Centre back
6
17/01
NED-NOR
Luc Steins
Netherlands
Centre back
12
17/01
ALG-GER
Jannik Kohlbacher
Germany
Line player
80
17/01
QAT-SRB
Dejan Milosavljev
Serbia
Goalkeeper
98
17/01
BEL-BRN
Mohamed Ali
Bahrain
Goalkeeper
21
17/01
TUN-DEN
Mathias Gidsel
Denmark
Right back 
19
17/01
USA-EGY
Mohamed Aly
Egypt
Goalkeeper
92
17/01
CRO-MAR
Luka Cindrić
Croatia
Centre back
33
Main Round
18/01
IRI-SLO
Domen Makuc
Slovenia
Centre back
35
18/01
FRA-MNE
Vincent Gerard
France
Goalkeeper 
12
18/01
ESP-POL
Szymon Sicko
Poland
Left back 
9
18/01
POR-BRA
Leonardo Tercariol 
Brazil
Goalkeeper
62
18/01
CPV-ISL
Delcio Pina
Cape Verde
Left back 
3
18/01
SWE-HUN
Hampus Wanne
Sweden
Left wing 
15
19/01
QAT-NED
Kay Smits
Netherlands
Right back 
31
19/01
GER-ARG
Lukas Merstens
Germany 
Left wing 
36
19/01
NOR-SRB
Goran Johannessen
Norway
Left back 
23
19/01
USA-BRN
Alexandre Chan Blanco
USA
Centre back 
7
19/01
EGY-BEL
Seif Elderaa
Egypt
Centre back
45
19/01
DEN-CRO
Simon Pytlick
Denmark
Centre back
43
20/01
SLO-ESP
Gonzalo Perez de Vargas
Spain
Goalkeeper
1
20/01
CPV-POR
António Areia
Portugal
Right wing
25
20/01
IRI-FRA
Thibaud Briet
France
Left back 
39
20/01
BRA-HUN
Gustavo Rodriguez
Brazil
Right back 
95
20/01
MNE-POL
Mateusz Kornecki
Poland
Goalkeeper
1
20/01
ISL-SWE
Andreas Palicka
Sweden
Goalkeeper
12
21/01
SRB-ARG
Marko Milosavljevic
Serbia
Left back 
39
21/01
BRN-EGY
Karim Hendawy
Egypt
Goalkeeper
88
21/01
QAT-NOR
Torbjorn Bergerud
Norway
Goalkeeper
30
21/01
BEL-CRO
Mate Sunjic
Croatia
Goalkeeper
35
21/01
NED-GER
Andreas Wolff
Germany 
Goalkeeper
30
21/01
USA-DEN
Lukas Jorgensen
Denmark
Line player
25
22/01
CPV-HUN
Egon Hanusz
Hungary
Centre back
77
22/01
MNE-SLO
Urban Lesjak
Slovenia
Goalkeeper
90
22/01
IRI-POL
Ariel Pietrasik
Poland
Left back 
12
22/01
BRA-ISL
Gísli Thorgeir Kristjánsson
Iceland
Centre back
10
22/01
SWE-POR
Daniel Pettersson
Sweden
Right wing
11
22/01
ESP-FRA
Daniel Fernandez Jimenez
Spain
Left wing 
70
23/01
QAT-ARG
Ignacio Pizarro
Argentina
Right back 
3
23/01
USA-BEL
Pal Merkovszky
USA
Goalkeeper
1
23/01
SRB-NED
Luc Steins
Netherlands
Centre back
12
23/01
CRO-BRN
Ivan Martinovic
Croatia
Right back 
51
23/01
GER-NOR
Torbjørn Bergerud
Norway
Goalkeeper
30
23/01
DEN-EGY
Simon Pytlick
Denmark
Centre back
43
President`s Cup
18/01
CHI-KSA
Mohammad Al-Salem
Saudi Arabia
Goalkeeper
16
18/01
URU-KOR
Changwoo Lee
Korea
Goalkeeper
94
19/01
ALG-MKD
Nikola Mitrevski
North Macedonia
Goalkeeper
1
19/01
MAR-TUN
Mohamed Amine Bentaleb
Morocco
Centre back
8
20/01
CHI-URU
Erwin Feuchtmann
Chile
Left back 
4
20/01
KSA-KOR
Kim Donguk
Korea
Goalkeeper
66
21/01
ALG-MAR
Jamal Ouaali
Morocco
Goalkeeper
16
21/01
MKD-TUN
Mohamed Darmoul
Tunisia
Centre back
71
22/01
KOR-CHI
Jeongu Kang
Korea
Centre back
7
22/01
KAS-URU
Federico Rubbo
Uruguay
Left wing
20
23/01
TUN-ALG
Asil Namli
Tunisia
Goalkeeper 
1
23/01
MKD-MAR
Martin Tomovski
North Macedonia
Goalkeeper 
12