Focus and performance: FITGOOD PRO and IHF enter sixth year of partnership
02 Feb. 2023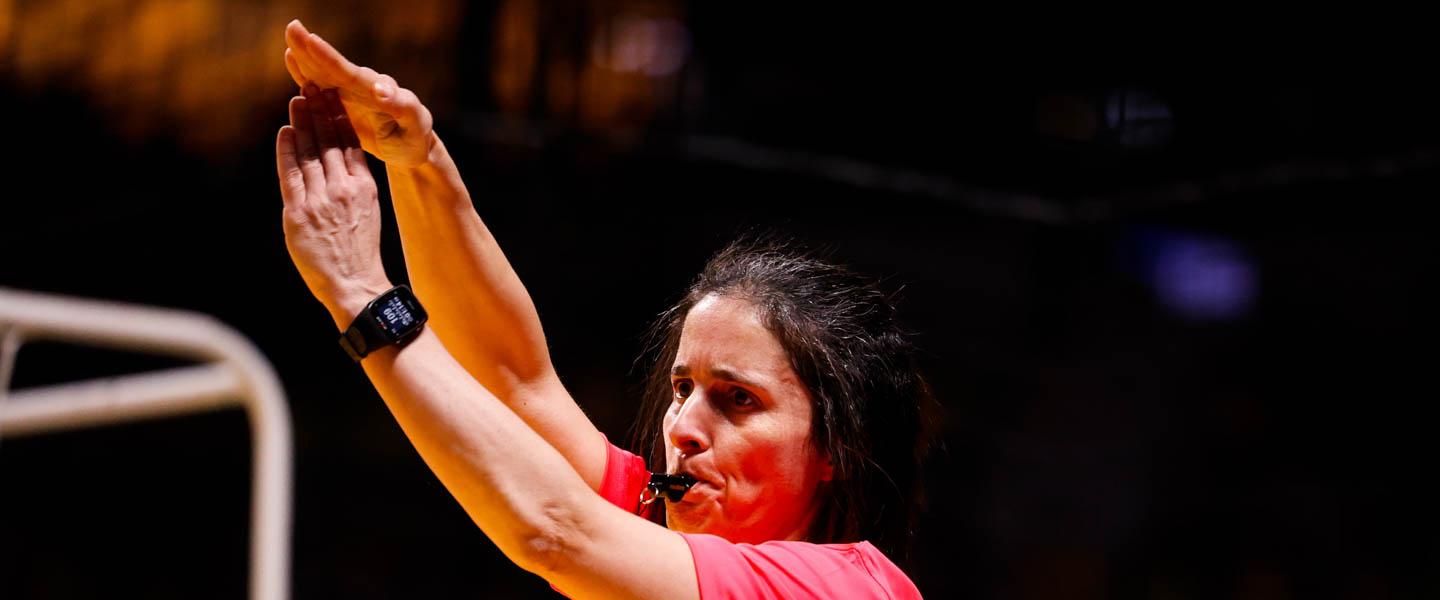 The 33rd team at the 2023 IHF Men's World Championship are the dedicated group of referees and officials.
But the team behind that team is FITGOOD PRO, the wellness and sports performance company that has worked in partnership with the IHF since January 2018.
Poland/Sweden 2023 features a newly-expanded FITGOOD PRO team of staff on-site at the nine venues spread across two countries, with all IHF referees having access to a group of physiotherapists, strength and conditioning coaches and nutritionists.
This means a team of six professionals available in person or virtually, 24 hours a day, seven days a week, during competition time.
Expanded championship, expanded team
"With the new trend of multi-venue events and with the increased number of teams at the IHF World Championship, we now have more referees, so we have grown our team too," explains Sergi Cedrún, FITGOOD founder and IHF Playing Rules and Referees Commission (PRC) Wellness and Performance Coordinator to ihf.info.
"We recruited an elite group of professionals from a variety of countries with specialised, varied expertise and cultural approaches. This allows us to provide the same quality service to all the referees here throughout Poland/Sweden 2023, which has been up to 25 pairs. 
"Our two strength and conditioning coaches are from Spain, our three physiotherapists are from Slovenia, Germany and Spain, and we have a nutritionist from Greece."
Elite training
A big team in a big competition featuring 112 matches requires planning, with Cedrún and his central FITGOOD PRO staff working closely with the IHF in an intense preparation period.
"In addition to their annual training plans for the whole season, eight weeks prior to the World Championship, the IHF referees were given an intensive workout plan to show them how to train specifically as elite referees," he explained. 
"We monitored it using their Polar watches and were in close, bidirectional contact using a WhatsApp group for each pair, where they had all of our relevant FITGOOD PRO staff on call – the closer we get to an event, the more we are in communication. 
"They also had online workshops ahead of the championship, including one with our nutritionist Irini Babaroutsi about how to use food to perform better ('Performance Nutrition') and one about learning how to manage injuries ('Physiotherapy and Injury Management') with one of our physiotherapists, Maria Müller-Thyssen. They also received wellness tools for improving rest and sleeping.
"All of this ensures they keep in an 'elite referee' way of training."
Focus and availability
Once the officials were on-site at Poland/Sweden 2023, the focus and work intensified.
"After arriving, we all met in the initial preparation period, along with the IHF PRC staff," explains Cedrún.
"During this period, we determined what lines to follow and then tested and evaluated the referee group to help improve their performance. Irini also prepared and delivered a practical guide ('Menus for Performance') on what to eat for each meal of the day, depending on if they were whistling or not, using pictures of the same food they have in their hotel. 
"Then, once the championship started, we spread across the venues, maintaining the same structure for each hotel. This includes daily meetings with the referees, helping them with whatever they may need.
"The FITGOOD PRO team is in daily communication with the PRC – analysing data, evaluating, exchanging info, giving advice, managing injuries and fixing problems."
Mind, body and soul
In addition to their on-site team of six, mental coach Johann-Ingi Gunnarsson, the former THW Kiel coach and now also known for his work in handball with the EHF has also been involved at an IHF event for the first time.
His in-person and remotely-available presence has ensured complete coverage of wellness and performance for all those with a whistle at Poland/Sweden 2023.
"The role of a mental coach in the referee's team is key to helping them manage situations that they are maybe not able to solve on their own," explains Cedrún.
"In the same way the body is trained to perform better, mind and emotions can also be 'trained' to perform even better on court.
"Ingi is not only a mental coach, but also a top-class handball coach, so it's a double benefit: he can help them from a psychological point of view and from his coaching expertise.
"In the end, he completes our technical staff for the referees, being able to work with them in a holistic way."
Handball family benefitting
After their partnership with the IHF delivered clear results, FITGOOD PRO joined forces with the European continental federation, the European Handball Federation (EHF), launching at the Men's EHF EURO 2022. 
And it is a partnership which has been beneficial for all involved, but, most importantly, for the referees.
"Both federations are similar but different, so we take things we have and do in one federation to the other and vice versa," says Cedrún.
"For example, the IHF has a rich multicultural, worldwide background that enriches our team, teaching us a lot," he added.
"It is making us become better humans; the partnership is consistent and fruitful."
Progress made
With the partnership in its sixth year, clear goals have been achieved, but more is to come.
"Before we arrived, there was nothing in place to improve the wellness and performance of the referees," said Cedrún.
"From the very first moment, the IHF and the referees themselves were really thankful for having someone helping them. We work with passion and they feel it. 
"Our partnership with the IHF currently goes up until 2025," he added.
"We have numerous championships with the IHF, including men's and women's senior, junior and youth world championships, Super Globes and the Paris 2024 Olympic Games coming up. In addition to our work with the EHF.
"All of us involved with FITGOOD PRO are really happy to see the culture that is being developed regarding not only the referees' performances, but also their health. 
"When you start repeating a healthy action, it ends up being a habit, so it takes you to a lifestyle, and it's a lifestyle we are looking for – an elite referee lifestyle."